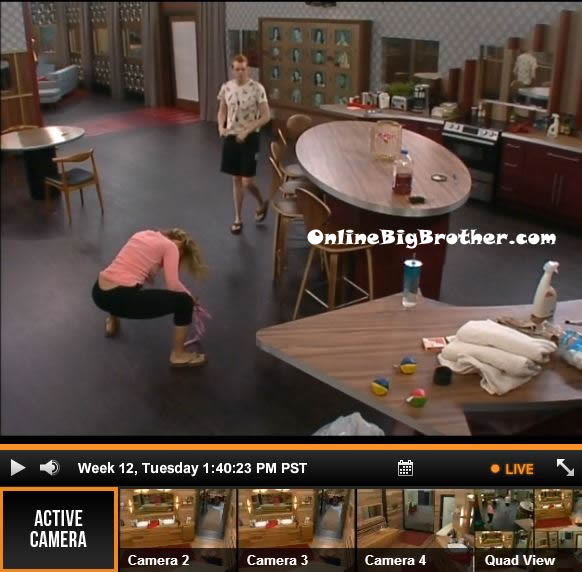 3 PART FINAL HOH Competition:
Part 1 – Spencer Vs Andy Vs Ginamaie = GM WON
Part 2 – Spencer Vs Andy = Andy WON
Part 3 – On Finale night – Ginamarie Vs Andy = ?
FINAL HOH winner = ?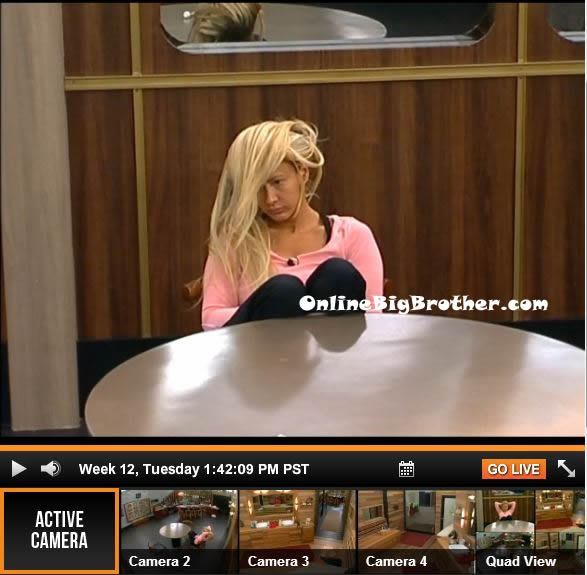 1:35pm – 2pm Andy, Spencer and Ginamarie are waking up. Andy asks why Ginamarie is up. She says she figures we have to go upstairs soon anyways. Andy asks did they actually confirm the finale was on the 18th? Spencer says yeah. Spencer tells Ginamarie that he hair looks lovely. How long did that take you? Gina says all day, all night. Spencer asks production – We're all ready can we just go upstairs to take a seat? No answer. Spencer comments that the luffa that Gina gave him, he's never used and can't find it. Spencer says I think McCrae took it. Gina says f**king klepto, he took everything. Gina comments that McCrae took Andy's gummy bears too. She says that's not right. Andy says in all fairness I went against him after being loyal to him the whole game. Spencer agrees and says Andy has a good point. The final 3 discuss past competitions. Ginamarie comments how Amanda had the worst sportsmanship ever! If you're so upset, then win something you fat b***h!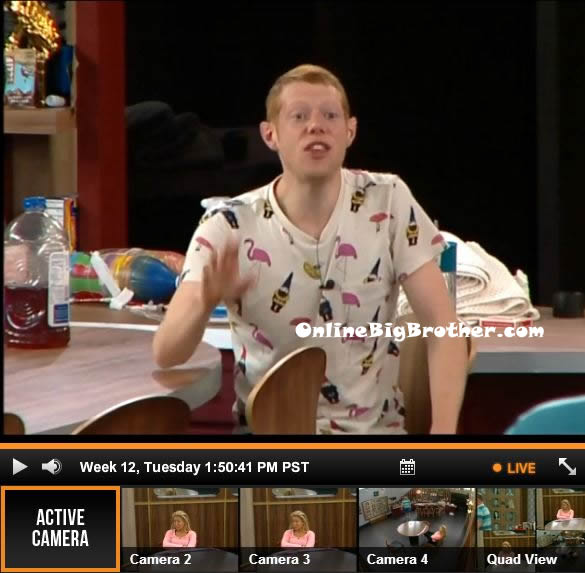 2pm Big Brother switches the live feeds to TRIVIA while the house guests are locked in the HOH room.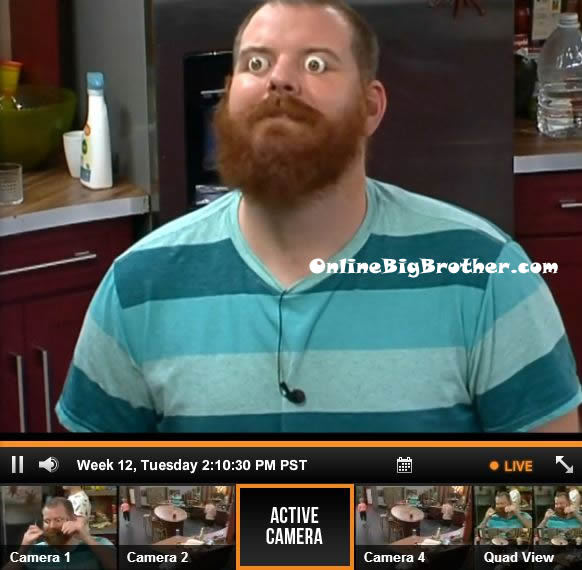 2:10pm – 2:20pm The live feeds return and the final 3 are coming down from the HOH room. Andy comments on how it was all just a ploy to get us up. Spencer puts the eyes in, looks at the camera and asks what the f**k was up with that?! They all go back to bed. Ginamaire grabs her Nick fly from the competition and says Nickolas Uhas, I'll see you tomorrow f**k face! She then kisses it. Andy asks what are you going to do if he gained like 40 pounds. Gina says I'd still love him! He can't get any skinnier! Ginamarie start belching. She says I drank 3 sips of soda and that's what happens. All three go back to sleep..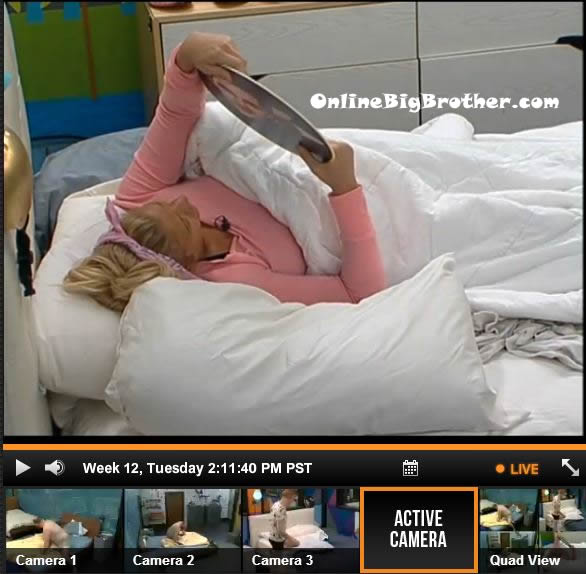 3:40pm Still sleeping..
3:50pm – 4:10pm Andy gets up and takes a shower. Spencer and Ginamarie wake up and they all head to the kitchen to make something to eat. Ginamarie complains about needing to work out. Spencer says you're going to get that Nick Uhas work out tomorrow. Gina laughs and says yeah! Ginamarie says oh baby I want that Nick Uhas work out, I haven't worked out in 3 days, any which way hole! I am f**king ready! UHAS! Andy comments that it's been a week since we lost poor Judd. Spencer says poor Judd he was evicted twice. Spencer and Andy go through the evicted house guests and discuss how they handled it.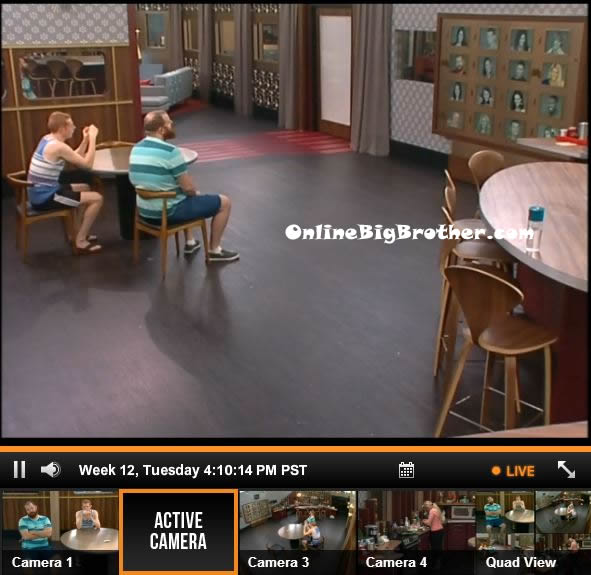 4:20pm They talk about how confused and stunned Elissa was when she was evicted. Spencer says we got her a$$! Stupid b***h! Spencer says from now on every time I see someone doing yoga I would want to kill them. Andy laughs and says yeah. Andy asks Ginamarie what would you do if you were here with Amanda and McCrae? Ginamarie says she would probably just masturbate because they would never talk to me. Spencer shows Andy how the key slots on the memory wall are attached with double sided tape. Andy asks how did you figure that out? Spencer says he was playing around with Jessie's slot putting his finger in it because it was the loosest. Andy asks who do you think is the loosest sl*t in the house. Spencer says I bet you could put a fist in Amanda. Spencer says Candice liked to sleep with old dudes. I bet the collective age of the guys she's slept with add up to 1000.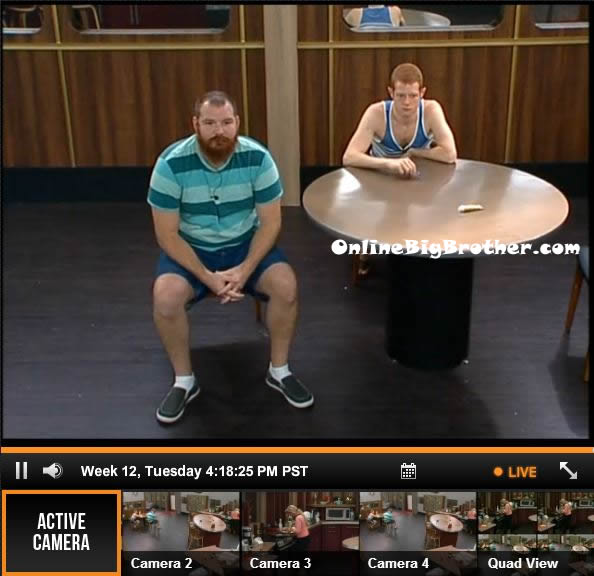 4:30pm Spencer grabs his sandwich and says look it's Amanda's vag!n@! I bet that's what it looks like. He grabs it and goes over to the camera and says alright lets put money on this. Does that look like Amanda's vag!n@? What do you think? Most likely so, wouldn't you agree! Andy says gross!! Spencer tells Andy you're lucky you don't got to f**k no nasty pu$$ies bro!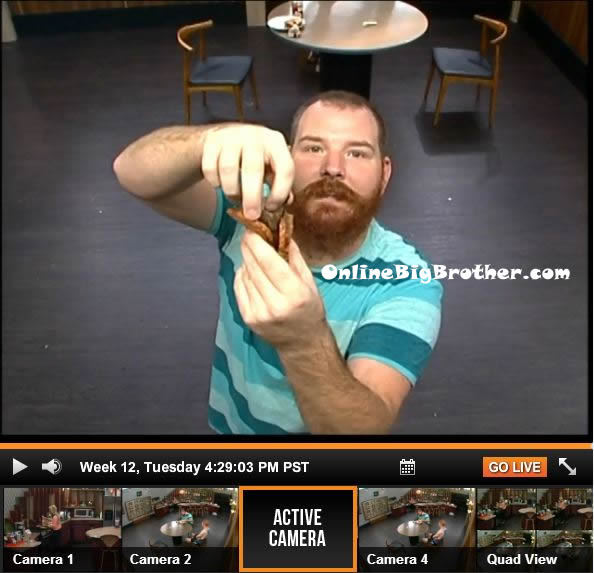 4:35pm Spencer shows what McCrae's sister looks like from how McCrae described her. She looks like me but with more of the Olson chin. I thought she would look like Kaitlin but she's not. Spencer says after the finale he would like to show Marilyn the whole house and f**k her up in the HOH room .. but that probably won't happen.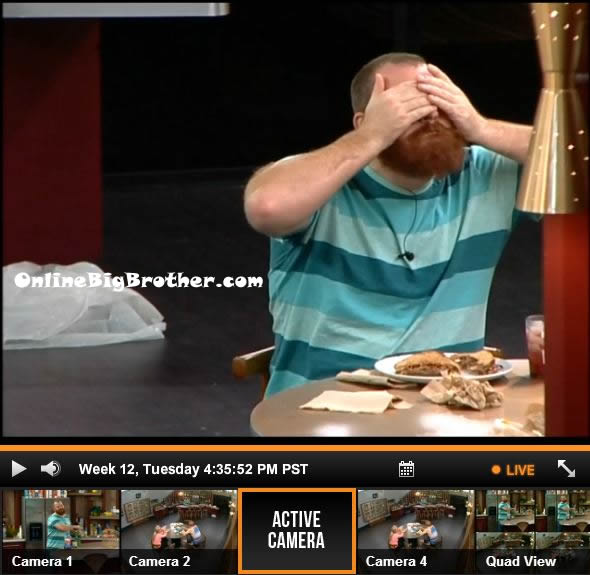 4:40pm – 5:30pm Andy says that the one moment he felt really bad for Candice was when Amanda said Howard wanted to f**k the sh*t out of her. If it did happen its sad because she had feelings for him and if he didn't say it, it made her question him. Spencer brings up how Howard had two girls at home that he was debating marrying or not. Andy asks if Candice knew about that. Spencer says he doesn't think so. They continue talking about the evicted house guests and past competitions. Big Brother blocks the feeds for a few minutes and when they return the final 3 are up in the HOH room on a lock down.
5:30pm – 6:10pm The live feeds have been blocked while the house guests have been on an HOH lock down.
6:35pm – 6:55pm The feeds come back and the final 3 head to the storage room to look for something to eat. Spencer says that Amanada's personality to him is so unattractive. He says every other word out of her mouth is co*k, Sucking balls, sh*t and f**k! Ginamarie and Spencer toss the bean bag back and forth. Andy and Spencer tell Gina about how Amanda tried to kick it with Nick before she got with McCrae. Spencer says she just wanted di*k. I don't think she would have been okay with the 90 day rule. Gina says yeah, I am. Gina asks what do you think the jury members are going to ask us? Andy says probably ask how many times we've masturbated, what are colors of the rainbow in order? … They talk about Candice's clown suit. Andy calls Candice a b***h. Spencer asks I wonder if Marilyn's parents like me now? Andy says probably. Spencer says probably not. They were probably Amanda fans.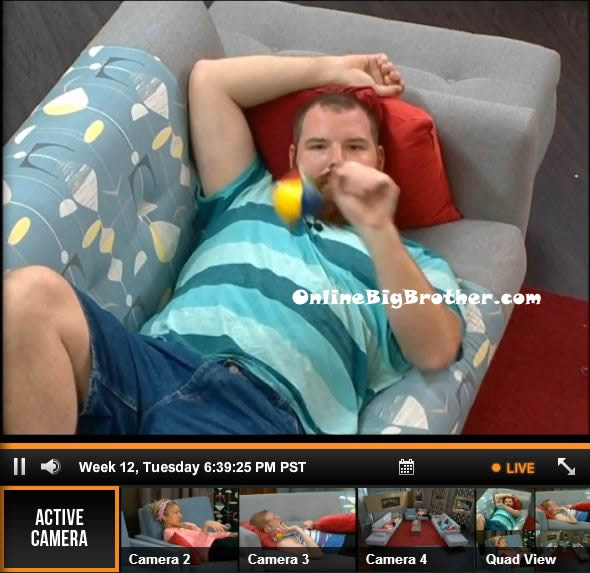 7pm – 7:30pm Gina comments how her room at her parents place is 10 times messier than when Julie showed the bedroom here. She says her room is small. It's the size of the shower to the wall. Andy says I just want it to be tomorrow. I am so over this, I am more anxious than I have ever been. Spencer says he is a little nervous too. Spencer says Elissa would burn rice every time she would try and cook it. Stupid B***H! Ginamarie tries to make a recipe off the Chex cereal box. She can't find the recipe and thinks its not on this box. After she's just about done guessing how to make it Andy finds the recipe on the back of the box. The final 3 sit down to play a game of bullsh*t.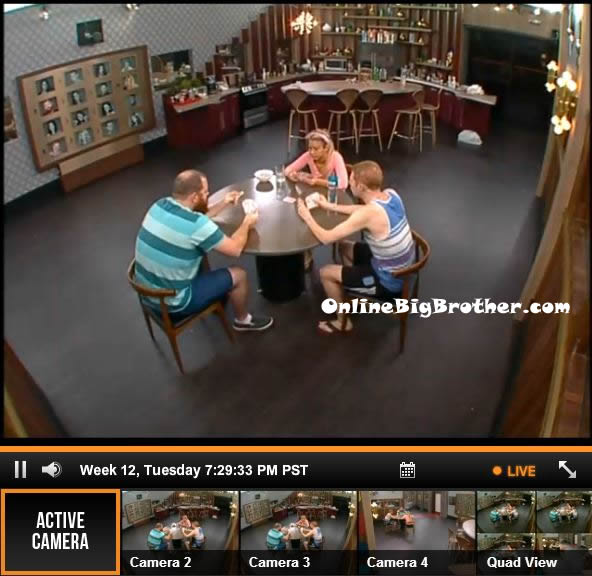 8:15pm Andy and Spencer talk about this being the last night in the house. Spencer says he'll be hugging Marilyn tomorrow at this point. Andy and Spencer head to the storage room to look for games. Spencer says we've been lied to us again. Andy says and they didn't give us anymore dental dams. Spencer asks what!? I was planning to use one on myself tonight. Andy says me too. Andy says you know Amanda would want to play strip bullsh*t. Spencer says oh yeah! Andy deals out the cards for another game. They then go through her deck while she is gone and takes out all the 2,3,4,5,8's or Jacks. Ginamarie joins them and they start their game. They wait a couple hands until the pile gets really big and then call bullsh*t when she says she puts down a Jack. She then picks up the whole pile. Andy wins and they explain they stacked the deck against her. Ginamarie calls them jerk offs. Spencer asks Andy if you had to have straight $ex with any of the women on the wall who would it be? Andy says Elissa. Spencer says figures. Big Brother calls them to the storage room. They run and look and find crafts.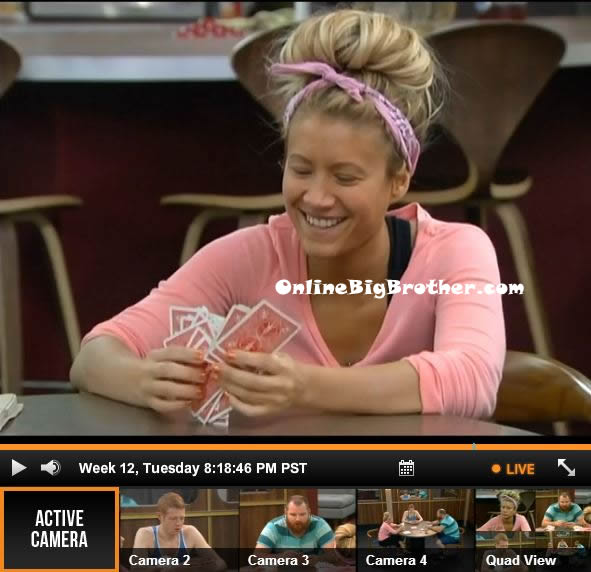 8:25pm – 8:50pm They start painting the figurines of cats, dogs and dinosaurs. A minute into painting Andy says he's already over it.
9pm – 9:22pm Andy finishes his dinosaur and cat and says he wants to throw them away. Spencer says yeah you probably should. Andy says he's going to have a beer. Spencer says he going to save his 7 beer for tomorrow and drink them right before the show. Andy says you'll probably get a stop that. Spencer says f**k that I don't give a f**k what they say. Andy says I am legitimately scared to see Amanda and Elissa tomorrow. Spencer says f**k that! Spencer says he doesn't give a f**k what they say tomorrow. Andy says if they say anything b***hy he will just tell them to sit down. Andy asks who was the biggest a$$hole? Amanda or Elissa? Gina says Amanda. Andy says yeah even though Elissa was unbearable to be around I wouldn't really call her an a$$hole. Andy asks who was most likely to walk in on Elissa masturb@ting? Andy says everyone? Spencer and Gina say yeah. Andy says yeah I walked in on her masturb@ting at least twice a week. Spencer says she was a masturbating fool.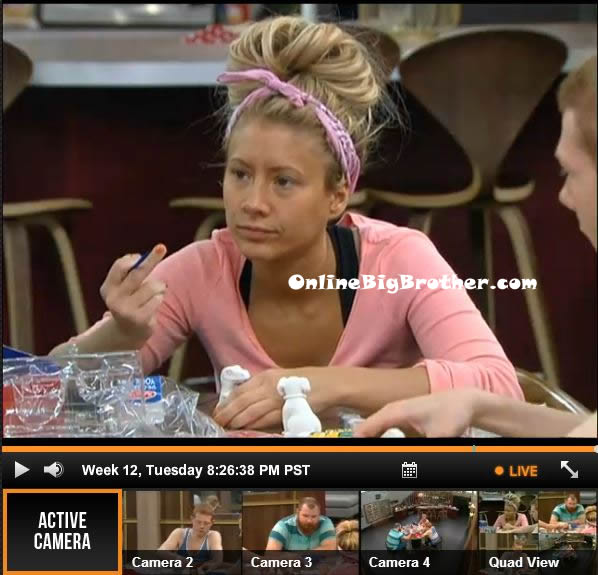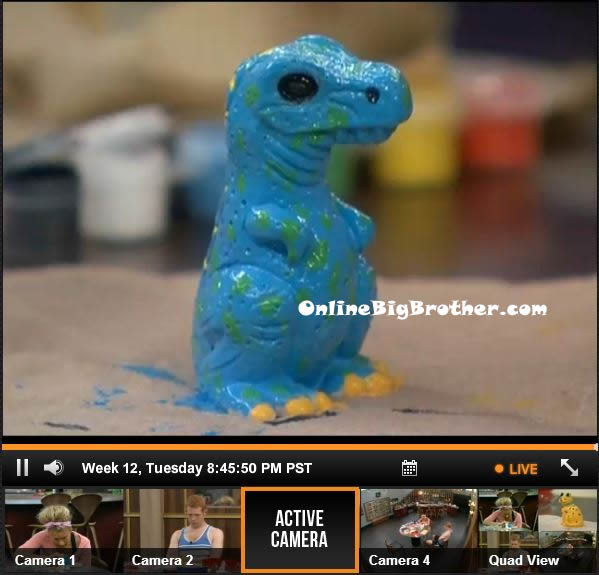 Big Brother 15 Live Feeds: FREE 2 DAY TRIAL
If you enjoyed the live feed updates this season, please consider donating. Simon and I work 24/7 all season long to keep you updated on everything that happened inside the BB house. ANY amount is greatly appreciated! Your donations go directly to paying the server and bandwidth fees required to run this site.
Use the Big Brother Live Feeds to FLASHBACK to SEE what they can't show you on TV: BB15 N!p Sl!ps / N*des