Quick Big Brother Spoilers
Head of Household: Cameron
Nominees: Mecole and MOMMA FE
POV Players:Mecole, MOMMA FE, Cameron, America, Blue, Matt (Jag is hosting)
POV Winner: Cameron
Veto Ceremony:
Havenots: ?
Lock your ranks in before midnight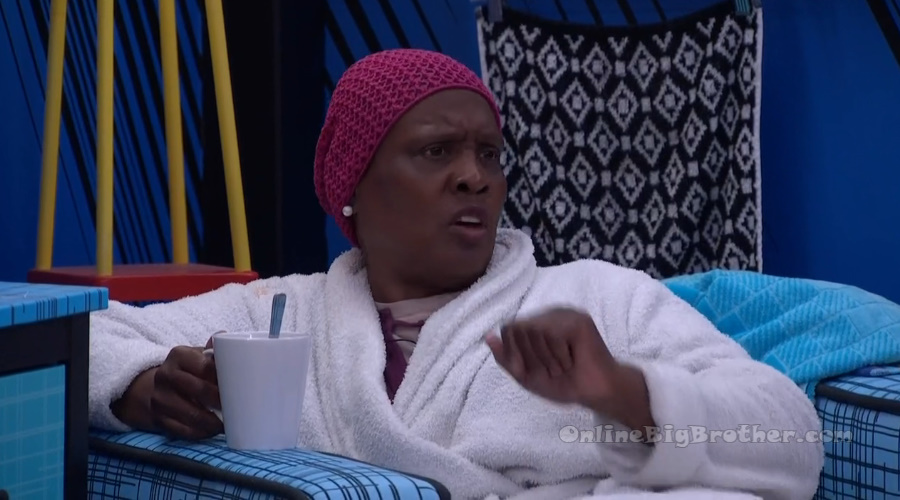 8:24pm Comic Bedroom – Meme and Felicia.
Meme – are you okay? Felicia – Mmmmhmmmmm.. Meme – Mess that's my theory and I'm sticking to it. Felicia – that's my theory and I'm sticking to it. I wanted to say that to Jag and Matt just like you guys be a fool if you want to if you guys don't take his (Cameron) a$$ out next week… he is going all the way to then end. You have to recognize that. GET HIM GONE! The four of you guys need to work together to f**k him up! Meme – Huh. Well we'll see what they say. Felicia – RIGHT! And they might go right upstairs and tell him and if they do shame on them. SHAME ON THEM! They really crazy if they go do that! I mean I don't care because I will stand and say that sh*t in front of him. I don't want him to win this! NOT AT ALL! I don't care what he has done in competitions .. he has no people skills what so ever. He thinks he does but he doesn't. He got his a$$ up and came in because he was afraid of what I might say in the house. His instincts are good. I can't stand him. That is the first person I've said .. I literally can't stand him. He will never walk his a$$ through my front door. Meme – who child! Felicia – I am trying to figure out your guys path.. next week he cannot play and if you can .. if somebody win veto other than him. Jag or Matt need to win veto and put his a$$ in the chair and send him home. Once he gone.. you guys can take this to the end.. get rid of Cory and America .. get rid of Bowie Jane.. I think your best partner honestly is Matt. I do wonder if he is going to slowly undermine you.. to a certain extent. Jag is still .. but I think if you guys get into a final four and then its just HOH and veto wins.. and you got the where with all to make that happen. Meme – I can't believe I didn't win that today. They talk about the comp. Meme – I was in there on a war path. BB switches the feeds. Felicia – he does not want me in the jury house. I want you gone because I don't want you to sway jury votes. Girl what the f**k is that. And no more battle backs. Meme – it will be a double before its a battle back. Felicia – I would give anything to sit in the final two chairs with his a$$ and beat him. No actually I wouldn't because I don't want him sitting there sh*t! F**k all that! I want him to get gone.. next week. He ain't bringing Matt, Jag or you.. he will bring a Bowie Jane. Felicia thinks Cameron will take Matt, Bowie Jane and America to the movie.
8:30pm Hammock – Cory and Blue.
Cory – at this point do you think its even worth a backdoor (Next week to get Cam out)… because odds are he is going to play. Its 6 of 9 people and it would end up being a 50/50 shot. Which it still might be worth it. Blue – that's a good question. I think .. maybe for next week a backdoor is still an option.. Cory – it could be a 50/50 shot… and it would be a little better than that. 6 names in it, he is one of them… Blue – I would do Meme and Bowie.. because they're both good competitors to an extent. Cory – I would do the exact same noms. I f**k with Cirie a lot .. and walk away from it feeling like a million bucks. That's just how she is. I am really not concerned about that. Blue – me neither. Cory – especially with Meme …she has proven to be a hell of a competitor. Blue – I thought the exact same thing. BB switches the feeds. Blue – I would probably do Meme and Bowie situation. If they stay the same then, Meme got to go. Cory – yeah that works for me. Blue – and then if one of them takes themselves down .. that would be the ideal situation.. then Cameron goes up.
8:52pm Storage room – Matt and Jag.
Matt picks up the condoms – just what I've been needing. Jag – they really stocked up! Why? (America and Cory) Matt – why are they stocking it up on that. Blue and Jared maybe? Jag – ahhhhh… Matt – but not anymore. Jag – but why are they stocking up like THAT?! Matt – what do you mean? Jag – why would they stock up unless people are using them? BB switches the feeds.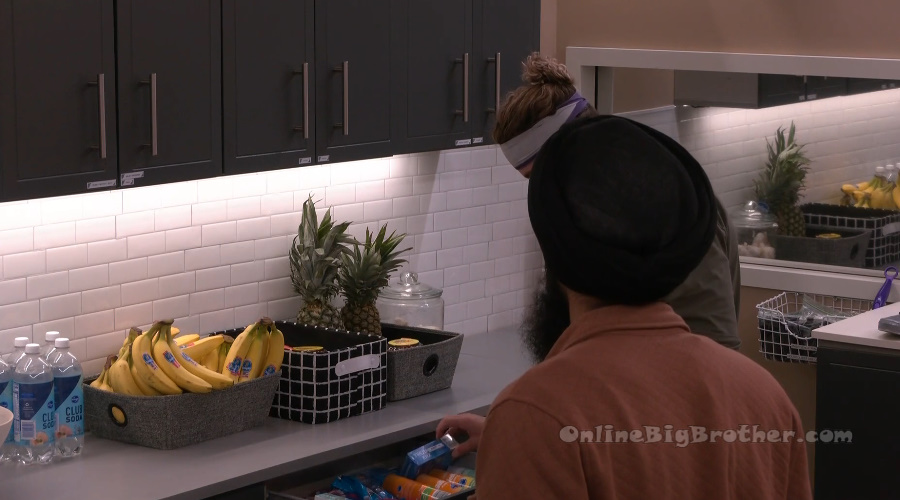 9:22pm- 9:35pm Comic Bedroom – Jag, Cirie and Felicia.
Felicia – I wish he had put me on the block next to anyone but Meme. You don't know how bad I want to get further in this game and f**k up his game! I want to win HOH next week and put his a$$ on the block and stare at him for a whole damn 7 days! I am telling you guys strategize and find your path and don't make your path be with him because he is going to cut your throat. Cicie – what are you looking at me for? Jag – what the f**k how did I get in on this. Felicia – Don't make no deals with him.. he is not going to follow through. He already told me he don't trust nobody in the damn house. So whatever he saying he is lying, cheating and stealing .. next week when he can't play HOH is the only reason why he is acting how he is acting. And once he get past that so that he can win again.. he getting ready to slice again. So when you have the opportunity next week you better take it because you're not going to get it again. I am telling you because by then he will have cut who can't beat. Felicia – I am just trying to figure out what made ya'll decide that I need to go. Cirie – what do you mean all you decide. We haven't made any decision. You got on the block yesterday.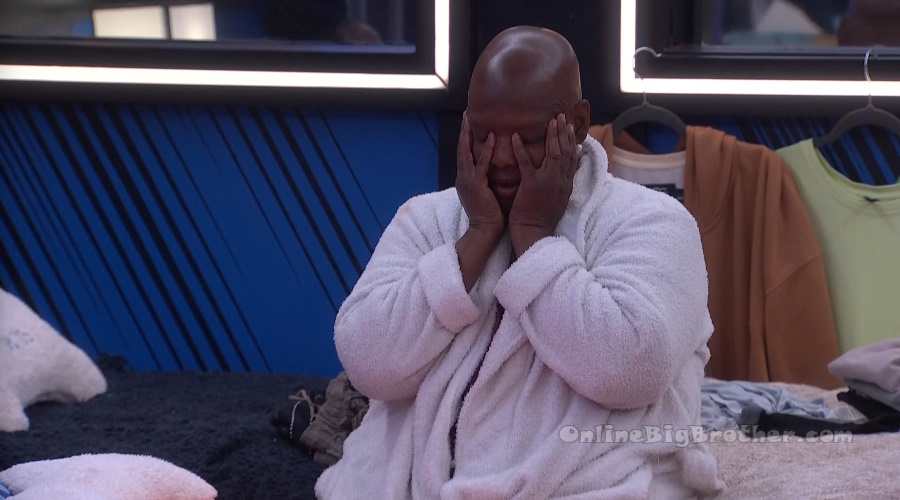 10:10pm – 10:40pm Comic Bedroom – Meme, Felicia, Jag and Matt are studying the days / events of the season.
11:10pm Backyard – Cory, Bowie, Jag and Matt
They're sitting around chatting about random things.

11:12pm Kitchen – Blue talking about missing Jared.
Blue – I am very fortunate to have people that love and support me in this house but damn its sucks not having you here.. boring but I didn't come to Love Island I came to Big Brother.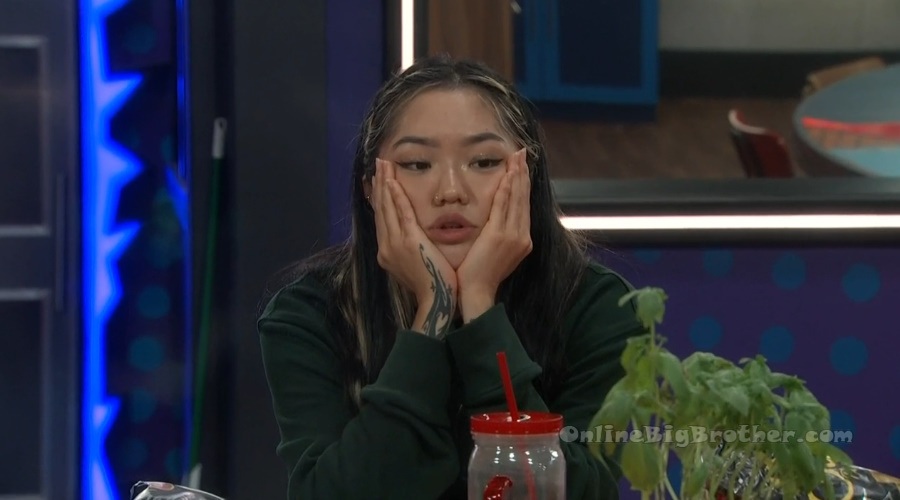 11:20pm – 11:30pm Bathroom – Blue and Cirie.
Blue – Meme and I had a conversation .. I have been telling her how I feel about Cory. And she has been reciprocating pretty well too. I think if she were to win next week she would probably put Cory and America up. Cirie – oh wow. Blue – but I don't know.. because I know she was kind of on a Jag train maybe like last week or a few weeks ago. Matt is pretty on board to get Cory out. Cirie – what about Jag? Blue – that's the one.. I think he wants to keep Cory as long as possible but you know. Cory is fully on this get Cameron next week which like is good but I am kind of like as long as Cameron is here he could take a shot at people. And as long as Matt and Jag are here they will take a shot at Cameron where as I necessarily can't. I am trying to navigate that extremely carefully.

11:34pm Comic Bedroom – Felicia and Cirie.
Felicia – I need you, Matt, Jag and Blue. Do you think I can work that. Cirie – They're so far up Cameron's a$$.. they're going to be too scared. I heard you say don't make no deals but had they made deals already? Felicia – it don't matter because he can't play next week. And I can help them with a couple votes down the road to get rid of these two right here (Cory and America). Cirie – I don't know about Jag .. it might work on Matt. Felicia – yeah. I really wish .. I am so mad that he sat me next to Meme.. I hate in order for me to stay, she has to go but I also know the he doesn't think she is no threat at all. She is just a number for him. Its a waste to come for her. He is going to battle to get my a$$ out of here. And I am going to be in his face the whole damn time.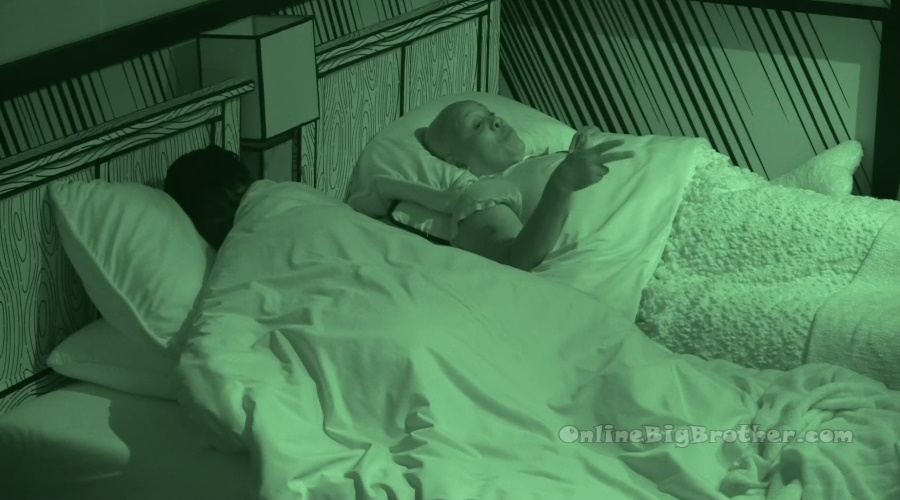 11:50pm Havenot room – Blue and Matt.
They're talking about how Cameron won 4 competitions in a row. Blue – I really want to win. I hope. If its the slip n' slid I am gunning for the HOH. America is going to go for the 5k. If its slip n' slid its going to be me, you and Jag. So there's HOH, 5k and Safety. You could take the 5K, Jag could take safety and I could take the HOH. Matt – we just have to beat America and Cory. Blue – but convincing Jag to go for safety will be hard especially if he doesn't think going for Cory would be a good move.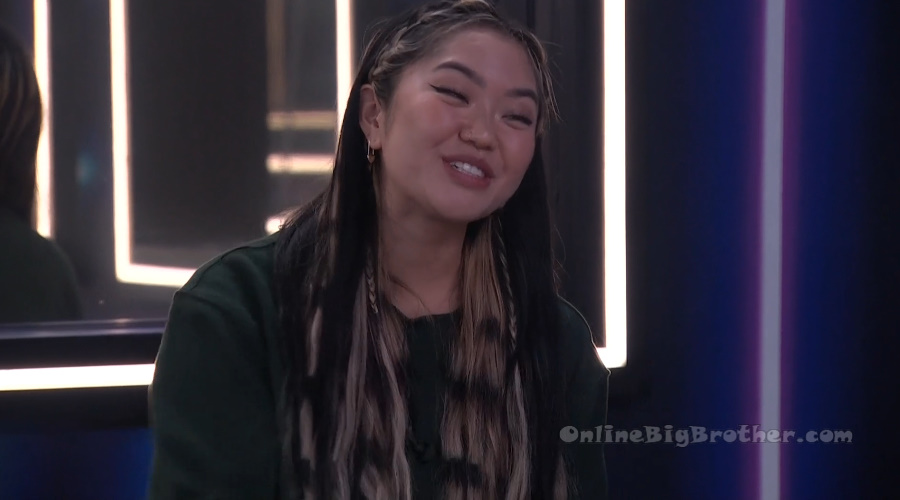 If you've enjoyed our updates this season and want to leave a tip you can do so through PayPal.
You don't even need a Paypal account to contribute. Any amount is greatly appreciated!