Quick Big Brother Spoilers
Head of Household: Cameron
Nominees: Mecole and MOMMA FE
POV Players:Mecole, MOMMA FE, Cameron, America, Blue, Matt (Jag is hosting)
POV Winner: Cameron
Veto Ceremony:
Havenots: ?
Lock your ranks in before midnight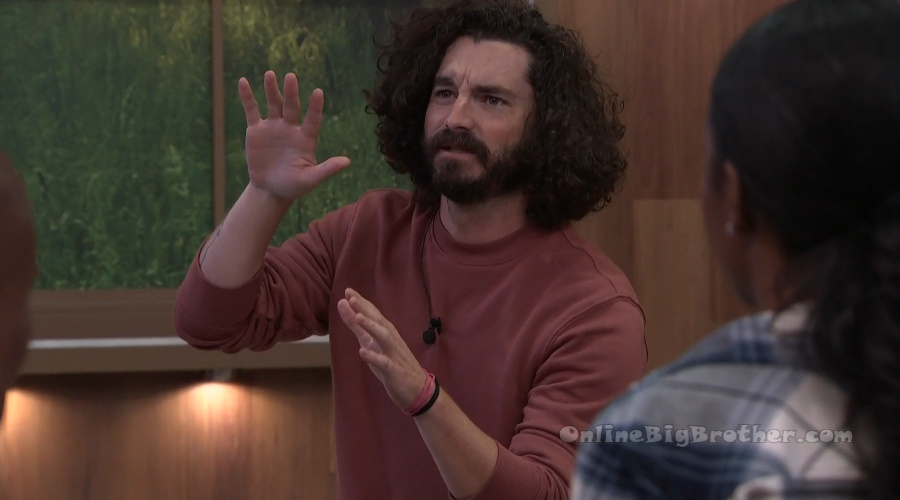 12:16pm – 6:53pmThe live feeds were blocked for the Power of Veto competition. It was an individual timed comp where they each had 1 hour to complete it. It was in the basement in a pitch black house where they had to find different items.
CAMERON WON the Power of Veto Competition!!
They're all talking about the veto comp. Cirie asks if they had a time out time? Blue – An hour. Cory – that's why the basement was closed for like three weeks. America – they were building a house! Meme – it was pitch black! Felicia – I found the things in the first 2 rooms in 2 minutes. Meme – I was a FOOL in that!! Blue that was FUN! Meme – that was fun! America – that was not fun!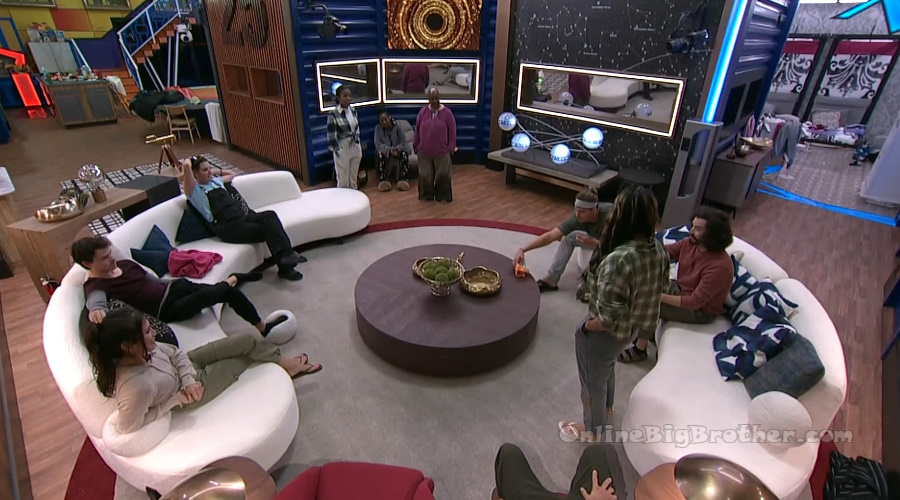 Bathroom – Meme and Blue.
Blue – You're good! You're good. The verdict is you're safe. Meme – I know. I am so mad that I couldn't win that. I wanted us to have a f**king movie night! Blue – I know. Meme – I didn't waste one second. Blue – the moment I walked out of there I was like Meme got me beat! I know America and Matt did not do well! I had a feeling that Cameron was going to do well in this one.. some kind of military training. Meme – its crazy! Blue – you're good, you're good. I will tell you if I hear anything. Meme – I just really wish I could have taken myself down! Blue – but you did well!
Bedroom – Cameron, Matt and Jag.
Matt – GOOD JOB Bro! That was good. Matt and Jag shake Cameron's hand. Cameron – that was fun! Cameron – there was a haunted house down there but I didn't know it was going to be after scary week. Matt – yeah. Cameron – because that was sick! That was my favourite one. You (Jag) would have loved it. You would have smoked my time too! Jag – I don't know. Cameron – you would have .. I f**Ked up. Lets see how her demeaner changes (Felicia). Matt – it already is.. it was really quiet and awkward out there. Cameron – we put on wet mics and sh*t shoes .. its about to get nasty! Matt – are you excited. That was exciting huh!? Cameron – Yeah… a piece of me was like don't win this because you're going to get .. you know!? But I already am! I am already that guy. Matt – I wanted to beat you so that you didn't have to take the win. But f**k I did bad. But its good that you did because then you would have had to put someone up. I couldn't let her win because then we would have pissed her off and put up Blue. BB switches the feeds.
7:19pm Big Brother opens up the backyard.
7:24pm Backyard – Meme and Jag.
Meme – well I havent started talking to people yet though. Jag – I know being on the block is scary and sucks but from everything that I know I truly think you'll be good. Meme – Thank you. I am so damn mad that I didn't win today. I legit could have .. if I had just found that f**king tunnel. Jag – I love having you in the house. You're definitely someone that I want in the house for personal and game. I truly love having you here. I don't want you to not know where my head is at. Meme – I appreciate that. Thank you jag. Cirie and Cameron join them.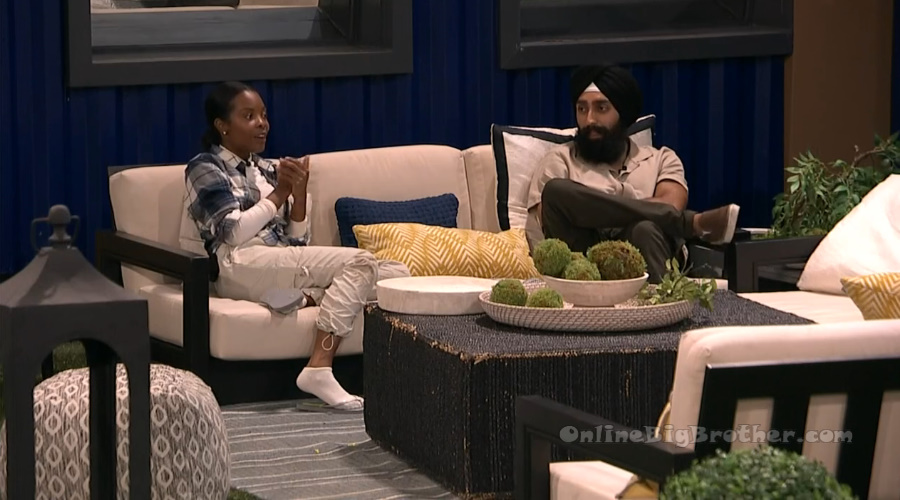 7:49pm Backyard – Meme, Blue, Cirie, Cameron and Bowie are still talking about the veto. They talk about how there was a safe word if you didn't want to finish the comp. They talk about how dark it was and how you couldn't see anything but what was right in front of you. Meanwhile Felicia is sitting in silence. Felicia – Lies Lies Lies It wasn't that damn dark! It was dark but it wasn't where you couldn't see .. you didn't have to be all up on the wall to see sh*t. It wasn't scary at all so all of these people are damn scaredy cats because that wasn't scary at all. Why did I go into the same room twice. That was my downfall. That was my veto to win. Damnit Felicia! That was my veto to win and I lost. I guess it means it is my time to go.
8:05pm Backyard couches – America, Meme, Bowie and Cameron.
Meme comments on how the safe word in the comp to quit was "abracadabra". America said the safe word during the comp and quit.
Meanwhile – Matt, Jag and Cory are playing pool.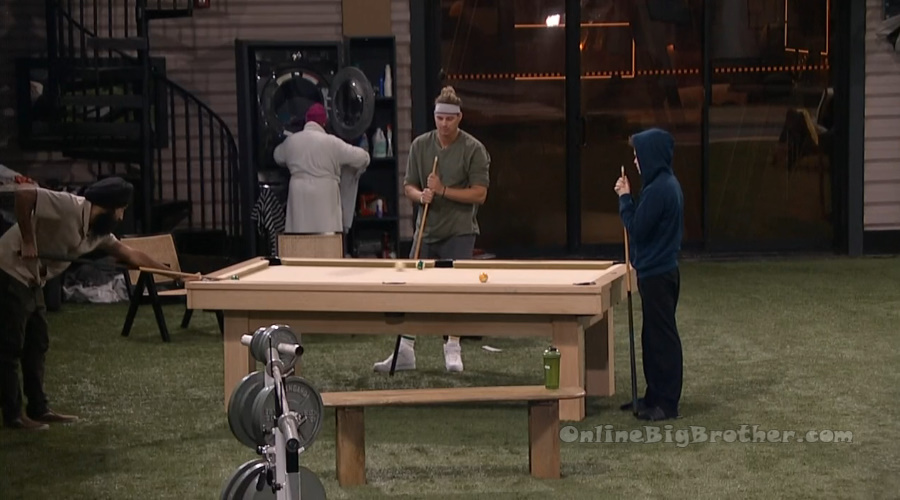 8:12pm Kitchen – Cirie and Felicia. Felicia is ranting and raving about Cameron.
Felicia – he might be a fool and take damn Bowie Jane to then end with him. Cirie – MMmmhhmm. Felicia – and all he is going to do is talk about how he had to battle his way back and how everybody was against him. Cirie – yup! Felicia – He has NO personality. He is such a follower. I just sit back and I watch him and he wonders why he didn't naturally connect. His only connection is being HOH. That's what keeps people in the room with him. When he is not HOH they don't stay in the room with him. And then as soon as he makes HOH, they get back in the room with him. I hope ya'll are catching all this.. he ain't no damn player. He is not a master player. He has no personality. He has no nothing. He doesn't draw people to him. The only thing he has is the ability to win competitions and half these guys aren't playing because they don't want to win because they don't want to have to show their hand because they don't want to piss anybody off. BB switches the feeds.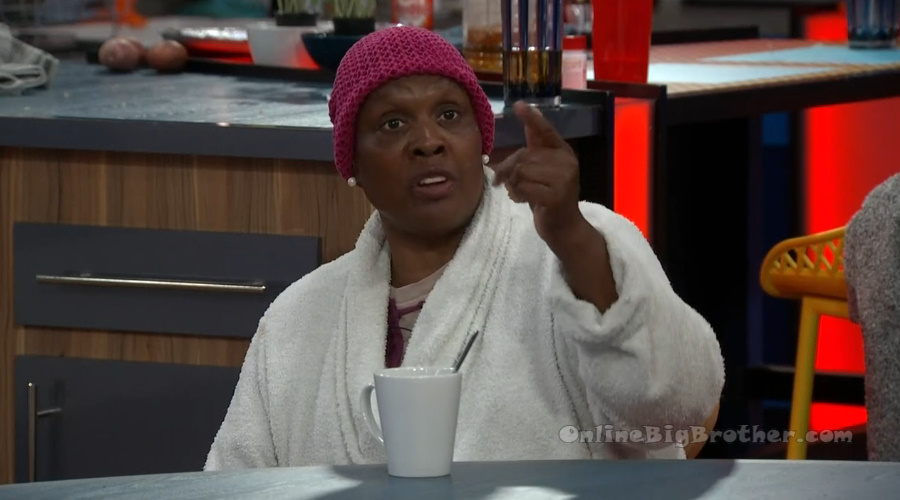 If you've enjoyed our updates this season and want to leave a tip you can do so through PayPal.
You don't even need a Paypal account to contribute. Any amount is greatly appreciated!