Quick Big Brother Spoilers
Head of Household: Cameron
Nominees: Mecole and MOMMA FE
POV Players:Mecole, MOMMA FE, Cameron, America, Blue, Matt (Jag is hosting)
POV Winner: Cameron
Veto Ceremony:
Havenots: ?
Lock your ranks in before midnight
The Situation – Looks like Cam wants to backdoor Corey. There's enough push back from Jag and Matt to put the plan on ice for now..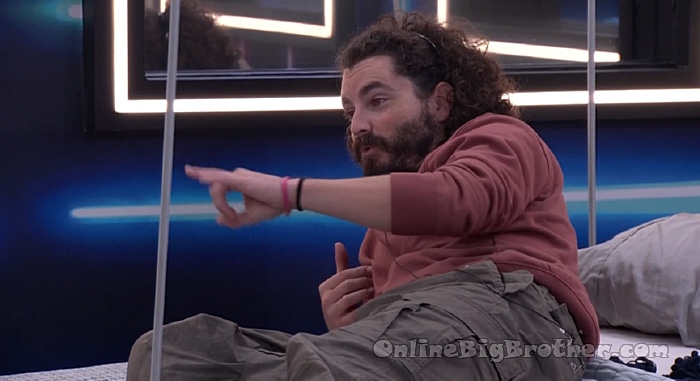 12:55 am Corey, Jag, Cam, America and Matt have been chatting in the have nots.
After COrey, Jag and America leave.
Cam – they are nervous they are f***ing nervous.. They wanted me to leave so they can talk to you.
Cam says he knows Jag is pitching for them to let Corey go after Blue and Blue go after Corey but "Corey don't want Blue, Corey wants ME"
Cam – if Corey is gone next week we gane BLUE
Matt – true.
Cam – We get Felicia out and we make our point that she doesn't make it to the jury house but I think she's about to run her mouth into the ground over the next two days.
Matt – ohh yeah he is
Cam – she's going to show herself. The benefits of getting Corey out this week is we bust up the biggest duo. The smartest player in this game is gone. Felicia the loudest mouth stays in. People want to get rid of her. Blue comes to our side. America is left in the wind she'll be forced to either go to Blue or the competitors. We don't gain Felicia but she stays in the house as a target. We can beat her we can beat Cirie.
Cam says if they get rid of Corey this week Jag and Matt have no competition for the HOH.
Cam – if we play this mother f***er like the fugitives would play it this is what we'll f***ing do.
Cam – this wasn't a hasty decisions we know the guys has got to go.
Cam – america would cut my throat tomorrow if she felt like it all because Corey told her to.
Cam – how about we make the first move.. I'm tired of him.
Cam – we all know Felicia wants to take us all out but Corey has a plan. I can't let him take advantage of that.
Cam is certain if Corey wins HOH next week he's going to be the target.
Cam – this is the call man.
Matt – I'm down with it. Tell Jag he'll have some input.
Cam – the only decision we'll be making here is Felicia is in the Jury. The jury vote won't matter if we don't make it to the end.
Cam – I'm going to drink my last beer and go to bed. I hope Jag goes for this. This is a HELL Of a move, Very beneficial to us. Keep the three of us safe, America is left in the wind, Blue comes to our side and now we got Bowie.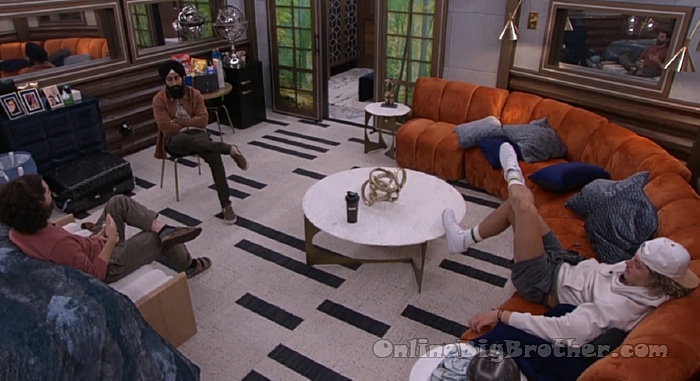 1:10 am Cam, Matt and Jag
Cam – I will not make a move on anything that we don't agree on. I told Matt this and he said we gotta talk to you. I will not make a move that you don't agree with. I know for a fact that mother f**Er is coming after me.
Cam – we all know that little brainiac mother f**er is going to run this b1tch if we leave him in this house with his little sidekick. I do not want Felicia in that Jury but I will take the gamble to get his a$$ out of this house right now. She's annoying she's going to shot herself in the foot over the course of the next two days. We're going to let her believe she is leaving then I will pull her off that damn block and put Corey up next to MEME.
Cam – COrey will go home and we will get out the smartest sharpest player in this house and the F***ing fugitives will roll over everyone that is here.
Jag – hmm.. damn damn… you think he's coming after you next week?
Jag – I don't actually think that.
Cam goes on about this america is telling Bowie how much she and Corey like Cam. They know Bowie is close to him and will come back to tell cam this.
Cam – they are scheming like they did with JAred.
Cam thinks Cory is Gathering the votes by getting close to Felicia and Cirie to come after him and the fugitives.
Cam – Matt what do you think?
Jag – A worry I have. what happens with Corey gone and I feel there's already a BLue, MEMe, Felicia and America.. thing that would happen.
Cam – that would happen regardless.. if we left COrey in here they would have a corey. If we take Corey out they have a Felicia.
Jag – that's happening but I still.. mmmmmmm…
Matt says that group will form with Corey gone and come after them.
Jag – Corey is more honest with me than he is with Blue. What he says to Blue is probably what Blue wants to hear.
Matt – Corey does want to target BLue
Blue joins them for a bit.
Cam is saying if Corey is in the house he will build an army.
Cam – we have the ability to pull Bowie. that's four. We can pull Blue or America. We can have a majority to move forward but with im in the house we don't have America
Matt – Blue won't leave Cirie's side
Cam – Then we will take Cirie next I don't care
Jag – there is a shot we need to take at him eventually. I still.. My gut is telling me it's an early shot.
Cam – we're going down to 9 people
Jag – we're still good next week and the week after.
Cam – this dude is locked up
Jag and Matt are not hyped with taking Corey out.
Cam – if we don't agree on it as a three I will drop it.
Cam says Felicia is going to sink her game in the next day or two "She will shoot herself in her foot and be a shield for us the remainder of time in this house. America will flutter in the wind like a little lost bird. Blue will run to Felicia and Cirie, MEME is going to keep Doing hair and whatever benefits MEME, Bowie will stick to us like white on rice.
Cam – we're going to compete our asses off and roll this house. That guy right there.. is playing this entire game from the seat.. We know he needs to go we're only talking about when that needs to happen.
Jag – For me .. the thing I'm thinking about. he needs to go is it this week or next week
Cam – we got him in the crosshairs right now.
Jag says that style of gameplay feels more dangerous. "We need to continue to talk about it this will be a gamble for you if you truly think he is gunning after you"
Cam – follow me. You two are against it but I talked to Blue so we're not drawing that line… Lets make someone like blue think it's her decision lets lat someone like Bowie in on the deal. So we're not drawing the line when we make the call we're drawing the line before and saying we want you on this side.
Jag is going on about a social game and being able to maneuver. He adds that the three of them have more influence than Corey.
Jag – there's three of us here and I believe the three of us have more influence than one individual.
Jag says if they can get the Blue Versus America fight going they can step back and allow that to happen.
Jag – none of them have what it takes without our support to take a shot at us.
Cam – He's going to be the leader of the army
Feeds flip again… Pretty much JAg and Matt don't want to Backdoor Corey and cameron does.
Jag – Corey made it clear that he would not have taken a shot against JAred unless me and you were on board.
Cam – this is what you are pitching me. We gamble on the corey and Blue situation and we gamble on ourselves as social players. I am gambling on the two of you to have eyes and ears in case someone is coming after me.
Cam – What I would be doing by not taking this very wide open shot .. by not taking it I am putting a lot of trust in you guys. I will be extremely mad if it goes in a opposite direction.
CAm – if we are really serious about this three.. we are at a Y in the road right now. Any direction will work for us it's how we will maneuver. Do we want to set up as the f***ing three that are going after this dude. HE will be the leader of the army. OR do we want to try our hands with making the most relationships.
Cam says this late in the game they aren't going to change anyone's perspective and opinions. "We are the guys that do the stuff.. we are the guys they need to leave this game"
Cam – we're not going to make a solid decision right now.. what we are doing right now is you see my perspective and I see yours This is good this is what a team does.
Jag – they have a lot of qualms about each other. Corey and America are suss about Blue, Blue is suss about them. If takes not much for them to be like F** that. They don't feel suss about Cam. They feel scared that eventually cam can take a shot.
Matt points out that no where in Corey and America's target list is Cam for the short term.
Cam – we have the possibility to do a big game move leaning towards not doing that. I'm with that I feel. The next day and a half will be telling. Felicia is going to come out saying all sorts of shi1t
They try to figure out what they'll tell Corey about their talk.
Cam – tell them you were saying that you let me in on the fact that he's not a fan of Blue. i wasn't here for the double stuff.. I didn't see it go down. Making him feel more comfortable about OUR relationship.
They end their meeting. Cameron wants to backdoor Corey but Jag's and Matt's pushback has put that on hold.
Jag leaves. matt stays for a bit.
Cam – this is a team I'm not going to make a move we don't agree on.
Matt says he still needs to have some conversations says that Blue really wants Corey out.
Matt leaves..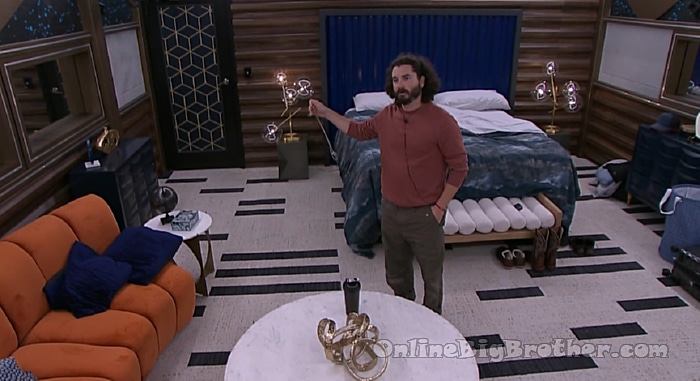 Cam to the Camera "I can do whatever the f** I want"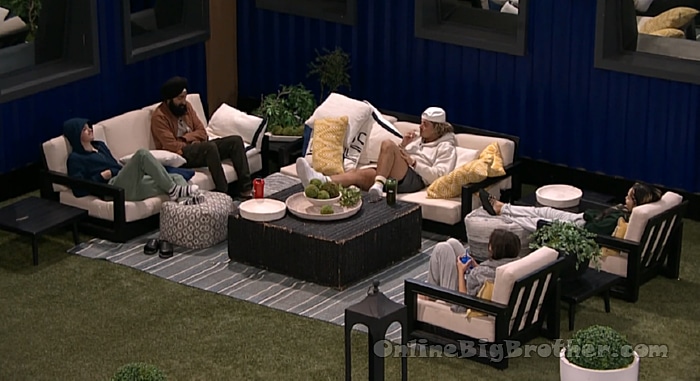 2:00 am – 3:30 am Jag, America, Blue, Matt, Corey and MEME for a bit.
Chit chat.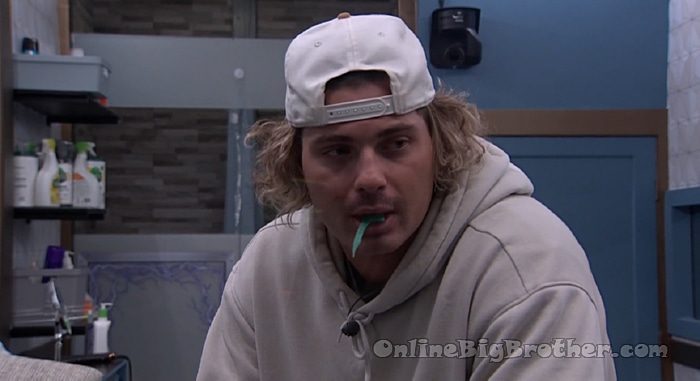 3:55 am Matt, Jag and Blue
Blue is telling them about America saying that eventually Corey is going to be evicted and she'll have to "Start playing the game"
Blue goes on about how Cocky Corey is.
Blue – if MEME wins she's taking as shot at Corey and America.
Jag asks Blue if she thinks Cam is using the veto. Blue doesn't think so.
Blue – BRO I need to win HOH.
They head to bed…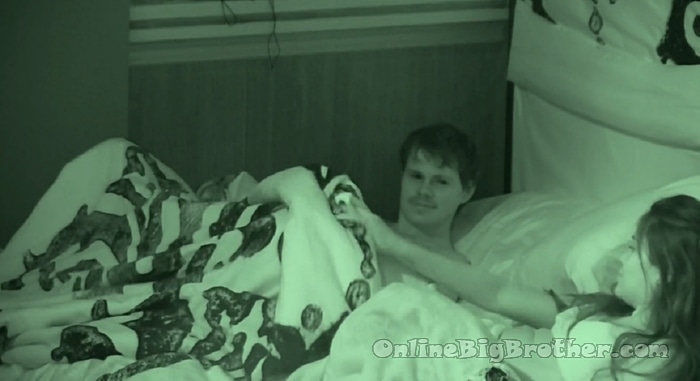 4:02 am kissing ends for the night.
5:50 am zzzzz


9:00 am Cirie and Felicia are up.
Felicia asked Cirie for her vote earlier in then morning. Cirie says felicia being in the house is probably better for her game.
Without your support this site and these spoilers wouldn't be possible.
Please consider a donation to keep the madness going.