Power of Veto players: , Minh, Carol
POV = HIRA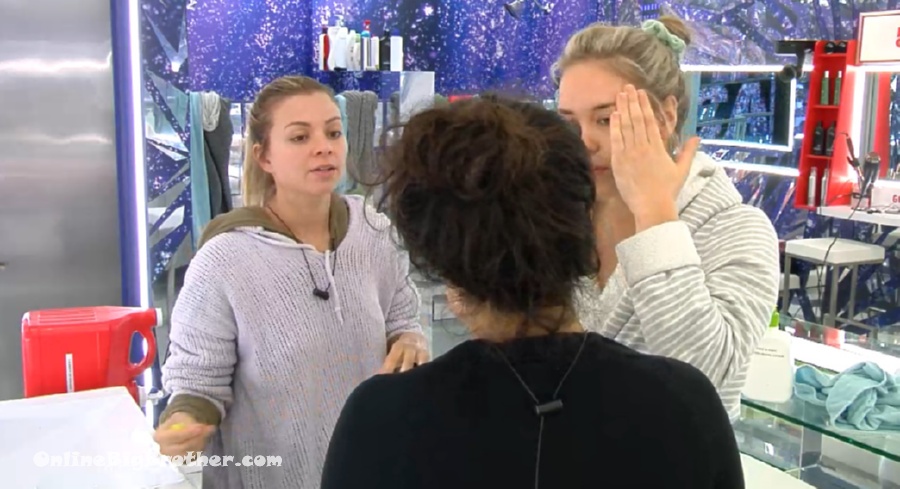 9:58 am Maddy, Rianne and Minh
They start talking about not knowing where Vanessa's head is at. Minh says Vanessa is a lone wolf in this game.
Ri mentions that Vanessa and Chris are getting closer. ASks Minh if Vanessa will start to try and get in good with Minh.
Minh – She already tried she's trying
Ri – she completely made up sh1t you said
Minh – here's the thing she told me she had a closer game relationship with me than with Kyle and the reason in that meeting she sided with Kyle was because she was scared of him. She lied and she won't admit to it
Minh – The number one thing I want to do if I win HOH is get sue out of this f**ing house. I can't take it anymore
Minh – the screaming, you're big a$$ baby one day one slop and your whining whining whining I just can't and the fact you have the nerve to call me a hypocrite and a liar when you literally were the sketchiest. I made an alliance with her and she literally was like here with this person, Here with that person, Here with this person.
Minh – I even tested her I went to Jams
Ri – You've told me this story
Maddy – you never told me
Minh – Jams was working with her and was trying to work with me.
Minh says Sue knew that Minh and Jams were "cool" and that Minh and Sue were "Cool" so why was she having private conversations with Jams
Minh – You take him away from me and have private conversations
Minh – I said to Jams hey Jams you want to work you me and Sue together.
Minh explains that Jams didn't know she was "Cool" with Sue.
Minh – I said why don't you ask her (If she's cool with Minh)
Minh – I said You ask her alone if she wants to work with the three of us
Minh – so then he went to ask her that at night she said Yeah she wants to work with you (Sue to Jams about Minh)
Minh – then after that I asked her what's up anything new? did Jamar tell yo anything? She was like Nope
Minh – Sketch ball
They talk about working together.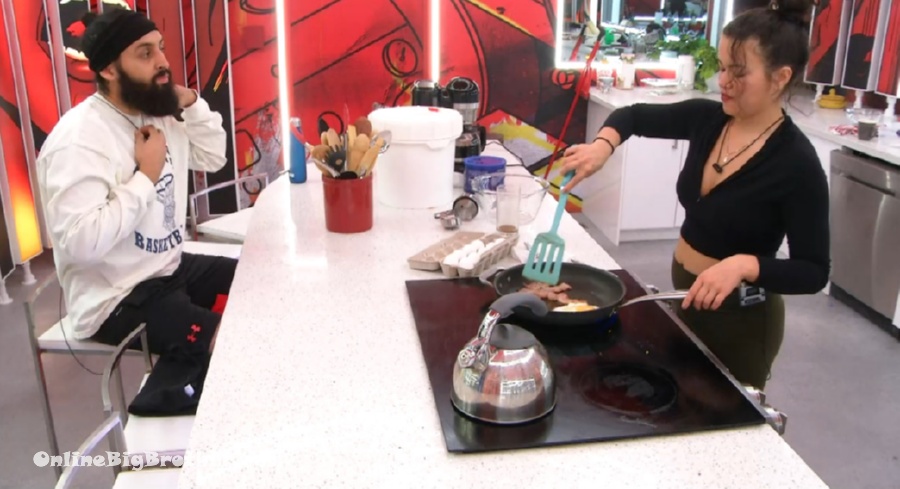 10:40 am Hira and Minh
Minh says her relationship has gotten better with Sheldon since he put her on the block.
Hira mentions how the house seems empty with so many people gone right away. Goes on to tell her he's running out of options if he wins the head of household.
Minh – In a way, it's like if I win HOh people expect me to do a certain thing because of the way I started this game but for some people that have been cool with everybody ever since this game now become more difficult for you
Minh adds for her it's easy to find two people to put up.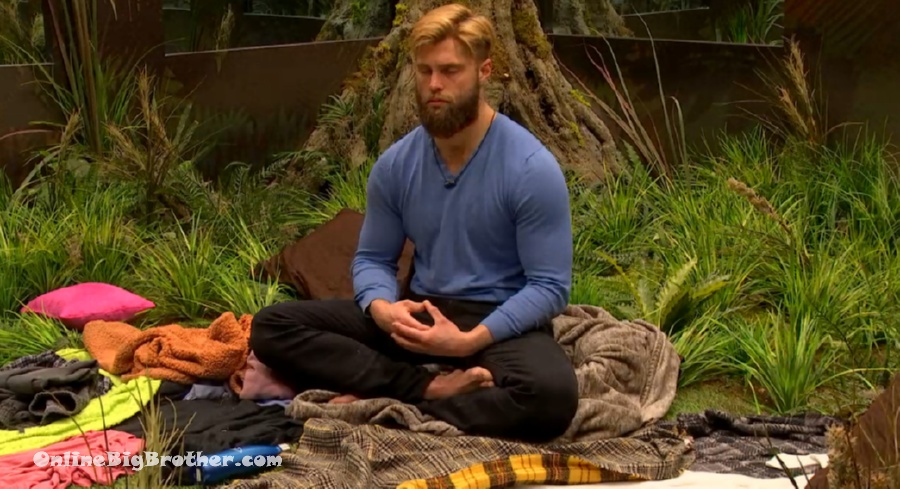 10:46 am Chris become one with the swamp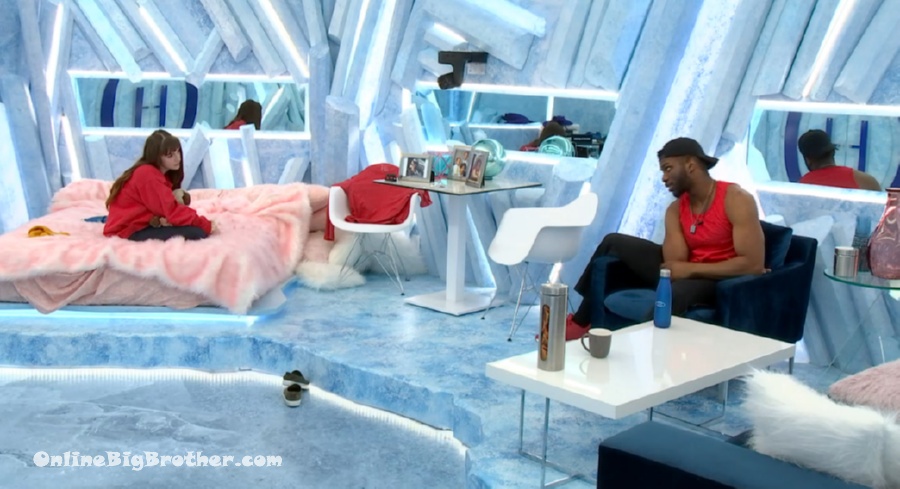 11:21 am Brooke, sue and Sheldon (Bull = Chris)
Sue says Chris is "Super super trustworthy" . Chris told her he's never putting Brooke up ever again. Adds that Hira is gunning after Chris 100%
Sue leaves.
Brooke – ohh the bull
Sheldon – the bull, I just wish there was a day I could be 100% comfortable with him because he's a bull there's always that hint of doubt
Brooke – he seems sketchy to me but I think that's just his personality
Sheldon – yeah
6:50 pm Feeds come back .
Hira wins POV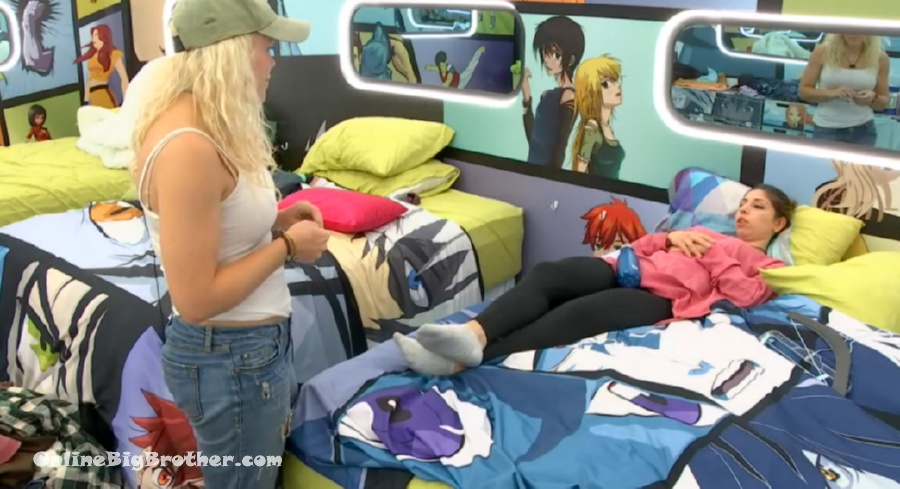 10:12 pm Vanessa and Sue
Vanessa wants their five to get together and think of a name.
Sue offers the pull them into this room. Brooke and Sheldon are in the HOH and Chris is downstairs with Maddy.
Sue – Chris' social game has been on fire lately
Vanessa – Chris is going to go far in this game. Kyle leaving was good for him in a way He's stepped up socially. He use to be very quiet. Notice how much he's talking now? which is great.
Vanessa – he's a number for us
Sue says she's annoyed they can't get Minh out this week.
Vanessa – dude, don't say this but if Carol stays here till Thursday it's a f*iing miracle
Vanessa – like today when she was turned away. She wants. I'm telling you every hour she's like I'm going home. She's like I don't want my interview with Arisa anymore. she's going home.
Vanessa – I was like please can you stay till Thursday like, please. If you self evict dude like. She'll need constant reassures until Thursday
Sue – what if she self evicts there will be no eviction this week.
Vanessa what if she self evicts and we can still have an eviction
Sue – that's what I'm thinking
Vanessa – did Shelly figure that out
Sue – I'm annoyed at everyone right now except for you it's also f**** Angie. she's so loud
Vanessa – she's terrible when it comes to the slop eating She annoyed me a lot whenever I was on slop and she wasn't
Sue – she's acting like she's been two weeks on slop it's been 2 f**ing days
They go on about how depressing it is to be around Carol when she's trying to quit but doesn't have the stones to walk out the door.
Sue – it's ridiculous at this point Leave if you want to leave. I'm fighting so hard right now I'm sleeping on the floor I have no food and I want to play this game so bad and you're complaining they don't have KETO chocolate bars.
Vanessa =- she's had a single bed since night two
Sue – she gets muscle relaxants and goes right to bed.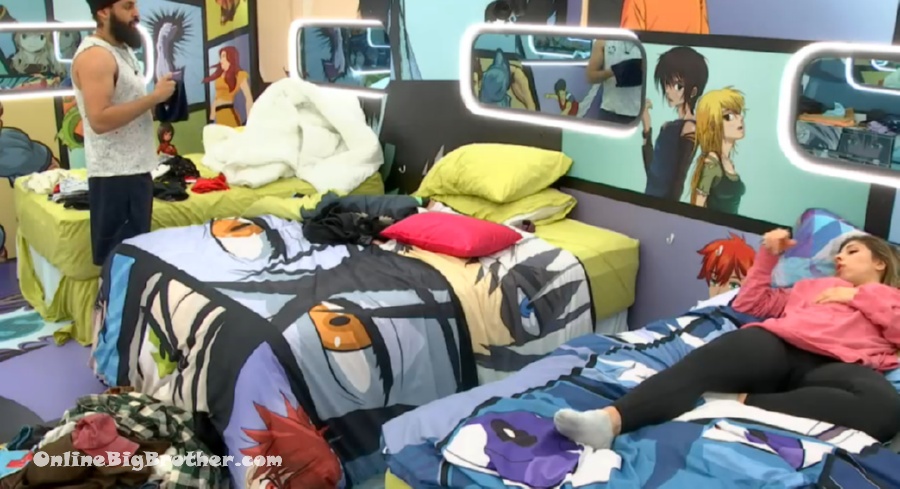 10:35 pm Hira and Sue
Hira – Carols got to go
Sue says it's frustrating they are losing one of their numbers and keeping a number against them.
Hira – she has to go she's either going to self evict and there will be no eviction. Do you want another no eviction again? that's the problem.
Hira – next week
Sue – I need Minh out Dude
Hira – yeah we all do but..
Sue – biggest threat to me is Minh. She wins she's coming after me she's coming after Shells. Shel and Brooke up or Me and Vaness up
Hira asks her who will Vanessa nd Chris put up. She says Minh "You're not touching the block"
Hira – I"m just worried about Minh and Chris
Sue – Chris knows I want Minh out we talk about it he wants Minhg out next week.
Hira – he's a smart guy he'll do things. He could easily put me up.
Sue – who do you want out next week
Hira – Minh or Chris
Sue says she can control Chris.
Sue goes on about Angie pissing her off in the kitchen.
Hira – yeah she does a lot of annoying things like that.
Hira – I don't understand why people make themselves be a target by being annoying in the kitchen
Sue – people are annoyed