POV Holder:
Andrew
Next POV
April 13th
POV Used
?
POV Ceremony
April 15th
HOH Winner:
JILLIAN
Next HOH:
April 18th
Original Nominations:
Andrew and Peter
Current Nominations:
?
Last Evicted Houseguest
ALEC & TOPAZ
Have Nots
Talla & Andrew (Servants for haves)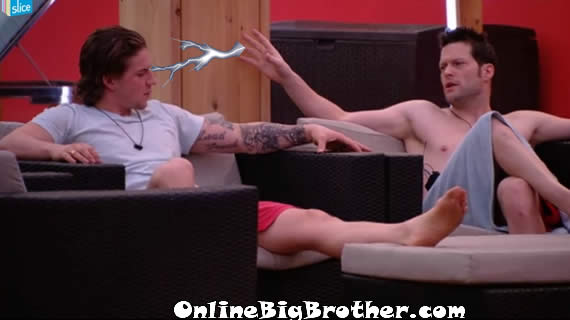 9:50PM Backyard Emmett and Andrew
Chatting about the Power of Veto competition. Andrew mentions that once he heard it was a slide puzzle he knew he was going to win it because he's done them before.
Emmett: "I haven't done them in a long time I think you get them with a dollar candy"
At first Andrew was a bit worried that Pete was going to win the competition but in the end he didn't do very well. Andrew adds Peter has proven to them all "Just because you wear glasses doesn't mean you are good at puzzles"
Andrew: "Man he was fired up (Pete).."
Emmett: "Everyone gets fired up when they lose"
Andrew: "He wiped his thing at the.. and then he tipped the thing over"
Emmett: "I got fired up because I thought I was getting f**ed over"
Andrew tells Emmett that he didn't lose the competitions he was disqualified.
Jillian and Talla join them
Jillian: "You guys remember that we made a packed to get to final 4"
Emmett jokes "Nope"
Andrew: "I just told peter I used the Veto on him"
Everyone starts laughing.. ]
Andrew: "Don't tell Talla.. "
Talla: "Ragin Cajuns guys.. legit"
Talla says that Andrew and her are changing spots tomorrow (She's going up on the block and Andrew is coming down)
Talla really hopes that on Thursday
Talla: "I am so getting liquored"
Andrew says that the pile of Laundry near the machines it's Jillian's and Emmett's
Talla says she's done.. "DONE for the Night"
Andrew: "Just in case you Strolling around her in the evening searching the grounds for a smoke.. alright.. looking under everything than that stuff should not be put in the drying machine" (LOL)
Talla: "I UNDERSTAND"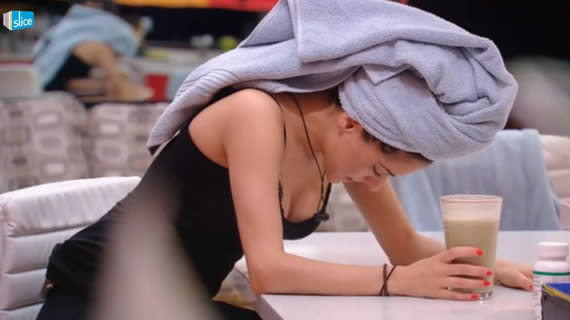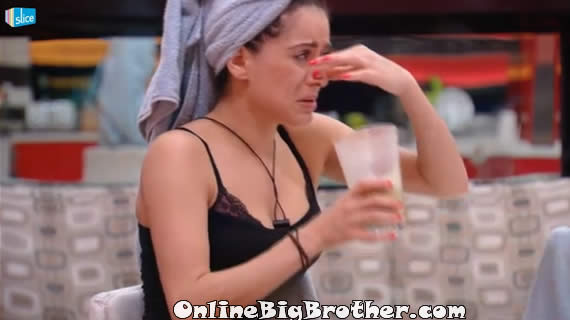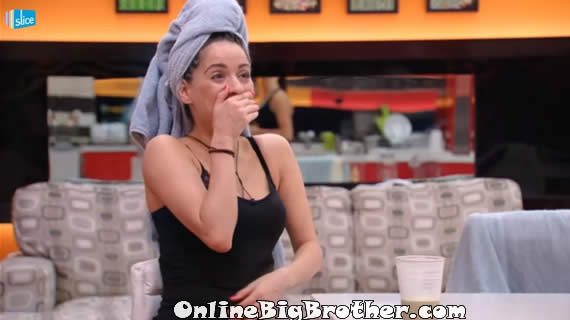 Talla dealing with slop.. awesome video LOL poor Talla
Talla: "Ohh this is disgusting.. OK.. " (She takes a Drink)
"Why is this so disgusting.. " (Starts heave it pack up)
"Keep it down.. OH my GOSH.. OH MY GOSH"
Talla: "I'm the only girl to have done slop 3 times on the first season of Big Brother Canada … COOL.. ugh if I vomit it'll be on this counter"
Talla starts screaming out how disgusting the slop shake is.
Jillian comes down Talla tells her that she thinks because she's not smoking that she can taste the slop better because it's killing her right more. The Taste is much worse than it used to be.
Talla: "Now that I have quit smoking I'm tasting food more.. wait i'm not tasting food more I'm on slop.. "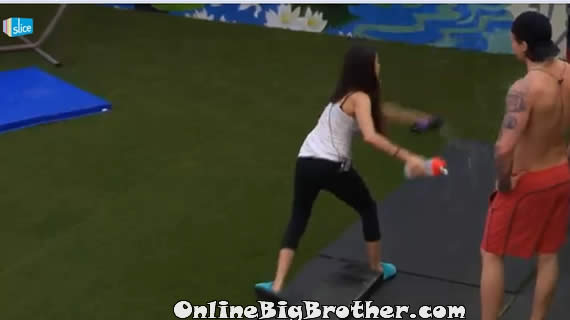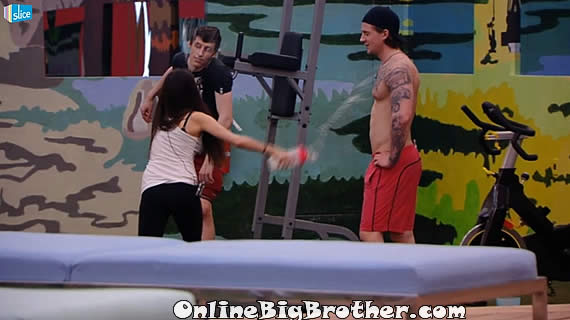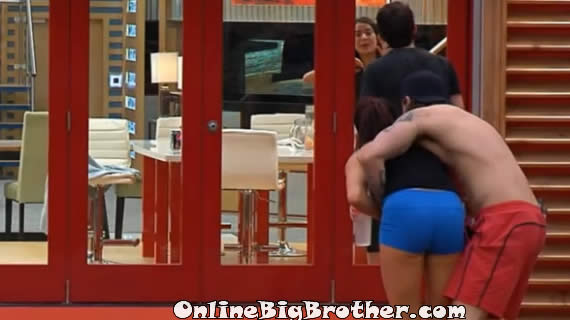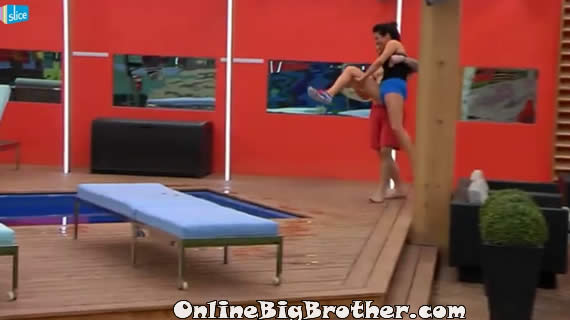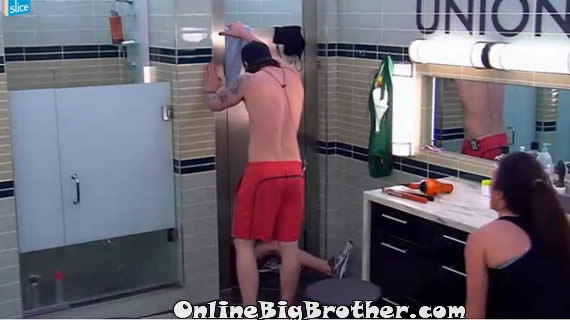 Outside near the gym Talla splashes Pete and Emmett with the water bottle and runs away.
Emmett: "should throw her in the pool"
Peter: "And now she goes into the pool"
Talla runs inside and locks the doors.
Pete and Emmett try to convince Talla to open the door.. She refuses. Emmett grabs Jillian threatens to throw her in the pool right before her Diary room season.
Talla: "Sorry Jill you gotta take on for the team.. Jill what do I do"
Jillian: "Open it and run"
Talla opens it and runs… they catch her in the toilet stall Pete crawls in from the bottom to get her. Emmett tells Peter to get out Jillian says "Only one person allowed in the stall at once"
Talla: "i'm staying in here all evening"
Talla waits them out and makes her way to the HOH room where she starts to listen to music and Dance. She is called into the Diary room.. The boys finally catch her in the HOH and drag her down to the pool. They are about to toss her in when she says she starts moaning in pain says she banged her eye. Emmett: "Did you knee yourself in the face" Talla "Ya"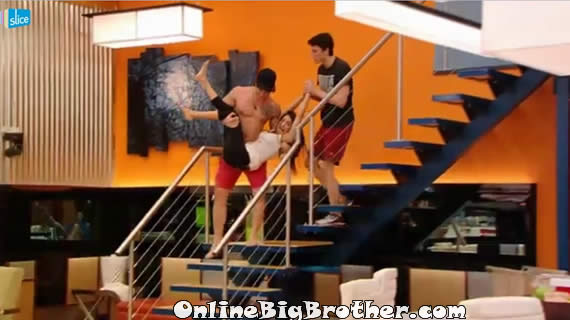 (Videos uploading)
[polldaddy poll=7031963]