POV Holder:
?
Next POV
April 20th
POV Used
?
POV Ceremony
April 22nd
HOH Winner:
Emmett
Next HOH:
April 25th
Original Nominations:
?
Current Nominations:
?
Last Evicted Houseguest
Peter
Have Nots
No Have Nots this Week
10:03pm Kitchen everyone but Andrew who's in the Diary room
Talla tells them she needs to take it easy tonight (With the drinking.. POV tomorrow)
Gary says drinking is not an issue for him tonight.. "It's a none f***ing factor " (Looks at Jillian she laughs)
Gary is going around asking them if they have a gay friend.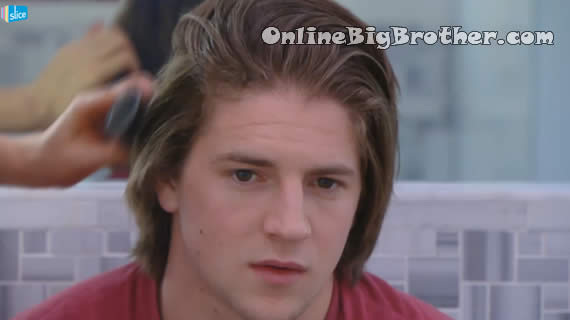 10:06pm HOH
Emmett: "I was talking to Gary trying to feel him out seeing what he thinks about you"
Emmett goes over his conversation he had with Gary and how he was testing Gary to see if he can be trusted with Jillian. Emmett says he ran through the possibility of getting Jillian to drop in the final HOH so it would be him and Gary. Emmett explains that if Gary isn't good with Jillian they'll cut him this week but if he is good with Jillian they should try to keep him.
Emmett: "I want him to win HOH next week.. "
Jillian begins to straighten his hair
Emmett jokes that Jillian has "dirt pits"
Emmett says that Gary thinks that Jillian is more into him than he is into her he adds that gary is under the impression that Jillian will do whatever he says.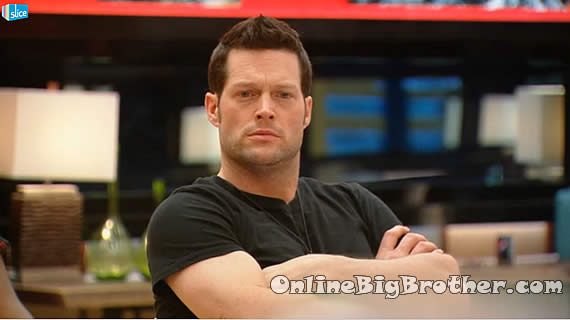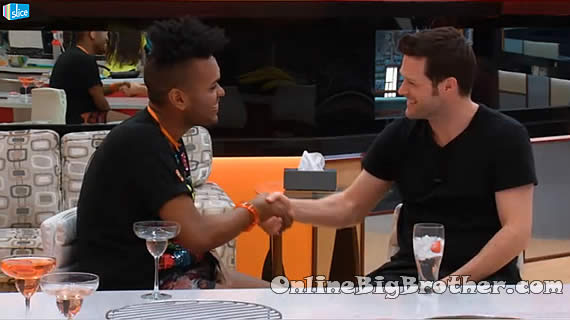 10:30pm everyone but Jillian
Jillian tells Talla she should start saying "LA LA LA LA Love it"
Talla starts saying it
Andrew shakes his head "Great something else she will be saying"
(Just random chit chat going on)
Talla starts talking about her home town.
Gary: 'is there gay people in Edmonton"
Emmett: "There's gay people everywhere"
Andrew: "It's not the moon:"
Talla heads into the bathroom.. "Ohh my lazy eye is coming out that's when you know i'm getting tipsy"
Back in the kitchen jillian has now joined the rest of the house.
Gary asks Emmett what does he likes better personality or looks. brings up two scenarios, A girl with a "sweet a$$ and sweet t1ts with zero personality or a girl that is average with great personality . Emmett says that attractive girls are everywhere it's the personality that is unique.
Gary: "I'm from the fashion industry where you judge people on the most minuscule things.. and of course that bleeds into my regular life"
Jillian: ' I've never dated a bad looking person"
Andrew: "Ugly physical features and a ugly personality makes people a ugly person"
Gary: 'Everyone is good lucking in their own way"
Andrew: "If their face is ugly THEY UGLY"
Andrew: "to me it's important to have a good personality and be attractive"
Andrew: "I would never date someone on looks and I would never date someone on personality"
Jillian: 'Me to"
( pretty much it's all just tipsy talk)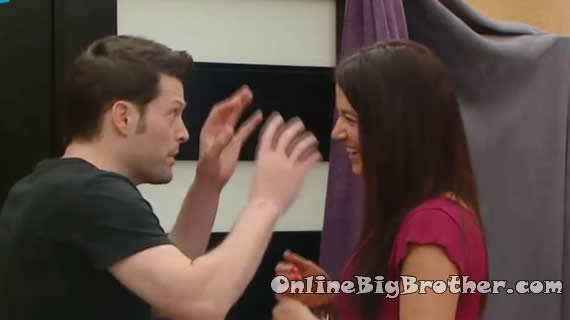 11:45pm HOH Andrew and Jillian
Andrew: "I'm seriously pissed he's putting me up.. I thought we were in a three person alliance"
Jillian i'll tell you exactly what is in my head ok.. i trust you the exact same amount I trust Emmett.. I honestly do"
Andrew: "I'm a man of my word i'm not Alec i'm not Peter.. "
Andrew: "The guy put Talla up and Peter won the Veto and I almost went home"
Andrew is worried if he goes up against Gary and there is some "magical twist" he'll be sent home. He knows if Gary wins POV and she goes up than she'll go home.
Andrew: "I shook your hand and I looked you in the eye you and me final 2"
Andrew says he's going to take Jillian to final 2 he means it.
Andrew: "I'm not a alec or peter i'm not going to manipulate you with my mind"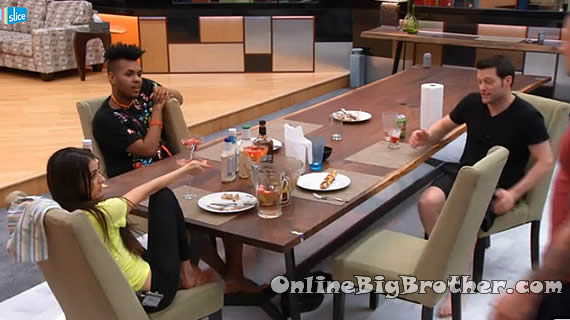 (Video Uploading)
12:00AM Gary, Talla and Andrew tipsy talking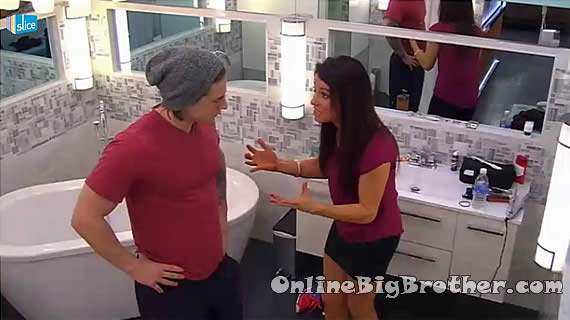 12:10AM HOH Jillian and Emmett
Jillian is saying that Andrew is freaking out because Emmett if nominating him for eviction. Jillian about what Andrew is saying "I'm already feeling like a third wheel I'm freaking out here" Jillian points out how Andrew was saying he's not like peter or Alec he wasn't trying to mess with them.
Jillia: "I know I can tell he really wants to take us to the final three"
Emmett: "You want me to keep him off the block you want me to risk you going up"
Jillian: "No NO"
Emmett: "Than what are we talking about"
Jillian: "Ok I think I would risk going up"
Emmett: "Fine you want me to put Talla up"
Jillian: "you think that's smart"
Emmett: "I think it's smart not to trust anyone.. "
Emmett explains that it is fine that Talla and Andrew trust them but they cannot trust back, "You cannot let your guard down in this game or it will come back and bite you"
Emmett :"I don;t want to leave this game because I did something stupid and let my guard down.. I'm going to leave it because I lost a comp and someone took the opportunity to take me out.. Thats IT "
Jillian: "Ok.. Ok ok ok .. i'm almost at the point where I want to risk it"
Emmett :"ok let put it this way.. say I put Talla up and I win POV do you want an option at the end of the week.. do you at least want a option… "
Jillian; "ya.. you are right.. Emmett don't get mad"
(Video Uploading)
12:40AM Jillian Vogue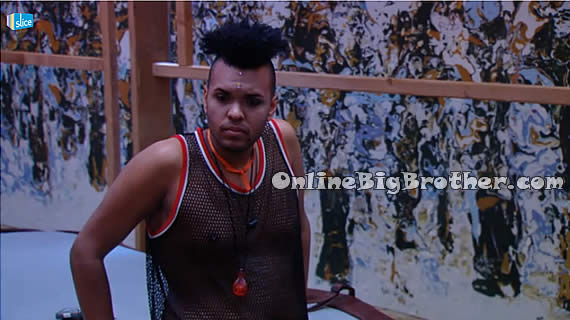 1:22AM Hot tub Gary, Jillian and Talla It's pretty f***ing boring in this house we need a #POWERSHIFT oh wait we've just had on.

(bunch o videos coming)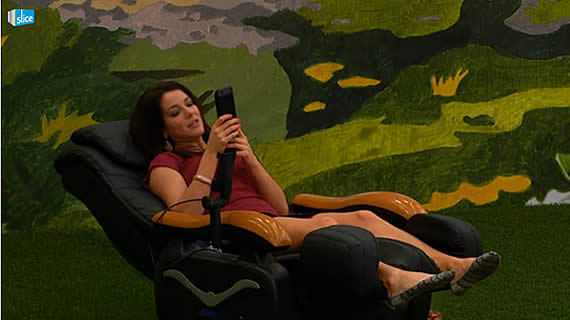 1:41AM Jillbot recharging
1:44pm
Emmett comments on how Gary and Talla are out there drinking jumping around. He mentions how at this point in the game they do not give them much time to get ready for the POV after the POV ceremony.
Andrew: "I'm going to bed"
Emmett: "I'm going to bed too.. this isn't a POV I care about.. might be a big surprise"
Andrew: "Give me a big surprise you pr1ck.. do what you gotta do.. " (Andrew is leaving the room)
Emmett: "Yup"
Andrew: 'I'll understand and I know what I want"
Emmett: "ya will you'll see afterwards.. if I win I say we talk about the twist and pull you off.. have faith my friend"
Andrew: "I have faith in you but I don't have faith in the game" He's worried that some twist will send him home if he is nominated.
2:18AM All cams show sleeping houseguests. Before the cams switched there was a a bit of milkmanciing going on in the HOH.