SEE what they CAN'T show you on TV! 3 Day FREE Trial
3:30pm Cabana Room Hayden and Enzo Yo Enzo and Hayden are starting to get a bit worried that Kristen has been upstairs talking to rachel for a long time. Enzo says they need to talk during the the movie and figure out what their strategy is. Hayden tells him he's already planted the seed with Kristen telling her that she'll be going home if she doesn't win POV. Enzo starts freaking out they've been up there for a fucking hour yo we need matty to go break it up yo. Hayden says he's not worried about kristen she a solid chick. Lane walks in and Enzo tells him Kristen's probably throwing them all under the bus yo. Hayden tells them he's not worried that she'll throw Lane and Enzo under the bus. He thinks if Kristen win POV she will put up Matty. Enzo starting to get really pissed at the idea that maybe Kristen isn't going up. He tells them that he'll be going for blood yo, he'll tell them if they don't put Kristen up i'm going for them next week yo. They start talking about the coup de'tet Hayden had asked the DR for it. Enzo and lane don't think they will get that this year, "This year is too exciting as it is". enzo: "ragan is playing the best game of us all he's all over the place he's playing both sides yo" Lane mentions that he won't last long the way he's playing. Brit comes in.. enzo asks her why is kristen up there for so long.. Brit doesn't know.
Lane says that Matt is the only one that hasn't talked to the red witch. Enzo "fucking matty yo if i was him i would of gone up there and broken them up' (Kristen and Rachel conversation) .. Brit mentions that nominations must be soon at least by 5.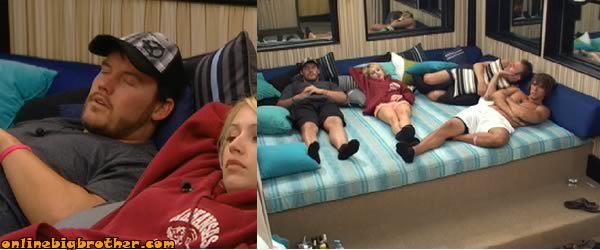 4:01pm cabana room Everyone but Matt whose in the the DR, Rachel and Kristen who are upstairs chatting. The cabana room crew is just chit chatting
3-4pm HOH to summarize this painful conversation. Kristen told her that if she kept her then she will help rachel out next week and won't put her up. Rachel is worried that Kristen is coming after her, Kristen says she only was going after Rachel because she thought they were coming after her after Andrews couple comment. Rachel now admits that she did make the face in the cabana room and she says she's not going to lie to Kristen but she's been talking smack about her to certain people in the house…. after a hour of them going back and forth kristen leaves.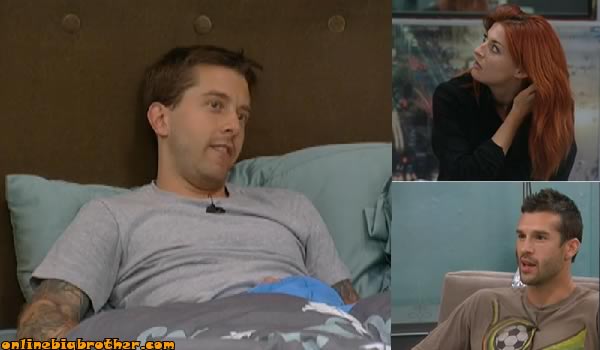 4:08pm HOH Matt, Brendon and Rachel They tell matt he's not going up this week. Rachel says she totally respects him and all that he's done for them. Rachel tells them that kristen's been up here for a hour feeding me bullshit. She asks Matt if Kristen has ever told him that she is going to put up Rachel and BRendon. They ask MAtt whats his strategy for next week. He says well the plan is to take out the floaters then go after the competitors. Matt says that Hayden and Lane are very tough competitors so he doesn't know what will happen. He asks them who they are going to put up. Matt says the truth is if kristen leaves this week I'm going to rank you and Hayden as the top competitors in this house you guys are fucking beasts you're winning most of the competitions. Matt says he's not making any deals this weak but he's thinking logically whereas everyone else is working emotionally. Brendon says the only reason why they are wining everything is becuase they have to there backs are against the wall. Matt tells them he thinks Andrew really screwed them because once he started running around going loony toons . Matt tells them if they want to go after the floater they should go after someone else.. He won't tell them her name.. Brendon and rachel guess it's kathy. Matt says if you guys are going after the biggest floater then it's kathy if you want to go after a player with floater like properties then go after Kristen. If you want to go after Kristen then put her up against hayden tell him he's a pawn. Rachel starts hinting that she's worried about Brit but she really like her and wants to keep her around. They are telling him they want to take him as far as they can (OMFG they just told him that)… Matt gets called into the DR. Brendon asks her whose going up She says Kristen and Hayden.. Rachel is worried that both hayden and Kristen have a good chance of winning POV… she leaves to go to DR.

5:40pm Trivia