9:40 hammock Kristen and Ragan She's telling him that She couldn't sleep last night becuase she likes both andrew and Kahty and she doesn't feel like neither one of them deserves to go. Kristen thinks that most the house will not know where they are voting until the day of. Either way though Kristen is OK whith whatever dession will be made she just doesn't think they should be the 2 that are up. Kristen thinks that people will say to Kathy and Andrew "what will you do for me if you stay" i don't think thats right at this point in the game. Ragan agrees with her he's very torn this week. However when he looks at kathy it looks like she's given up and he thinks if she starts fighting now she has a good chance. He point out that Kathy has a reputation for not being a fighter in this game so if she can reverse that trend she's got a good chance. He says that logically Andrew should go but he also respects the that that he's such a strong fighter and might deserve it more than kathy.

My favorite BB site other than my own, Original Funny and not LAME.. CHECK it out https://bitchybigbrother.blogspot.com/

9:52pm backyard couch Hayden, Lane and Enzo Enzo: "I tell you man I say we get rif of Andrew yo" lane points out that Kathy will be winning shit all nothing but she's harmless. He's worried that Andrew has a secret deal with B/R something is fishy between those to. Enzo agrees he's having trouble figuring Andrew out. Lane "If Andrew has a deal with b/r we're fucked because he could very well win HOH" Enzo says that it's bullshit that brendon has his panties up in a bind becuase there was people that dropped early in the comp, "Who the Fuck cares yo we're playing a game to win Big Brother not just playing to win COmpetitions" . Lane explains somethign he thins they should consider, it will require the help of Brit though. They need to get Brendon to think that if POV is used then Matt will Backdoor either Enzo, lane or Hayden. Instead though Matt will backdoor Rachel, Enzo: "OHHH that would be perfect.." Lane smiles that would be excellent TV (YES YES YES DO IT boys make a move) Brendon walks out and asks Enzo to play pool.
10:13am Couch Ragan, Lane and Hayden talking about the HOH competitions. Ragan seems to think that it'll be a quiz type test. He jokes that it'll be a spelling be "Spell CAT"… he leaves Kathy comes in.
She tellls them she needs to stay and she needs to win she needs to do it for Shawn and she needs to do it for medical reasons. Kathy says that Rachel is voting to keep Andrew even though she saying otherwise. Lane asks if Brendon and Andrew has an alliance?, kathy says Yes in a way, Brendon would turn on Andrew but for now they are together. Kathy tells them Andrew will not go for Brendon regardless of what people are saying. Kahty adds that R/B don't want her here becuase she votes her own way "Look at last week I went against the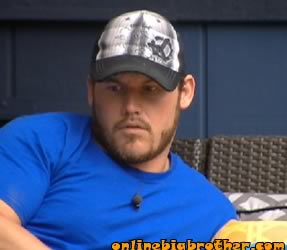 house" (And now the you knows start up you know you know you know) She confirms that she will put B/R up if she wins HOH and she will not go after Lane and Hayden. Hayden "Things are going to get intense in this house". Kathy explains why she acted like she did last week, mainly she was trying to get information from R/B and just trying to stay off the radar and not be a target. She pissed that MAtt put 2 players up that didn't deserve to be put up. If we don't stand up against B/R they will win the entire thing. Lane tells her its not over she needs to go get those vote.
kahty leaves..
Lane "what the fuck is up with this Brendon guys, i wish i'll see him at the bar so I can beat him down"
lane "the more I hang with him and her (b/r) the more I hate them"
Hayden: There relationship is just disgusting to me
Lane in no way cute or sexy
Lane: Theres no way America likes them there gross
lane she's not one bit attractive
hayden if i was hammered out of my mind I wouldn't even go near her. thats the type of girl you see at the bar and you stay away from becuase you don't know what she has.

Onlinebigbrother.com is around because of your donation every year the site costs us to host the images and run the 3 servers needed to handle the traffic. If you like the site then please consider donating to keep the madness going. Thanks!