10:35pm Ragan, Matt, Hayden and Matt The brigade waiting for Ragan to leave.. .. production calls Ragan into the DR.. Thank you DR. Matt rehashes the conversation he had yesterday with Ragan, he was asking Matt what he should do if he won HOH next week. Matt tells hayden that he doesn't think they are on Ragan's radar. Lane brings up the talk they had with kathy in the backyard, "Brendon told Kathy straight up fo Andrew to stay.." Matt: "yeah I heard about that from Rachel" Matt Thinks brendon is still on this kick to get out the week players first.. he calls bullshit on Brendon's reasoning. Lane brings up that Kahty is certain that Andrew and Brendon are working together. He adds that B/R are worried about Kathy because they can't control her vote and they can control Andrew. Matt says he's happy with whatever they do they just need to make a decision.. "Every choice they make will be wrong". Lane "we're going to get shot with guns which ones are we going to get shot by". Matt asks if kristen knows ahything becuase she so close to
andrew, hayden says she doesn't know any more than what he's said but he'll see if they can learn more. They both agree that Andrew tells people whatever they want to know. Lane brings up Andrew jumping up and down after rachel won HOH.. "theres something going on between them " Lane adds kathy told them that Rachel is trying to get info from the girls and brendon is trying to get info from the guys… Hayden: "I remember week one brendon telling me Dude i got andrew.. but that was just week one".. Lane: "if i go off this morning instinct I would say lets keep kathy".. hayden agrees he wants to keep kathy. Matt is always "Playing devils Advocate" points out that Kathy is now playing the game and she's fighting and andrew is doing shit… still though Matt thinks Andrew might be a better choice but he's very undecided. Matt keeps saying he doesn't care but its obvious that he wants to Keep Andrew. Brit comes in.. They joke around for a bit then ask Her where her head is at on the votes this week. Brit thinks Andrew should go they should try and take kathy as far as they can cause she's pretty pathetic in Competitions.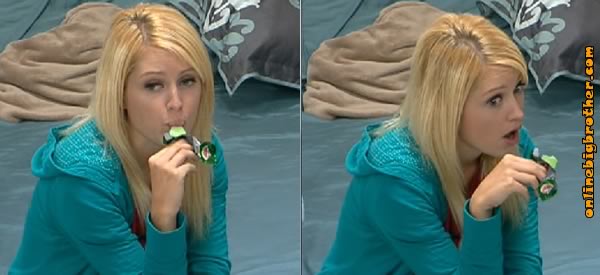 Hayden leaves to get ready for the POV ceremony. Brit and Matt argue back and forth about keeping Andrew… Matt thinks if they keep Andrew then he'll become peoples targets because he strong but if they keep Kathy they become peoples targets because she is weak…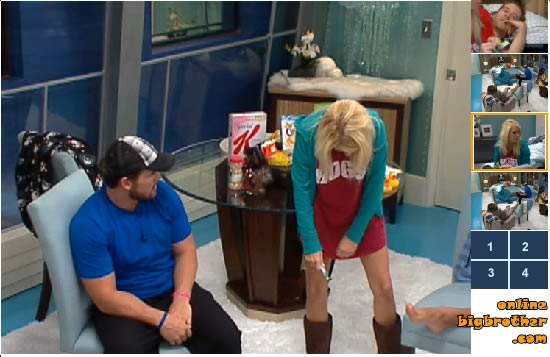 Lane joking with Brit about not wearing pants to the HOH meeting

Onlinebigbrother.com is around because of your donation every year the site costs us to host the images and run the 3 servers needed to handle the traffic. If you like the site then please consider donating to keep the madness going. Thanks!