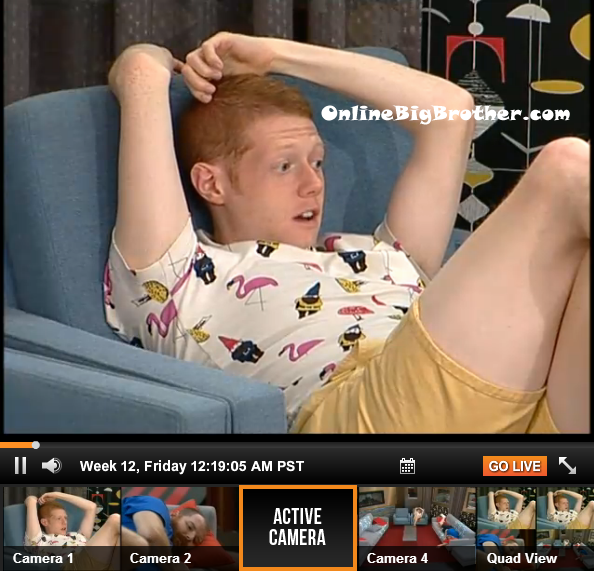 Big Brother 15 Live Feeds: FREE 2 DAY TRIAL
3 PART HOH COMPETITION:
Ginamarie wins Part 1 of the final HOH
Andy and Spencer will now compete for part two.
The winner of part 2 faces off against GM.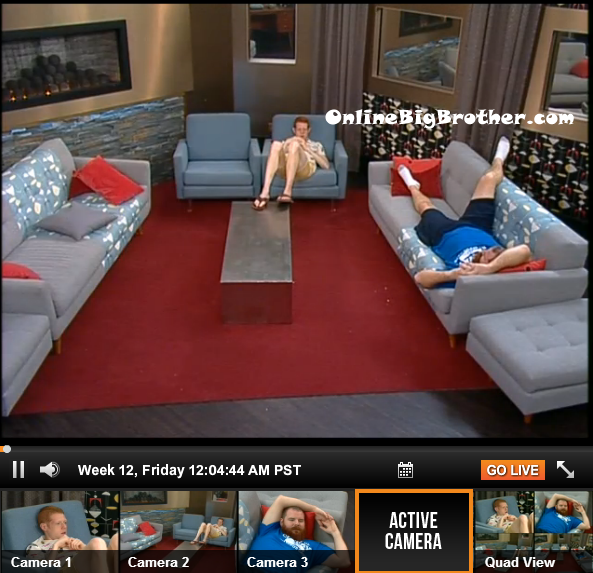 12am Ginamarie, Andy and Spencer are sitting on the living room couches. Andy says he feels like McCrae went into this week acting like he was going to win everything. Spencer agrees that he thought he did too. Andy comments how there were 3 HOH's where the viewers didn't find out who won until the Sunday episode. Spencer says that always used to piss him off as a fan watching at home. Spencer asks isn't it crazy 11 million people know you. Andy agrees that's crazy. Andy comments that there's a lot to cram into the finale episode. Spencer says the finale episode will be a busy episode, Julie Chen can't show up drunk like she did tonight. Andy says yeah she was drunk off her a$$. Spencer says she was slurring "exterminators." Andy says well she called us the moving company first. And then they were like that's the wrong alliance. Spencer laughs. Andy says like I was embarrassed for her. Spencer says he was too. If she wasn't banging the president of the network she would have been fired. Big Brother cuts the feeds for a second. Andy comments that comp tonight sucked, however I escaped with no battle scares.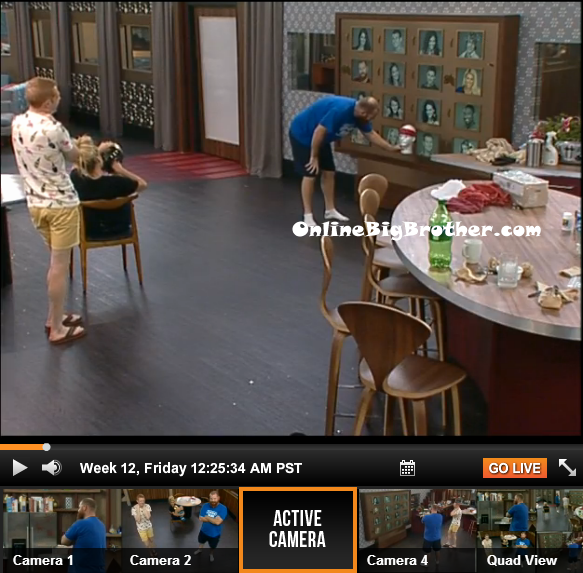 12:25am – 1:35am Andy heads to the kitchen and looks at the memory wall. He says we now have two black and while rows and columns. Ginamarie puts on her roller skating helmet and says maybe I should wear this more often. She asks what's the guys name from crank yankers? Spencer and Ginemarie lay down in front of the memory wall. Gina comments how she kisses her fingers and touches Nick's face all the time. Spencer says yeah I can see. He says Kaitlin's face has my di*k imprint on her face. Ginamarie says that Candice just looks like a clown. She says sorry Andy. Andy comments that he tried to piss off McCrae by telling him he didn't like Ian Terry. Even though I do like him and then he showed up the next day. Spencer laughs and says oh yeah you really hit him where it hurts. They laugh and reminisce about the beginning of the season when they did the photo shoot together. Andy says it sucks we had to vote out Judd before McCrae. Ginamarie and Spencer agree. Ginamarie says I would rather be a bone head than a sl*t like Amanda. Gina says that Nick ran away when Amanda put Band-Aids on her ni**les. Spencer brings up how Amanda talked about her ex-boyfriend so much but had sex with McCrae day 6. Spencer asks why would McCrae fall in love with someone that would jump in the sack with someone else so quickly while still in a relationship. They talk about past events of the season and then they all get ready for bed and go to sleep.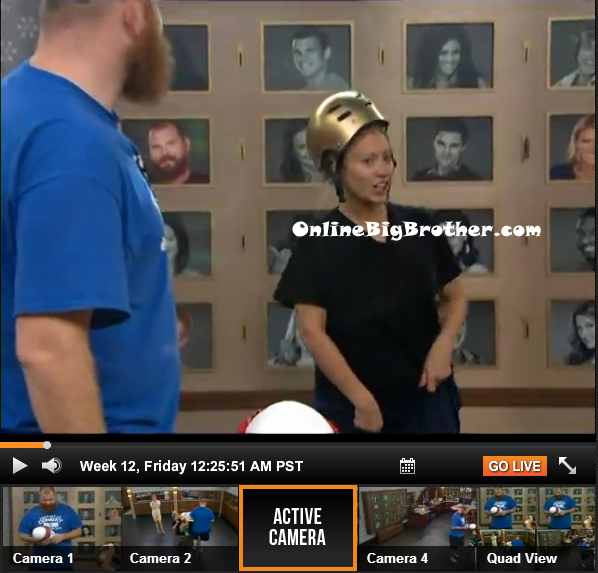 6:25am All the house guests are still sleeping..
8:15am Big Brother wakes up the house guests. Andy, Spencer and Ginamarie gather into the living room and talk about random things.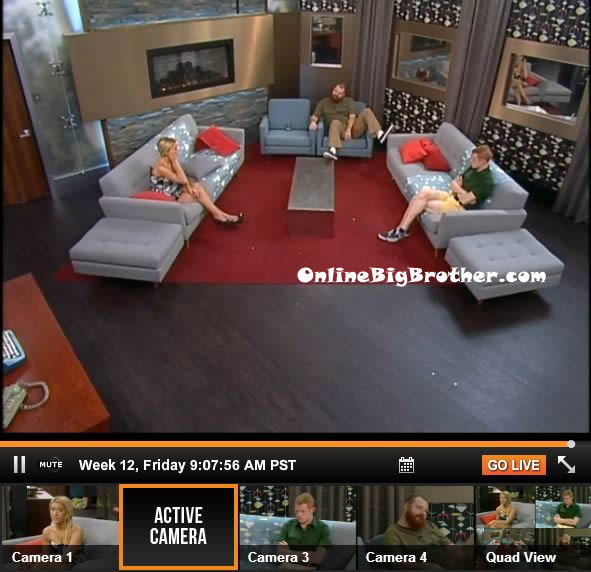 9:20am The live feeds switch to the we'll be right back screen and then to TRIVIA…
The house guests are having their FINAL 3 brunch where they reminisce about the season. This will be shown on the Sunday episode.
10:10amStill TRIVIA..
10:30am We get a quick live feed leak of the house guests enjoying their brunch.. Then back to TRIVIA..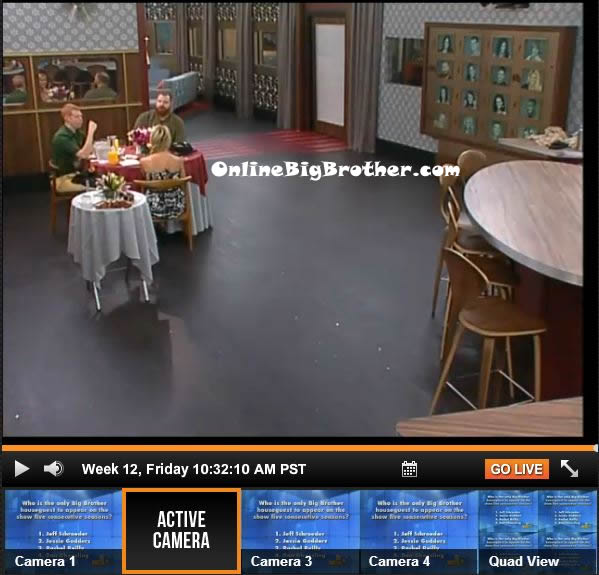 11am STILL TRIVIA..
11:35am TRIVIA..
11:40am The Live Feeds return – Andy, Spencer and Ginamaire have finished eating and start cleaning up after their brunch.
Please consider donating. Simon and I work 24/7 all season long to bring you all the live feed updates and spoilers. ANY amount is greatly appreciated! Your donations go directly to paying the server and bandwidth fees required to run this site.
[polldaddy poll=7394123]
Use the Big Brother Live Feeds to FLASHBACK to SEE what they can't show you on TV:
BB15 N!p Sl!ps / N*des
Share it YO!!
Tweet