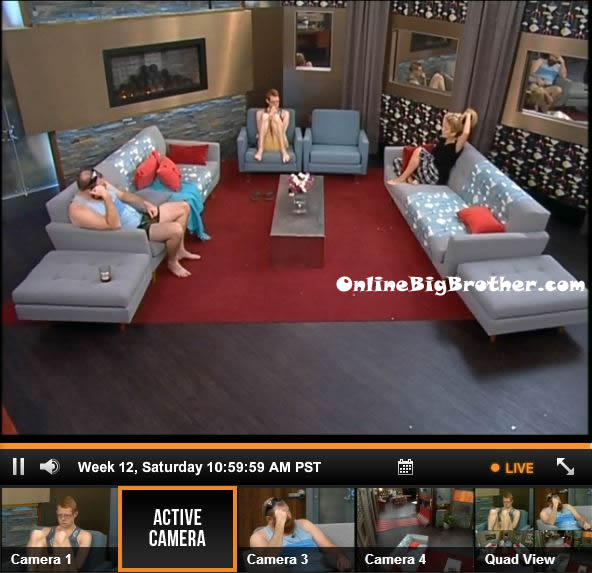 3 PART FINAL HOH Competition:
Part 1 – Spencer Vs Andy Vs Ginamaie = GM WON
Part 2 – Spencer Vs Andy = ?
Part 3 – Ginamarie Vs ? = ?
FINAL HOH winner = ?
10:30am – 11:45am Big Brother wakes up the house guests. When the live feeds return – Andy, Spencer and Ginamarie are in the living room chatting. Spencer says that he is going to go in and request a means to get laundry done. Andy wonders if production has a favorite to win. Spencer thinks so but that it would be unprofessional to express it. Andy wonders if they will have the competition today because usually they wake us up earlier. He says although it is only for the two of us. Spencer says they might want to do it at night so it doesn't matter what time we get up. Spencer says I do hope Elisabeth Shue stops by today.. I am sure she's just stuck in traffic. Andy comments that he didn't play in a veto until day 49. Spencer says yup I would rather be playing Judd in the competition today because there would be a 50% chance he would quit. Andy agrees and says Judd and Candice would be the least scary to compete against. Andy comments that he thinks Ian Terry was a fan of McCrae. Spencer says no offense but I don't see what there was to like about him he didn't do anything. Spencer tells Andy that Helen told him that she had a conversation with god about Nick being Dan Gheesling's cousin. Andy laughs and says Helen used god as strategy. Spencer asks how much $ex do you think McCrae has had in the jury house by now. Andy says probably quite a lot. Andy brings up how Helen thought I was shy in the beginning. I was not going to put on dresses and run around yelling and screaming. Andy says that Amanda was just looking for attention when she put band-aids on her t*ts and ran around the backyard. Spencer says her t*ts were 4 inches too low. Don't you think Ginamarie. Ginamarie says yeah. Spencer says I do think Amanda was attractive though. Gina comments that she's got her period. Spencer says don't get period stain on the couch. Gina says I am not disgusting like some other girls. They laugh about Judd coming back and having to sleep in Amanda's period blood stained bed. They continue to talk about the past events of the house.
Big Brother 15 Live Feeds: FREE 2 DAY TRIAL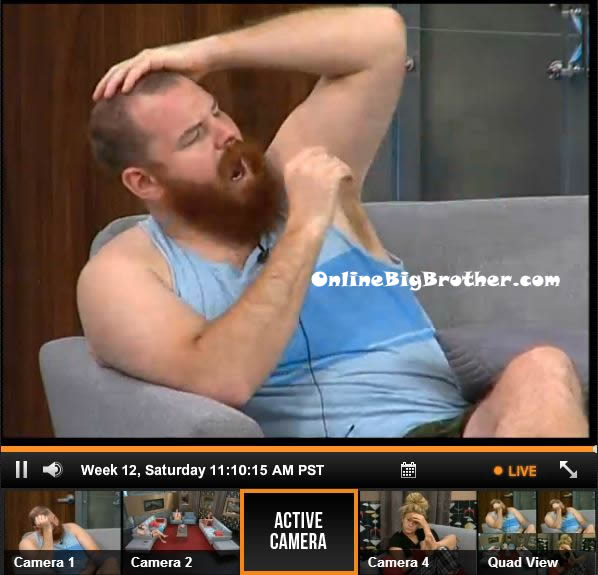 12:15pm Ginamarie is back in bed sleeping. Meanwhile – Spencer and Andy continue to talk about past events of the season. Spencer and Andy talk about the jury votes and how each of them have played such different games. Spencer thinks Ginamarie has a lot of jury votes. Andy says yeah and I have severed them all. Spencer tells Andy that he wants to put his mind at ease – if I do win I will take you to the final two. Andy gives Spencer the thumbs up. Andy says I want to compete today. Spencer agrees.
12:30pm Andy, Spencer and Ginamarie are all back in bed napping..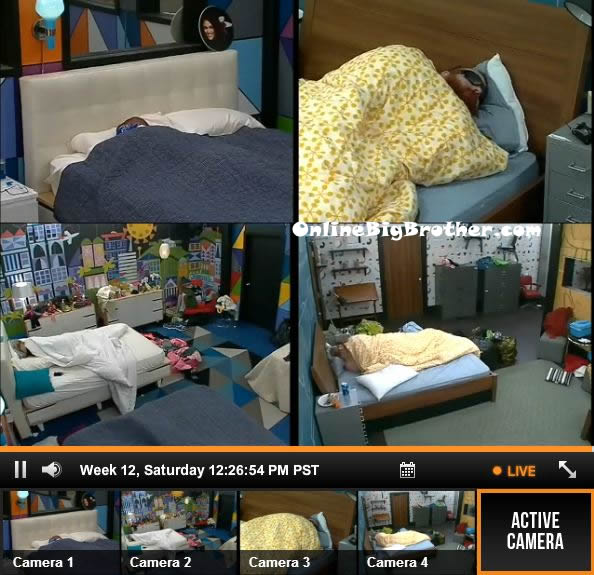 1:30pm Still sleeping ..
2:25pm – 2:45pm Spencer gets called to the diary room. Ginamarie starts doing her makeup in the rainbow room while Andy continues to sleep. Andy wakes up and Ginamarie talks about how shes getting ready because she figures she will be called into the diary room next. Andy says maybe we won't have part 2 of the competition today. Ginamaries says he hopes Spencer finds out if its today or not while in the diary room. Gina says its nice not having to compete but she's still a bit nervous. Andy and Ginamarie talk about makeup and New York. Spencer returns and Ginamarie gets called to the diary room.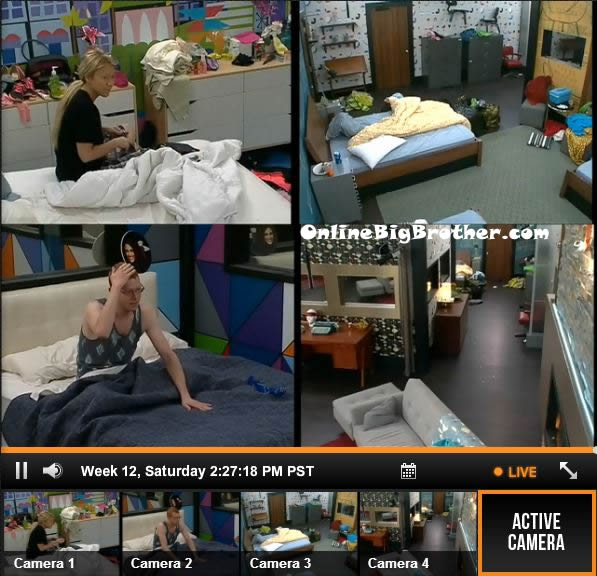 2:45pm – 3pmSpencer tells Andy if we could split the money in the end I would drop like a watermelon. Andy wonders what they want to talk to him about in the diary room. Like how I sat around all day yesterday and did nothing? Spencer says that he tries to put himself in Gina's shoes. She has played an honest game. She's won 2 HOH's. Andy agrees and says he tries to put himself in the jury's shoes too. If I make it to the final two I will be ripped a new a$$hole on live tv. Spencer says GM has played a great game. Spencer says there was a point when I thought no one could beat you in the end. Andy says I don't know how many jury votes I would get at the end because I've severed so many ties. Spencer says I disagree with you, I don't think I can beat you in the end. Andy disagrees and says you've been that pawn that never went home. Spencer says I really haven't done anything though. I won HOH once against 3 people that didn't really try. Andy says my game was night and day from the first half to the second. In the first half I did what others wanted me to do and then the second half I was gung ho.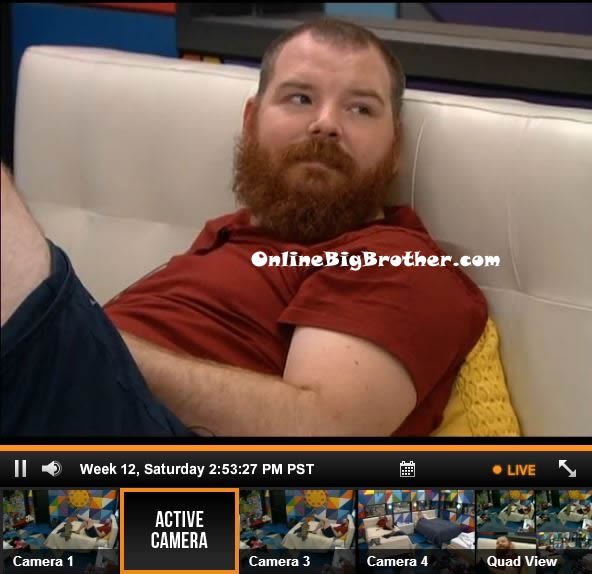 Please consider donating. Simon and I work 24/7 all season long to bring you all the live feed updates and spoilers. ANY amount is greatly appreciated! Your donations go directly to paying the server and bandwidth fees required to run this site.
[polldaddy poll=7394123]
Use the Big Brother Live Feeds to FLASHBACK to SEE what they can't show you on TV: BB15 N!p Sl!ps / N*des
Share it YO!!
Tweet