6:42pm The exterminators. Chatting about the memory wall
Andy says if he won the money he would help Howard out. They agree Howard was a good guy but sucked at the game. Spencer – "I sweat like a motherf****" (Ya kinda outta nowhere)
Spencer says that Marilyn is a really funny person, he doesn't laugh at her jokes but a lot of people do. Spencer says he's a funny person so it takes a lot to make him laugh.
Spencer – "And I really like how … the C word… earlier today commented on how my DR seasons are not funny.. Thanks for that insight"
Feeds flip to fish
Big Brother 15 N*de flashback times here
7:07pm kitchen The exterminators
Spencer – "Did you understand why I got taken to candy land"
S – "I was out on the couch and Amanda is there smoking her morning b!tch cigarette .. and Amanda knew about the plan that I had that was going to help Howard stay to vote Amanda out because she was up for the MVP nom"
GM – "OK"
S – "She knew all about it because JUDD had told her.. She knew Everything"
GM – "Who told her"
S – "JUDD and Andy"
A – "Me after JUDD"
S – "She knew everything.. she was like its not going to work it's not going to work"
S – "I was like b!tch I don't know what you are talking about.. She was like who are you voting out"
S "I was like .. I dunno know obviously I can't Say i'm voting her out and I can't say I'm voting Howard out so I said I'm voting out Candice"
S – "Candice and I were working this plan the night before .. and I said we're going to get Amanda out we just need to get some people.. Candice knew I was going to get Amanda out"
S – 'So what happened after I got in this argument with Amanda .. and I didn't put up with her bullshit I was like shut the F*** up Amanda"
A – "Did you really say that"
S – "you can watch it on the episode"
Spencer explains that Helen or Amanda went to Candice and said spencer was targeting her.
S – "Instead of Candice coming to me and talking about it… cause no I couldn't say I was voting out Howard and I couldn't say I was voting out Amanda so I had to say I was voting out you (Candice)"
Gm – "Ya"
S – "She thought I was trying to get her voted out.. thats why she screamed at me out there"
GM – "Who told her that"
S – "Either Amanda or Helen.. don't you understand how stupid that was… that killed Howard.. and his little speech after finished him off"
7:24pm The exterminators
They are talking about someone in production they think was fired. Spencer and Andy both look forward to seeing production staff because they've talked to them so much.
S – "Yup there's a couple of them I want to hug a couple of them I want to co*k punch"
A – "Really"
S – "No not at all they've all been so cool to me"
They mention how Nick liked sex in the city.
GM – "that boy I don't know sometimes.. and McCrae was like Hey Ginamarie that is kinda gay.. go f** yourself McCrae"
Andy – "I'm 99.999% sure he's not gay but if he is i'm going to be pissed because I would have liked a piece of that "
S – "Who would be more pissed GM or you"
Andy – "Gm would take the cake on that"
S – "you're right"
Gm – "Aaryn was like.. he's like one of those senators that like marry and they are gay afterwards.. she was like you are going to regret f*** liking him"
S – "Nick does look like a guy that could be into politics"
A – "He does"
GM – "I Already got the wrath of my EX being gay"
A – "Your EX was Gay"
GM – "No he just.. was very Nick oriented.. and was like just like Ewwww" (Makes a face see image above)
A – "He was Nick oriented"
She goes on to explain the softer features her EX had..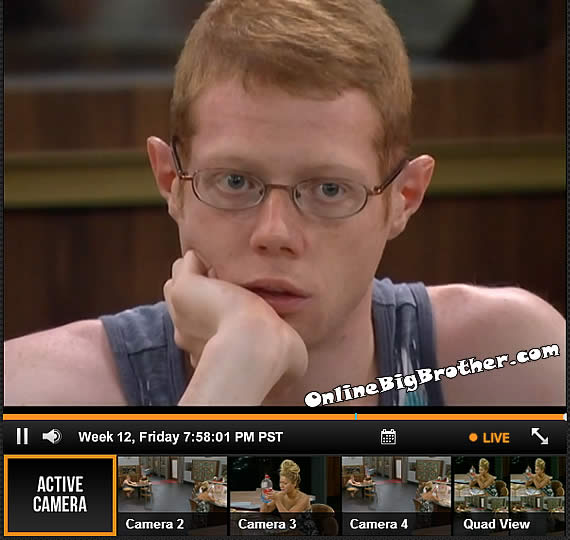 7:59pm Kitchen The Exterminators
GM wonders why Ian was cheering for McCrae, suggests that maybe it was because McCrae was Geeky like Ian.
Andy thinks it's because McCrae was the underdog.
GM "fuck the underdog he was getting more pu$$y than all of us"
8:19pm
Gm tells us Candice was a rat telling everyone what she was going to do or what she was planning on doing.
Andy mentions how Elisa hated everyone, "She didn't want to work with the guys and was aggressive with the girls"
Andy says Elisa had said awful things about GM, Aaryn and Amanda. She only got along with Helen and Candice.
GM – "She hated Aaryn because she was jealous"
Andy and Specner agree.
Spencer says everyone told him he reminded them of Adam, "F*** no"
Andy – "You do not remind me one bit of Adam that is a huge compliment to you"
Spencer says he's made it farther than anyone else from Arkansas and there was some heavy weights from Arkansas, Britney and Frank.
Andy – "Both won America's player"
Spencer doesn't think he's going to win America's player he's certain ELissa will. Spencer adds he was told today that his Diary rooms are not funny.
Andy thinks they are just joking.
Spencer doesn't
Gm said her Puerto Rican friend is super gorgeous she's with her cousin. Spencer says a lot of people from their are attractive.
If you enjoyed the site this season please consider a donation.
8:46pm
GM tells them about the BOOM SQUAD Jeremy, David, Nick, GM, and Aaryn. GM adds that after David left Kaitlin joined them.
S – "I don't know who formed the worst alliance ever Nick or Ginamarie"
They all laugh.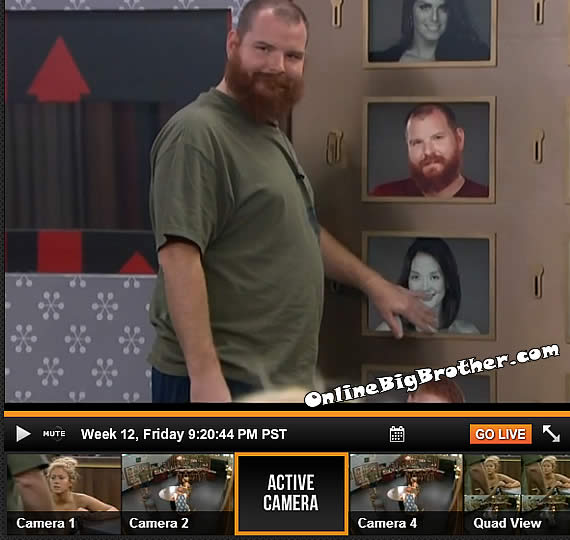 9:23pm Spencer says Helen was a pretty lady
9:42pm
Last Friday in the cockpit
9:57pm Cockpit the exterminators
Andy – "If I had to place a bet on it tomorrow is going to be our competition"
10:24pm
Spencer tells them about a friend that owns a bunch of popular p*rn domain names and rents them out to people for 10 grand a month.
S – "There's a lot of money be@ting off watching internet porn"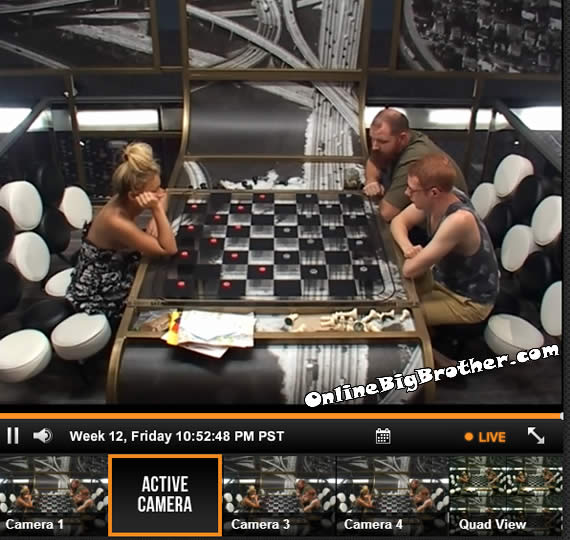 10:54pM Checkers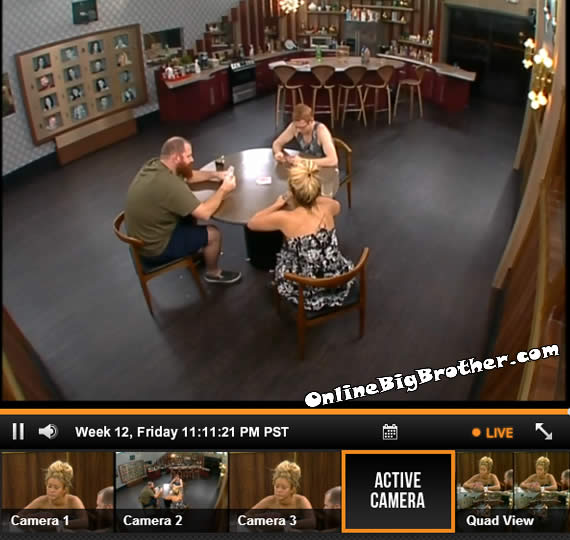 11:20pm bullshit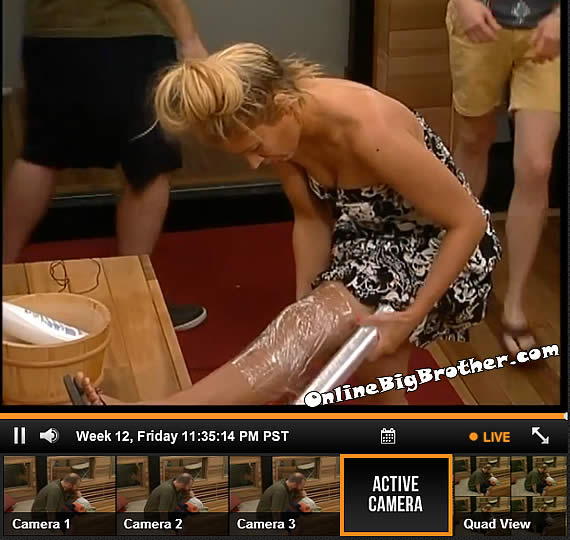 GM getting ready to shower
11:40pm Andy and Spencer
Andy says he's freaked out about the chance of going out third.
Andy whispers – "She's got such a strong case"
Spencer – "You don't have to tell me i know"
Spencer – "She's got a strong fu*king case"
Spencer tells him nothing has changed he's still taking Andy to the end. Andy says he knows.
They go around in circles about how they are not going to get any jury votes and GM will beat them both in the end. Andy says the jury will be bitter. Spencer says the only thing he did was get JUDD out a member in his alliance.
Andy says he made it this far in the game by lying and GM made it by telling the truth, "That's impressive" Spencer says GM got Amanda out and a lot of people in the jury really wanted Amanda out. Spencer thinks this will give her a big boost in jury votes.
Andy says his game was more like Dan's and GM/Spencer's game was more like Ian's. Andy points out that he worked with Amanda for the entire game then stabbed her in the back"
12:03AM getting ready for bed
12:14AM Before going to bed GM tells Spencer that she is going to dress up as an exterminator while she watches Andy and Spencer compete.
Spencer "That would be bad ass"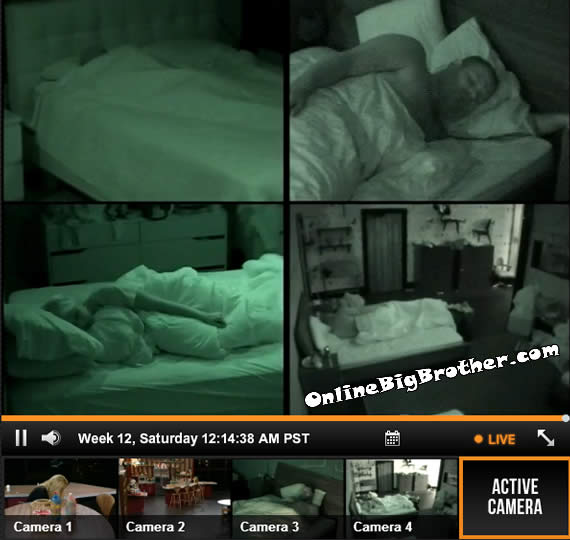 12:15AM everyone sleeping
1:20am – 2:20am Spencer can't sleep. He gets up and heads to the kitchen. He pours himself a drink and sits down to stare at the memory wall. After a while he heads into the living room and sits on the couch. He then heads back to bed.
5:20am All the house guests are still sleeping..
10:10am Still sleeping ..no wake up call yet..
10:30am Big Brother wakes up the House Guests..
[polldaddy poll=7394123]
Use the Big Brother Live Feeds to FLASHBACK to SEE what they can't show you on TV:
BB15 N!p Sl!ps / N*des