3 PART FINAL HOH Competition:
Part 1 – Spencer Vs Andy Vs Ginamaie = GM WON
Part 2 – Spencer Vs Andy = Andy WON
Part 3 – On Finale night – Ginamarie Vs Andy = ?
FINAL HOH winner = ?
3:15pm Talking about the second part of the final HOH. Andy says the first crab he found was one of the Judd's. Spencer says that he hopes one day Andy finds someone he cares about like Spencer cares about Marilyn. Andy says he feels like he needs to date more people and F*** some more people to get it all out of his system. Spencer agree says he had to f*** a lot of people before he met Marilyn.
3:23pm GM gets out of the Diary room tells them she got 4 stitches out.
Production "the only constant in life is change"
Andy – "Words of wisdom.. "
Spencer and Andy in the backyard eating pizza while GM lays in the sun.
Spencer says he's surprised GM's stitches came out so fast. Andy – "Are you really… " Andy laughs says Jessie's scratch could be seen for 6 weeks whereas GM got stitches and they were removed in 6 days. Spencer calls her wolverine from the comic book. (Wolverine had accelerated healing)
Spencer – "I'm looking forward to shaving this beard off.. I've had a bead before but this is insanity.. look at me"
Spencer is not use to having a beard like this.
Andy says that the house started hating the "Boom squad" around the time when Aaryn decided to become the worlds biggest a$$hole. ASndy doesn't think they hated Nick, GM or Kaitlin. Andy now saying that he liked Jeremy he just go annoyed by him sometimes.
Spencer wonders if the wrap party will be in the back yard. He wants to be able to show Marilyn everything. Andy mentions that Elissa seemed to think the wrap party will not be in the backyard.
GM tells them the doctor told her a couple more days until all the stitches are removed.
4:20pm Backyard The exterminators
GM says she was said when Kaitlin left but she still had Aaryn so it wasn't as bad. When she lost Nick it was really hard on her took weeks to get over it. She missed Aaryn but not for long because she won the HOH shortly after.
Andy missed Helen because she was really wacky and he knew she cared for him. Andy also missed JUDD the first time and a bit the second time. GM never felt bad the second time because it was either GM or JUDD.
They all agree they didn't feel bad for seeing Amanda or Elissa go.
Andy asks Production if they can send someone in for them to talk to for a couple hours. Andy says it doesn't matter who it is can be a intern. Andy wants a gay intern.
Spencer – "Send Andy a gay intern.. so he can kiss him"
GM – "Give us something to watch"
Andy says he really likes horror movies. He recommends Spencer watch "Drag me to hell" Spencer mentions that Marilyn doesn't like horror movies. Andy – "That would be a big negative in my books" Spencer says a lot of girls don't like horrors Andy dates guys there's a better chance of them liking horror. Andy says his last boyfriend Kevin hated horror movies.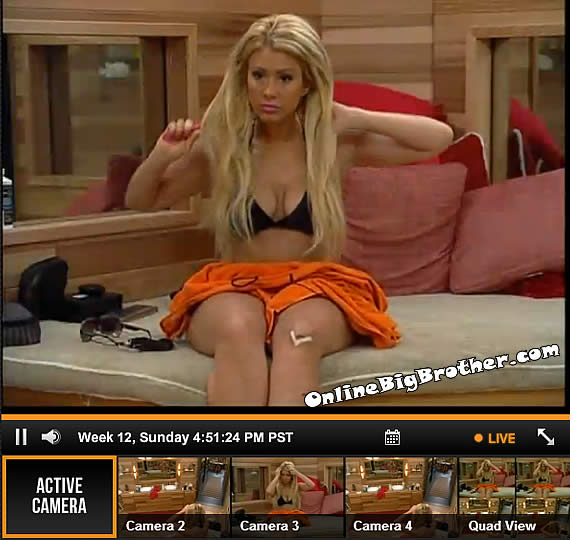 4:53pm Living room
Spencer asks them how do homosexuals decide what position they will be in during s$x. Spencer wonders what Andy's preference is.
Andy says he's fine with either position.
Andy – "I have a friend that doesn't bottom ever"
Spencer – "Is that seen as selfish"
Andy says it can be but it really depends on who you're partner is some people only want to bottom.
5:04pm Last photobooth. .
Production tells them it's photobooth time. GM – "YAAAA Photobooth time bitches"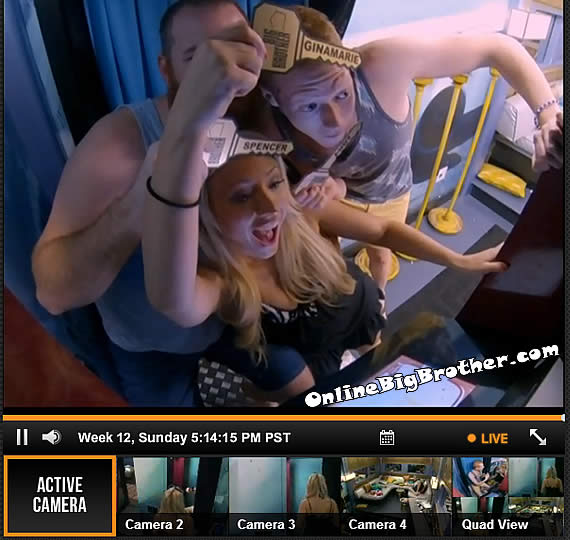 6:00pm GM is running laps Spencer is sleeping in the hammock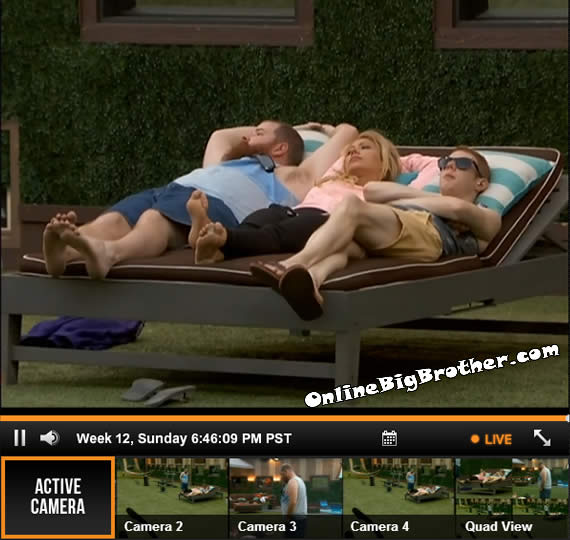 6:30pm Backyard Andy asks GM who she will keep in contact with after the show.
GM says Nick, Kaitlin and the rest of the exterminators. She doesn't think she will talk to Candice, Jessie or Howard.
GM doesn't know if is she will talk to Aaryn she gets the feeling Aaryn is the type of person that doesn't text back until much later.
Andy thinks JUDD is a bit of a priss.. He thinks he'll hook up with Jessie but not Aaryn. Spencer thinks the jury house is going to be much like the house people are going to be hanging out with their friends. Spencer thinks Jessie will be pissed at Aaryn because she's banging JUDD> Andy doesn't see Aaryn hooking up with JUDD. GM comments how JUDD can go zero to sixty in 2 seconds.
Andy says McCrae would have picked up on the exterminators early on but he was so pu$$y whipped. Spencer says he loves McCrae and doesn't want to him to make a big mistake moving to Florida.
7:12pm They all agree Jessie would not have done well in the 2nd HOH competition because she is short.
GM says Jessie had midget features.
Spencer laughs "Ohh Ginamarie"
Spencer – "She stomped.. you could really hear her coming"
GM – "She had a pot belly"
Spencer – "it was cute"
GM – "you liked that"
Spencer – "f*** ya I liked that I liked her body"
Spencer says the first Exterminator victory was Aaryn. GM says she never wanted Aaryn to go. Spencer knows that but says she had to go for all their games. GM knew Aaryn was trying to get GM put up that is why she voted for Anry to stay. GM doesn't feel bad for making Amanda cry the night before eviction. GM reminds them of all the bullying Amanda did around the house.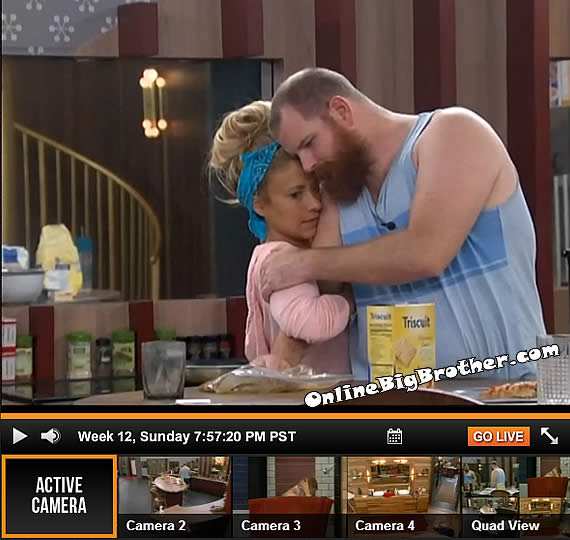 7:56pm GM and Spencer
He's giving her a mini pep talk telling her she can do it. Spencer- "I got all the faith in the world.. you don't have to worry about that"
8:34pm chatting about Howard and how horrible in competitions he was. GM brings up how Amanda wanted Howard out so bad and kept telling them "He's going to turn it on"
GM – "He didn't turn anything on except for Candice"
Spencer tells them about the time they asked Howard how long he likes to have sex for and he said 45 minutes. Right after someone asked Candice how long she likes to have sex for and she said "Around 45 minutes boo"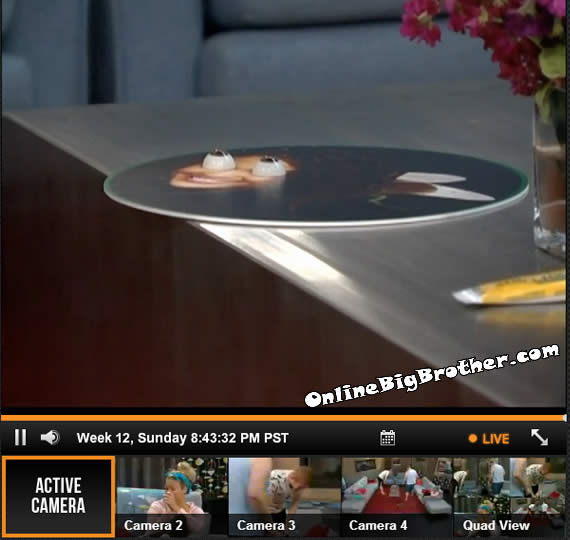 8:45pm Spencer changes up Candice's plate says this is how she looked when she was staring at you.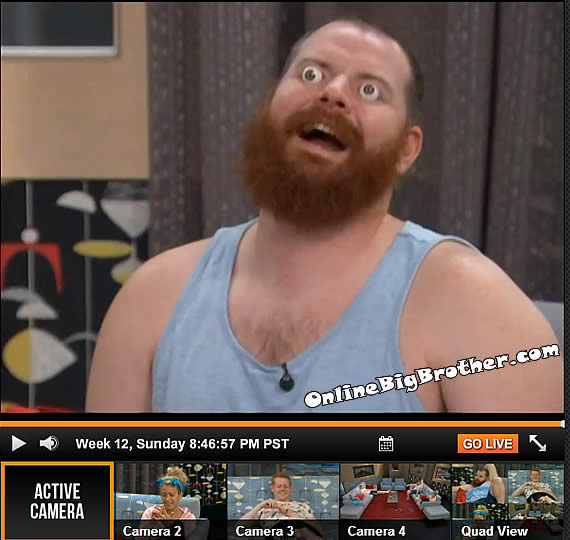 8:51pm They get some beers
9:03pm Taking walks down memory lane
David tour
Andy takes them to the Backyard where David showed Andy his butt
Gm takes them into the bedroom where he wore her pink dress and she saw his b@lls.
Spencer takes them into the hallway bedroom where he told David he was safe and he voted him out the next day
Nick Tour
Andy takes them to the chess board were Nick played him and told him he was targeting Helen and Elissa.
GM takes them to the hammock says it's her favorite Nick spot. "I asked him if he liked and he said yes and I asked him if he would kiss me and he said on day 90 he would and today is day 88" Gm adds that they would hold hands under the pillows.
Spencer takes them to the poolside.. this was the spot that Nick pulled Spencer aside and told him he wanted to make a team which turned into the Moving Company.
Jeremy tour
Andy takes them to the kitchen.. Andy tells them when he was a have nots he watched Jeremy grab the largest mug fill it with chocolate milk have a couple sips and leave it. Andy says when he was a havenots all he had to consume was the chocolate milk.
Gm takes them to the cockpit This is were she told Jeremy she wanted to form the bomb squad.
Spencer takes them to the havenots door.. After being in the house for 30 seconds Jeremy came up to him and Howard and said us three till the end.
Kaitlin tour
All these are in the bathroom
Spencer "one day as I was going to take a sh!t and Kaitlin was in the shower.. through the glass I clearly saw her full left T1T"
Andy says week four this is the spot where Kaitlin never said she wanted to get Helen out. (the spot near the cockpit door. while in solitary JUDD said he heard her say that which resulted in her eviction)
Gm says the bathroom couch is where kaitlin would tweezers her "happy trail" in front of everyone
Howard tour
GM takes them to the backyard where Howard told her she was a good person
Andy says his Howard moment was near the weights Howard was training him and said to him.. "Are you looking to be sore tomorrow"
Spencer brings them to the pool table where Howard told Spencer "Hey hold on a second" then he went into the kitchen and scared everyone in the room when he was trying to be a nice guy. (It was one of Howards big creepy speeches)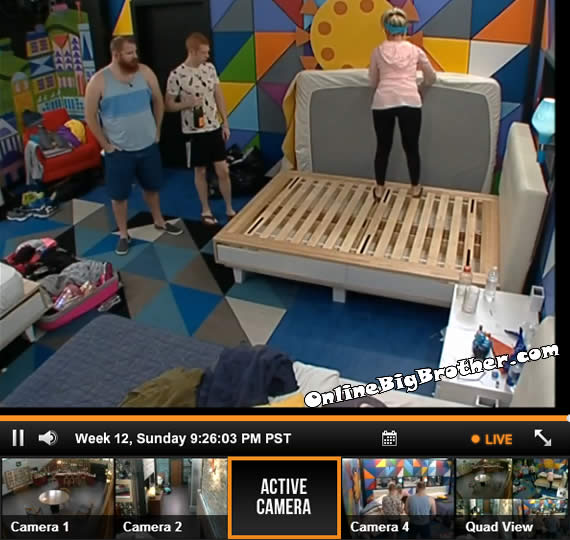 Candice tour (9:25pm)
Andy takes them to the Storage room where candice pulled him in and told him they were going to get picked off they needed to get rid of Helen, Elissa, Amanda and McCrae. "It was the first time she tried to talk some resemblances of game to me"
GM takes them to the bedroom where the bed flipping took place and reenacts the incident.
Spencer takes them to the backyard where Candice took him to Candyland, "In a matter of three seconds she totally sank Howard's game, ruined her game but helped mine"
JUDD's tour
Spencer takes them to the cockpit says it was right after he won the veto Howard called in Spencer, Andy and JUDD and he proposed that Andy and JUDD flip on Amanda, "With that deal came the wonderful opportunity to work with Candice.. that is when the JUDD, Andy, Howard, Spencer alliance almost formed"
S – "JUDD went to tell Amanda everything that was said.. and Andy backed him up.. that is what led to the argument with Amanda which led to me going to candyland"
GM takes them to the backyard when week 2 when she knew he voted David out and lied to her so she made the motion of slitting someone's throat with her thumb. WHen JUDD saw her do that he ran away.
Andy brings up the night when he was trying to comfort Jessie and JUDD claimed he heard Andy say Howard and started a big blow out about it.
Jessie's tour
Spencer takes them outside near the hammock. He was laying in the middle of Jessie and Jeremy right after David got evicted. He had his sunglasses on and for about 5 minutes he stared at her right t!t while she talked until she noticed and covered up.
Andy takes them to the backyard couch and tells them about the Jessie/Amanda fight
Helen's tour
Spencer takes them to the pool table, "Right here.. is where Helen told me she no longer is coming after me after I was taken to candy land.. I pretended to cry"
GM says her favorite Helen moment is when she put on all her clothes and acted like Snooki.
Andy says his moment was when Helen waved her fingers in his facve and telling him she has Freddie Mercury fingers. "I was like the lead singer of Queen.. and she said no the horror movie.. Ohh Freddy krueger"
Aaryn's Moments (They've stopped walking around and are doing it in the living room)
GM says her moment was the BB bunny dance or the night after Candice left and her and Aaryn
Spencer brings up when Aaryn said Spencer was a sorry motherf*** and the biggest liar in the world. "I said whatever Aaryn"
Andy says his favorite without a doubt was after David went home and Aaryn won the HOH she screamed "WHO VOTED DAVID OUT" and started assigning havenots to Helen, Elissa, Andy, Amanda and McCrae.
Andy gets called into the diary room.. the next person on the list is Amanda they will wait until Andy gets back.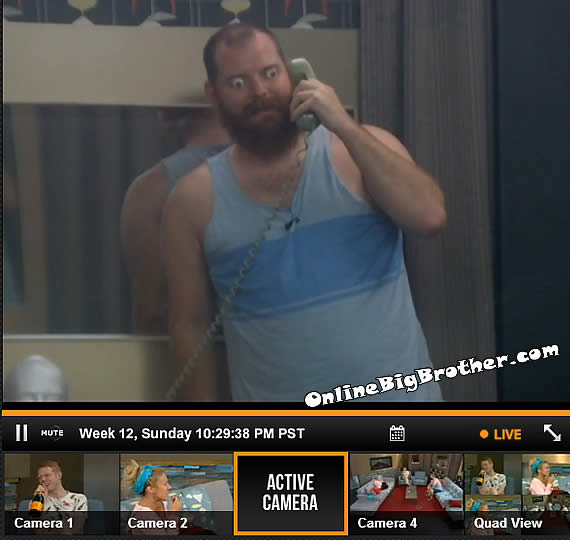 (10:20pm)
Amanda moments
Spencer and Andy's favorite Amanda moment was her sitting in the chair day 72
GM- "my favorite moment is when I told that b!tch to get to stepping"
Elissa moments
They make them all up..
JUDD moments.
making up the name for their alliance the exterminators. They all loved and missed good Judd (the JUDD that went home during the double eviction was bad JUDD and the JUDD trhat joined the exterminators is being called good JUDD)
11:04pm GM goes over the night when Amanda was egging her one and she started a fight with her.
There's four things you don't f** with
1) Nick and Nick's stuff
2) her word
3) her make up
4) her clothes
11:22pm
Andy – "only one out of the three of us showered today.. wow"
Spencer- Yup"
GM – "Sorry"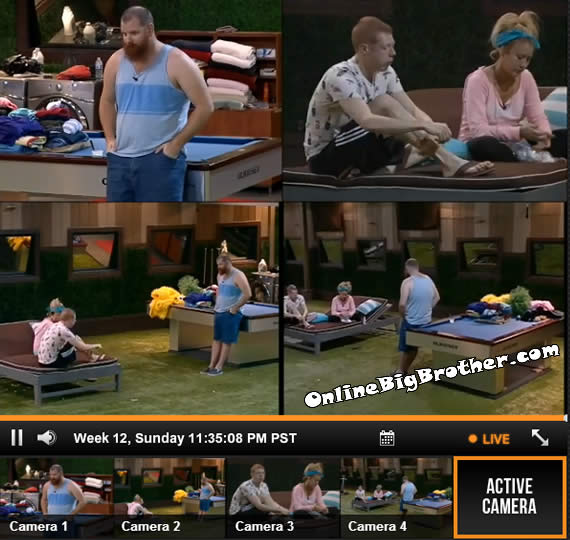 11:37pm
GM is worried about the questions on Wednesday. Andy says he hasn't been good at the questions. He thought before coming into the house he would dominate the questions but that wasn't the case.
Spencer says he's looking forward to see Marylin he loves that goofy broad.
GM is looking forward to sitting down with Nick.
Use the Big Brother Live Feeds to FLASHBACK to SEE what they can't show you on TV:
BB15 N!p Sl!ps / N*des