3 PART FINAL HOH Competition:
Part 1 – Spencer Vs Andy Vs Ginamaie = GM WON
Part 2 – Spencer Vs Andy = Andy WON
Part 3 – On Finale night – Ginamarie Vs Andy = ?
FINAL HOH winner = ?
12:00AM The exterminators
Talking about the best dress house guest award going to ELissa. Spencer says the pajamas she wears made her look like a genie, "You know those where expensive as f*****.
Best smile goes to.. Spence r- "Aaryn and a nice smile.. Jessie had a cute smile.. Aaryn had nice teeth" GM – "Aaryn had a weird mouth.. I don't like her bottom mouth" Andy – "Aaryn". GM – "OK Aatyn had the best smile"
Best facial Hair award goes to Spencer. GM – "McCrae looked liked a dirty prostitute.. salesman p$dophile"
Best accent award goes to JUDD, Andy – "JUDD was a mumbler" Spencer- "A bad mumbler"
Best dressed boy. GM – "Goes to Andy because of his shirts.. JUDD had a fancy style" Spencer – "He did have a fancy smile"
Weirdest person. Andy and GM agree Kaitlin was weird as hell. GM – "Just about her food.. the forks" Andy – "everything.. " GM – She picked out her hair on her stomach.. everything was weird"
Best laugh. Spencer – "Helen had a funny laugh" Andy – "Helen did have a funny laugh"
Biggest mouth. Andy – "Candice or Amanda" Spencer – "You talking anatomically or wouldn't shut the f** up" GM – "Loud" Andy – "I say Amanda" Spencer – "Amanda only because she was here to open her mouth more"
Cleanest. Andy – "Me" GM – "I say Andy'
Laziest. GM – "Jessie" Spencer and Andy – "McCrae"
Most energetic. GM, Andy and Spencer agree Helen.
Worst competitor. Spencer – "JUDD" GM – "Candice" Andy – "Candice or JUDD"
Best competitor. GM – "Jeremy" Andy – Aaryn or Jeremy"
worst sportsmanship. GM – "Amanda" Andy – "ya" Spencer – "She was the worst sport by far"
Most complaints. Spencer- "JUDD"
GM mentions how JUDD got called into the diary room every f*** hour to get medication.
Sloppiest vag!na. Award goes to Amanda
Most likely to queef in public. Spencer- "Elissa" Andy – "Ya for sure"
Most likely to use a dental dam. Andy – "Elissa" Spencer- For sure she used like 5 of them" Andy jokes that ELissa could use the dental dams on herself when she did yoga. Andy – "Elissa would go down on herself.. dental dam herself I caught her a couple times" Spencer- "She knew she needed to because she has a nasty cooch"
Most likely to have a glass eye and give a guy a eye socket job. Andy – "I say Helen" Spencer- "Eye socket jobs are fantastic bu they are hard to come by" GM – "I say Jessie.. she likes in every hole in her body"
Most likely to get caught m@sturbating at a pet store. Andy – "Elissa" Spencer – "you Andy"
Big Brother 15 N*de flashback times here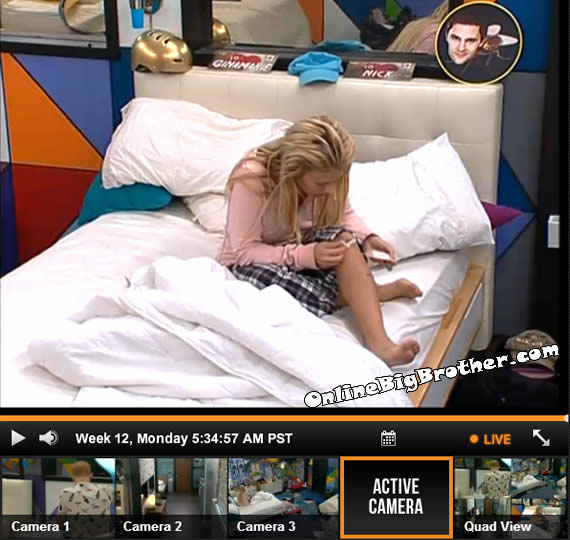 1:10AM GM and Andy
GM – "Monday then Tuesday buddy"
They mention how Spencer is telling them both the same story. GM – "He telling you the same thing about the 500 thousand dollar mistake"
Andy – "Ya.. he said anyone against you would lose"
GM – "Go against me.. he said the same thing about you"
Andy – "so.. "
GM – "Oh my god he's using the same tactic so we will take him"
GM – "Good night Andy.. drink a bit of soda… (BURP).. music tomorrow dance party"
Andy and GM tell each other nothing has changed they want to take each other to the end.
If you enjoyed the site this season please consider a donation.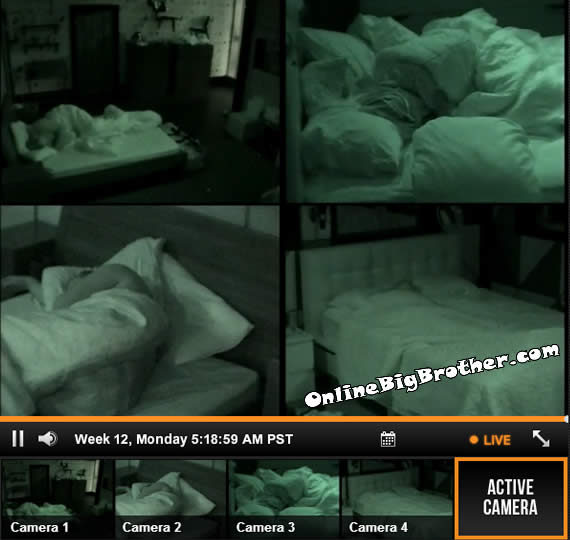 5:20AM Sleeping yo
9:30pm Sleeping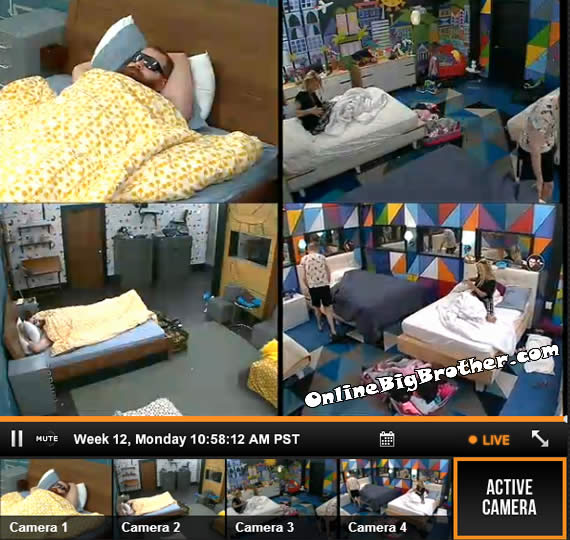 11:00pm Houseguests get woken up to music.. music over they go back to bed
12:45pm All three house guests are sleeping..
2:40pm The Final 3 are sleeping their way to half a million..
Use the Big Brother Live Feeds to FLASHBACK to SEE what they can't show you on TV:
BB15 N!p Sl!ps / N*des