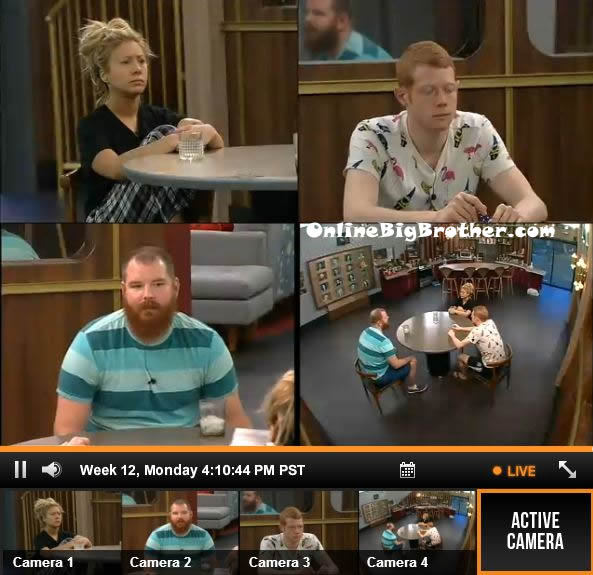 3 PART FINAL HOH Competition:
Part 1 – Spencer Vs Andy Vs Ginamaie = GM WON
Part 2 – Spencer Vs Andy = Andy WON
Part 3 – On Finale night – Ginamarie Vs Andy = ?
FINAL HOH winner = ?
4:10pm The final 3 finally wake up from their day of napping. Spencer, Andy and Ginamarie are sitting around the kitchen table talking about the past house guests. They discuss the medications that the other house guests were taking. Ginamarie says that Amanda was a crazy b***h. People back in New York think I am crazy but this b***h takes the cake. Spencer says that it worries him the amount of Adderall medication that Aaryn and Amanda were taking. He says maybe if they have a credible doctor but I worry about the long term affects. Spencer says that he feels Kaitlin had the potential to be crazy, like cut your d**k off crazy. Spencer says lets have a I bet they could f**k your brains out conversation about the memory wall. Andy says I am going to go with the obvious answer and say that Jeremy could f**k your brains out. Spencer says he agrees.. he is big and had the cardio .. he is big enough that you would just have to lay there and let it happen. Andy says okay Amanda. Gina says eww not with her flabby a$$. Spencer says McCrae did say she was a nympho, so maybe throughout the day she could wear you out but not in one session. Andy says Jeremy could take you to plow town. Spencer says Candice I would say if you are a 60 year old African American gentleman I think she could. Jessie, yes she could f**k your brains out for sure. Nick has very Amish sex. I bet he doesn't go down on women because of the riboflavin's. Spencer asks Helen. No, she would lay there like a scarecrow. David wouldn't be exciting at all. Kaitlin could f**k the sh*t out of you for sure. Gina says Howard yes, he would rip you in two. Spencer says Aaryn is a c*m guzzling sl*t. Elissa that would be like f**king a s*x doll, she could bend and contort. Gina asks so who is the best. Spencer says the Jeremy / Kaitin combo for sure. The least likely combo would be you and Nick. Gina laughs and says that she would scare Nick. He would leave the room if I even talked about $ex. Andy says Howard and Jessie would be a good combo. Spencer says yeah I would watch that for sure.
Big Brother 15 Live Feeds: FREE 2 DAY TRIAL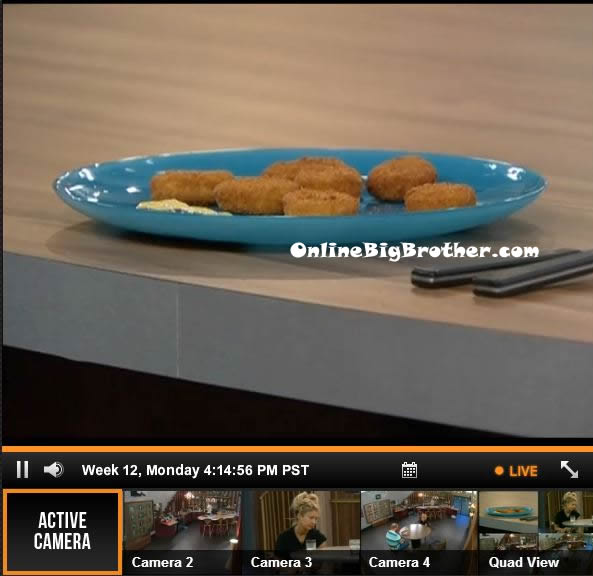 4:30pm – 4:50pm Spencer says it would have been nice to see McCrae in the house without Amanda. Andy says yeah but he might have gone out 4th or 5th since he was a non-presence in the house as he hid behind Amanda. Andy asks what was the best fight? Spencer says when I was taken to Candi-land. They discuss past competitions of the season and how bad some of the other house guests were. They all head outside to sit on the backyard couch.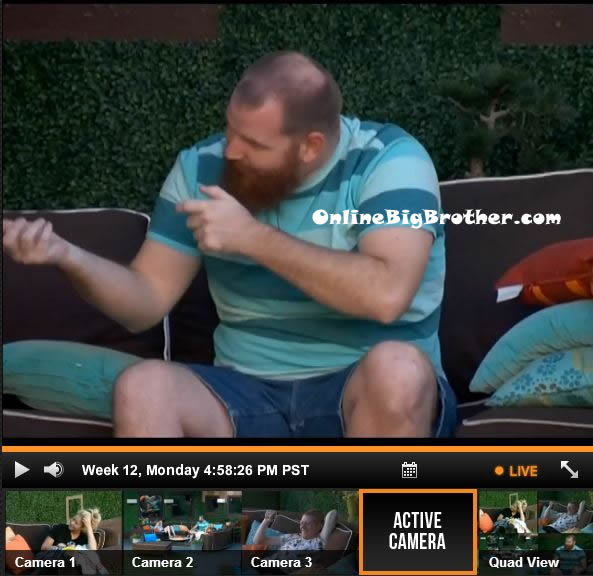 4:55pm – 5:35pm The Exterminators plan to write their alliance name on the bathroom door and each sign it tomorrow before the Finale. They all agree that McCrae will regret the way he spent his time in the house. Spencer says he would have sucked in the final HOH part 3 if its how well do you know the house guests. Spencer says both Ginamarie and Andy will do well at it because of the relationships you made in the house. I would suck at it though. Ginamarie comments on how fat and flabby Amanda is. Spencer says she wasn't fat, she just wasn't fit. Spencer heads inside. Andy explains to Ginamarie how the final will work. He says we will compete, then the winner will decide who to take and the final two will then answer questions from the jury. Andy says their minds are already made up, if anyone asks me a bitchy question I will just tell them to sit down. Gina says Spencer hasn't asked me about taking him. Andy says he hasn't asked me either since yesterday. Spencer joins them and the conversation ends. They talk about how the videos of McCrae and Amanda f**king are already on the internet.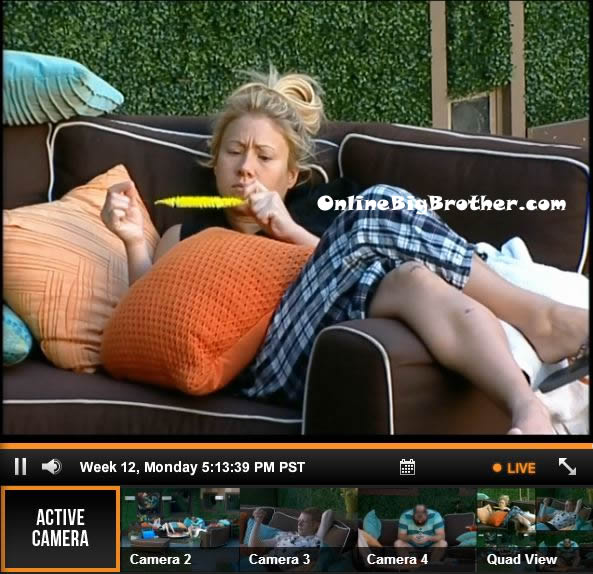 5:50pm – 6:20pm Spencer says wouldn't it have been funny if when Judd was here and we were told we were on a lock down.. that we would have gone inside and told him there was a banner that said don't trust Judd. Spencer says he would have freaked the f**k out. Andy agrees and says that Judd is the weirdest person he's ever met. Spencer says that he is a little unsure you are going through with a final two with me. Andy says I just don't want to tell both of you that I am taking you 100%. Spencer says I know you are worried about me being better against a bitter jury. He says but Ginamarie has the credentials to win in the final two. Ginamarie joins them again and the conversation ends. Ginamarie asks Andy if he will paint her nails. Andy says no thanks. Spencer that's one thing about not being gay people don't ask you to paint their nails. Spencer says he might have done it once before to f**k some girl. It's amazing what you'll do when you want to have $ex with someone. They all head inside to each request games in the diary room. They request uno. They all say the don't even want alcohol they would rather have games. Spencer says or 1 gram of cocaine. Andy and Gina both say they don't want that. Andy says I'm a teacher. Andy says I hope we get to do something tomorrow. Spencer says he hopes it's the day Elisabeth Shue wakes him up with a blow job. Andy says don't say things like that because she won't come.
6:30pm – 7:10pm Ginamarie, Spencer and Andy are hanging out on the living room couch talking about random things and people the know outside the house. Andy puts the eyes in and then Spencer tells Ginamarie to do it and dance. Andy says lets get day drunk tomorrow. Ginamarie says okay! Andy says lets try to wake up before 3pm.. Andy comments that he hopes he gets his own room when he gets out. I am so frustrated. Spencer says yeah or they put you up with your family and you have to beat off in the bathroom. Andy says it sucks that Elissa got Aaryn out. Spencer and Ginamarie agree. Spencer tries to get into the storage room and can't so he bangs on the door and yells "What are you doing in there!!!!" After a minute he goes back and checks to see what they were doing and finds out that they gave him chocolate milk. Andy says that's suck bullsh*t! (He hoped it would be games.) Andy jokes and says he is going to go and dump it all out.
Andy says I feel like everyone had hook up potential but me. Ginamarie says maybe you would have had a chance with Nick. Spencer says he didn't really have the potential either. Andy says yeah but you came in being in a relationship. Spencer says yeah but it was hard for a dude like me to pick up chicks. Spencer says if I was a gay dude in Chicago I would hook up with you. Gina says I would too. Spencer tells Gina that he really hopes everything works out for her and Nick because she's been so loyal. Gina talks about how she hasn't had this feeling in 7 years..
7:40pm Spencer starts "pu$$y popping" with the eyes in and then does the running man.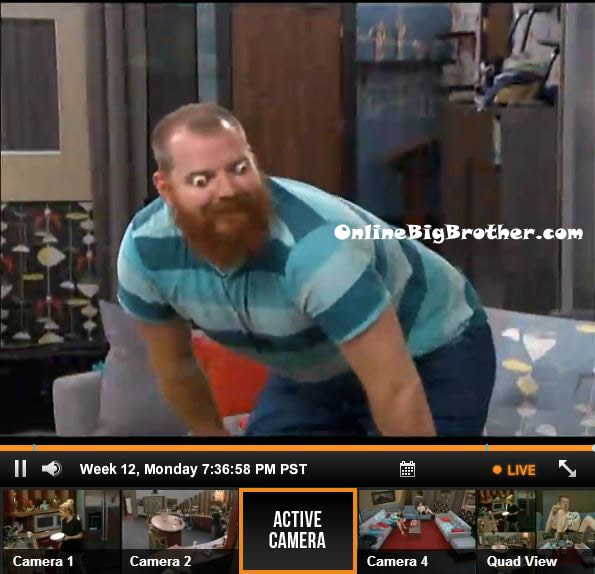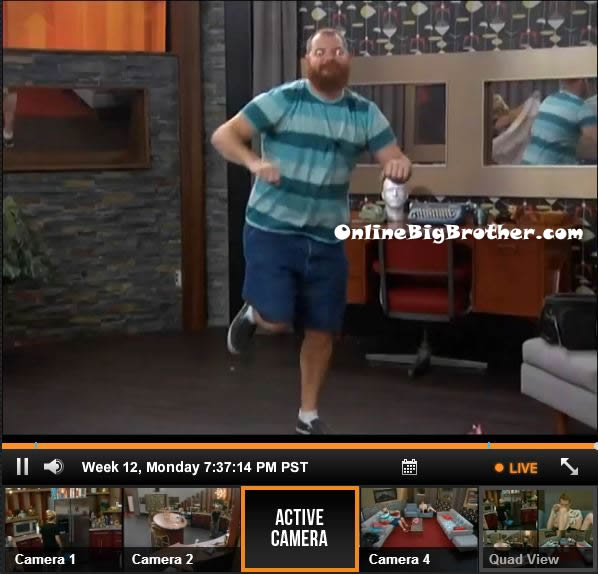 Ginamarie worries she ate a bug.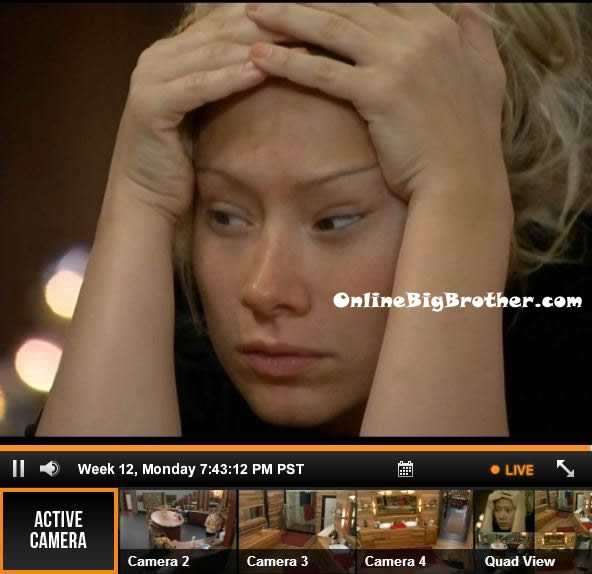 7:50pm – 8:15pm Spencer says one of the grossest things to think about is Candice pu$$y popping. Now Andy I am a fan of pu$$ies but I don't want to see hers. Gina says yeah because it's a crab shack. Gina, Spencer and Andy head out to the backyard to lay in the hammock. When Gina gets in she tips it over and her and Andy fall out as Spencer shakes his head. They talk about how Aaryn hoped Jessie would hook up with David at the wrap party so that she could hook up with Judd. Andy says he doesn't believe it but Gina and Spencer say they remember Aaryn saying it. Spencer asks what would you do if you had two hot chicks (Jessie & Aaryn) wanting to hook up with you. Gina says f**k them both at the same time. Specner says yeah that's what I'm talking about. Andy asks who do you think will get America's favorite if Elissa doesn't get it. Spencer says maybe Judd. Ginamarie thinks Andy will get it.
8:35pm – 8:50pm Spencer heads inside and Andy and Gina talk alone. Andy tells Gina that its just one more day. And no matter what one of us will walk away with $50,000. Gina agrees and says that Spencer thinks we'll take him. He always makes comments like how no one can beat you in the end. Gina says the diary room even asked me who I was taking to the final two and I told them you. She says they asked if anything changes to let them know. Andy reassures Gina that he will take her. She says thanks. Andy says that he thinks Spencer will be mad at whoever wins the HOH and kicks him out. But it's amazing that no matter if I lose the HOH then at least the worst I can walk away with is $50,000. Gina says besides Spencer is walking away with half of that anyways. Andy says I like that I don't have to worry about you talking alone with Spencer. Gina says oh god yeah. Gina says I shook your hand and you have my word, I haven't broken my word till now and I'm not going to. Andy says I would rather you walk home with money over Spencer. Gina says yeah I think I deserve it. Andy says yeah that's what I mean that you deserve it more. Andy says Spencer asked me today and I told him I won't commit to anything ..even though I committed to you. Gina says yeah me to. Gina and Andy head inside. Andy lays down in the bedroom. Spencer and Gina are making dinner.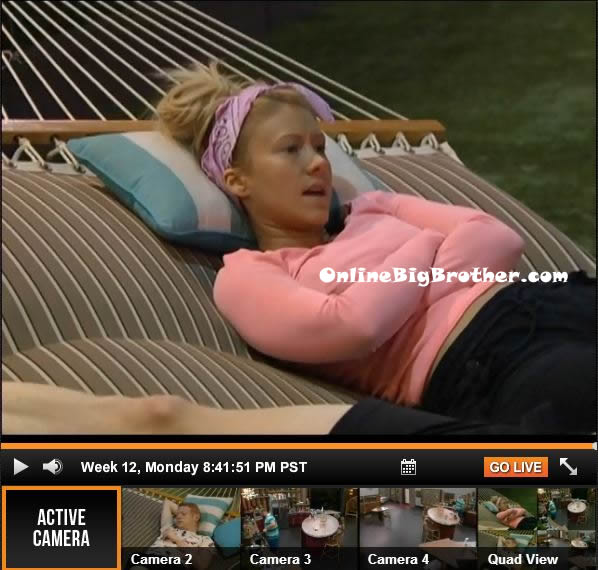 8:50pm – 9:25pm Spencer, Ginamarie cooks dinner for Andy and Spencer and chat about random things. Andy comments that he bets the jury people aren't having a lot of fun. Spencer says lets go down the row and say what the most a$$hole thing each HG did. Amanda everything. Jeremy the wine thing. Candice's speech on her eviction night. David didn't do anything. Jessie getting pissed about the BBQ. Nick was a covert a$$hole. Andy says for Ginamarie everything she did was merited. Spencer says you being such a sore loser about the black box comp. Helen .. Andy says how she treated me. McCrae winning the veto and f**king up our plan and sending Judd home. Kaitlin threatening people. Howard didnt really do much a$$hole stuff. Andy says his speeches were a$$holy. Andy ..Spencer says just everyday being you. Aaryn making 3 havenots again. Calling Nick gay. Flipping Candice's mattress. Judd's POV speech and making up the lie to get Kaitlin out.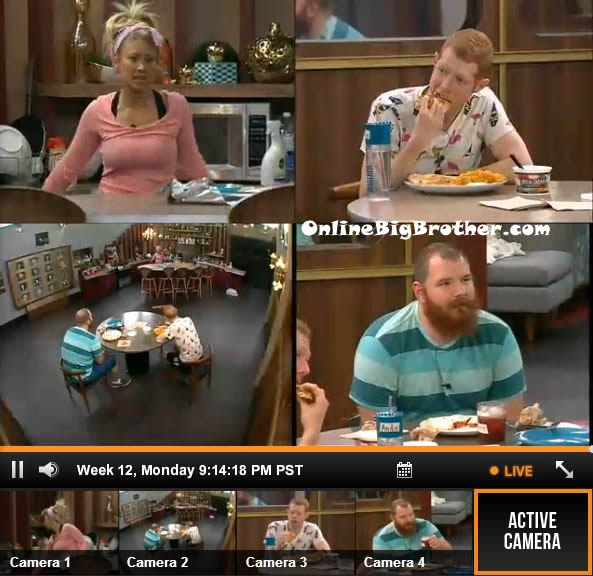 9:43pm Backyard Andy and Spencer chatting about being drunk in Chicago. GM is on the elliptical wearing a helmet so she doesn't hurt herself.
Andy goes on to tell Spencer all about his friends, past relationship and Chicago gay bars
Andy – "I really like grinder"
He goes on to explain what grinder is. He says he gets a lot of D1ck pics which he doesn't like.
Movie talk starts up. Andy likes the first 45 minutes of Jeeper creepers but once you find out it is a dinosaur the movie goes down hill. Spencer says everyone did a awesome job in making the movie Shutter Island except for the screenwriter. Andy loves shutter Island. Specner says it was horse sh!t.
They all liked the first candy man movie.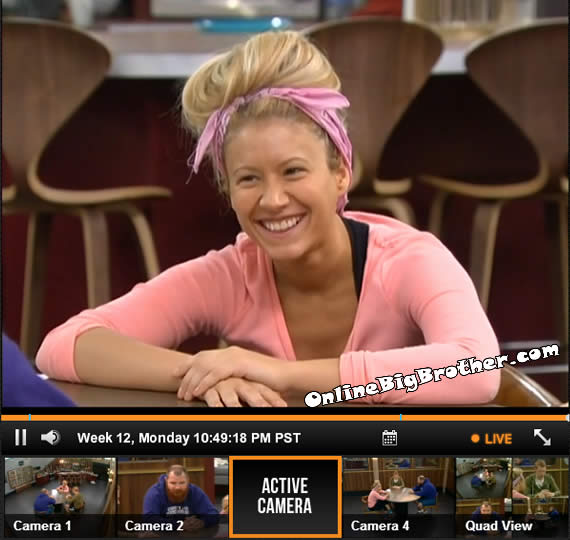 10:50pm Playing cards
GM says uhaus is a wicked name. Specner – "You know what sounds awesome.. Ginamarie Uhaus"
Gm laughs says it doesn't have the same ring to it as G-M-Z (Ginamaire zimmerman)
Spencer starts singing TNT by the band ACDC. GM tells them she found out about that bad by watching Bevis and butthead. Butthead had a ACDC shirt on.
11:06pm
Andy thinks Spencer is starting to catch on that he's taking GM to the end if he wins the HOH. GM hasn't noticed
Andy – "Like i;'ve said you have nothing to worry about"
GM – "Vice versa"
Andy – "I like Spencer but I really care about you more"
GM says people will like GM and Andy better than Spencer.
Andy says Spencer is already leaving with 25 thousand dollars. GM "Plus a trip"
Andy – "Even the prospect of 50 thousand dollars makes me want to cry"
Andy says him and GM have had a bond since day one. GM – "I know he was good with the exterminators but he never really did anything except for volunteer to be on the block"
GM says the exterminators never really needed Spencer as much as JUDD, Andy and her.
11:18pm Playing around with the Big Brother House Cameras. Spencer is in the diary room GM and Andy are both saying they will turn in early tonight.
11:40pm Spencer and Andy Spencer telling Andy how much of a honest game GM played and how the jury will vote for her. Spencer says he's a huge floater to most of the people in the Jury. Spencer – "You were a boat with a motor navigating the waves.. I was carried with the waves"
Spencer points out how GM has made personal connections with many people in the house.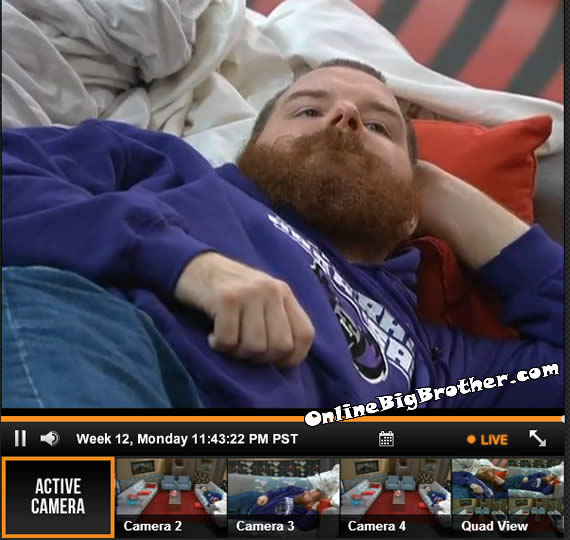 Please consider donating. Simon and I work 24/7 all season long to bring you all the live feed updates and spoilers. ANY amount is greatly appreciated! Your donations go directly to paying the server and bandwidth fees required to run this site.
Use the Big Brother Live Feeds to FLASHBACK to SEE what they can't show you on TV: BB15 N!p Sl!ps / N*des