POV Holder:
Sarah
Next POV
May 15th
POV Used
?
POV Ceremony
?
HOH Winner
Ashleigh
Next HOH
May 13th
Nominations:
Sarah & Godfrey
Have Nots
Canada voted for: Sarah & Brittnee (They will compete for the Secret Power)
POV Players
VETO PLAYERS PICKED: ASH, Sarah, Godfrey, Zach, Brittnee, Bruno
HOST is Pili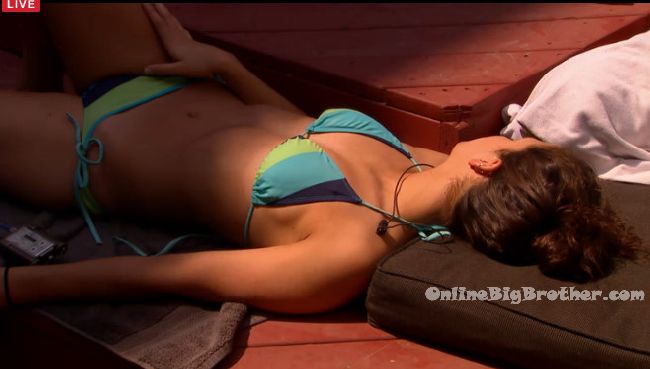 2:15pm
All of the house guests except Godfrey are out in the hot tub room suntanning in silence. Sarah heads inside to sit by the hammock with Godfrey. Big Brother ends the indoor lock down and Sarah heads inside. She goes into the diary room and then when she comes out of the diary room "Sarah look what you did" She then heads back out to the hot tub room. She heads out to the hot tub room and all the house guests are "suntanning" aka sleeping.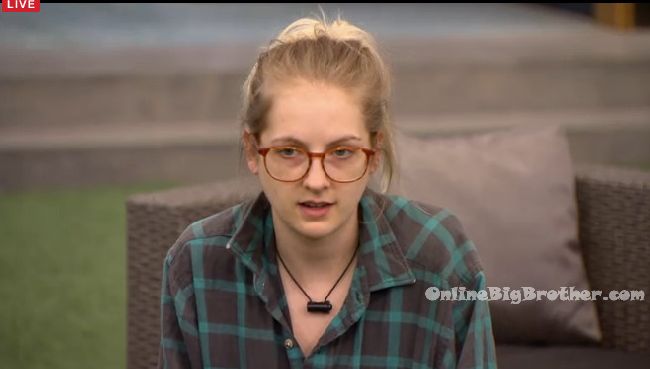 3pm – 3:10pm Sarah and Britt head into the backyard. Sarah tells Brittnee that she is going to apologize to everyone about getting mad/upset. I shouldn't have gotten mad at Bruno. I know why he did what he did. I shouldn't have called them children. They're playing a good game and I shouldn't be mad because I'm not on their side. Sarah says if the live stream is on I've taken your note, I get it. We just can't act like when things don't go our way that its not a big move for other people. Britt says I just can't do this any more. I'm so tired. I just can't. Sarah says yes you can. Britt says Queen B.. yeah! Sarah says were goaded into saying a lot of things as well which now I'm kind of resentful of! Brittnee says I am very resentful of that …like Queen B .. Queen B is here to reign! Sarah says I was like ..Not the sharpest tacks in the box .. stuff like that I didn't come up with that. And now I feel like they're just trying to make me look like a villain .. but whatever. Britt I feel like I should wear this crown everyday!! Sarah says whatever that's confidence. Are we supposed to be like this everyday? ..Yeah I respect everybody's game. We haven't been enjoying the experience, I think that's what it is. Britt says I have though.. Big Brother blocks the feeds.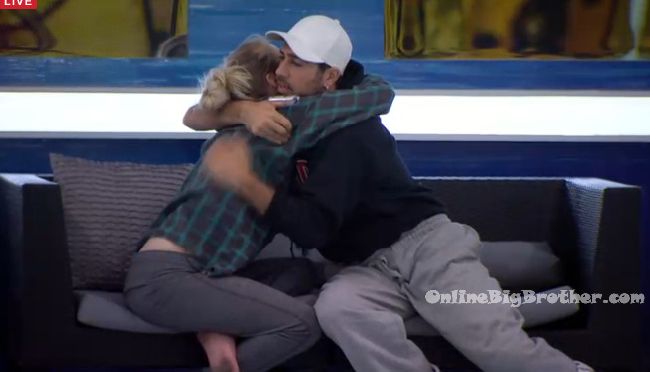 3:10pm – 3:25pm Big Brother blocks the feeds. When the feeds return Sarah is apologizing to Bruno for getting upset with him. He says he gets it and that she was upset with Willow leaving. They hug and make up. Sarah heads over to the hammock where Britt and Pili are sitting. Sarah says she is going to apologize to everyone. I haven't been myself the last couple weeks. You're always so happy all the time and I am 27 years old I should have this on lock. Pili gives Sarah a pep talk. Sarah says I let my jealousy make me bitter and I am sorry for that.


3:35pm
Sarah then heads out to the hot tub room to apologize to Zach. She apologizes for getting mad and upset when people she cares about get evicted. She says it shows how great of people he and Ashleigh are for still comforting her after the way I've acted. Zach hugs her. Sarah says that she's just been so lonely. Sarah says Its not unfair and I love and respect your game. I appreciate you so much. Zach says I am glad that you can get to that level. They hug again. Sarah says its a game Sarah .. relax. If it doesn't go your way you can't get mad. I wasn't talking sh*t about you guys like that.. I was just moody and bit*hy. Zach says I don't think you necessarily have to change the way you are playing.. I'm sure people are rallying behind you. You were just in power and making big moves.
3:45pm Big Brother blocks the feeds.
If you enjoyed this site's content please consider a donation or checking out our How to support OnlineBigBrother.com page. Any help is appreciated, this site is only here because of your support.
[polldaddy poll=8849979]
[polldaddy poll=8853897]