POV Holder:
Sarah
Next POV
May 15th
POV Used
?
POV Ceremony
?
HOH Winner
Ashleigh
Next HOH
May 13th
Nominations:
Sarah & Godfrey
Have Nots
Canada voted for: Sarah & Brittnee (They will compete for the Secret Power)
POV Players
VETO PLAYERS PICKED: ASH, Sarah, Godfrey, Zach, Brittnee, Bruno
HOST is Pili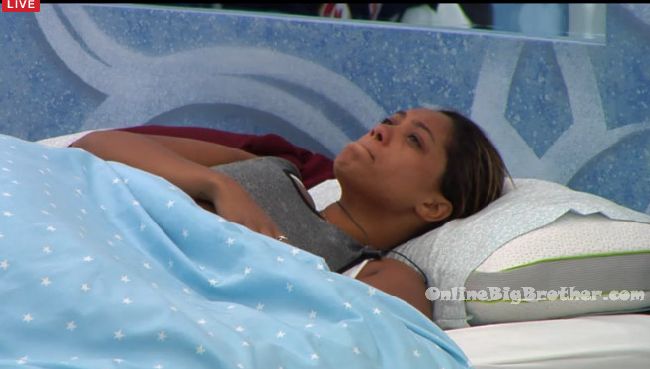 10:10am – 11:10am The live feeds were blocked for Big Brother to tell the house guests that Brittnee and Sarah were voted to be the havenots for the week. (They are going to compete for the Havenot secret power, although they don't know and think Canada hates them.) When the feeds return all the house guests are in the bedroom. They're telling Sarah to cheer up. Bruno says don't take it to heart. I don't think its personally anything to do with you. We're doing a TV show. Brittnee and Sarah are upset. Big Brother calls Sarah to the diary room. The other house guests are comforting them. Sarah get called to the diary room. Godfrey says its not that they hate you. The people that love you aren't voting its the haters that are voting. Brittnee says I just don't want to be disappointing my family and friends. Ash tells her your family and friends aren't disappointed .. you just won HOH during a triple eviction and sent two huge threats home. Brittnee says I don't want people to think I'm mean. Godfrey says no way do people think you're mean. Brittnee says thanks for trying to cheer me up guys.
11:30am Godfrey heads into the bathroom with Bruno. Godfrey says its tough but its only 4 days. Bruno says its just that it was voted. Godfrey says Kevin, Willow and Pili have a lot of fans that voted. Bruno says when he heard Canada voted he thought for sure it was going to be him. Bruno heads to the storage room. In there he and Zach talk about the voting. Bruno "I'm glad we escaped that one (Voted to be havenots) bro!" Zach "yeah me too!" Zach talks about how had Andrew and Sabrina took it when Canada voted for them to be on the block.
11:40am – 11:45am In the bedroom – Brittnee tells Pili that she wants to go home. It's not a good thing. Pili says Canada likes drama. Everyone will have haters. If they had put God on slop he would have been happy. Okay I'm going to go work out and lose weight. They want you to get upset and you're giving them that. You can't give up on this! Keep fighting! This is not who you are! Brittnee is crying. There is so much more positive things going on out there but we only hear about the negatives. You can't let Canada voting you to be a havenot to ruin your game. Brittnee says I will be okay. Pili says think about the good part of it. Brittnee says there's nothing good about it. Pili says you know whats good ..you're final 7! You accomplished so much to get here. Brittnee hugs Pili and says thank you. Pili says we're all in this together.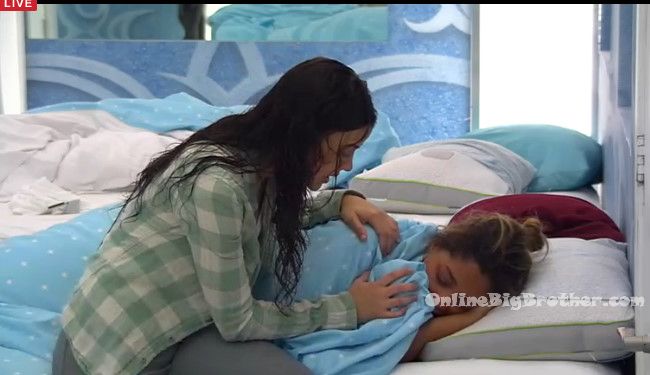 12pm In the living room – Bruno says f**king B was already trying to pitch to me about Godfrey. Godfrey's lost 25 pounds! Ash "Can I look?" Godfrey "Yeah don't take a look at my junk yo!"
12:20pm Ash asks what was the veto comp called? Pili says "Pin it to Win it!" Bruno, Zach, Ash and Pili try to sleep on the living room couches. Big Brother tells them nap time is over twice. The Big Brother tells the house guests to go out into the backyard we will be shutting the door. The girls scream and they race to the backyard door as it opens. Big Brother blocks the feeds.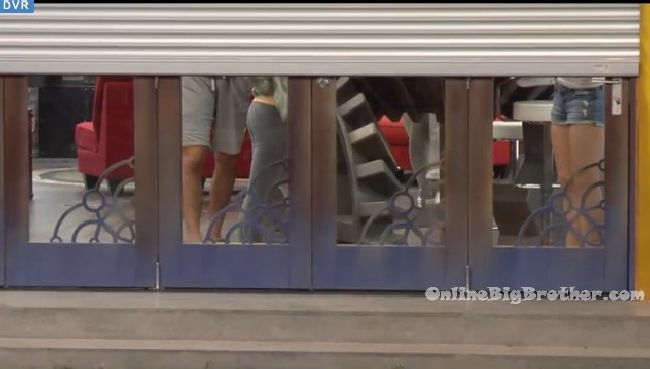 12:35pm The live feeds return to all the house guests out in the hot tub room suntanning. Sarah asks is the hammock out there I didn't even see? Zach says yeah. Sarah says right on! Wow its so nice to be outside! Sarah asks B "Are you good?" Britt "Yeah I'm over it, I'm over all of it!"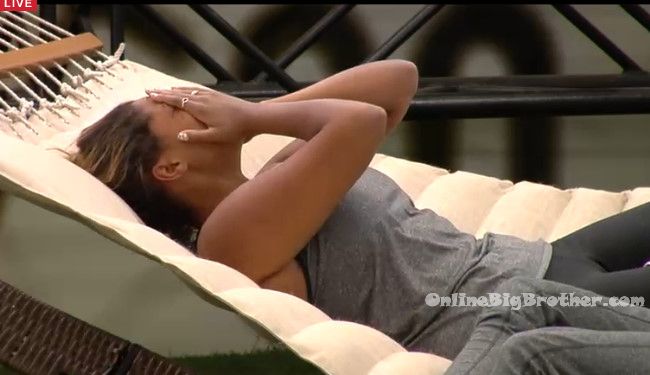 12:45pm – 1pm Sarah and Brittnee head to the hammock to talk. Sarah tells Brittnee that voting is a young persons game. And we've been going after the younger people. And we don't know how close the voting was. We aligned with people we shouldn't have trusted. Sarah says whatever and if we're the villains then that's okay too! Brittnee says I care. Its okay as long as my family isn't embarrassed to be around me. Sarah says they won't be. Britt says you don't punish people that you like. I am usually an optimistic person. If this experience isn't bettering me ..then why am I here! I honestly just want to go home. I didn't come in here to be a villain. Sarah says we came in here to be honest with our emotions .. Maybe taking pleasure in Zach and Kevin getting punished. Britt says people have to understand this has nothing to do with slop. It has to do with being locked in the house for 50 days getting a letter from your family saying they love you and getting punished from Canada. Sarah says big deal ..its a bunch of young people. Britt I just don't care. I worked so hard to find me. I don't want to do this. Like how is this good for you? How are you going to grow from this.

1pm – 1:20pm Big Brother blocks the feeds. When the feeds come back – Godfrey is now talk with Sarah to calm Brittnee down. Godfrey says they glorify the showmance and we didn't jump on the gravy train to support them because we're not dumba$$es yo! They're probably loving Bruno because he's kissing a$$ with them now. Sarah says they probably didn't show Bruno snap at me but probably showed me snap at him.. but I'm okay with that because I know what really happened. Britt says I will pull myself out of it. I genuinely like both of you as people.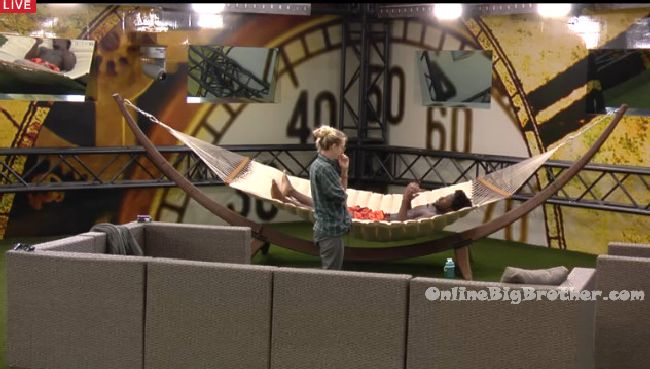 1:20pm – 2pm
Big Brother blocks the feeds again.. The feeds return to all the house guests in the hot tub room suntanning in silence. Godfrey heads to the Hammock. Sarah joins him. Godfrey says I'm guessing they're going to put up Britt. Are you voting me out? Sarah says I am just 1 vote. It depends on what they're all going to do. But you have Bruno and Zach right? Godfrey says I don't have Zach and probably don't have Bruno. Sarah says I will do what I can but obviously I can't campaign for her to go. Bruno totally screwed us. Godfrey agrees. Sarah says you haven't won any comps.. you've done really good at laying low. They talk about how they wish Britt had just won the veto. Sarah says she would have just stood there if Britt had still been in it. Sarah says Zach's got a lot of luck and I'm not going to be as resentful any more because that's why I'm a havenot now. Sarah tells Godfrey .. tell them if you're up against Bruno I would vote you out.
If you enjoyed this site's content please consider a donation or checking out our How to support OnlineBigBrother.com page. Any help is appreciated, this site is only here because of your support.
[polldaddy poll=8849979]
[polldaddy poll=8853897]