POV Holder:
Sarah
Next POV
May 15th
POV Used
Yes
POV Ceremony
May 10th
HOH Winner
Ashleigh
Next HOH
May 13th
Nominations:
Sarah Brittnee & Godfrey
Have Nots
Canada voted for: Sarah & Brittnee (They will compete for the Secret Power)
POV Players
VETO PLAYERS PICKED: ASH, Sarah, Godfrey, Zach, Brittnee, Bruno
HOST is Pili
Brittnee won the Have Not Power
Q) After the secret power is used, who picks the replacement nominee(s)? A) The secret power holder, not the HOH
Q) Does the secret power holder vote? A) Yes, as long as they are not a still nominee after making the switch(es)
Q) Can this week's HOH play in the next HOH comp? A) No, as per usual
Q) Does the secret power HAVE to be used? A) Yes, on one OR two nominees
Q) Who is SAFE from the block when secret power is used? A) HOH and regular POV holder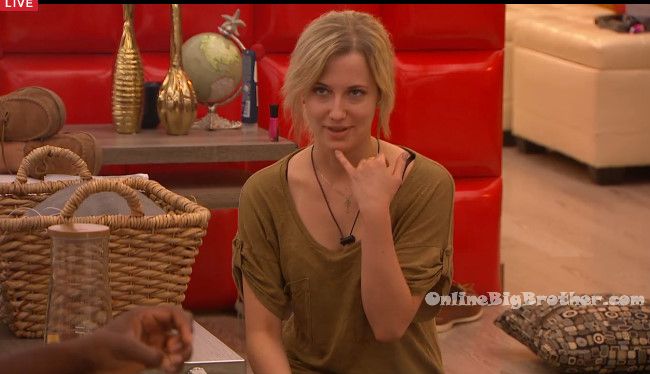 2:15pm HOH room – All the house guests are sitting around the head of household room chatting. They talk about the possibility of Neda coming to host the next POV. Pili asks why? Why wouldn't we host it? Ash says because you hosted it last time and next time we're all playing in it. Brittnee gets called to the diary room and there's a diary room leak of her excitedly saying "Oh my god, what is this?!" Then the audio is cut off. (I think it might be the #askBBCAN questions they'll be answering in the diary room.) Godfrey asks do you guys want to play hide and seek? Ash says okay. Hide and seek is my jam! I'm like a contortionist. Ash leaves to go hide. Godfrey starts counting up to 30 "Ready or not here I come!" "You can run but you can't hide!" Ash hides in the kitchen and when she sees him go into the bathroom, then bedroom. She sprints upstairs into the bathroom. She hides in the shower stall then moves to the bathroom stall. "Okay Ash, I'm getting serious now! You can't hide forever!" "Fricking girl must have gone in the diary room!" "Okay I think Ash got kidnapped. She's gone yo"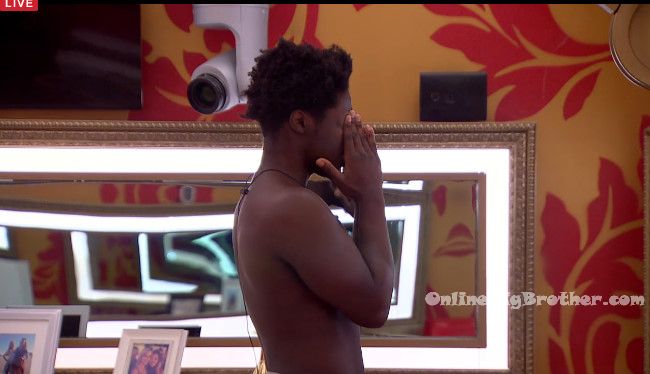 Brittnee goes into the bathroom stall and is scared when she sees Ash hiding in there.

2:45pm Godfrey then comes in and check the bathroom again and finds her.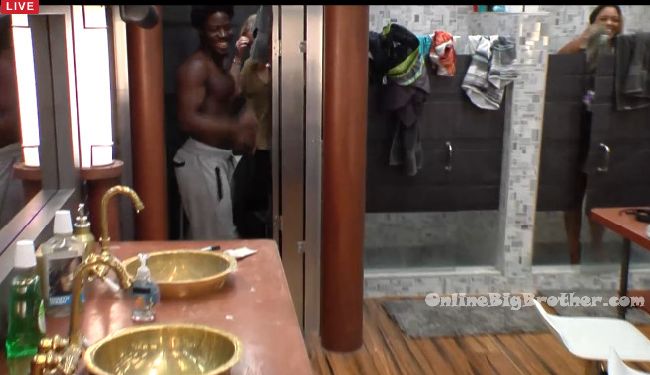 3pm Pili tells Godfrey her friend might like him .. you've got a nice butt!
PILI tells Godfrey he has a nice butt @bigbspoilers #bbcan3 pic.twitter.com/6TzrOeY4y5

— Dawg (@DawgsBigBrother) May 12, 2015
3:10pm – 3:20pm In the kitchen –Bruno asks do you think Pili's would ever turn on Zach? Or Zach turn on Pil's? Godfrey says I think Zach would turn on Pil's. Ash then calls for Godfrey if he's ready to play hide and seek? He tells her to go count in the HOH room and he'll hide. He heads to the storage room and climbs in one of the cupboards. Ash starts looking for him all over the house. She looks the storage room under the duvet and in the freezer. She says Godfrey you're better at this than I thought. When she leaves he comes out of the cupboard and hide under the duvet.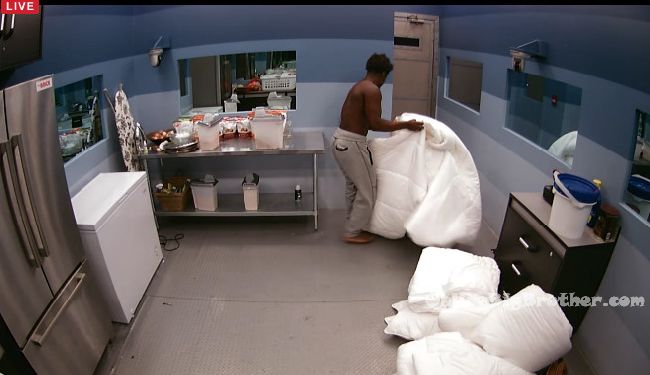 3:25pm They play hide and seek again with Ashleigh hiding. She hides under the sink. (Big Brother Canada 2 house guest Adel Elseri's hiding spot during his no sleep punishment. See photo below.) Godfrey "I've got a good sense of smell. I could smell your perfume."

3:35pm Big Brother blocks the feeds and when the feeds come back the house guests are commenting on how they were asked to clean the kitchen and then go to the HOH room. They wonder if they get a task. Sarah says she doesn't think its a task. Sarah and Brittnee head up to the HOH room. Brittnee tells Sarah not to freak them out. The others come in and Sarah says yeah you're right. I'm freaking out for no reason. Maybe they need to film and they just need the kitchen clean.

3:40pm Big Brother blocks the feeds again..
If you enjoyed this site's content please consider a donation or checking out our How to support OnlineBigBrother.com page. Any help is appreciated, this site is only here because of your support.
[polldaddy poll=8849979]