| | | | |
| --- | --- | --- | --- |
| POV: | Kaycee | Next POV: | Sept 8 |
| POV Used | No | POV Ceremony | Sept 10 |
| HOH: | Kaycee | Next HOH: | Sept 13 |
| Noms: | Sam & Haleigh | Have Nots | Havenots are done! |
Without your support this website wouldn't be possible.
Please consider making a donation. Any amount is greatly appreciated. All donations go directly to paying the considerable costs associated with running this site.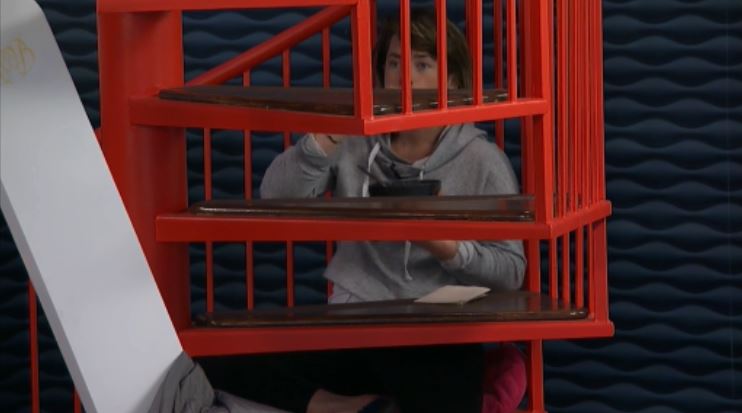 1:25pm Tyler and Sam on the stairs.
Tyler – I know you're sketched out with me because you don't look me in the eye any more. Its fine. I just need you to know that if you win this week.. no matter what you want to do even if it's some crazy sh*t that might not look like something I want to do. Does that make sense? Sam – yeah, well I already have a plan. Just in case. Tyler – you just have to trust me. I know what's going on. I just need you to trust me. I support you no matter what. Sam – okay. Tyler – does that make sense? Are you reading my mind. Sam – I am going to be myself and do what I think is best based on what I am able to back up because my imagination.. my gut feelings or whatever.. and that plus what I am going to gather is what I am going to use but it's still within the parameters of what I have promised to do. It may seem stupid to some of y'all but I am bound by a pinky promise. Tyler – it's not. Sam – even if you spit in my face and told me that you're going to vote me out. I made a pinky promise to you and I have to keep it. Whether you trust me or you're for me or against me. If you're using me or not using me. Tyler – you're not going anywhere this week. You're not going anywhere next week.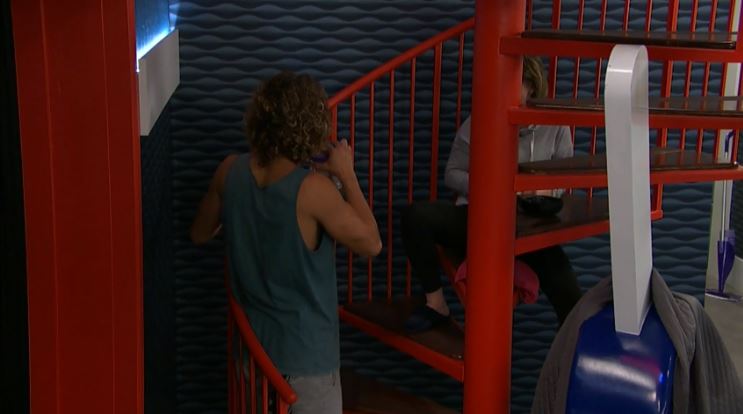 Sam – the chances of a double eviction this week are high. Just in case in the unlikely event that I f**king win… I have a feeling if anyone else wins I am going to be on the block. My bags are already packed. The people that are here are the extremely athletic people. I fully understand that this year it is different with the top 5. I am also fully aware that everybody assumes that I am a shoe in that I am America's favorite. And that's enough, I don't need any more. And if that is the case hallelujah America and if it's not then I am still going to be a winner. What I've gathered here is priceless. I have made it this far but I have a feeling I am not included in anyone else's big picture plans… maybe yours. Tyler whispers something. Sam – everyone is getting on each other's nerves. I am so glad that we are a part of an amicable cast. I am not going to do anything to rock the boat. I am here for as long as I am going to be here. I am sure that are people that are using me, taking me for granted or underestimate me or otherwise. What I am capable of or my strengths are very obviously not things that are useful in this house.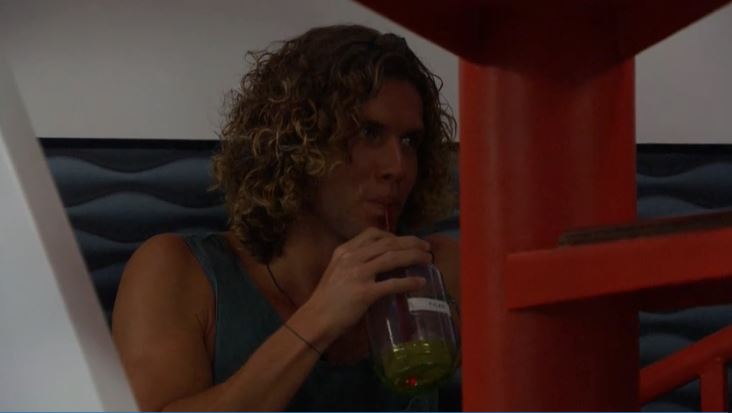 2:17pm Brett and Haleigh… (Fes who?)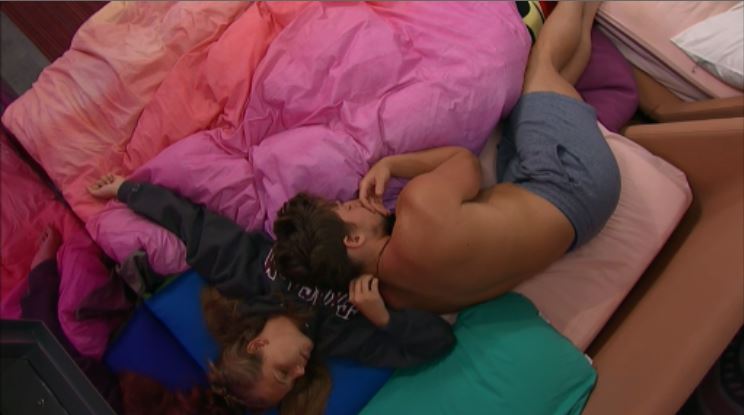 2:42pm Haliegh is at the kitchen bar eating the puppy chow snack mix that Brett made. She decides she doesn't want anymore so she slides it away from her on the bar and it slides right off and onto the floor. Kaycee jumps like she was shot at. JC starts laughing and calling for Brett to come see what Haleigh did. Tyler says that Brett spent 2 hours making that.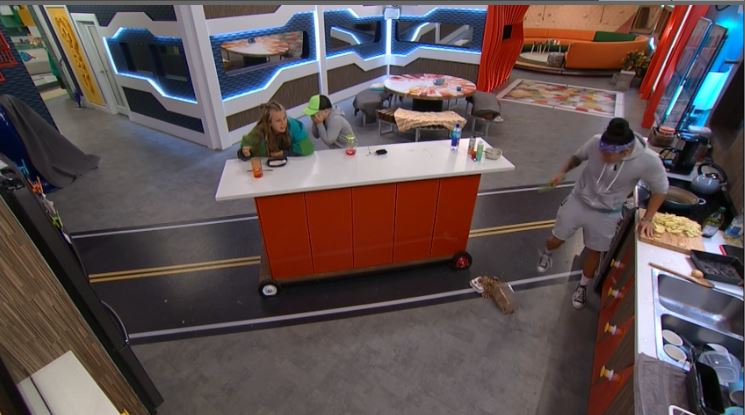 2:45pm Bedroom. Tyler and Brett. Brett – he (JC) keeps being like are you working with Tyler? Are you working with them? And I don't know if that means he wants to take up or that he's the next that has to go. He is the only one that ever suspects us. Tyler – Angela and Kaycee are definitely together dude. Its way better for me and you not to win this one though. Brett nods in agreement. Tyler – I can convince Angela to throw it. Brett – you should. Its probably going to be questions. Tyler – I will tell her that she has a lot of blood on her hands and get her to throw it to you or me. I feel bad but we have to do this dude. Brett – it might be better if we do win and we stick to the plan.
3:30pm The house guests are hanging out in the kitchen snacking and chatting about random things.

3:43pm – 4:35pm HOH room. Tyler, Kaycee and Angela.
Tyler – so here is the plan.. we tell him (Brett) that we're throwing the sh*t to JC. I've got him convinced that its not beneficial for him and I to win this one and to let JC or Sam to win it. And I'm supposed to be convincing you not to win it too so that they win it put you two up and one of you goes. So Brett is going to throw this sh*t. You can't throw it. I can't throw it. You or I have to win it. We put up JC and Sam. If I win I will convince Brett… we're sticking to the plan I'm going to backdoor Angela. Throw this veto and I'll get all the blood on my hands. He throws the veto. One of us wins it and uses it on JC or Sam and Brett's a$$ goes up. Then we vote him out. Angela – YES!! Kacyee – f**k him! He shot himself in the damn foot. Angela – Brett has to feel so safe. Tyler – I have him feeling so good. He thinks he is in a final two with me. He let JC get in his head. Angela – I knew JC was yo to something. Tyler – we have to have more Level 6 meetings. I knew this sh*t was coming. He is going to try and convince you to throw it to him or me. Its going to be because you don't want to get more blood on your hands. Tell Brett that he or I (Tyler) need to win it. Kaycee – he needs to go ASAP. You f**ker! Little F**K! Tyler – we have to act normal. I can't even hang out with you guys that much till tomorrow. Tyler leaves. Kaycee and Angela continue to talk about how pumped they are to get Brett out after he turned on them. Angela – Brett is going to walk into that jury house and everyone is going to be against him. Kaycee – he thinks he is sitting pretty. Angela – he is below the totem pole. Kaycee – he has no idea he is leaving tomorrow. Angela – Operation Backdoor Brett!
4:51pmJC comes up to the HOH room to pee. When he leaves the HOH room Angela fingers him.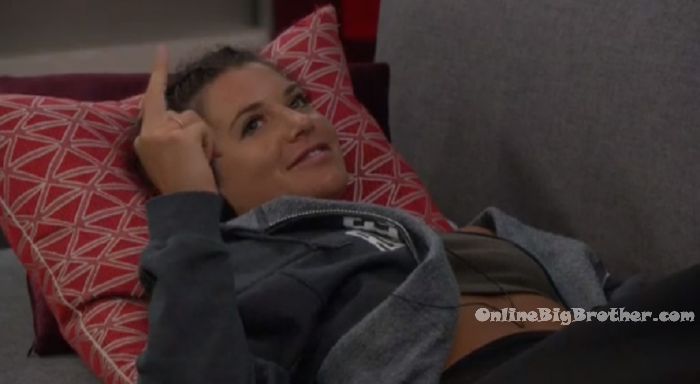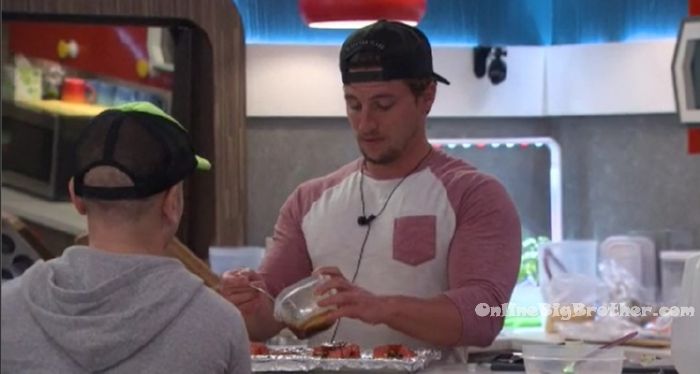 6:10pm – 6:25pmAngela and Kaycee up in the HOH room watching the spy tv. They're watching JC and Sam eating the salmon that Angela sabotaged. (Angela put a lot of salt and electrolytes on it.) Angela – JC is getting more? Kaycee – maybe it is good. Angela – there is no way its good its literally oil and sodium. Angela and Kaycee head down to try it. They try it. Kaycee says that it tastes good.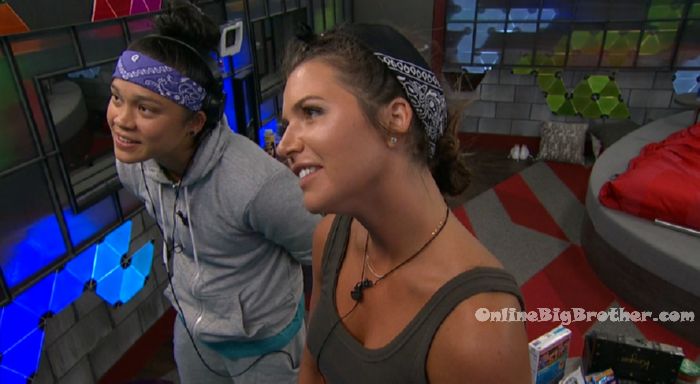 7:30pm – 7:50pm Kaycee and Tyler climb the wall. Angela comments on how JC has a nice butt. JC – you can play with it if you want?
8pm Sam tries on her outfit for tomorrow nights live show. Sam – my skin looks like sh*t. JC – you're a white girl. You look really good.. once you do your make up and stuff. If it would make you feel better I could get Angela or something? Sam – that wouldn't make me feel better, that would make me feel worse.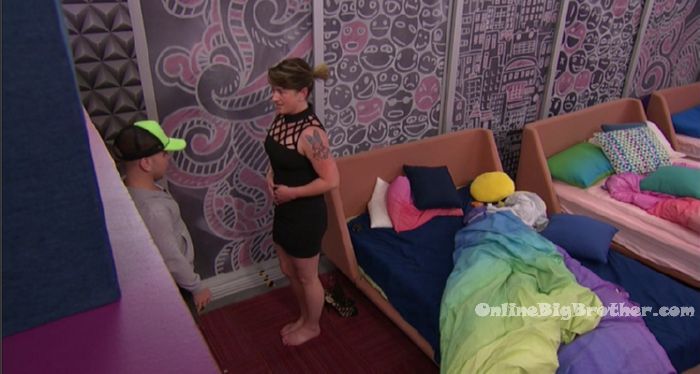 8:18pm Bathroom. Haleigh and Angela. Haleigh – the only other thing that made me feel good was Tyler. He reassured me. Not anything concrete or anything. Brett reassured me and JC told me not to freak out. I would rather know that I am going home than sit there and find out by Julie. I just wanted to talk to you because you've always been upfront and honest with me. Angela – And I haven't talked to anyone but Kaycee right now… I don't know if I am even going to bother talking to anyone else. I haven't talked to Brett and JC hasn't said anything. I assume he has his own agenda. Haleigh – well it only comes down to two (votes) this week. Have you talked to Tyler? Angela – we didn't really talk directly about it. But we agreed that you weren't going to take another shot. (LOL) Haleigh – yeah, I hope you really feel like that. Angela – yeah its really an eye for an eye. We're past that.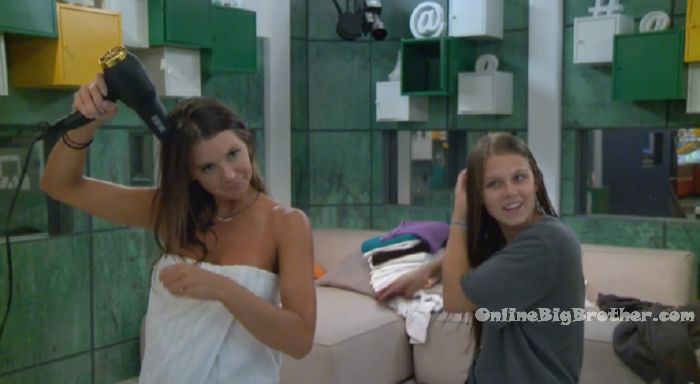 8:40pm – 9pm Angela is trying to sleep. Meanwhile – Brett, Haleigh and JC are in the kitchen snacking and chatting about tv shows and other random things.
An easy way to support the site if you are an amazon shopper is to make your purchases through our link. You pay the exact same thing but we get a small % commission. It doesn't cost you anything and helps us out.
Amazon Canada
Amazon USA
Rank the houseguests!
Easiest way to Rank the house guests use link below