| | | | |
| --- | --- | --- | --- |
| POV: | Kaycee | Next POV: | Sept 8 |
| POV Used | No | POV Ceremony | Sept 10 |
| HOH: | Kaycee | Next HOH: | Sept 13 |
| Noms: | Sam & Haleigh | Have Nots | Havenots are done! |
Without your support this website wouldn't be possible.
Please consider making a donation. Any amount is greatly appreciated. All donations go directly to paying the considerable costs associated with running this site.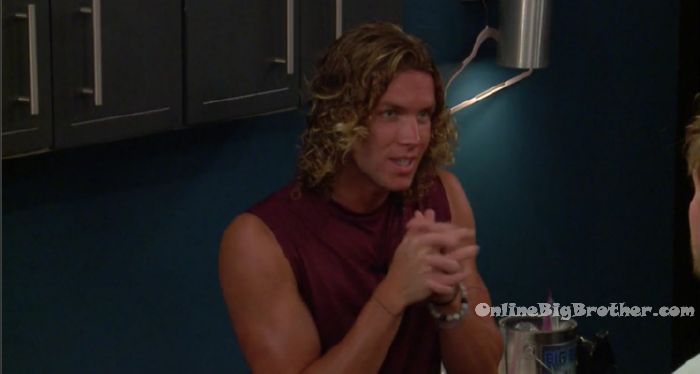 8:35pm Storage room. Brett & Tyler.
Brett – the girls have been so good to us and I feel like they're loyal as F**k! Tyler – I know I have been trying to test it out to see if there is any sign of them not wanting to be with us in the final four.. and they've never given me any.. Brett – I know, I feel like they do. And we could deviate and increase our odds but at the same point we are guaranteed if we just stick to the plan. Stay loyal, don't stir it up. But at the same time yeah we piss off Sam and JC but the likely hood of them winning and coming back after us is so small. But at the same point .. I know if we get past a couple HOH's we're going to beat JC and Sam. We're going to have some bitter a$$ jury votes. Tyler – thats what.. the jury already hates us. If we do this sh*t too early our alliance… Its who is going to hate us more. Brett – I really don't want to do it to the girls but Kaycee got 2 f**king minutes dude. Tyler – I got 17 .. are you f**king kidding me! Brett – you we're not even close! Tyler – nobody was close. Brett – She destroyed us. Tyler – and I thought I was fast. Brett – I did too. Its something we have to think of. But dude if we even hint at it and it gets out.. If we do get one of them out, then the one that stays is targeting us. But like right now if we do nothing and we let one of them or one of the other two win … they're just going to fire at each other. Tyler – I know, you and I are chilling. Brett – then we win when it matters. Tyler – which is the next one. Brett – just tell me what you're thinking. Tyler – that's exactly what I'm thinking. I know for a fact that they're (Kaycee and Angela) loyal to us till the four… but I don't think they're loyal to us past the four. I really don't think. If we sit back right now and they're taking shots at each other .. then that is good for us. Brett – I know. Tyler – but at the same time we're votes. I need to feel out Sam because I haven't really talked to her.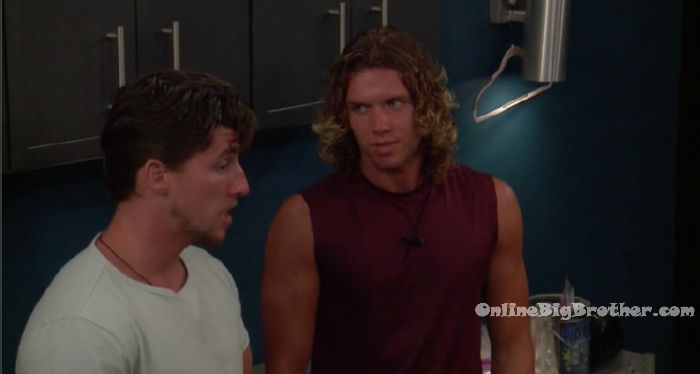 Brett – Maybe Kaycee, Sam and JC have something going on? Tyler – I feel like JC and Sam see the four of us and they're scrambling. Brett – we just have to see what to do.. maybe its not something we can throw or maybe we don't want to. Tyler – I just can't throw competitions. Brett – and then we end up winning.. do we make the move? Is it too early to make the move. I just wanted to see what you wanted to do. Tyler – I don't care. Brett – what do you think is the best move? JC and Sam aren't going to be bitter. Tyler – if one of us win (double eviction) we will have a quick a$$ conversation. Brett – we're not even paired together. The only person that suspects it is JC and he wants us as a final 3. If its me or you in the end with JC or Sam we are not winning. But they are not beating us an a comp. This is why you bring a floater to the end. If we are going to make this move we do it in a double so that its boom, boom, boom out and we don't have to deal with the awkwardness. I don't know dude you spend a f**k ton of time with Angela, did she not say anything? Tyler – we don't talk game. Only the generic level sh*t. I don't want to get 3rd or 4th, what about you. Brett – if you send Angela out, you're going to make the jury very happy. Whoever sends Angela out .. all those votes that were gone could be back. It could save us. If we get one of them out, it is 100% our game. And I know that's what JC wants us to do. Tyler – he wants me to tell him. Brett – lets stay clam and not say a friggen word… see who wins on Thursday and then we talk.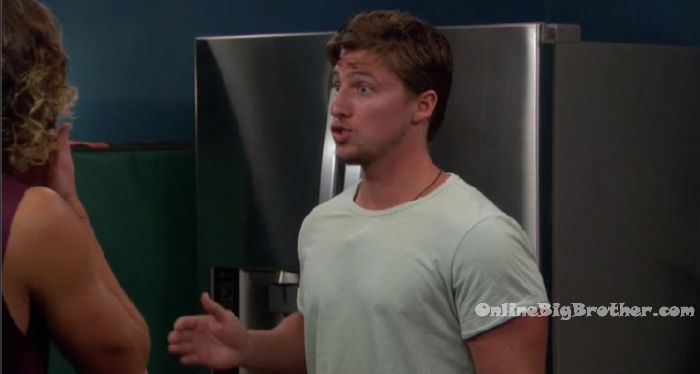 8:43pm Angela and Kaycee. Angela tells Kaycee what Haleigh said in her pitch. I told her that she put us all up and we won HOH back to back. She said eye for an eye we're done. I said my decision wouldn't be made until I talked to everyone and see what they feel. Its Kaycee's HOH this week and she has been careful to not throw out anyones name. I'm going to feel everyone out. You should talk to everyone. I honestly don't know what Brett is thinking. I don't know what JC is thinking because they're in a much different position because you didn't put them up. They didn't put you up. Kaycee – that's good. I don't know what me, Tyler and JC are going to do because half of us have been put up by you and half of us haven't. Kaycee – that's good. Angela – I just didn't tell her sh*t. I feel like JC is up to something. Kaycee – like him and Brett. Angela – yeah and I don't want to question anyone in our group but I feel like Brett is acting weird with me now too and I don't know why. Like when I joke with him he won't take a joke anymore he gets defensive. Kaycee – I think JC is in his ear. Angela – Sam is a threat physically. JC is a threat emotionally, persuasively, physically. Who is the greater evil here. Who could potentially break up out.. Kaycee – I don't see that happening. Angela – I don't either. I think Brett is solid. But JC is a little demon. Kaycee – at this point he is probably just freaking out. If he wins HOH this week he would probably put up Sam and.. Angela – me and Sam. Kaycee – which is good because its only one of us. Angela – if feel like JC is getting close to Brett because he is a bigger shield so that people will take out Brett over him. I think we should mention around JC that Brett is a threat to make it seem like we're not working together.
9:10pm Brett and JC are playing pool..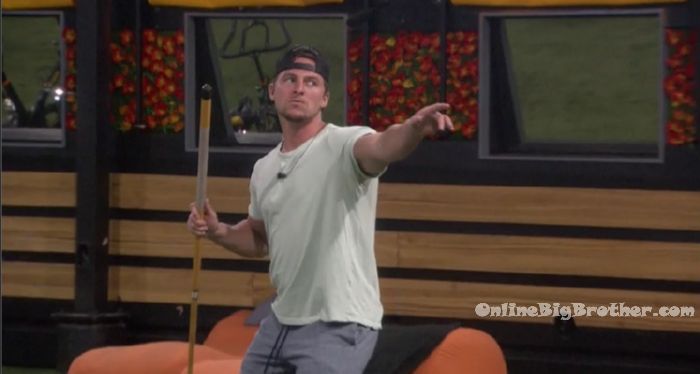 9:30pm Sam laying in the hammock in silence..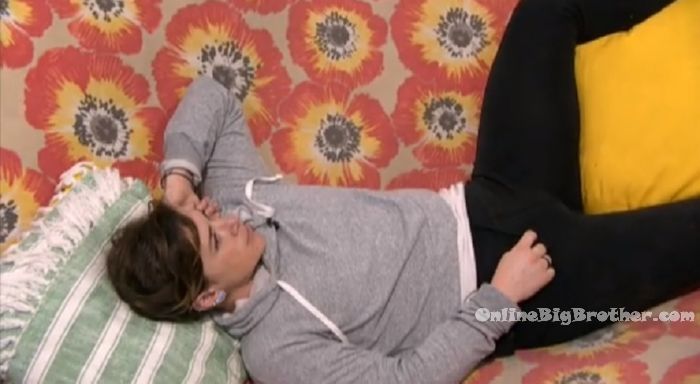 10:30pm – 10:45pm HOH room. Tyler and Angela.
Angela – all of Brett's passive aggressive comments are so annoying. Tyler – did you hear all those kissing comments? Angela – oh my god there were like a thousand. And then he kept looking at you and me. Tyler – Haleigh knows. Angela – are you sure? How do you know. Tyler – I overheard a conversation she was having. Angela – with who? Tyler – with Brett. She was asking did you hear that the other night.. she said it sounded like when she would sleep next to Swaggy and Baleigh. Angela – what did Brett say? Tyler – he said no he didn't hear anything. Angela – that could very well be Haleigh making sh*t up. Tyler – its okay we just have to keep her thinking we are keeping her.
11:24pm Backyard. Tyler and Haleigh. haleigh – no one is reassuring me. Tyler – no one has told me yet. You're always freaking out. Haleigh – this one feels different. Tyler – now I can reassure you.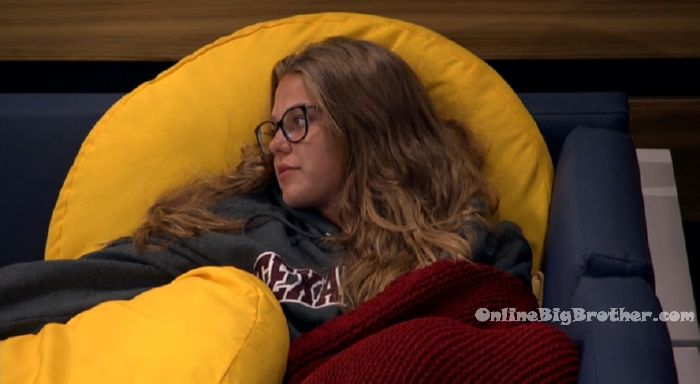 11:55pm HOH room. Brett and JC.
JC – she is right now in the blue room probably talking to someone. I am going to go downstairs. I don't like being here that much and having to deal with that. Brett – alright, just be aware. That's what I'm telling you. JC – that shes on to us. I knew that. Brett – I just played it off like I don't f**king know. I played it off funny like a joke. She calls me a b***h all the time. Tells me how crazy Sam is. JC – don't worry she's not that smart. If you stick to your word and you give your loyalty. And I stick to my word and give you loyalty and I don't move around .. we could move forward here and we have something secure. Worst case one of us is trying to f**k each other and I don't think because I don't see it. Brett – you think I am trying to f**k you? JC – no, if I didn't believe it I wouldn't be talking to you right now. Brett – you only have to break up one person. JC – and she's not even that good of a competitor. Brett – exactly. I think best case scenario.. JC – is me getting HOH. Brett – yeah. JC – we know what to do. We have Sams vote. You get HOH, put Kaycee and Angela up. We get Angela out because we have my vote 100% and you have Sam too. Brett – I think we can get Tylers too. JC – 100%. Brett – lets just get there to ask. JC – you and me never did anything to her. She would be the stupidest person in to world to do that.
12:20am Bedroom. Tyler, Brett, Angela and JC. Brett puts the hair extensions under his baseball hat. He throws on Angela's jean jacket and gold veto shorts and boots. Brett then heads up to the HOH room. Kaycee – I thought we had a visitor. You should wear that on Thursday. Brett – I'll totally wear it on Thursday if they let me.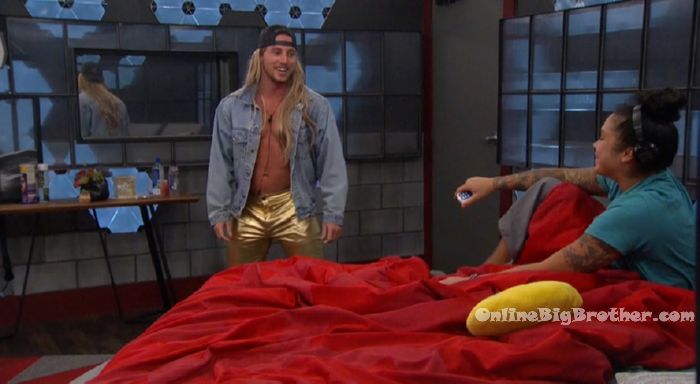 12:35am – 1:20am HOH room. Tyler and Kaycee.
Tyler – everything that I've been sketched out about JC and Brett is just true. Kaycee – what? Tyler – its true. Kaycee – what? Tyler – you can't even acknowledge that I've said this. Kaycee – I won't say anything. Tyler – this sh*t is true. Brett talked to me today and basically confirmed that who its easier for him to beat in a final four .. Sam or JC or you and Angela. Kaycee – is he trying to make a final 2 with you? Tyler – he is trying to aim it that way. He sees you and Angela as the duo so he thinks its beneficial for me you know. Kaycee – that little a$$hole. What did you say? Tyler – I was like dude the girls are so loyal to us. I even try and test them and they pass the test. He was like when it comes down to it if we have to piss off America and piss off Level 6 … he was like do you want to get 3rd and 4th or do you want to get 1st and 2nd? Kaycee – I was thinking about that today. Brett would be the one to turn on the alliance. Sam and JC want Angela out. I think they way Brett sees it is if they want Angela out, it would be better for you to go because they want Angela out. Kaycee – oh my gosh. Did he say that? Tyler – yeah. F**king B***H! He doesn't know (about Tyler and Kaycee). I need to win HOH and then you, me or Angela need to win the veto. Kaycee – that little f**ker. He would! Tyler – he sees you as the duo because JC's been putting it in his head. Kaycee – oh my god. You're right. If he were to win HOH, you think he would put me and Angela up? Tyler – or Sam and Angela. Kaycee – then he would really piss everyone off. Tyler – or me and Sam. He thinks I would have his back on that. He assumes that I would vote you out. Kaycee – right. Over Angela, right. That's cool. Little F**ker! Do we take a shot at him then? Tyler – do we? And then its easier for us to beat Sam and JC? Kaycee – true dat! Angela can't know. Tyler – she is so bad at hiding when she is pissed. He might check in with Angela to see how she is feeling.. but she is feeling normal. You're better at hiding sh*t. He is trying to get me to go against the alliance but I just keep agreeing to it but not. Kaycee – if he wants to f**king play that game, we can play that game. Tyler – he is talking two steps ahead.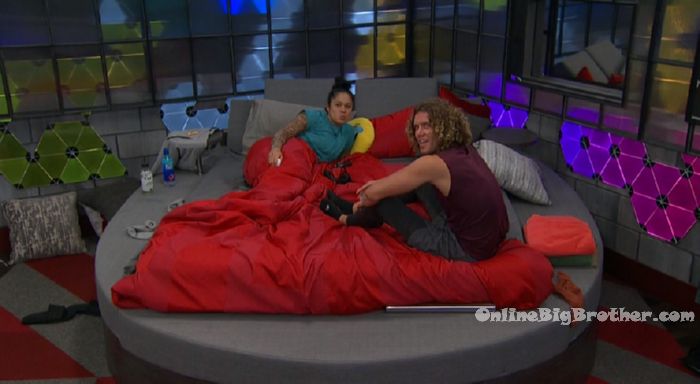 Kaycee – but when do you take the shot? During the double. Tyler – if Brett isn't the HOH, then he has to go on the block. He thinks you and Angela are for sure the duo. Kaycee – that's funny. Now if he is going against our alliance.. I don't give a sh*t. Why would he even say that? Tyler – he is testing that I won't go tell Angela. That's Haleigh's pitch that Angela and I are in a showmance. Kaycee – so do we take a shot at him. Tyler – I don't think he will do it himself. Kaycee – I don't think he will throw it. Tyler – I'll convince him. This is all the sh*t that I've had suspicions about. He confirmed it today. Kaycee – its good that be brought that up today. Tyler – he confirmed it. They think you and Angela are a final two because of when everyone thought Rachel tried to make a final two with you and Angela. Thinking that you and Angela had a final two and that's how you figured it out. It all stems from that. Don't even think about throwing it to Brett. Kaycee – he is out .. bye, bye. He is not winning HOH. Tyler – or veto. Kaycee – Thursday baby! Game day! We're good, thanks for communicating with me. They hug and Tyler heads downstairs.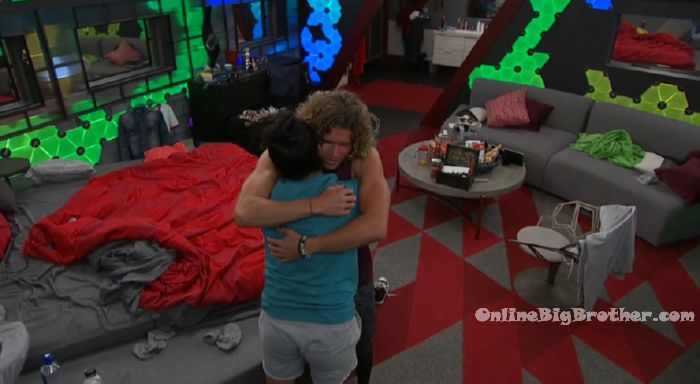 1:40am All the house guests are sleeping..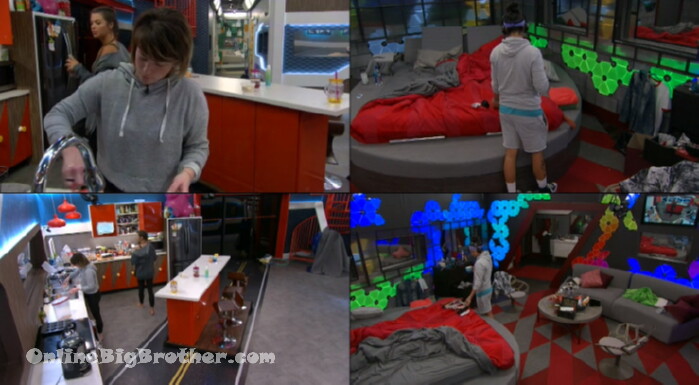 10:25am Houseguests getting up..
socks.. are these the final 6?
10:40am Production is having a hissy fit trying to get Brett, JC and Haleigh up. The rest of the house is getting ready to roll. Kaycee was called into the Diary room. Angela and Tyler comment how Production is calling them in for DR'as early today.
Look no mustache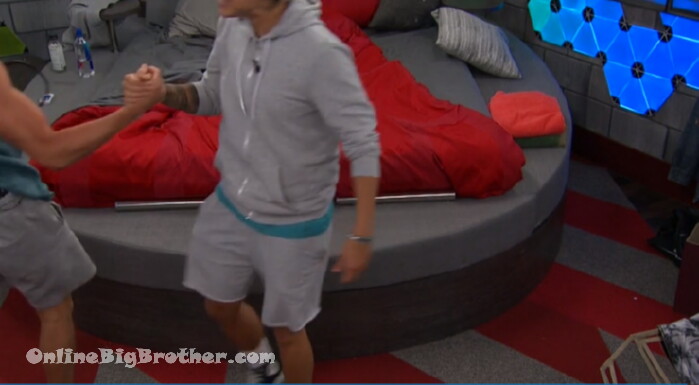 11:00am Kaycee and Tyler
Acting all "pumped" because they are going to take Brett out
Kaycee says "I'm so pumped.. let's go" 30 times
Tyler says "PUMPED .. lets go " 30 times
Kaycee – it's game on…
Tyler – I'm going to hype his sh1t up for this.. I'm going to convince his a$$ to throw the HOH, POV
kaycee mentions that she had socks laid out for the final six. Says the brown sock is "His ugly a$$"
Kaycee – I was only tolerating him because he was level 6 ..
Kaycee – I've been kinda annoyed with him he's one of those guys. I've never said it out loud he's one of those guys he's all about himself he thinks he knows everything he talks over you he's just one of those guys
T – I don't usually click with it
(JC is the white sock, Sam is the black sock)
KAycee wonders if Brett thinks JC and Sam are on his side
Tyler- oh they are..
Kaycee -w hat iof Sam win s
T – she would put up you and Angela..
Kaycee – she wouldn't put up Brett
T – no her, JC and Brett are all in on that sh1t..
Tyler says no body likes Angela.. they all want Angela out.
Kaycee – dude I'm so pumped.. it's a whole new f*ing game..
Kaycee – it's on.. it's one.. this is going o be good I'm so fired up I'm pumped.. I'm so fired up..
T – I'm going to convince his a$$ it's good for him to throw this thing and let JC or Sam to win it
Tyler then says that Brett already brought up them not winning the next HOH so they can let Sam or JC take a shot at Angel/kaycee
KAycee – it might work out this week that his a$$ is gone.. whatever happens after this double we're good.. I'm not worried about am or JC
T – worst case Angela goes
Kaycee – when I say we it's use three.. (T, A and KC)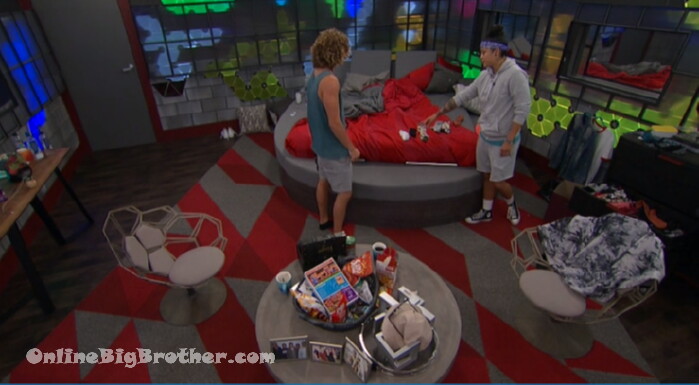 Tyler says he told BRett if he wins HOH he'll put up Sam and JC .
Kaycee says people all underestimate Tyler and she doesn't like that.
Tyle r- trust me I'm going to hype him up for this..
Tyler starts calling Brett "F* boy"
Kaycee – operations get Brett out ASAP
Tyler – as long as Angela or I win HOH
Kaycee – trust us he's going after our alliance
Kaycee – we're good we're good our main priority is to get F*ing Brett out
Tyler- the only problem is to get Angela on board
Kaycee – this is going to work out perfect it'll be easier to get him out now than later
Tyler- these are his words it's easier to beat Sam and JC… You're f*ing right dude
Tyler- I've been waiting for him to do this.. it was such a relief ..
Tyler- If I win I'll put up Bret and JC and be like Brett I got this just throw this veto.. I got this
Tyler then will win the veto and put Brett up.
Tyler- I'm staying so many steps ahead right now
kaycee – he thinks he f*ing knows everything and it pisses me off..
Kaycee – he would not be here if it wasn't for us
Tyler says every time Brett was on the chopping block they came up with plans to save him
Tyler and KAycee go on about how the three of them are responsible for Brett making this far it wasn't a team effort it was all them.
Kaycee – he's going to feel so stupid.. we're going to get him.. he thinks he's ahead.. I'm excited..
Tyler- it's going to happen it'll be insane..
They decide to tell Anegla tomorrow so she doesn't freak out. Tyler notes that Angela is hard hiding it.
(they talk like they are certain tomorrow is a double)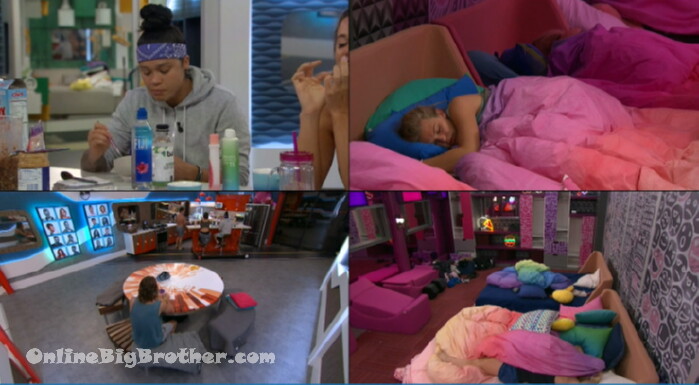 12:05pm…
An easy way to support the site if you are an amazon shopper is to make your purchases through our link. You pay the exact same thing but we get a small % commission. It doesn't cost you anything and helps us out.
4am They head to bed…
Amazon Canada
Amazon USA
Rank the houseguests!
Easiest way to Rank the house guests use link below