POV Holder:
HEATHER
Next POV
April 26th
POV Used
Yes
POV Ceremony
April 28th
HOH Winner:
Jon
Next HOH:
May 1st
Original Nominations:
Heather and Sabrina
Current Nominations:
Sabrina and Adel
Have Nots
None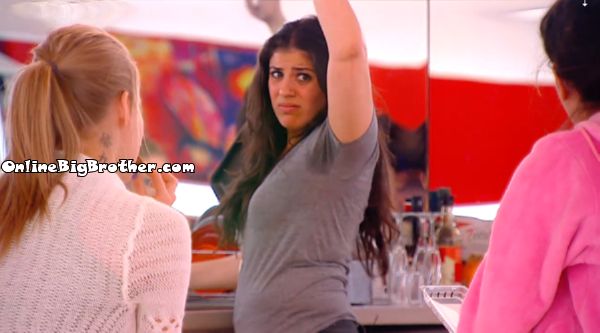 8:30pm Sabrina, Neda and Heather
Sabrina – "Question.. i'm acting like I'm going home right"
Heather and Neda say yes.
Sabrina says she doesn't' understand the "Pit Stains" says she's not feeling wet. (See image)
Neda points out it's not like they've been doing anything active today.
They start talking about going to the Calgary Stampede. They all plan to go with Rachelle and Andrew.
Neda says she plans to go to Newfoundland in August.
Adel joins them, Heather starts talking about William's current job where he sells municipal equipment like street cleaners and stuff. Heather adds that William has dual citizenship, Canada and United States.
Heather asks them if she marries William she can get Dual US/Canada citizenship. Neda says she would have to be married for 5 years.
Heather – "Cool"
Talk moves to wealth inequality, Neda and Sabrina both bring up stories how being rich means you have a much easier and happy life. Heather agrees.
Adel says when you are born into a family with money life is so much easier in life. Adel says that was like him, 'You can tell the people that don;'t.. it's a real struggle"
Neda – "You need money to make money that is why the rich getting richer and the poor get poorer.. there will be no middle class in the coming years there will be the 5% rich and 95% poor"
Sabrina says she really knows the value of a dollar she started working when she was 14.
Sabrina says her cousin gets a new BMW every year because she smashes them up Sabrina drives a Honda. Sabrain lets them know that she drove a Mercedes when she lived in Mexico.
Talks drifts over to American Health insurance.
Sabrina tells them about how wealthy her grandfather was but got screwed over by the health care system over there. Halfway through the conversation Adel says he's falling asleep he's got to take a shower. Sabrina says her grandfather had to pay 700 thousand dollars when he had a heart attack.
Neda says the Americans spend so much money on their military as so little on health care for their people she doesn't get it.
Heather says her friends got sick and it cost her 40 thousand.
Neda says she had to go into the hospital once in the states she fainted and collapsed. The bill was 10 thousand dollars and she got 1 bag of IV and two tests that gave the inconclusive results. Neda's mom had to pay for it says they are still paying it off.
Sabrina says she has to wait 11 or 12 hours to see a doctor in Montreal. neda says whenever she goes to a walk in clinic she sees a doctor within a hour.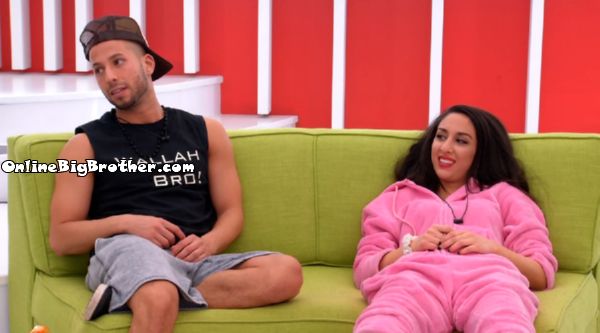 9:38pm Living Room Everyone
Talking about how everyone had to overcome some obstacles in the Big Brother House.
Adel says the Big Brother House was like rehab for them all. Says people had to get over drinking, Shopping, spending money, Partying, Smoking everyone had some baggage.
Neda says 5 minutes after the show is over most of them will forget what happened inside the game.
Sabrina says to Adel she doesn't love him but doesn't hate him either she's over it.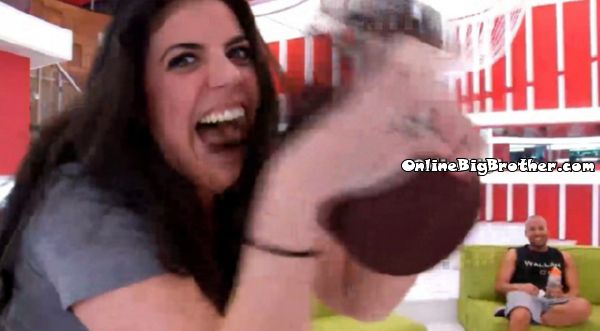 9:47pm (Everyone joking around right now in the living room)
Adel says Sabrina has a big a$$
Sabrina – "well with my big a$$ i'm going to sh1t on you.. you said I had a big a$$"
Adel – "that could have been a complement, See everyone how sick this girl is"
Neda – "Sabrina you are the one that took it to far"
Adel grabs Sabrina's plastic cup and stomps on it. Sabrina grabs Adel's hat and tells the camera don't buy "Wallah Bro!" (See image)
Adel – "Oh my God it's only 9 o clock"
Sabrina says Adel secretly loves her.
Adel say he doesn't.. calls Sabrina the wicked old witch
Sabrina – "stop saying that that is so mean"
Adel – "ok friendly witch"
Neda comes out of the Diary room pissed says Big Brother will not give her her spray tan. She says all her personal things are gone.
Neda – "I'm allowed a brush that's it"
Heather – "Oh thats good"
Neda – "OHH amazing"
Sabrina – "Are you allowed to blow dry"
Neda – "Can't do anything I can only use a hair brush"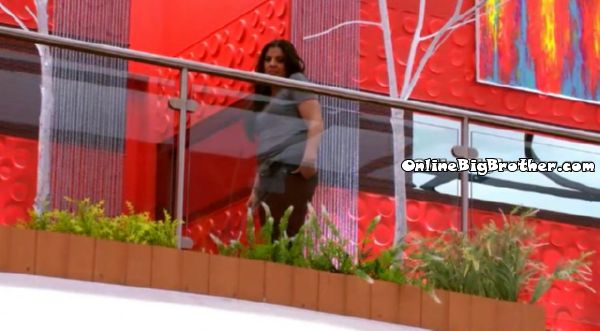 10:07pm Heather and Neda
Heather "He always takes his sweet a$$ time.. and then he's rude.. and honestly theses last few days"
Neda – "He's annoying"
Neda – "He's gotten on your nerves"
Heather – "Ya"
Neda – "Me to"
Heather – "We've just see our families and you are still calling them names"
(Sabrina is listening in on the conversation from the second floor)
"You guys are so funny "
Neda – "We are.. why"
Sabrina – "You get annoyed at the bickering between me and Adel"
Neda and Heather say they are not annoyed they think it's funny for the most part.
Sabrina says the only way for her to deal with Adel is to laugh about it and joke. Otherwise she would be angry, "I don't want to live in an angry situation.. it's better to laugh about it than cry" .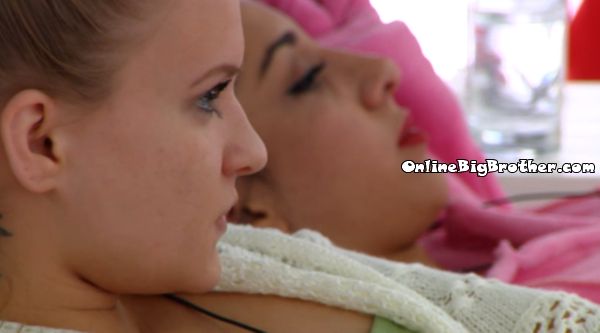 10:28pm Bedroom Heather and Neda
They are agreeing to keep Sabrina and evict Adel this week. Heather says they all know Sabrina talks.
Heather – "How cool would it be if team heads and Neds makes it to final 2"
NEda says Jon or Sabrina are going to win if you take them
Neda – "She was literally on the block 5 times in a f** row"
HEather – "6.. she's a pawn star"
Heather thinks Canada likes Sabrina more than Adel, "Adel has gotten too c*cky and too mean"
Heather – "I cannot stand him talking about making paper when he leaves.. can't he once enjoy the moment"
Neda says it's gotten really repetitive with Adel he keep repeating it over and over
They agree Adel isn't very humble about his Big Brother fame.
Heather – "This house is a lot more quiet without Jon"
Neda – "He is dying in there"
Sabrina joins them..

(Video coming)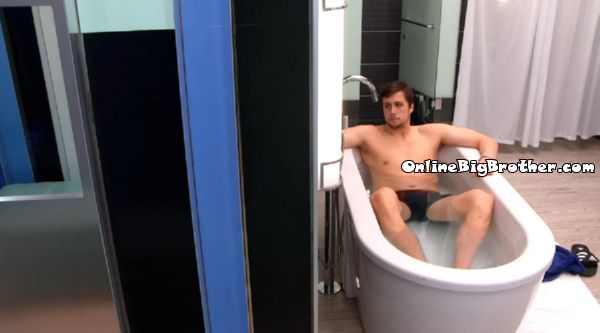 11:15pm A quick flash to see what Jon is up to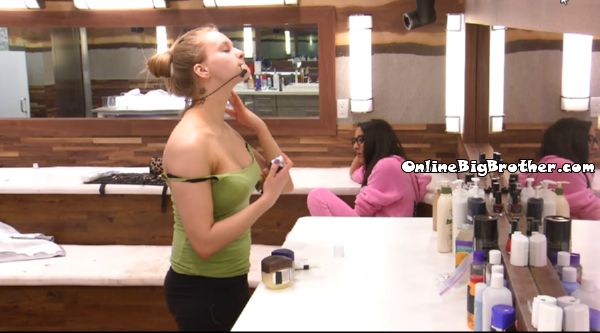 11:44pm Heather and Neda bedroom
Neda and Heather both would rather the other one win the 100K over Sabrain. Neda doesn't respect Sabrina's game. Neda says she's pissed off that Sabrain keeps talking about final 2, they are only keeping her this week because it's good for their game.
They compare notes and realize the story Sabrain is telling them is the same. Neda warns her if Adel gets a whiff he's in danger he'll blow up.
Neda says it boils her blood Sabrina is still in the game.

(Video Coming)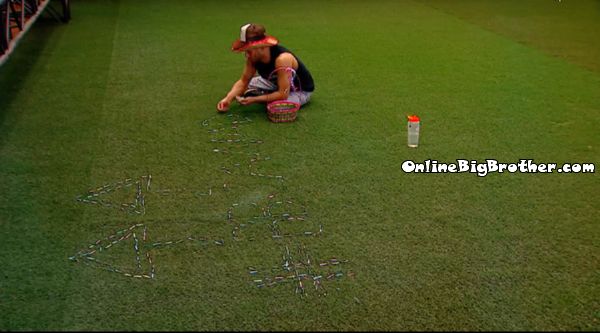 12:00AM Adel finding things to do
12:45AM BAckyard Adel starts talking to the memory wall pictures..
Adel says he does believe Neda and Jon are lying to him he wishes they were going to keep him but doesn't think it's going to happen.
Adel says Heather is acting different that means she's up to something. Adel says Neda told him he's safe and she's the mastermind, if he goes home this week he's going to be a bitter jury member.
Adel – "after rehearsal for live eviction hashtag that.. mission for after live eviction"
Adel – "I have to campaign to save my self not today not tomorrow but thursday.. after the rehearsal.. that means I say to Neda I'm going to be the most bitter jury member on the face of earth.. I know you didn't come here to come in second place.. if you vote me out today I swear to god I will hold my grudge against you"
Adel plans to point out that Arlie and Allison will never vote for Neda if she loses Adel's vote that's three people. Adel is going to tell her if they make it to final 3 with Jon.. Jon will take her to final 2 and Neda will take JOn, Adel is cool with that but if he goes before Sabrina he'll be pissed.
Adel looks at Neda's memory wall picture "Neda You deserve to win this game Neda but if I leave before Sabrina you will not win this game"
Adel says JOn, Sabrina and his family are all well off Neda's family isn't.
Adel starts saying the fans of Big Brother need to rally and shake the house up, "Hashtag.. Wake up America.. Wake up Canada", he says if he goes home it will be boring if he stays he'll shake it up (Adel farts) "Ohh what was that .. is the chair creaking.. f***ing chair"
Adel – "Good Job Neda.. you are going to vote me out the cameras don't lie"
Adel – "In seven hours everyone is going to be awake.. f** this is going to be a long night"

(Video coming)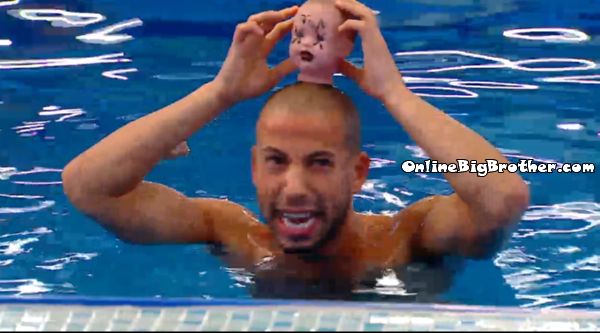 1:30AM Adel starting to lose it.
Adel's synchronized swimming with doll heads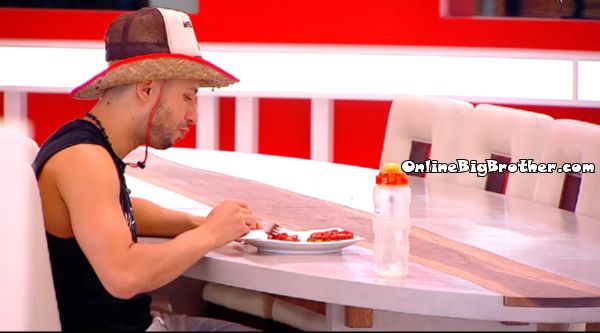 2:30AM Adel eating…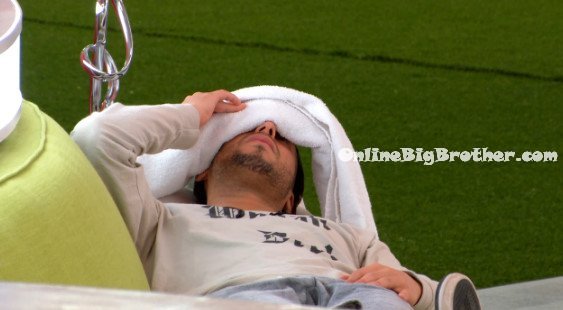 2:30am – 8am Adel spent the night trying to keep himself awake by cleaning, cooking, kicking a baby doll head around the backyard, plucking his nose hairs, trying to get into the diary room, trying to hide from the cameras and icing his eye. Big Brother turned on the alarm when he was icing his eye and Adel said are you kidding me?!

If you find this site's content valuable please consider giving us a donations to help keep it going.
[polldaddy poll=8001357]