Quick Big Brother Spoilers
Head of Household: Jared
Nominees: Cameron Jag & Red
POV Players: America, Jared, Cameron, Red, Felicia, Matt
POV Winner: Cameron
Veto Ceremony: Cameron used the Power of Veto. Jared nominated Jag.
Havenots: 
Lock your ranks in before midnight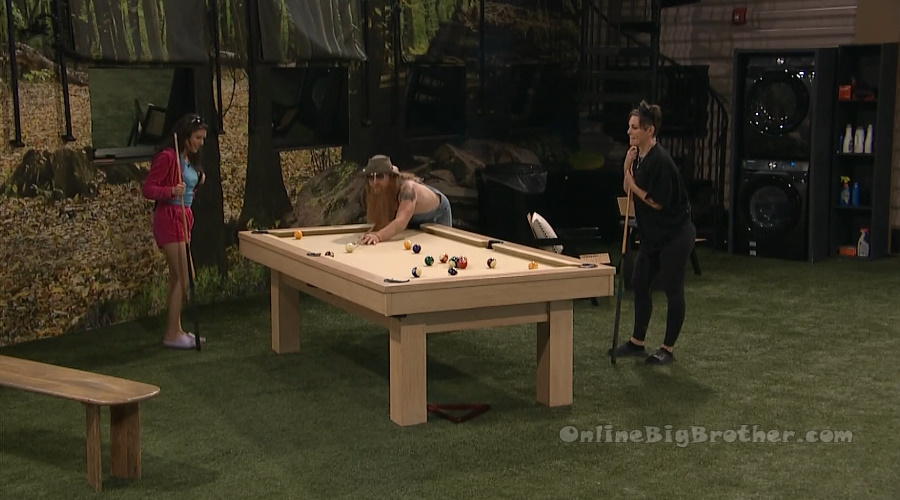 6:15pm – 8:13pm Big Brother blocked the feeds for the labour day party? When the feeds return all the cams are on Red and Bowie playing pool.
Red – for you moving forward I will do what I can to get you set up but I wouldn't trust Felicia. Bowie – no I don't. Red – at all. Bowie – I didn't anyway. Red – neither does Cirie. Neither does Jared. America comes out and the conversation ends.
In the comic bedroom – Jag, Cirie, Blue, Felicia and Matt are talking about doing skits for Red's birthday. Cirie – this is going to be funny, funny, funny! Felicia – we're going to have a Red'roast! Cory joins them. They tell Cory they're doing skits for Red's tomorrow. Cory – I'll do Red in the Pressure Cooker. Cory then falls on the floor like how Red fell in the pressure cooker comp.
In the bathroom – Red & Cory.
Red – this is a crazy game man. Cory – oh yeah and its not going to get less crazy. Red – I guess the worst part of it is people that you feel like you should be able to trust are often times the people that get you the quickest. Cory – yup and its hard to figure out if they're really good or you're a sucker. You know what I mean?! Red – MmmmHHmm.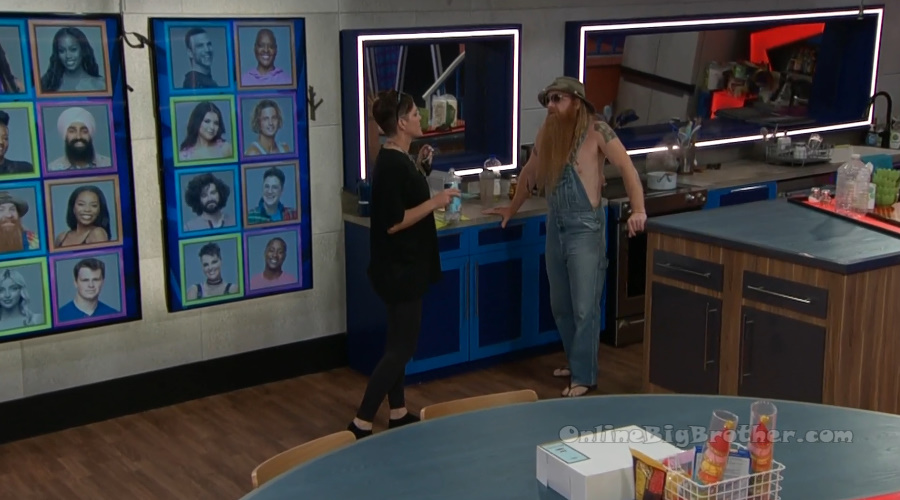 8:40pm Kitchen – Red and Bowie.
Bowie – don't be paranoid because we're just doing birthday planning. Red – oh I'm not. Bowie – I would be. Red – I am over worried.. whatever happens happens. Bowie – do you think Izzy is involved? Red – I don't know. Bowie – and Meme? Red – I think Felicia is orchestrating it because she's been telling Cirie.. and she is like I am doing everything I can. And she will but if she can't, she can't. If I go, I go but I am going to out her on my way out. BIG TIME! And Cam! I'm going to let my mind be spoke! Like I wish I could already… and I will head out with my head held high because I know I played this game with integrity. Bowie – well everything changes every 3 minutes. I think you should be fine but I will investigate.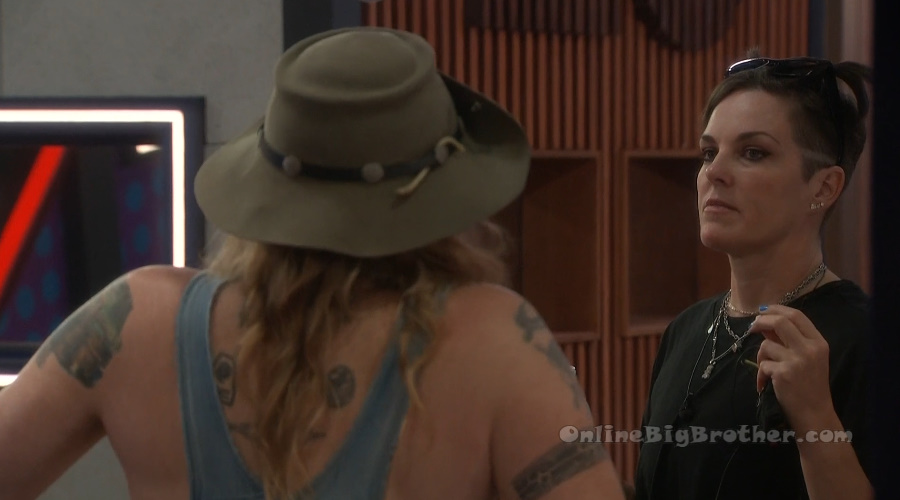 9:03pm Kitchen – Felicia and Cirie.
Cirie – I think he (Red) is done with Cameron. I think he will be civil with Cameron but he never really knew how everybody felt about Cameron. He didn't know until now because we never said nothing negative about Cameron in front of him and nobody else did. But now that he knows that EVERYBODY in the house feels about Cameron .. would you tie yourself to Cameron? Felicia – no. Cirie – would you even want people to think that you're tied to Cameron? Izzy joins them. Cirie – we were just saying that we think his relationship with Cameron is done. He will probably be cordial and talk to him .. but all the people in the house knew that him and Cameron were together. They didn't really say how they felt about Cam until after they were separated. Now everyone has let him know that they think Cam is a pariah. So he would be foolish to tie himself back with Cameron. Would you? Izzy – NOO! Felicia – I asked him if he talked to his friend and he said nope! When I am done, I am done. Cirie – I believe him too. Felicia – he said I am either all in or I am out. I would never go back in. Izzy – Can I ask are you reassuring Red that he is staying. Cirie – I haven't. We're just letting him enjoy his birthday. Izzy – The more and more I sit with it, the more I am okay with it. Cirie – America and Cory know already. So somebody is telling them. America said I heard its Jag. And I was like how did you hear that?! Felicia – I told her. Cirie and Izzy burst out laughing. Felicia – I said don't you say nothing .. this is very fluid and could change any moment. Izzy – but she's telling her (Cirie).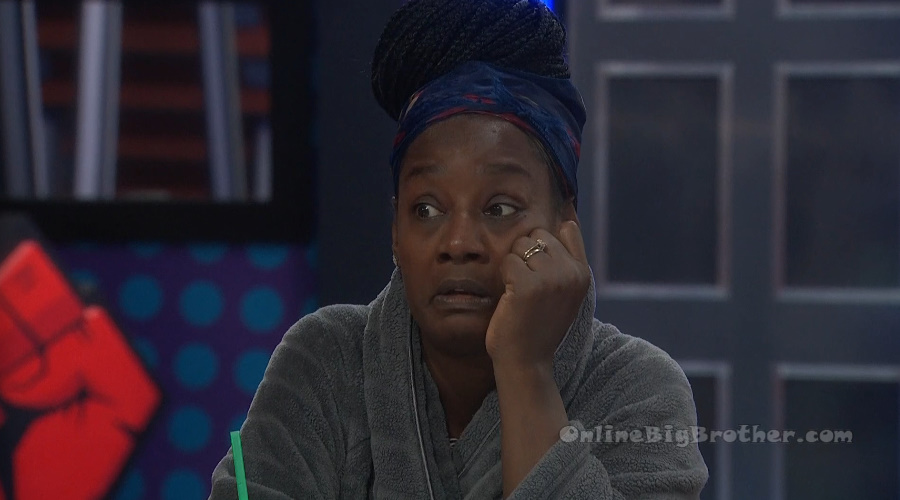 9:25pm – 9:35pm BB blocks the feeds.
Comic Bedroom – Red and Cirie
Red – I think other people tried to warn me of that situation. Cirie – about him? Red – well Felicia and other people. She just .. I don't know, I just don't understand it. Cirie – I just think that she is doing too much. If I can be frank, she's gotten power drunk a little bit in my mind. Red – that's what it feels like. Cirie – but everyone is sort of tired of it. Red – yeah. Cirie – and talking about it. Red – that's been the whispers anyway .. and I've been hearing it from different people already even before you said anything. And she wants to holler snake this and snake that… and I would be the second person she's turn on our alliance. Cirie – that ain't happening because me, you, Bowie, Matt and even believe it or not .. Izzy ain't going for that. Trust me, you have to trust me. Red – I do explicitly. Cirie – I am already counting the numbers.. Bowie, even Cam ain't going to vote for Jag. I got Bowie, Cam, me, Izzy, Meme.. and Matt. That's 6! Felicia – is going to vote where we vote because she don't want to be outside the numbers .. So I think it is going to be another unanimous vote for Jag to go. Red – I am in a mode where I accept whatever from this game. Cirie – you mad chill! I so respect it. I am hoping I can be as gracious as you.
11:50pm HOH room – Blue and Jared.
Blue – I literally before I came here was telling all my friends I was like YO getting that $750,000 is going to be crazy like its going to be rough but I think I could get America's Favourite. BUT now I don't really think so! I don't know. We'll see, we'll see, we'll see! But I think its going to be us four or them four and the last one.. I definitely could see Red too just because of his whole personality but him not being called to DR is making me feel like.. BB switches the feeds. Jared – I could see people not wanting to like Cameron. Like if I were watching .. I would be like dude is a snake and I can't wait for ya'll to get him out. Like I always tell people too, I respect the f**k out of him and his game because he performs when it is time to perform but its the same thing with Hisam. I think Reilly has a great shot. Its just hard from them to judge when they go out early instead of people that go the 90days. Blue – yeah I think if Reilly had stayed. Jared – she would have had it in the bag had she stayed. Matt also though. Blue – I don't think Matt would get it. Jared – I wouldn't be too sure.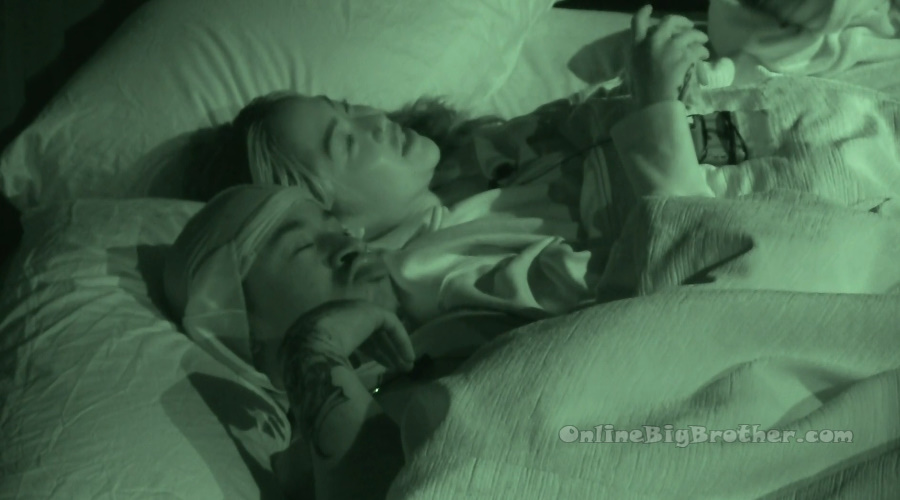 12:25am Quad cam of America and Cory sleeping.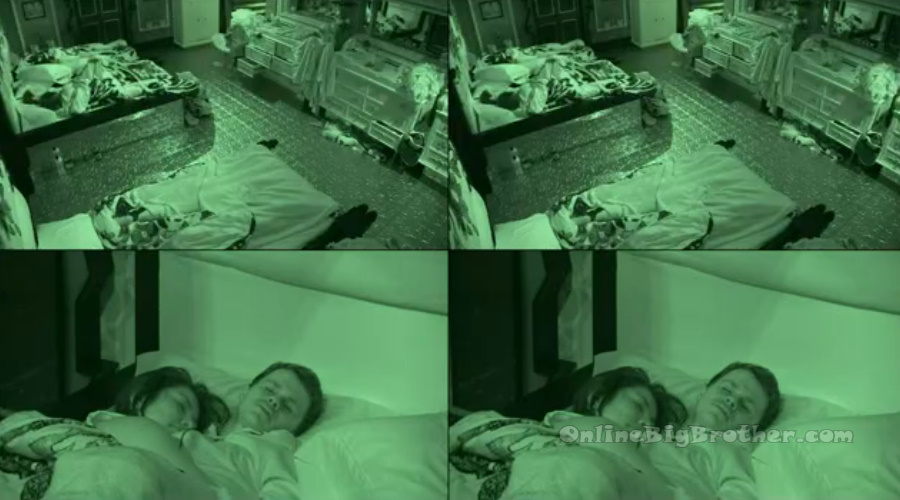 Show your support 🙂 Without your support this site and these spoilers wouldn't be possible.
Please consider a donation to keep the madness going.