Quick Big Brother Spoilers
Head of Household: Jared
Nominees: Cameron & Red
POV Players: America, Jared, Cameron, Red, Felicia, Matt
POV Winner: Cameron
Veto Ceremony:
Havenots: 
Lock your ranks in before midnight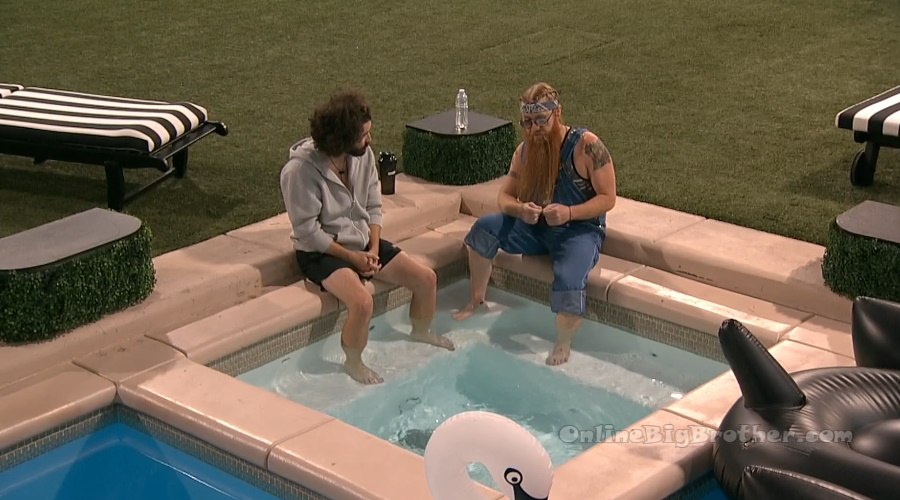 7:40pm Backyard Hot Tub – Red and Cameron
Red – there is a lot of weird sh*t that goes on in this place. Cam – shouldn't be between you and me. Should not be between you and me. Red – exactly! Cam – you know where my head and my heart is. You can't let those weird a$$ thoughts get a head of you because ain't nothing bigger than me and you. Ain't nothing around here. Ain't nothing like that. You see who's crying right now don't you? That's what I was working on. I knew if I could get one of us down and then get the third biggest target (America) up… we both stay. That's what I was working on. Red – Well.. Cam – do you have a different thought? Red – no, I mean that's always been the situation. It ain't got nothing to do with that. Cam – well what is it then. Red – well…. just a bad week all together. Cam – personally or between me and you? Red – I think a little of both I recon. Cam – well I don't understand what the me and you part is. Do you need to fill me in on something because I don't know what is going on. Red – You should.. you should. I mean.. you should. I've just accepted it. Whatever it is.. and if I could elaborate I would. Cam – I would appreciate if you did, it ain't like we have anywhere else to be. If you can't talk about it, I get it. And I don't know where to move on from here.. but to move past but I don't know what to move past. Red – well I suppose my position on that is that I recon you do. And I don't think I need to tell you to be honest. And its not one thing.. I'll just say that I suppose its a bit serendipitous that we're in this pool where chillers started. Because ah… I recon we're going to have to put it on ice. Cam – I don't remember that part of the contract or the handshake. Red – yeah.. tell me about it. Cam – I don't know what to tell you. You're the one that is supposed to be telling me something because I don't know what the hell I did. Red – you just told a lot of people a lot of things. Cam – I ain't told a lot of people about nothing. I don't understand what is going on here. Red – ah I think you're just digging a deeper hole and I think you otta let things lie where they ott to lie and we can just play this for as long as each of us have it in here and let it be at that. Cam – I really do wish I knew what the hell was going on but I will give you your space. Red – appreciate you. Cam leaves the hot tub.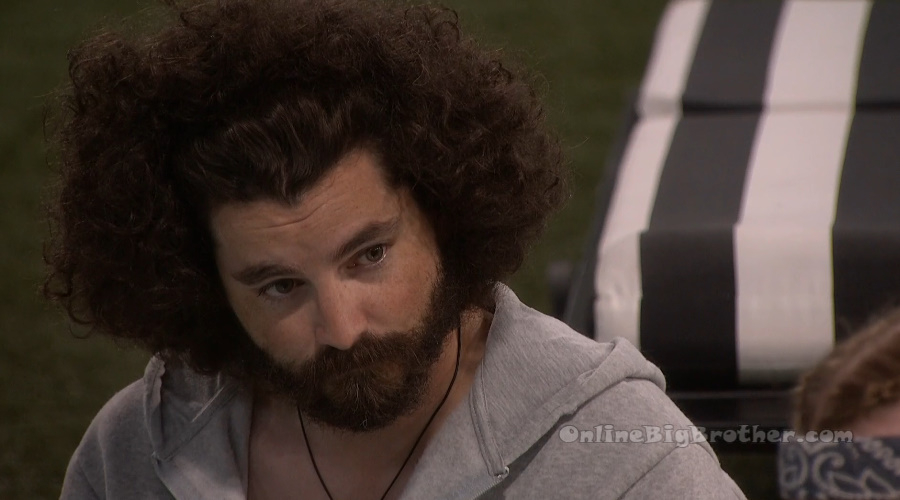 7:40pm HOH room – Izzy, Jag, Jared, Blue, Matt and Cirie.
Jag – so Jared what are your thoughts, what are you thinking? Jared – I don't really care, its up to what ya'll want to do. Who ya'll feel? Izzy – for which part of it. Jared – for who should go up, that's the only part we can do. Felicia joins them. Cirie – I just think its been Red, Cam and Bowie the whole time. And if we putting up Red and Cam and then one of them come down .. I think the path of least resistance would be Bowie Jane. They all agree. Cirie – what do you think? Blue – I mean I agree. I think we were initially talking about Bowie Jane or America. I think America would be a bigger liability than Bowie Jane. I think it makes more sense that its Red and Bowie Jane because if you put America up that's even more blood on your hands with two people even if you convince them that she is a pawn she is going berserk. And if you say yeah you don't care. I think it does have detriments to you in the long run. Jared – I think if Bowie Jane wins next week its an easy reason for her to put me up on the block. Cirie – but that's the same with America. Izzy – yeah what about America? Felicia – Bowie Jane ain't going to win next week. I am just putting that sh*t out there. Cirie – I feel the same way. Felicia – with all of us Bowie Jane ain't winning nothing. Blue – also Bowie mentioned that she hates being in these kinds of positions because she hates pressure. I don't think she will even try to win. Jag – one think if we're thinking about Bowie and Red on the block .. they don't have reveal their cards to anyone. If its Red and America on the block and they vote out Red… the jig is up. I want us to all continue playing where we are staying up with these jigs. Jared – any volunteers. Felicia – Bowie Jane is the least risk for everyone in the dang house and it stays between that same three core three and then our target is Red. She will be here but she ain't no god damn threat because she ain't got nobody working with her a$$. That is my theory and I am going back down stairs. Matt – Bowie is more predictable then America. Blue – also America is in a position now where she feels she is very underestimated so she will have a higher chance at winning than Bowie. Matt – I think no matter what everyone is going to be putting up Cameron. If Bowie did win I could convince her not to put up two of ours… definitely one and one. Cirie – that is a good point because Bowie really trusts Matt.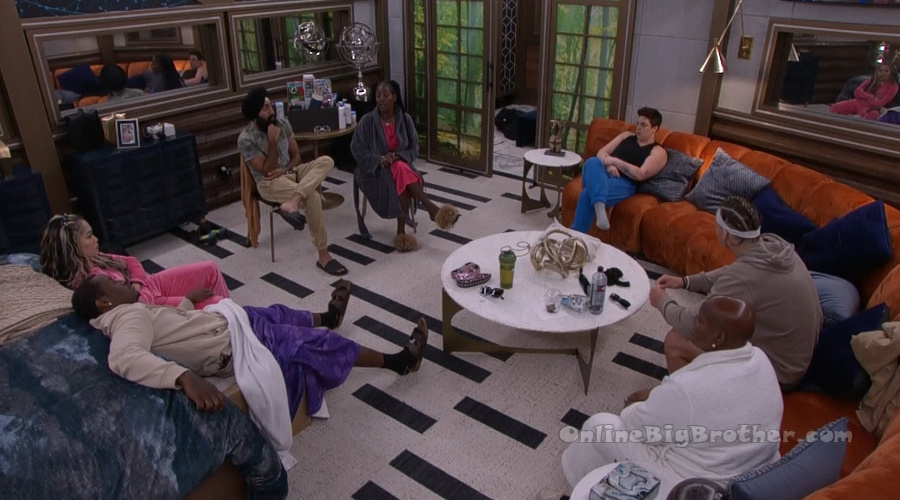 Havenot Room – Matt and Cameron.
Matt – I think he trusts me but I don't know who he is going to put up. Cam – well what is he saying? Matt – he said my target is Red. It doesn't matter who I put up this week. Cam – he said his target is Red no matter what? No matter who he puts up, he doesn't care? Matt – yeah he said no matter what .. Red is just the target. As long as you use the veto.. he said he wouldn't use me. I trust the he wouldn't. Cam – no you're good. Matt – I am just going to assume he puts up America or a pawn to make sure Red goes home. Cam – do you trust me? Matt – I know you trust me because you picked me. Cam – I've trusted you since day two. EASY! I trusted you enough to give you advice when Hisam was losing his mind. I trusted you enough to pull you into what I had going on. I trust you a lot. BB switches the feeds. Matt – he didn't say anything bad about you .. he just said that he made a promise with you basically just like ..that he is a loyal person and he said that he isn't going to campaign against you and he wanted to wait to see what the veto was going to be. Like who wins and who doesn't. He talked a lot about his home stuff with me. Like I don't know if he wants to leave or not. Cam – well I hope he don't but I don't want him staying here if he is upset. If he needs to go home .. I don't want him to be forced to stay here. I would much rather he stay. I love the guy. Its more than just the game, I really love that guy. And I don't understand what is going on. I am confused. I think someone has been telling him something. Matt – probably. Cam – and he believes it.. that's the worst. Matt – how close are you with America? Cam – I don't give a sh*t. Matt – I just heard that its her spreading stuff so I wondered if it was to him too. People are getting mad that she talks a lot so I was just wondering if it was something you said. Cam – NO, not to her. Anything I've said it was to make sure we're in a good place. To move us forward .. all of us! All of us! So I don't know what Red's deal is. I am upset. Matt – so you guys talked. Cam – yeah. Matt – and he won't tell you? Cam – nope. I am just going to leave it alone for awhile. Whoever goes up against Red, goes home. Whoever is next to him goes home. Its up to him what he wants to do. Matt – yeah hopefully its America. Cam – I hope so too. He (Red) might ask people to vote him out. I think he wants to go home.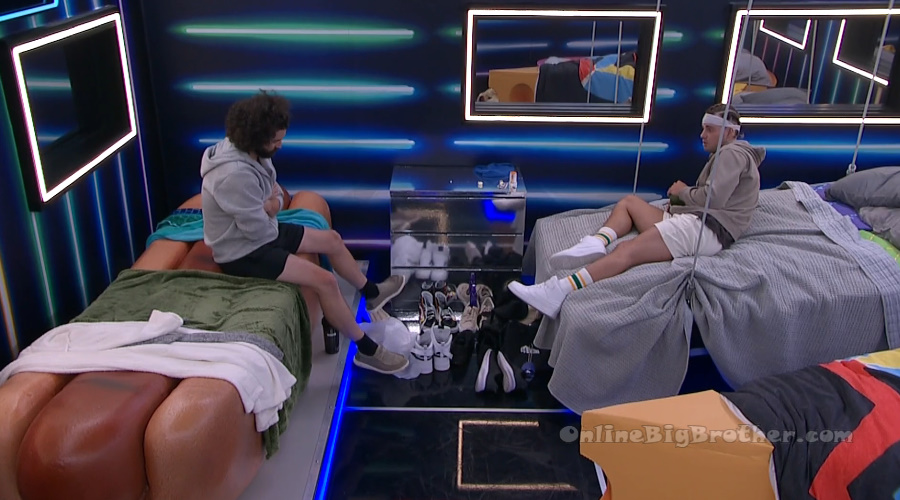 8:10pm Bowie and Red playing pool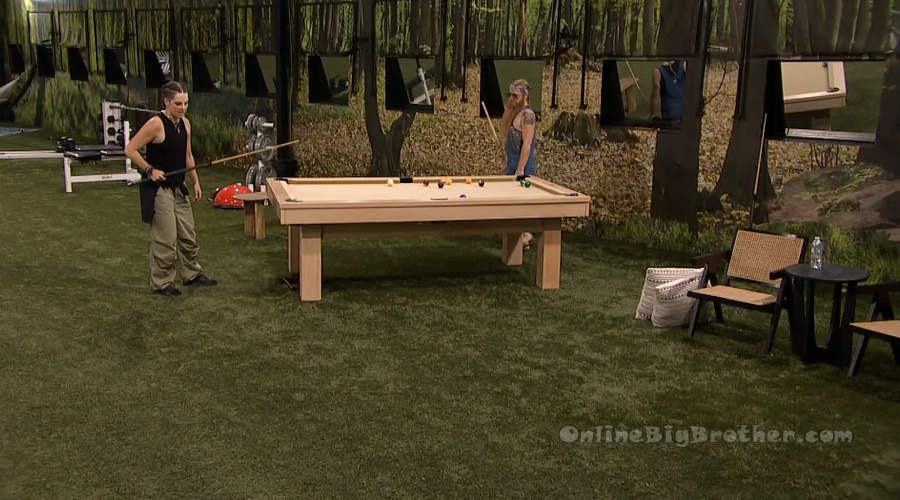 8:55pm HOH room – Cameron, Jared and Blue.
Jared – I had a dream that I woke up checked the feeds and everyone hated me bro. Blue – I had that dream too. Cam – there is enough drama going on right now there you're barely getting any screen time right now. Jared – I hope not. Cam – people are going to forget who was HOH this week. Jared – why on my sh*t, why not on our sh*t. Cam – they did. Jared – what the f**k. Cam – that was last week remember?! When the sh*t hit the fan. I had the full moon reign.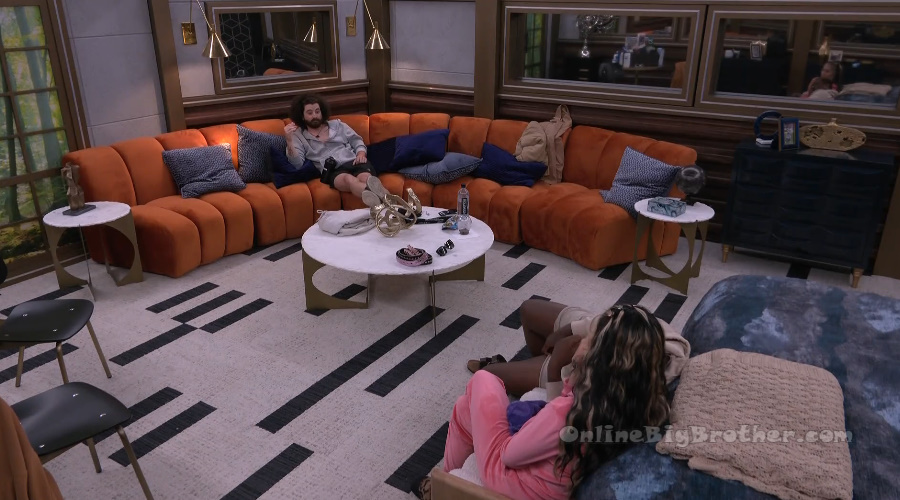 9:20pm Games Room – Cory, Jag and Cameron
Cam – it is very f**king weird in here today. You could cut it with a knife. Its so weird. Why every time I win something or get nominated for something the house goes nuts. Cory – you're the it guy. You know what I mean. Cam – what the f**k is going on. I win the tiniest veto possible.. I come back home and people lose their sh*t! Cory – I mean today was very simple, you were on the block, you win the veto and that means someone else is going to be nominated. Jag – I think there are a lot of people that are paranoid. Cam – the people that are allowing a lot of the craziness have never been in trouble like we've been in trouble. Jag – oh yeah. Cam – AM I saying something crazy right now?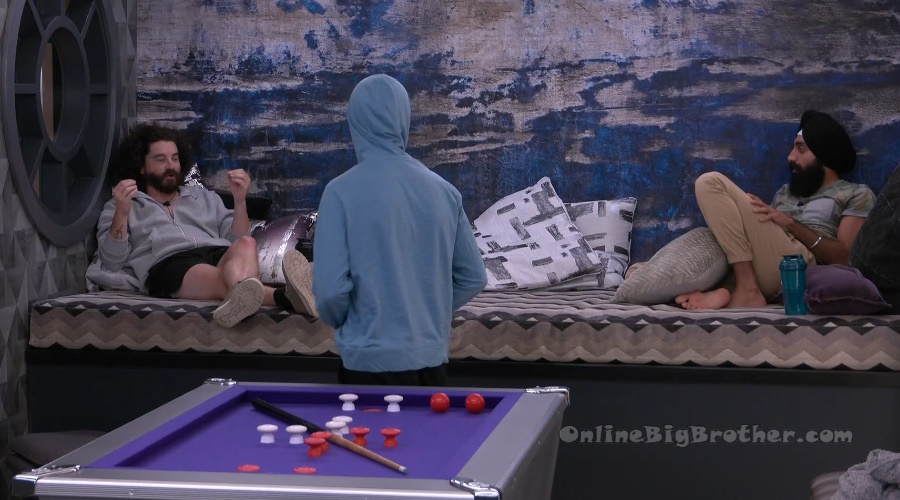 9:15pm – 9:59pm Comic Bedroom – Izzy, Felicia, Bowie, Red, Matt, America, Meme, Cirie are talking about what they would change about this experience. If they won millions what would they spend it on? What do they want to be remembered for? If they were asked back, would they come back? Best moments so far?
10:05pm Games Room – Cam and Jag.
Cam – who would you prefer sitting next to Red? Jag – I don't know. Cam – you have to have name? You have to have an opinion. I have an opinion too. Jag – I really don't know and if I did.. I don't know if I would feel comfortable sharing right now. Cam – I agree. Jag – you can say what you would want but I am also not going to ask. Cam – I would not choose who everyone is thinking of choosing. (America) I wouldn't make such a simple move. The building starts here. We don't have to go further than that. I will start with that. Jag – Interesting options for sure and yes building does start here and we do have the rest of the week and next week.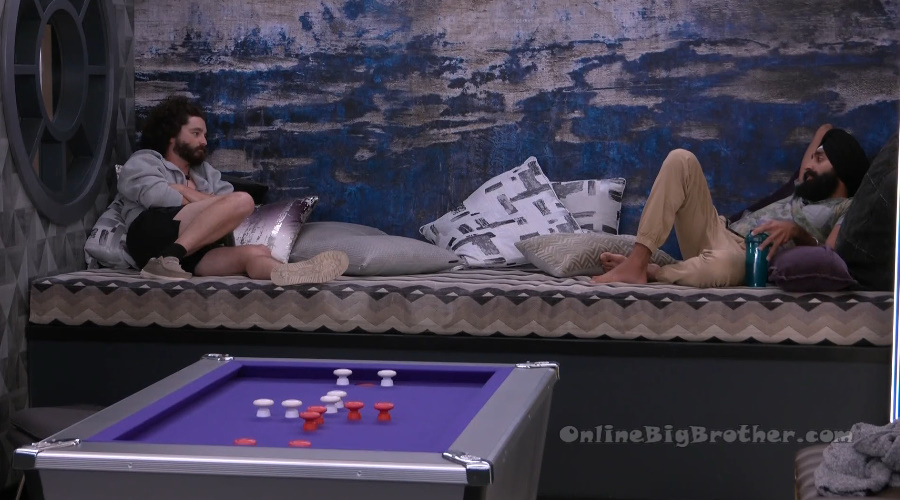 10:10pm – 10:40pm HOH room – Cameron and Jared.
Cameron – where do you stand on Izzy right now? Jared – I told you last night I am shook to make that move because if I make that move and put myself in a bad position… Next week is the scariest week for me. So I am the same way I felt last night. Cam – here is why I am asking. You and I both know. Don't nothing leave us. They shake hands. Cam – I am telling you right now man I know Red is upset with me right now and I dont f**king know why. I don't know what the f**k I did. Or whoever told him, I have no idea. But that dude ain't turning around no time soon. I don't know what the f**k is going on. Jared – that is what I wanted to say was what the f**king is going on with you that is making you feel? Cam – he won't tell me what it is. I said what is it? You should know, you've heard a lot of things. I said you're going to have to give me more than that and he said no. I said I wish I knew what the hell is going on but I am going to give you your space. Jared – this is weird that all of this is happening the same day that America is going on this downward spiral. Cam – name the majority of the house right now? Jared – for what? Cam – where are the votes? Jared – for Red? Cam – Jared .. Jared… I am not going to blow up peoples games. That is not my thing.. Jared – you've got to catch me up to speed more. Cam – if you make this move, you will be a boss! Jared – that is f**king scary bro. Cam – what I can offer you is certainty. I am not asking you to make this move for me. I am asking because it would be very very smart. Here is why there is a certain side of the house and within that side of the house there are a couple of competitors that are keeping us a float. Cam – we're sitting on the block. Jared – you don't think they consider me one of their competitors? Cam – I don't think they consider you. She makes them nervous. BB blocks the feeds. Cam – she is the motor. Jared – my fate at that point will be riding on you. Cam – I don't think you realize how much they want her gone but they won't pull the trigger. If you put America up she goes home. No big deal. You might loose a little Cory but if you make this move (Put Izzy up) the rest of them are sitting ducks. Izzy is down there running her mouth all day. We've got to separate that. We could make it through by doing this. Jared – I am done tonight. I have a lot to think about.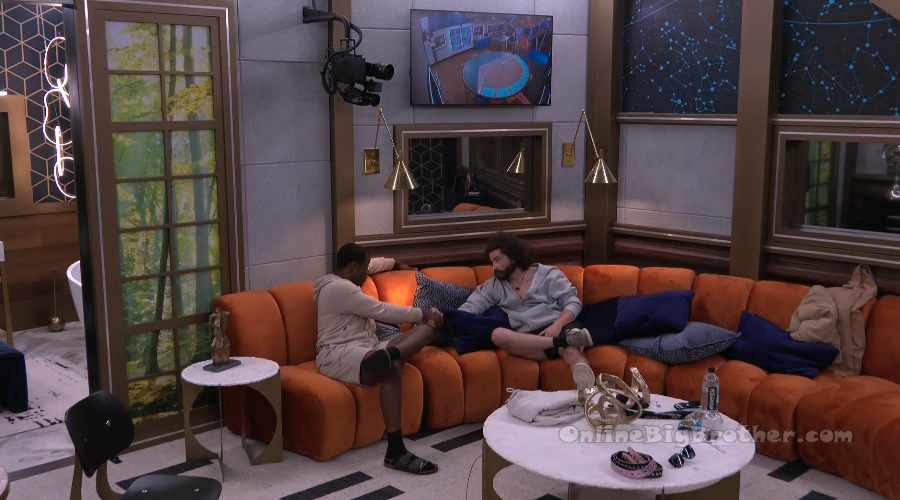 10:45pm – 10:56pm HOH room – Felicia and Jared.
Felicia – he came in here and told you to vote out Izzy and then come after us? Jared – yeah. He said put up two people because ya'll would just be sitting ducks next week. He said that ya'll would coast to jury without having to be havenots, without having to be on the block, playing for veto and fighting for your lives. Felicia – so he thinks we're coasting.. I already won HOH! He is a f**king SNAKE! Now let me as you a question about how close you are with Jag? Jared – I don't give a sh*t if Jag wend tup. Felicia – because we're shifting put Jags a$$ up on the block and vote him out again because we think he is trying to form with Cameron. Cory is f*ll of sh*t. They got mad because of the thought America might go up. We have got to put Jag up and vote his a$$ out. Felicia – I saw Matt go in the back with Cameron. And I understand that Cameron probably pulled him back to get information. Jared – yeah but I don't trust Matt either. Felicia – I don't either. I am starting to now see that Matt is playing the nice young kid. The sweet young boy without hearing.. bla bla bla. And nothing against his disability but Matt is playing a great game because everybody likes Matt. Jared – anybody that is not willing to show their cards right now is a liability. Matt, Cory, America.. Felicia – they're liabilities. Bowie finally showed her hand. We need to think who we want on the jury. Send Jag out. I don't want him on the jury. Somebody in our thing has to get Cam out of here. Cam has to go back on the block again. Then you put up Cam and f**King Cory or America. As much that Red talks the sh*t that he talks when it comes down to competitions he still hasn't done anything. He is more mouth than action. Jared – and he has been pitted to have to do it before and he can't perform. Felicia – Jag needs to go. Jared – that is why I had the meeting. Whatever ya'll want to do. I don't care. Felicia – if you want to get everyone together again tomorrow. Jared – not everyone.. me, you, Cirie, Izzy and Meme and we figure this sh*t out. We don't need to include Cory, America Jag.. Felicia – Red is loyal. Jared – what I was trying to say what Red isn't a threat without Cameron. We don't necessarily need to split ya'll we just needed to split ya'll. Felicia – and now the split is there and now we got a Red. Red will fight on our behalf to keep what he thinks is our group. Jared – lets talk tomorrow.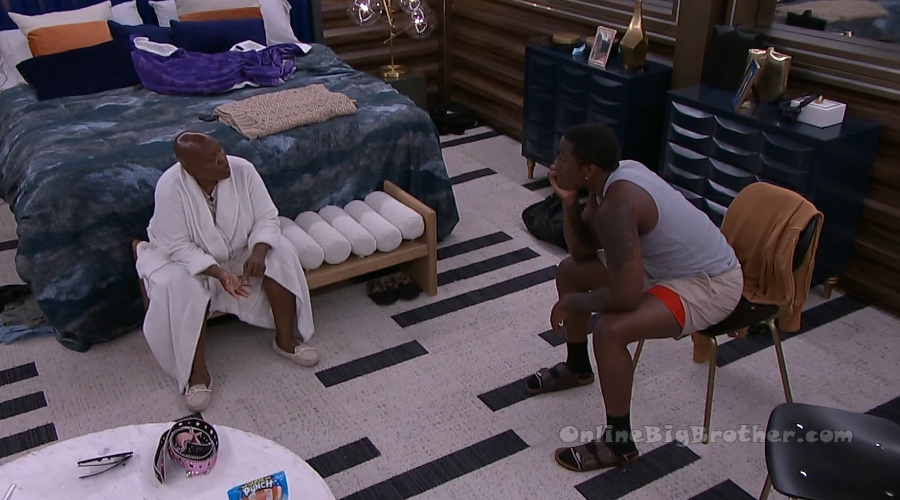 11:22pm – 11:50pm Comic Bedroom – Red, Felicia, Cirie and Bowie
Cirie – its a two way street. Felicia – right, when has he ever fed us information? When? When has he ever come fed us some information. Red – he usually comes to me. Felicia – he hasn't fed us anything! And he is always pulling someone's a$$ to the side. He brought Matt in here tonight. Bowie – Matt won't fall for that. Matt's caught on. Felicia – he wants everyone to tell him everything but you tell nothing. He's another Hisam! Red – he didn't tell me that he was going to volunteer me for the block. Cirie – I don't understand .. like what is your angle. Red – I don't get it. That's why I made a decision to end it game wise.. End it friendship wise because it hurt me a lot to the point where I didn't feel like being here. Felicia – boy get the f**k out of here! Red – apart of the is me too .. like my conscience was already digging at me. But that just made it worse because he was someone I found comfort in. Felicia – you thought you had a genuine friendship established. Red – yup. Cirie – you don't befriend someone like you and Cam and then stab them in the back when you don't even have to. Like that is the crazy part, you didn't even have to do it. Why are you doing that!? Unless he feels threatened. Red – yeah I think that's it. Honestly I had a friendship final two with the guy but there was nothing that we discussed that I didn't bring to the alliance. Bowie – we should chop is hair off tonight.. Cirie – there are cameras. Bowie – I'm joking.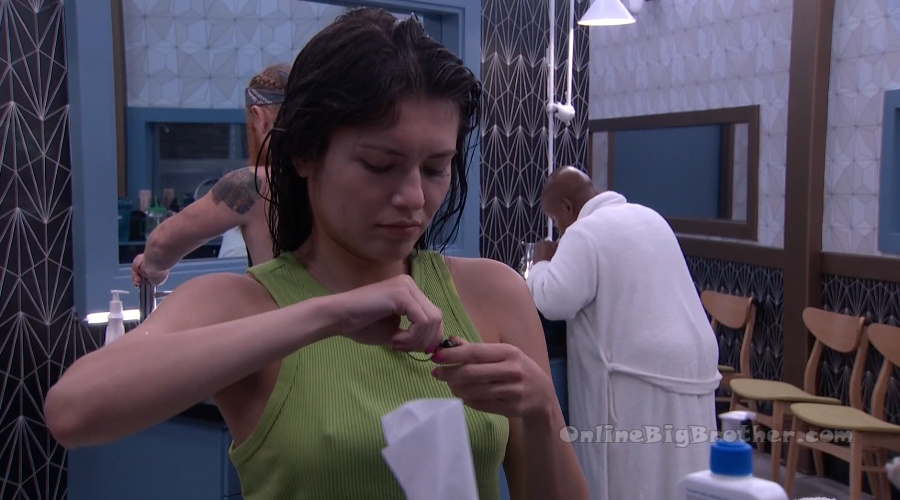 11:50pm – 12am Kitchen – Cirie and Izzy.
Cirie – so here is my question, Red or Jag. Izzy – well right now I feel like Red is with us. Cirie – I do too. Izzy – he's got NO ONE else. Cirie – right. Izzy – and me and him have been talking all day like normal. Cirie – here is the thing, I knew Jag was over there throwing us under the bus. I want Jag gone! Izzy – so lets make it happen. Cirie – I want Jag out of here and then Cameron isn't going to have anywhere to go. Because Matt don't mess with Cameron either. He had the audacity to tell Jared to put you up now and then Me and Felicia are next week. DUMMY YOU TELL HIM TO PUT HIS MAMA UP?! Izzy laughs. Cirie – are you stupid!? Are you dumb! And his Mama's people!?!? Izzy – so me, you, Felicia, Cory, Meme, America .. I don't trust America but America wants Jag out. I think we have the votes for sure. They head out into the backyard. Izzy – oh I am mad at all of them. Idiots! Cirie – Jag with that bullsnot! Here is the thing.. he is not mad at America! Izzy – I know I don't get it. Cirie – everyone wants to put it on us. Everything is us. Izzy – is it though.. we're not floaters.. We're definitely in the middle of it all. Cirie – I want to Jag to go home. I bet he is going to get it poppin! Felicia joins them. They count the votes they would have to evict Jag. Izzy – I think Blue and Matt shouldn't know. They agree.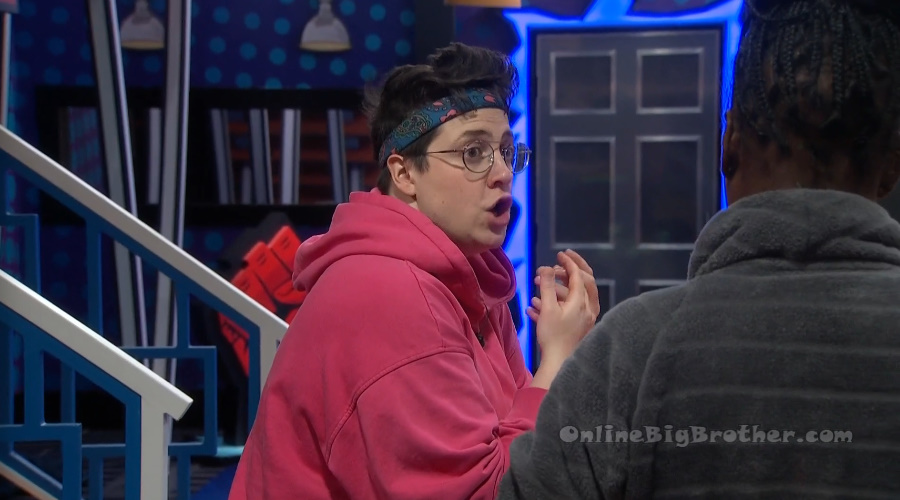 1:45 am – 4:50 am Zzzzzz
If you like these spoilers and read this blog regularly please consider a donation to keep the madness going. We accept donations via paypal How to support OBB