Quick Big Brother Spoilers
Head of Household: Jared
Nominees: Cameron & Red
POV Players: America, Jared, Cameron, Red, Felicia, Matt
POV Winner: Cameron
Veto Ceremony:
Havenots: 
Lock your ranks in before midnight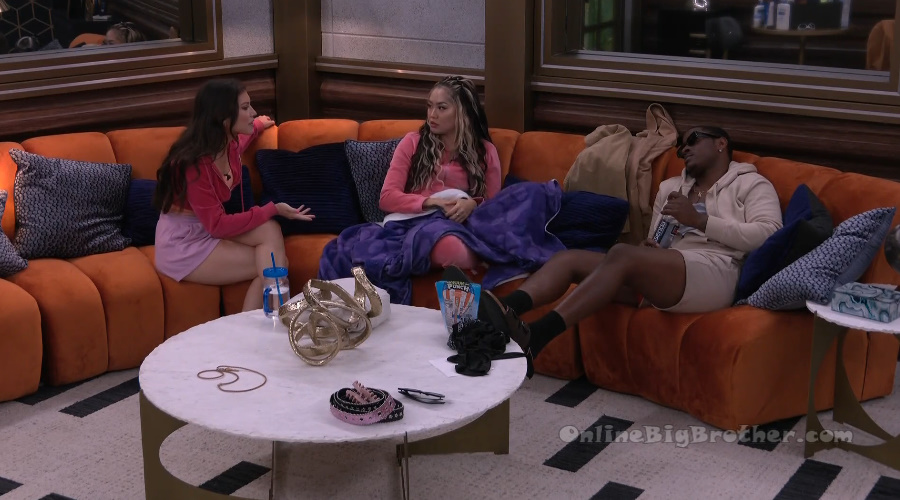 3:39pm HOH room – America comes to talk to Jared and Blue.
America – So what is going on? Jared – you tell me. America – I walk into a room and its Felicia, Cirie and Meme talking about me being the replacement nom. So I am just like in what world does this make sense? They were like oh its going to be uncomfortable in the Comic room if both Bowie and Red are up. But like since when is that a factor in any of these decisions? Its like I didn't realize that was an option for people and I don't know where this is coming from. But you know I've got you and I don't know you tell me what you're thinking. I really wanted to win today. I am a competitor. I wanted to win. Sorry I was really f**Ked up that Cam won. And like I am not with him (Cam). People still think we are working together which is so f**king stupid. I cannot stand him. He has been talking sh*t about me all over. Even after he won the veto he was throwing my name under the bus. He just wants his little click together because there is the possibility if its me and Red on the block that I would go home. I am sorry, I am just a little heated! Jared – UUGHHHhhh.. this is my thing bro.. I think people are more worried with whos relationship could be more mended with Cameron .. you, Bowie and Reds. Meaning who would go back to being his friend. America – Red and Bowie. Jared – I mean that is not what people are thinking. America – but why!? Me and him have never been besties, we have never been aligned. I don't know what people saw that think him and I have this unbreakable bond. I have never consider him in that sense. He hasn't talked to me. He doesn't talk any game with me. He is super vague with everything that he talks about. He says he doesn't trust me. He says that he is building trust whatever that means and then he goes and talks sh*t behind my back. Like last week it was just him, Red and Bowie up in the HOH room all the f**king time! I know him and Red are beefing right now but how does that make sense?! He was trying to pull in other people with him, Red and Bowie… like that was the plan. Not me, him and Red. Jared – I don't know BRO I think that is a conversation with you and the people downstairs than it is for me? America – I can explain it so many times but anything I do they're still sketched out about by it. If I am hanging out with Cam .. its because I am working with him. If I am not hanging out with him and talking sh*t about him, its because I am working with him… and that I am trying to fake it.

3:52pm Kitchen – Cameron fixes the mini veto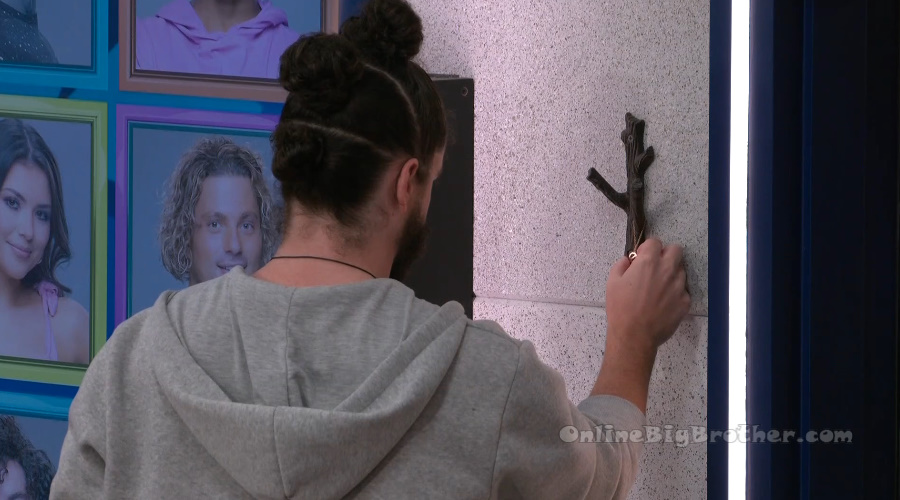 Bathroom – Cameron and Cirie.
Cameron – I think we're about to get a win this week. Its not our number one, but its in our top three. Cirie – MMMMmmmHHHmmmm I agree. Cameron – I will take what we can get at this point because we started the week off with two big hitters sitting on the block and I think we're going to come out of this unscathed. Cirie – we should. Cameron – It may not be the exact thing we wanted but its progress none the less. Cirie – I agree. Cameron – I feel like everyone is unease again. All I did was win the veto. Its not my thing again. Ain't no need to be weird around me. Cirie – I ain't weird around you.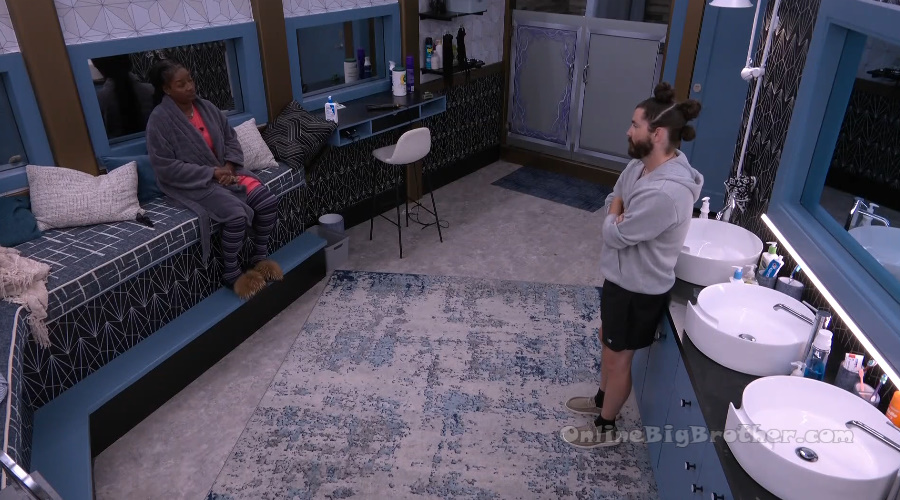 4:05pm – 4:35pm HOH room – Jared, Blue and America continued.
Jared – you become a consideration if you ain't someone's plus one or you ain't part of what they got going on. .. then you should probably start expecting to be that. Like sh*t I don't know where I stand with certain people if they win next week considering I made this move this week. I am sure it probably rubbed certain people the wrong way.. and I just got to deal with it. I am not about to sit here and go crazy and go to everybody and say that I am expendable.. like that's just crazy… because that makes you expendable. Losing your sh*t like that makes you expendable! America – I am walking into a room and they're talking about putting me up though?! Jared – yeah but.. America – in what world should I feel safe with them!? You know what the situation is. I thought I would be able to trust them. I've talked to Izzy before and other people in that group and they're like we got you. You're good. And at the first turn or the first opening.. I am the first one up? Jared – who was in that group? America – it was Meme, Felicia and Cirie. Jared – Mmmm… America – and it was in the scramble room .. I was going in and getting stuff from like my room. I'll let you think about it but I didn't expect this to go this way and I am just sad. Jared – I don't want you to be sad. America – its okay. Jared – don't cry. America – its okay. I just didn't think I would be an option and its not like I am comfortable. Like I was in the pressure cooker for so long and it keeps being brought up that I wasn't trying my hardest. Jared asks Blue to leave so America and him can talk in private. Jared – I think people are giving you more credit than you think. Jared explains the conversation he had with Cory today about how he told him he needs him to try in competitions otherwise what good is he. Jared – I am considering Jag way more than I am considering you (as the replacement nom) and that is just what it is. BB blocks the feeds. Jared – What I told Cory was if you're not absolutely trying to win, that puts me in a bad position. America – well this is news to me because he's been telling me that he's been trying in all the competitions. I am in no position to throw competitions. Jared – between me and you .. I think Cam and Red are done. It got really personal last night. My gut is really telling me that that relationship is done. I am still trying to figure out Red's situation because he was pretty much volunteering to go out. If not I am leaning towards the whole Jag situation. But I would be lying if I said I did not consider you at one point. Because I need people that are going to put in the same effort .. I am not telling you that you need to protect me .. I can protect f**king myself. But if we are going to be in a crew, I need to feel good when you win. Just like everyone around me feels amazing when I win. America – I am trying my hardest. I am sorry that I haven't won but I have been trying. Jared – I cannot blame you for not winning bro. I just need to make sure the people around me are going to try their hardest. Just like when you win, I will feel good because I know we're good. ..But purposefully trying not to win does not help me at all. I think you should have conversations with those people and ask them about what you heard and then go from there. America starts crying. America – we'll talk more.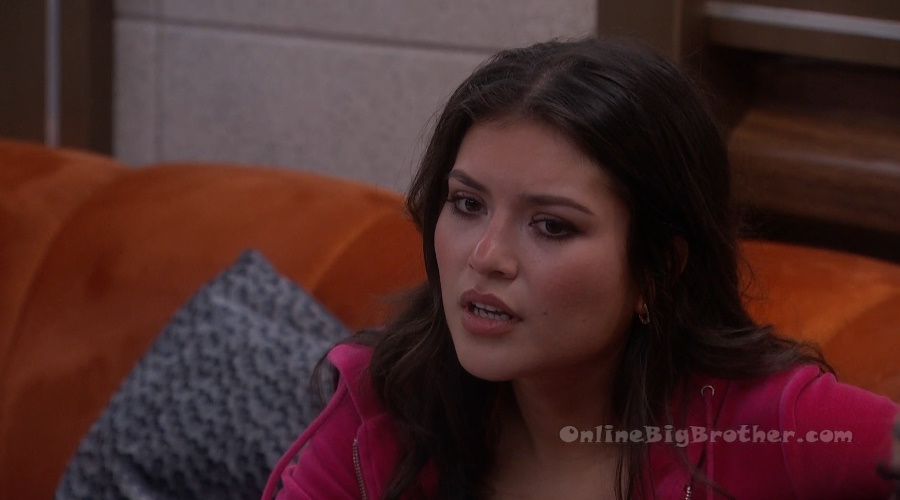 4:48pm – 5pm Bedroom – Jag and Blue
Jag – The reality of it is if they want America up there, then they want to get America to go home. Blue – I think we all need to get together and talk through all the possibilities and options. Blue – I don't know what direction he is going to go. Jag – who is he considering? Is it just Bowie Jane and America? Blue – no he is literally considering everything. Blue talks about the HOH conversation with America and Jared. Girl does not know how to whisper. She was saying Red and Bowie's names so loud and they're just in the games room. Jag – how does Jared feel about .. obviously he put up Red and Cam and that is blood on his hands. Does he feel as if one of them has to go this week. Blue – yeah obviously Cam but that's not happening this week. Jag – as he considering what pawn to put up is he saying.. Blue – no I am telling you he is thinking about everything. America joins them and starts crying. America – its just like everything is out of my control. Like people are talking about the pressure cooker and things I didn't say. Blue – just know that I am vouching for you. I just feel expendable to everybody. Like if it me and Red .. there really is a chance that I would be going. And to hear him say that Bowie is not an option because she would be a waste.. is just.. Blue – right now I don't think he has talked to enough people. I think just needs to sit on it. America – I thought it would be a easy week. All the big brother people are like waa waa waa .. loser!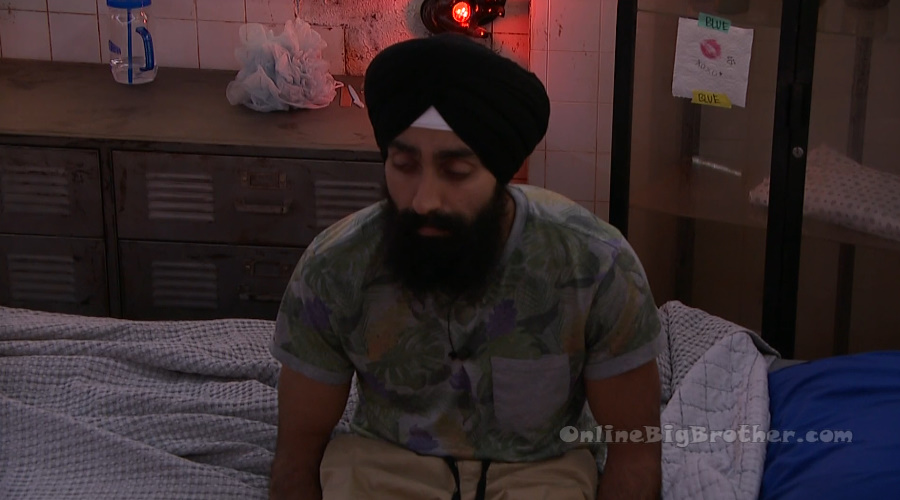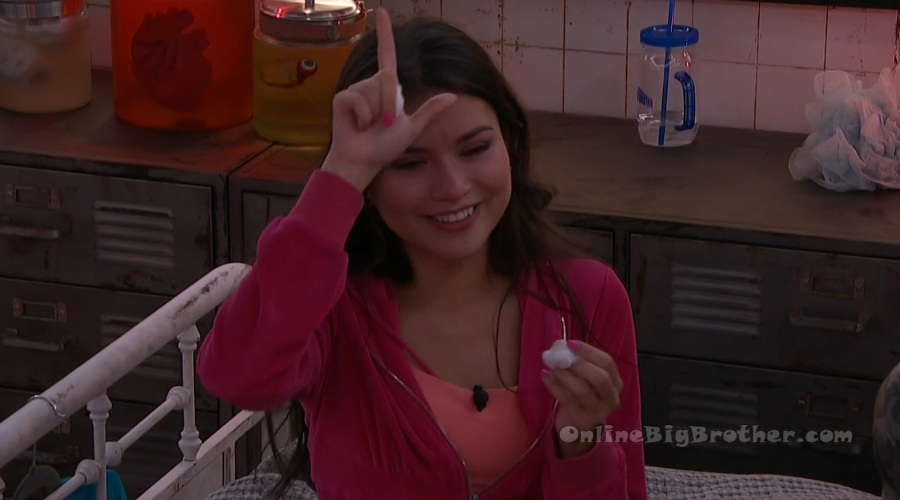 5:03pm HOH room – Red and Jared.
Jared – I am not trying to be insensitive to her and her situation but we are all adults and some people put themselves in these situations. And you can't continue to try and run back and clean it up when it is too late. Out of my two replacements .. its going to be one of them two .. I am f**King pissed off that we couldn't execute the plan and get dude out of the house. Red – I think everybody next week is on board with however he is going to get out. No HOH is going to do it differently .. who sits next to him is the only factor. Jared – and whoever sits next to him… even if it was Hisam I wouldn't mind sitting next to him because he just went too far with people. Red – here is the thing I brought him (Cam) into our alliance because I trusted him. And the first thing he does is go to Felicia trying to get someone out of our alliance. Jared – and that's whats the worst. He ratted out Matt yesterday too.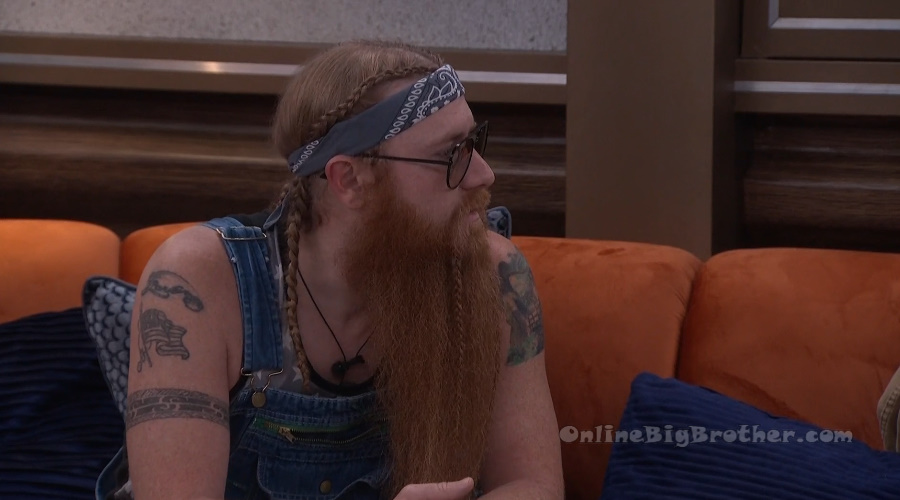 5:23pm HOH room – Jared and Cirie
Cirie – so what do you think. Jared – I wouldn't mind doing Jag. He is the only one that didn't talk to me yet. America is losing her sh*t. Cirie – I know. Jared – we probably just need to talk as a group. And I don't know what you were talking about down there. Cirie – what did she say? Jared – that she walked in on you, Meme, and Mama Felicia and I guess ya'll were saying her as a replacement. Cirie – No, Felicia said it to her. Jared – I am not saying I believe it. Cirie – Felicia said it to her. Jared – which I am not surprised .. she got to stop doing that because I am like yo.. the is she was like I really trust Izzy. Everyone is going to hate but as long as they don't hate two of us at one time. Cirie – we was kind of thinking maybe put up Bowie Jane.. because Bowie Jane is not in our alliance. And it was Bowie Jane, Cam and Red. BB Blocks the feeds. Jared – Oh you're saying put Bowie up because Red is going to go home. Cirie – Bowie to go home would be a waste. What is America crying for? Jared – because she feels like she is alone and that she keeps reassuring your guys that she wants to be someone that you can trust. Cirie – so she is crying down there and doesn't even know if she is going up? Jared – she was crying because she feels like she is expendable and that she didn't even know she was a consideration. Cirie – how does she know she is a consideration? Jared – because of ya'll conversation. Cirie – Felicia's conversation. OH I thought she was upset because you said she was going up. Jared – no.
Meanwhile America is still whining and complaining to Cory.

5:43pm – 6:04pm HOH room – Izzy, Jared, Cory and America.
Jared – like I told you this morning I am sorry for blowing up on you. I was pissed the f**k off. That is number one, number two, you (America) you are good. You are straight. You are not the 1st, 2nd, 3rd, 4th, 5th, 6th.. you're not the option right now. You're good bro. I still think that we need to finally meet as a crew again. As of right now we are off limits to each other. Here is my thing I was leaning so hard on Jag going home because he has been lying to me profusely for no reason. If that is not a move right now that ya'll don't think need to happen and feel like Red need to go first.. then I am willing to make that decision also. Cory – of the Jag vs Red going home.. I don't really know the details.. BB switches the feeds. Izzy – I think I am good with Red. Jared – Red has away about him .. where he will be very direct if you just ask him. BB blocks the feeds. Cory – the Jag vs Red thing.. Jared – I truly don't care which way it goes. The only thing that I ask of ya'll .. considering I won this week .. and I didn't need to win this.. I need ya'll to compete next week. Cory – and can you be honest with me? Do you think I am throwing competitions? Izzy – Huh!?? Jared – we'll talk about that later. Cory – ahhh.. I shouldn't have brought that up now .. because that sh*ts got me heated. Izzy – you know I am trying to win next week.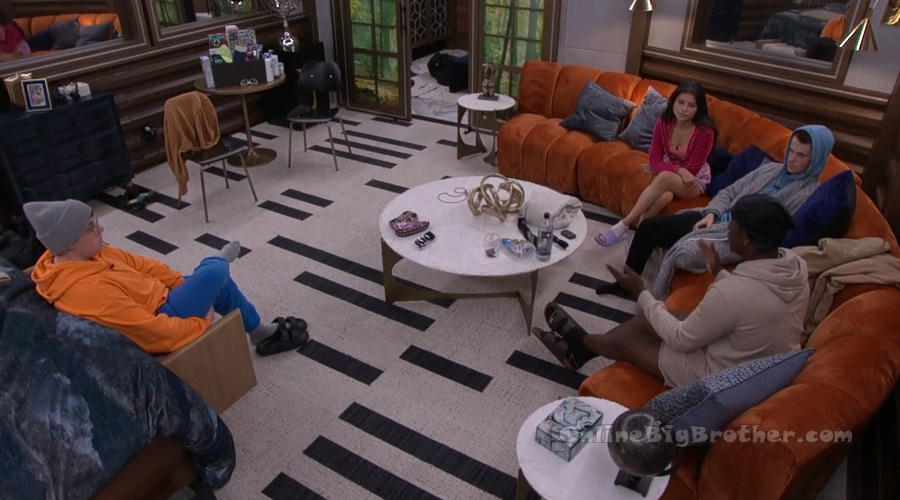 6:08pm Bedroom – Blue, Jared and Matt.
Jared – F**K the replacement, who do ya'll feel like should go home this week? The replacement is neither here nor there. Blue – I think us 7 should meet and talk about all the options. There is an opportunity where Red goes home, where America goes home… and there are pros and cons to both and we need to weigh the options for the majority of the seven. Matt – Red and Bowie 98% want Cam out next week. They would not be going after you. Jared – oh yeah. From what I am taking .. its between America and Red right? We talked about the other situation (Jag) earlier .. and I am still not off of that. I think I am going to back off for now and strictly for you. They start going through scenarios for what might happen next week. Jared – its pretty easy then, Red got to go home. Its really simple. If Red stays he puts up one person from our alliance regardless .. there is no way around that because he would never put up Bowie. I don't think he would put up Meme.
6:15pm – 6:42pm HOH room – Jared and Blue
Jared – I still feel the same about Jag just so you know. That sh*t ain't going to change. I am willing to back off it now especially considering we got other options. But just know sooner or later I am going I am done with Jag too. And when I finally do that ..I can't wait to tell you why so that you get it. Part of me does feel bad because its his birthday. He said this was going to happen. Blue – yeah. No it does suck. It is sad. I would feel bad if I left on my birthday too. Jared – its not like when he goes its his birthday. (Eviction is Thursday, this coming Tuesday is his birthday) Matt joins them. They discuss the possibility of who to put up again. Blue – if you are going to do it .. if you're going to put America up. You should have me in the room too. I would be in the room too just so she knows and understands she is not the target. They all head down to eat dinner.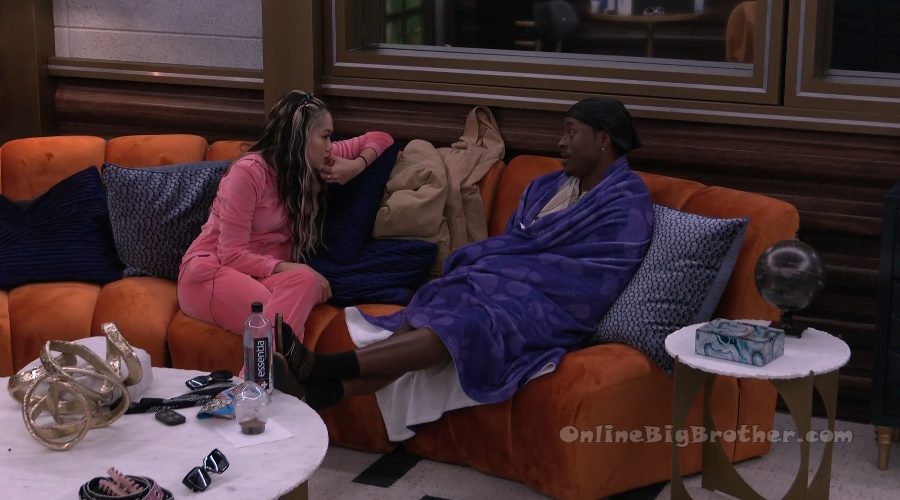 7pm Backyard – Meme, Felicia, America.
Meme – I am glad we got that resolved. I didn't want to go deep into the conversation in the… so I didn't want you to think that I was not trying to have the conversation. America – No I got that. I didn't want it to go on longer than it did or like to have this issue be an issue. Its a me thing right. Like I need to be like more proactive in my relationships. Like talking to ya'll and establishing game wise where I stand. And I just haven't been able to have any power or win anything which like sucks. I personally like hate it because after that I would …and I am sure you guys would feel better about my position in the seven. Meme – we are all going to have those kinds of moments.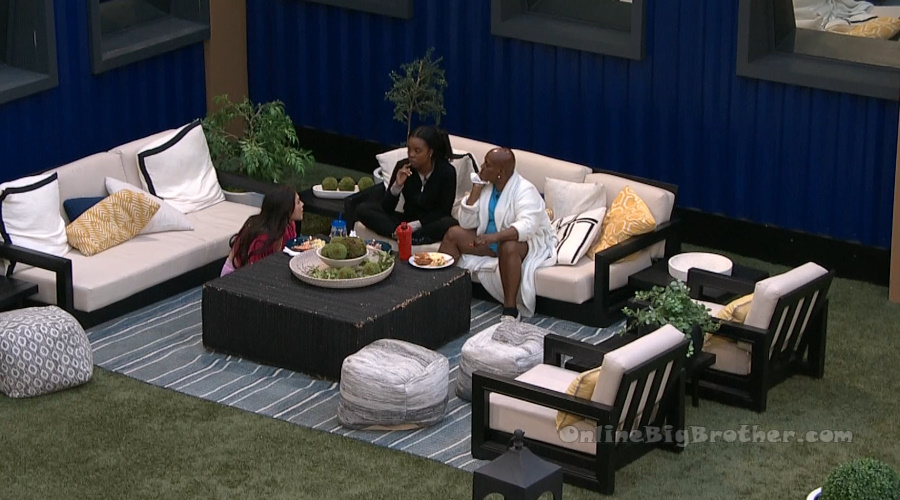 7:10pm Cory tells Jared about his brother being on season 42 of survivor Zach Wurtenberger. Cory also apologized for questioning him about throwing competitions.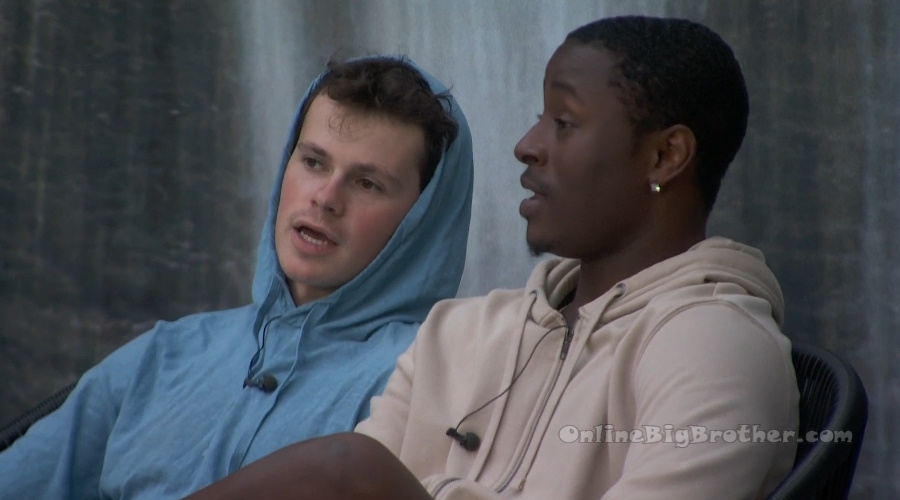 7:20pm Bedroom – Izzy and Cirie.
Izzy – the last conversation we had was Matt volunteered with Cam. And now he is thinking Matt should go up as a pawn ..if we're deciding if Red should go home. Cirie – okay. Izzy – which I think yes to Red going home. Okay so it does matter especially if Matt said that. Matt would be the path of least resistance. Izzy – exactly so I think that is the perfect option. Because I don't think it should be Jag this week. Cirie – okay, I would have offered Jag but okay. If Matt volunteered… then okay but I think that is crazy. Izzy – then one of them goes. Cirie – well Red goes. Izzy – yeah that's what I mean (one of them goes this week Red / Cam)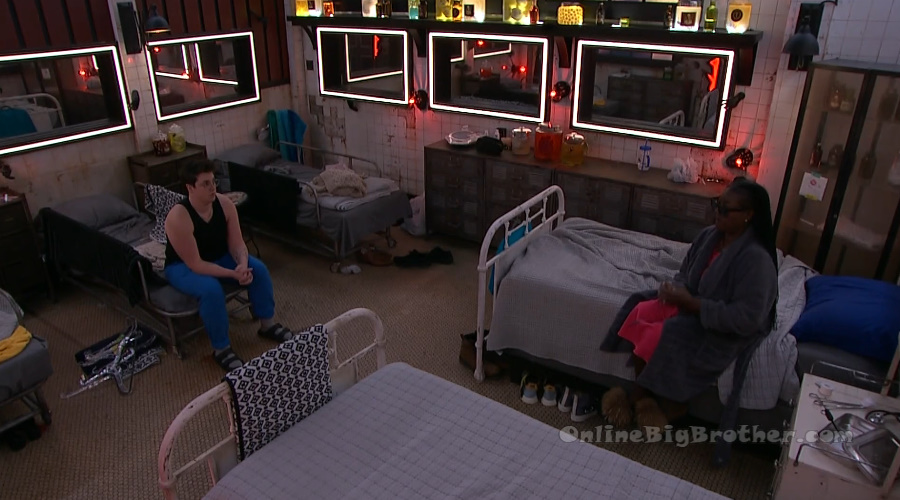 If you like these spoilers and read this blog regularly please consider a donation to keep the madness going. We accept donations via paypal How to support OBB