4:45pm Backyard Rachel and BRendon They're bashing MAtt, Ragan, and Brit. They wonder why anyone would marry matt he's so lazy and gross, Rachel points out that Matt doesn't even have a job he works from home. Rachel says that Ragan is just a pathetic person living in a one room apartment, "what a sad life he lives". rachel says she doesn't care about all these stupid BLANK people she'll be laughing her ass off in the jury house knowing that she's going back to VEgas to a great life and great opportunities. Rachel says she can't win every competition, she's exhausted all she can do it's not their fault the stupid people in the house don't see the benefits of keeping her another week. Rachel says that they (the other houseguests) are scared to death about Brendon. She says that Brit, Ragan and MAtt are like little roaches they are trying to get Hayden on their side and they'll do the same thing to Hayden that they are doing to her and brendon. She blames the house for making her act the way she's been, her back was against the wall of course she was going to be over dramatic and more crazy. Rachel: "I have overcome so much adversity and hardship in my life I moved to Las Vegas when I was 22 (to be a hooker?) with no friends or no family".. "I have a family in Las Vegas now.. I've played a great Big BRother game and have had a great big brother experience" Brendon: "I know baby I'm proud of you". They agree they played the game competitively and never made it personal (man these to are BLANK they played the most personal game) Rachel: "I think being emotional and BLANK just means i'm feisty and I don't think they can handle being intimidated by a strong women who has everything going for her "(delusions at it's best) . She calls MAtt a scumbag says he'll never get their vote, Brendon won't give him his vote either. Brendon says she done with being nice to brit, matt and ragan he thinks their small pathetic people. Kathy walks out ans they do the whole song and dance with her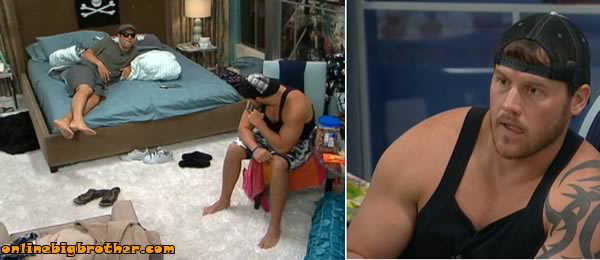 4:50pm HOH Lane and Enzo Enzo filling Lane in on Brendon telling him he wants to quit. Brendon's plan is to act up and get voted out. Enzo also knows that Brendon and Rachel think Lane's the sab and there going to call him out on it soon. Lane looks forward to it, he's not the sab and whatever Brendon says will make him look even more like a idiot. Enzo is really getting into the Brendon alliance he thinks he'll get some good stories for them all tonight. They are shocked at how Brendon is acting towards BRit, trying to push her around. Enzo is pissed about it calls Brendon a little pussy. Lane wonders if maybe Brendon telling Hayden and enzo that lanes the sab is a way to test them to see if it gets back to him. Enzo agree's but says Brendon's been talking mad BLANK all day to them he thinks he's starting to lose it because Rachel is going home and he's getting scared. Hayden joins them comments on how Brendon is going overboard with his little tricks, pushing Brit and screwing around with ragan. they agree that BRendon is only targeting those 2 because they are so small. Hayden is worried that Brendon's actions will put a target on hayden and Enzo because they talk to him. Enzo suggests they cut Brendon lose tell him it over get lost. Enzo has it figured out about what Brendon should do since he's so gung ho to save his hoe. Brendon should start BLANK around late at night pretending he the sab so that someone will catch him then wham he'll get voted out because we all think its him. Lane thinks that a wicked idea. Enzo is fighting a bit to keep Rachel says that Rachel is with them. Lane and HAyden think Rachel can win HOH and is dangerous. Lane points out if they get rid of Rachel then Brendon is done he'll be a stupid mess. Enzo getting rid of Rachel might be a waste right now because she can do all our dirty work, she won't put us up she'll go after Ragan and Brit and they will go after her. Enzo says that he's really close to rachel and she's easy to manipulate. HAyden disagrees says Brendon is very easy to fool he's just awkward about everything. Matt jons them and they ask him who they should get rid of, Matt thinks RACHEL. He explains that they have a chance to get a strong player out they should take it. Enzo thinks they can get her to do the dirty work, Matt disagrees says they don't need her to do any work they are set in stone. Matt:"no no no no no we need to get out RACHEL" Lane: "See we needed to bounce that idea off the brains he calculates it all in his head and gives us a simple answer". Ragan joins them say that BRit got called into the DR. They wonder how they can deal with Brendon for the rest of the week.
5:50pm Britgade playing dodge ball while B/R cook their dinner


6:10pm Rachel telling Brendon she is good friends with the prince of Saudi Arabia and he always lets her stay in his house in Bell Air (HAHAHAHAHHAHHAHAHHHA sure and your real name isn't Boy George) . Other houseguests playing pool or laying on the couch trying to keep their distance. (I pray for a blowup tonight.. all the ingredients are there we just need a spark)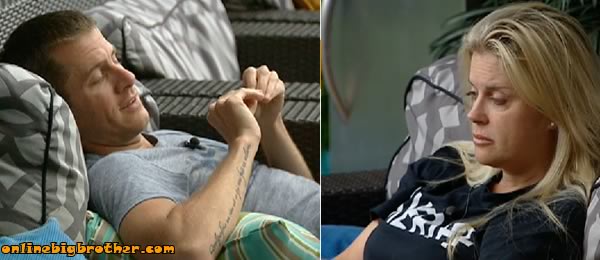 7:10pm Backyard Couch Kathy. HAyden, Enzo and Ragan Ragan is getting ready for a big blow out with rachel he wants to be able to fully defend himself but he's worried it'll wreck his game. He remembers back to when he was younger and everyone would tease him because he was different and had to hold in all back then and now he's feeling like he has to again. Ragan doesn't like how catty he has become, always talking BLANK about Rachel, thats not the type of person he is. What is causing him to be like this is the way they have played the game. They have taken it to such a personal level and there sportsmanship is appalling. He brings up all the name calling during the Comp and how they get so mad and make excuses when they lose then celebrating and rubbing it in everyone face when they win. kathy agrees,
She pleading with the test of the people outside to not give Rachel any alcohol tonight because something is not right. She explains that they are so noisy at night when their drunk. Kathy doesn't appreciate what they have said or done to her and they are not getting her vote regardless if their nice to her or not.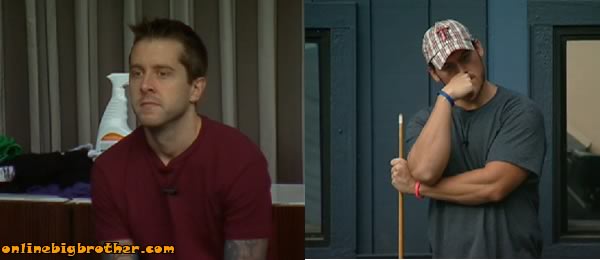 8:14pm B/r Taj laying in bed being sad, trying to figure out what went wrong. They don't think they fit in. Rachel: "I was born to stand out" They are thinking about working out, Rachel is worried she is gaining weight. (I actually feel sorry for them everyone in the house hates there guts .. oh oh i added a comment to the end of my post..opps DRINK! )