Watch the feeds for free from the US using a VPN. We recommend HMA https://www.hidemyass.com/vpn/r16399/
Veto Players: Demetres, Kevin, Bruno, Dre, Ika and William
Power of Veto Winner is William
William now has the power to take both nominees off the block.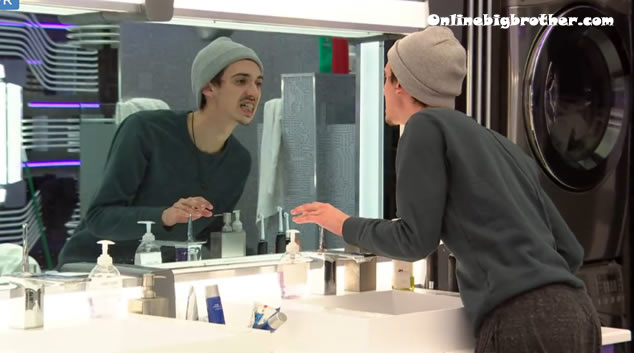 Dre talking to Ika "I can't believe William won"

Ika tells Kevin is William uses it Karen will go up.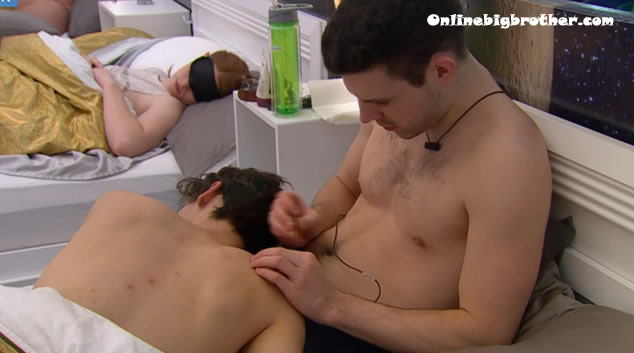 Kevin wastes no time picking at William's back zits.
Ika and Demetres
They bring up Kevin saying "would you consider putting up karen"
Ika heard that she just said "Ya ya ya"
She planted that seed just in case Bruno or Kevin won the veto.
Ika – William's not using it he can't
Demetres wants Karen gone but still would prefer Jackie. Concludes that he would want Kevin gone over everyone.
They agree when Bruno is going to f** them they'll now ahead of time but not Kevin.
Secret Power of Veto Rules
The Secret Power of Veto gives the holder, William, the power to save anyone from the block over two Power of Veto ceremonies. The ceremonies where this power is active are Wednesday April 19th & 26th. This Power of Veto is a SECRET and Big Brother will never reveal who used it. However, William is free to tell people about this secret power once it has been played or should he choose not to use it. This Veto does not give him the power to name the replacement nominee, nor does it give him safety from being named a replacement himself.
Should the secret power of veto be played by William, Big Brother will deliver the news to the houseguests at the end of the Veto ceremony.
The regular Veto is still in play and regular Veto rules apply, this includes William and should he win the Veto he will have two Vetos.
William opted not to use this Secret Power of Veto on Wednesday April 19th – tune to see if he uses it on Wednesday, April 26th
[polldaddy poll=9729132]
[polldaddy poll=9729778]