Quick Big Brother Spoilers
Head of Household: Jared
Nominees: Corey and America
POV Players: Corey, Jared, America, Bowie, Jag, Cameron
POV Winner: ?
Veto Ceremony: ?
Havenots: ?
Lock your ranks in before midnight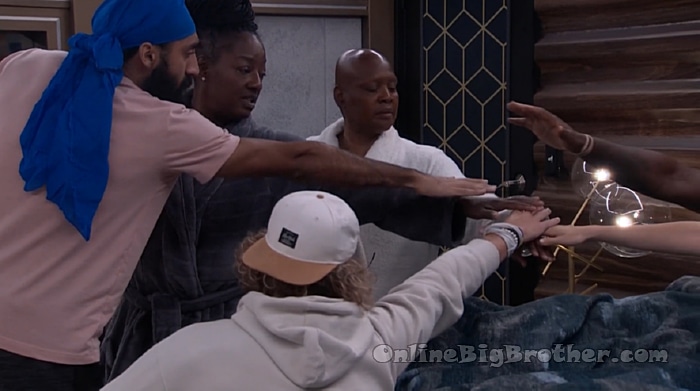 8:00 am Jared, Matt, Blue, Jag, Cirie, Felicia
THey reform the 7 deadly sins less Izzy.
Felicia – let's get up and do this
JAred – now that we're locked in we have to tell everybody this isn't a thing
Felicia – this thing isn't a thing
Jared- it is a thing but outside it's not a thing
8:40 am Feeds go to pound for Veto picks
9:14 am Feeds Return.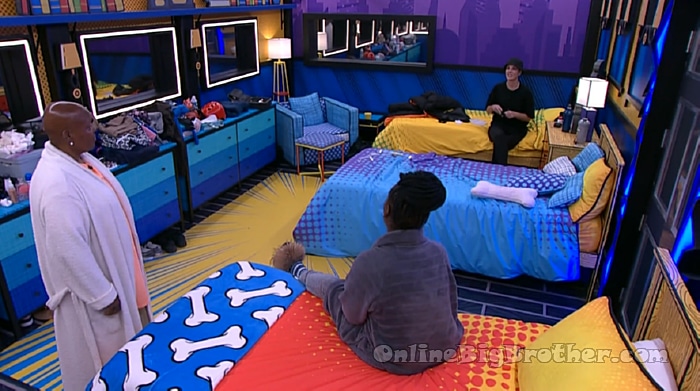 9:13 am Bowie, Cirie, Felicia
Felicia – if he wins and pulls himself down next week it'll be a firestorm up in here
Cirie – I don't care.. I care for poor Jared but I don't care
Cirie – I've never played..
Felicia – you've never played Veto
Bowie – I'm glad Matt gets to host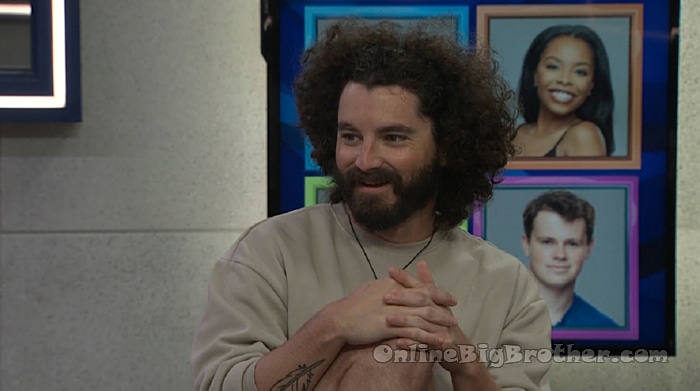 9:14 am Corey and Cameron are Chit chatting about TV shows.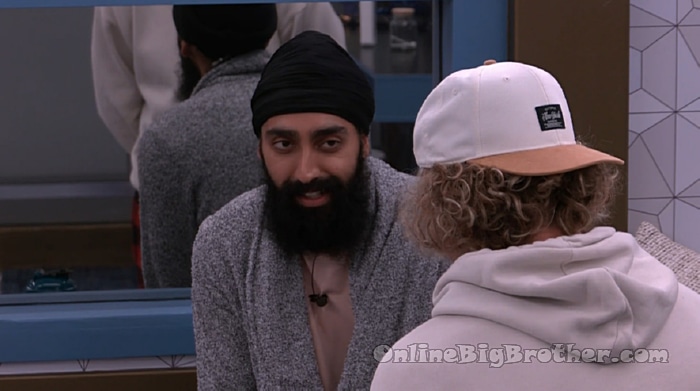 9:16 am Jag and Matt
Matt – if he would have picked me then you would have been pulled it would have been perfect. F***
Matt – I was pissed I was like I want to play I want to play
MAtt – that extra pulle f*** it
Jag – that extra pull f** *it
Feeds flip.. When we're back
Matt about Cameron – He's played in every challenge.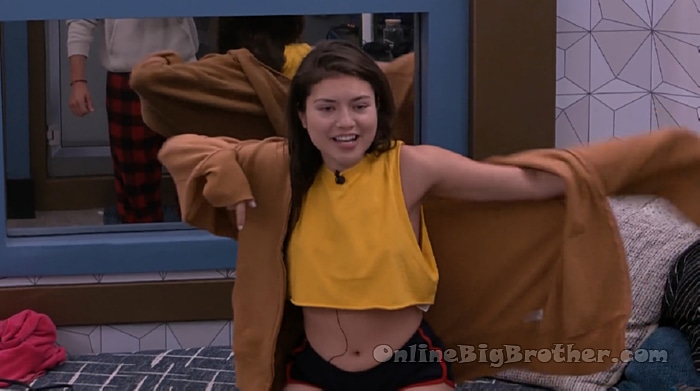 9:26 am America and Jag
Jag – your mentality has to be that you have to win it.. no one else is going to do that for you
America – you got this.. you got this.. I'm going to win this.. first win
Jag – we gotta just win that (Veto)
America is trying to get pumped up.. "Stupid Stupid stupid.. that's ok.. thats ok I got this, you got this.. First veto lets go.."
Matt joins them. They start talking about past Veto Competitions.
They talk about some of the challenges in the dark.
Matt – We haven't done a blacked out one lights out. I'm good at those things cause I rely on surroundings case I can't hear..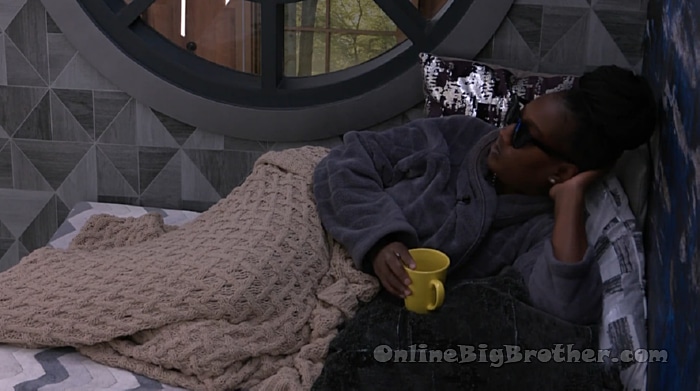 9:44 am Waiting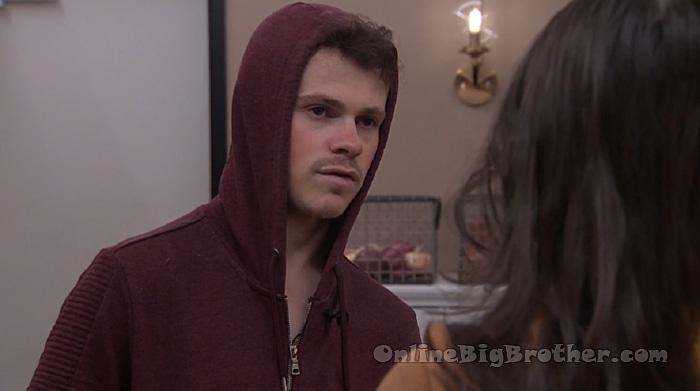 9:45 am Corey and America
Corey is going over his talk with Cameron this morning.
Corey – I told him neither of us would survive a vote against Jag.. He said he knows that
Corey – After he potentially wins the veto we have to tell him there's a path We don't say that now. Because then why didn't we pick him for houseguest choice.
Corey – once he wins veto we got to him and start brainstorming
America – IF HE WINS
Corey – ok sure sure.. we're going to do our best but I'm telling you IF he takes one of us off we have his vote. he said taht
America – I know
Corey – Here's what I'm thinking.. I would rather Cam win than Jared.
America – I do to. yeah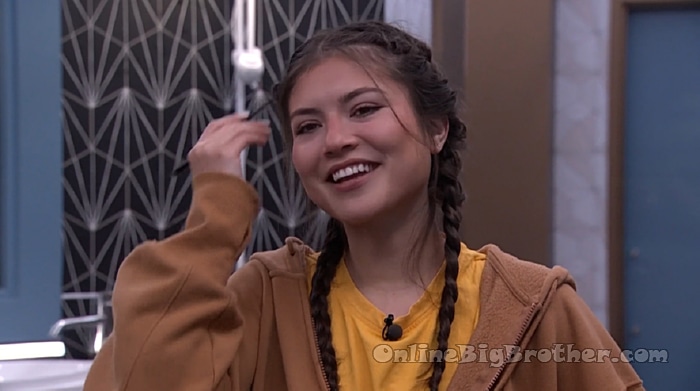 9:59 am America and Cameron
Cam – I did not say your name and I did not implicate Corey but I'm going to give you some trust and say I did tell Jared that I knew that you guys were told not to pick me.
America – Ok what he say?
Cam – he denied telling you .. which I expected. In fact I said it was not you..
Cam – I'll let him draw his own conclusions and spiral
America – we're the only two that are close to you
Cam – I know that. My aim in this was to put it on Jag.. I didn't directly say it.
America – I told you yesterday I hope you get picked.
Cam – I don't have much of a path forward, even the people I am close with can't work with me. I get that.. It's part of the gig. I gotta pull some moves but I wouldn't do any danger to you.
Cam – I know you will never turn on him..
Cam says Corey leaving benefits both of them.
America – You wouldn't use it?
Cam – If I did it would be the best shot for the three of us
Cam – If I pulled you down we have the potential the three of us staying and Jag going home which benefits everyone.
Cam says Corey has a shot against Jag America doesn't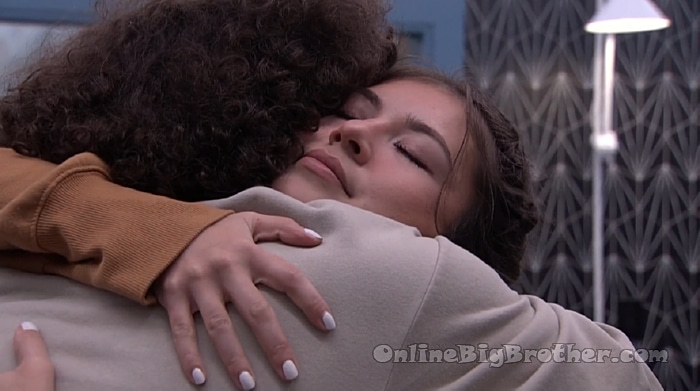 America – I'm glad you're playing.. we got this you got this.. WE got this
They hug it out. America leaves.
Cam – Everybody shit their pants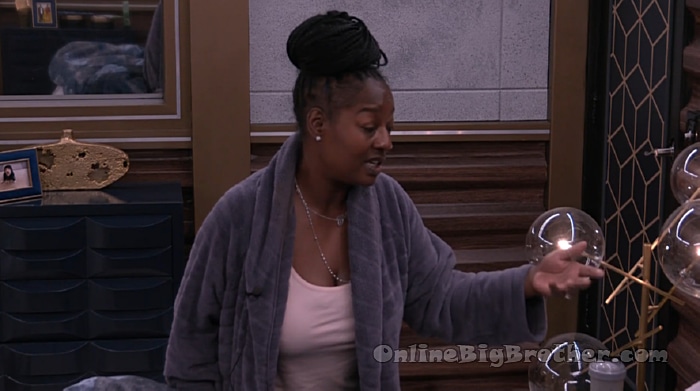 10:15 am Cirie and Jared
Cirie – Here me out I don't think it will be a bad idea.. lets just say Cameron wins and takes America off.
Jared – Put Jag up?
Cirie – no I was going to say put me up (LOL)
Cirie – put me out let me go. Everyone is associating you with me it would be the best thing for your game it would repair you and Cameron it would shut Corey and them up it would put you in a great better spot. I'm okay with it I promise you I will be okay about it. The only thing I fear is you have nobody here You just have Blue you don't have me anymore.. It will clear you of all the drama.
Cirie – it's only game. I won't have a problem with it I promise
Cirie goes on about how this is the best play for Jared.
Cirie – this is in the case Cameron wins and pulls America down
Cirie – you'll gain a lot of favour in this house. It will help you if that were to happen. I will be okay with it. Don't make an enemy out of Bowie Jane.. or Jag again unless he volunteers.
Jared – where are the votes
Cirie – I will definitely go home
JAred – I can't do that..
Cirie – WHY
Cirie – the likelihood of me staying.. I would rather you have a better chance.
Jared – I can't do it. I would rather just go home
Cirie – we're playing a game right.. This is for one of us to go further
Cirie – think about it.. I love you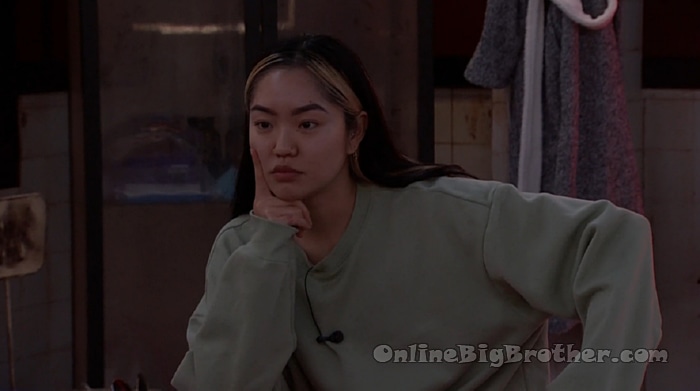 10:41 am America and Blue
America – I'm like scared.. Cam's trying to get into my head..
America – I just got to do this for myself and I'm super anxious
America – do you think Jared would use it though?
Blue – yeah I'm not even lying to you Jared WOULD use it. Even IF him and Corey had that whatever.. He HATES Cameron Dude.. Like the goal is to get Cameron out for sure. For sure.
Blue – you got this.. you got this..
America – my stomach is going crazy.
Blue – worst case scenario if noms stay the same you have my vote
America – thank you
They agree Cameron can be convinced to use the veto.
Blue says she thinks the renom would be Bowie Jane.
…
America – there is a way for me and Corey to stay this week even if Cameron wins the veto. If Jag goes up there and says I don't feel comfortably being nominated.
Blue – Please don't tell Jared anything because that will f** me up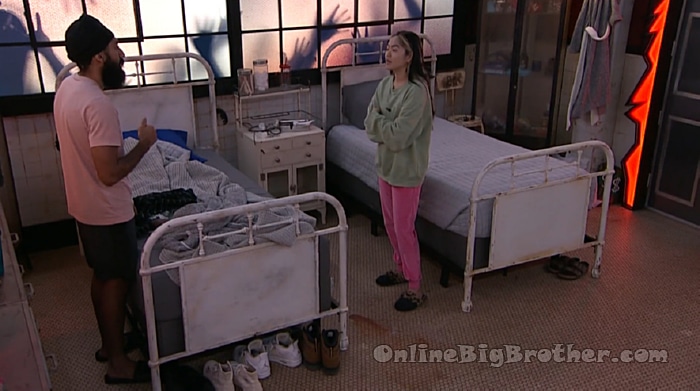 10:58 am Jag and Blue
They are talking about the scenario where it's Corey and Bowie on the block.
Jag – then corey expects us to vote for him
Blue – there's a easy narrative to be had there they need 5 votes..
Jag – yeah Jared is the tiebreaker
Blue – you, MAtt can be like listen Corey is a threat to you but for my own personal game like I need him here over Bowie.. he's going to help me.
Jag – The last thing I want to do is for us to try and pull some sort of heist this week like if COrey is up and Bowie is up the last thing I want to do is we end up voting against them and it completely reveals our cards without us being in a position of power. Right after that if Cirie wins or Felicia wins we're going to be like opps sorry.. I want to cover that. The way this season is going it's worst case to worst case to worst case.
Jag says if they were going to blindside Cirie's side this would be the week because next HOH jared can't play and Cirie/Felicia's track record in competitions has been poor.
Jag goes on about how they need to keep playing the middle.
Blue thinks Cameron will vote Corey out.
Jag doesn't think so. "From what Corey is saying Cam is gunning for Jared"
Jag says if Cameron doesn't win HOH next week he'll still be a target.
Jag – if he pulls off a veto win today to save his a$$ this would have been three weeks in a row we've been trying to get him out that he's successfully saved himself. Every week it's getting easier and easier for him to stay.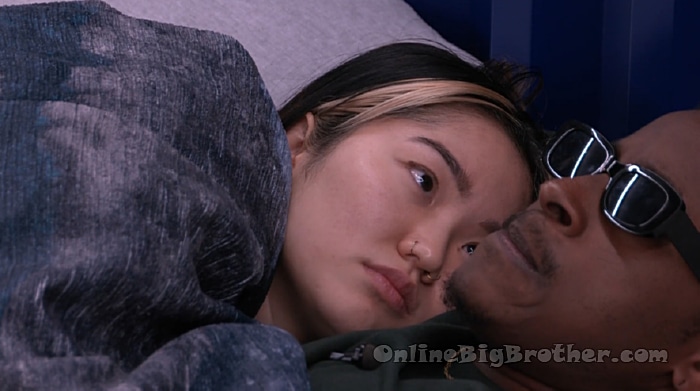 11:20 am Jared and Blue
Jared – F*****
Jared – In the event that it's America and Corey .. I am considering putting Cirie up, in the event that it's not unanimous I'm not entertaining the 6 Bullshit what's the point.
Blue – I feel good with us
Jared – with who>?
Blue – the 6, Matt, Cirie, you, Jag
jared – not if I am having feeling if it's Cirie vs America people will be voting other ways. I don't feel good about us (the six) I would love to be proven wrong.. just in the back of my head.. people do all this shit..
Blue says putting Cirie up is risky.
Jag enters. They talk about Veto game strategies.
Jared asks Jag if Cam would use the veto.
Jag thinks Cameron will use to gain trust.
Jag leaves..
Jared says if Cameroni saves America he's fine with that "Send Corey's a$$ out of here"
Jared – I may ask Matt to go up.. Somebody I know people don't want to vote out
Blue – That's smart that's really smart..
11:34 am Feeds cut to the pound Veto time
Without your support this site and these spoilers wouldn't be possible.
Please consider a donation to keep the madness going.