Quick Big Brother Spoilers
Head of Household: Jared
Nominees: Corey and America
POV Players: Corey, Jared, America, Bowie, Jag, Cameron
POV Winner: Jag
Veto Ceremony: ?
Havenots: ?
Lock your ranks in before midnight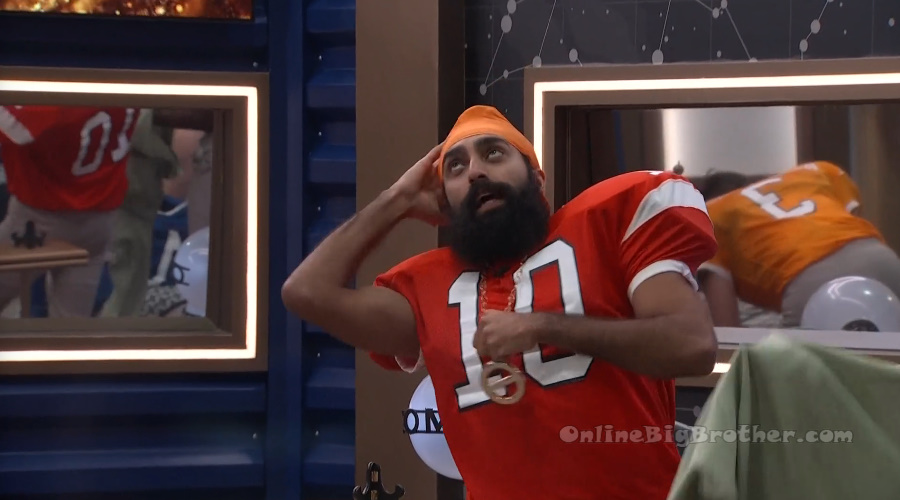 3:54pm
The live feeds return from being blocked for the veto competition.
JAG WON the Power Of Veto Competition!
The house guests are all in the living room talking about the veto competition. Jag – there was giant foam and footballs everywhere. Jag – I fell so hard I had to catch my turban! Felicia – America how did you do? America – I thought I did okay but I was getting hit in the face from every direction.
Bedroom – America and Jag.
America – I knew you got it. We'll talk later about what you want to do but we're good. Jag – yeah. That was a fun a$$ comp. America – you're good. You're amazing! I love you! We're going to make it through. Thank you so much! Thank you! Jag – when I saw Cam's name and 6 minutes .. I was like I know I cooked that time!! America – You must have been cock a doodle zooming! They leave the room. America goes to Cory. America – We did it! We're good, we're good! Cory – we'll talk about details later.

Bedroom – Jag, Cory and Matt
Jag – thanks for choosing me boss! Cory – later tonight we're all going to talk. You did it!
Jag wins Veto #BB25 pic.twitter.com/el3tyZx83Y

— OnlineBigBrother.com (@bigbspoilers) September 16, 2023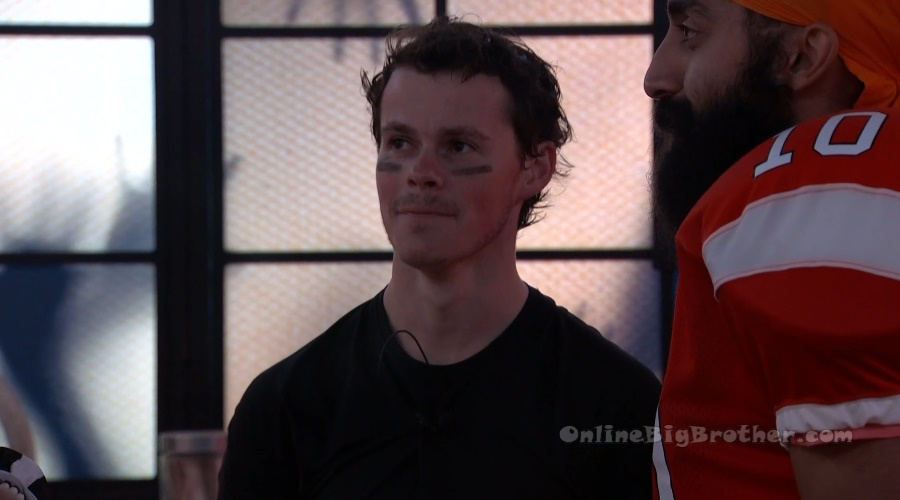 4pm HOH room – Jared and Blue
Blue and Jared – Thank god for JAG! Jared – as soon as Jag went and came back I knew it was between him and Jag. Blue – Forty seconds is crazy! Jared – if Jag does some stupid F**King sh*t… Blue – he is not going to. Jared – and not use, I am going to f**king lose my sh*t! Blue – he is not going to. I promise you that he is not going to! The script is scripting.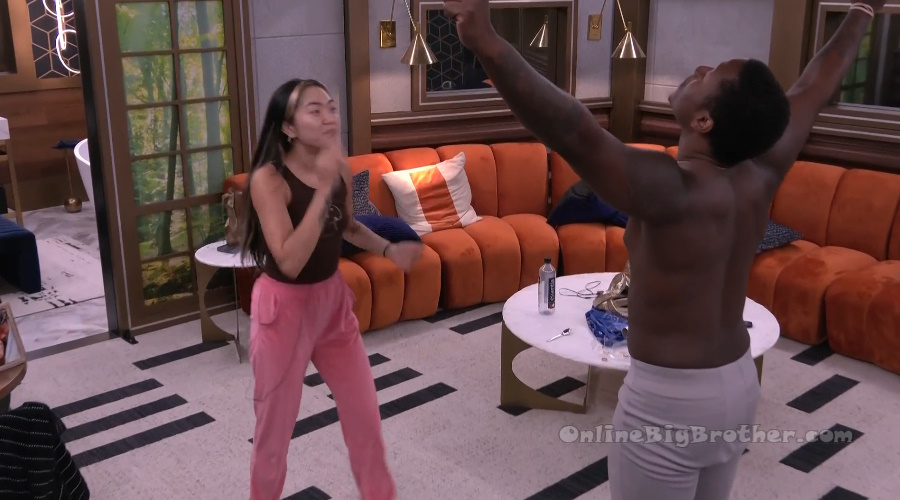 4:13pm Storage room. Jag, Felicia and Meme
Felicia – all we needed to do was see who's name showed up second and if his (Cam) name hadn't shown up second, I would have sh*t my pants. When it said Cameron, I think that is the most cheers he's gotten. Felicia and Meme leave. Blue and Matt join Jag and celebrate. Jag – I pretended like my a$$ was on the block. I was like the only way for me to do this was for me to haul a$$. Matt – you poured your heart out. Jag – Honestly what it was and the reason I went this hard was because if I dont do this, I know Cameron is going to win. And if he wins he is going to take one of them off and Bowie Jane is going to go up and that is going to f**k our game. We would have had to show our cards. Blue – just so you know POO is a little suspicious .. not of you (Matt), not of you (Jag) and not of me but just as a whole. He said that he is getting a little nervous. I just doesn't feel good about the six right now… which is fair.. None of us really does, you know?! Just so you know he hasn't thrown anyone's name out. He isn't suspicious of anyone .. he just doesn't feel solid. He was saying that he wasn't feeling good about putting up Bowie any more if Cam won. Jag – if it wasn't Bowie, it had to be one of the six. Blue – It might have been one of the six but he wasn't thinking you. He was thinking about someone else like Cirie.
Bedroom – America and Matt
America – he is going to start saying a lot.. and saying a lot of sh*t and a lot of lies. Matt – The thing is everyone knows that's his angle to say sh*t. The thing is I have never and he knows not to trust me anymore because I am not feeding him any information. I know if I feed him any information he is going to use it against me. I am not stupid. Everyone knows anything he says is lies. Its just ruining the show. Or not the show but for us. America – once Jag won, I squeezed Cory's hand so hard.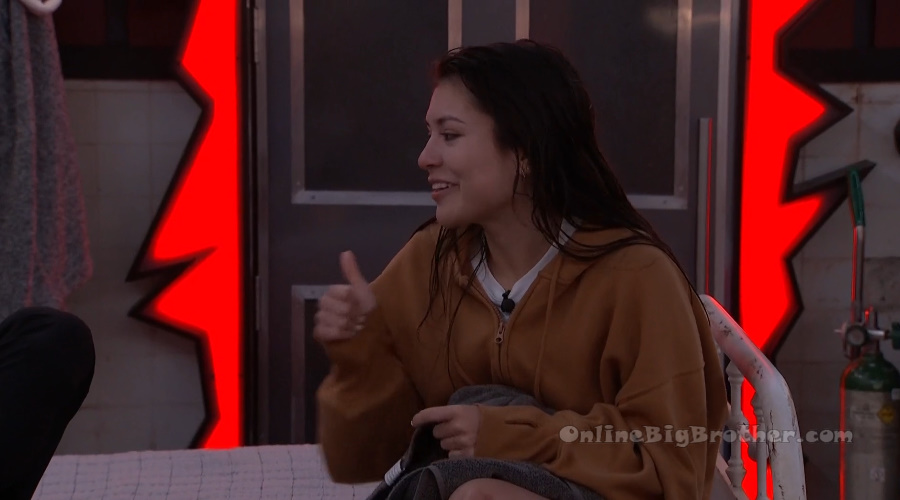 4:34pm Bedroom – Jag and Matt.
Jag – this is perfect that I won. This paints a bigger target on.. Matt – on you. Jag – on me. This is good because no one is going against me right now. I am on the team of the Seven Deadly Sins which is good. And Cory and America see this as good. We'll talk more. We want Cory or America to win ideally. (Next HOH) Matt – you made everyone weekend. Jag – I feel like I am on everyone's good side now because I won. Thank god!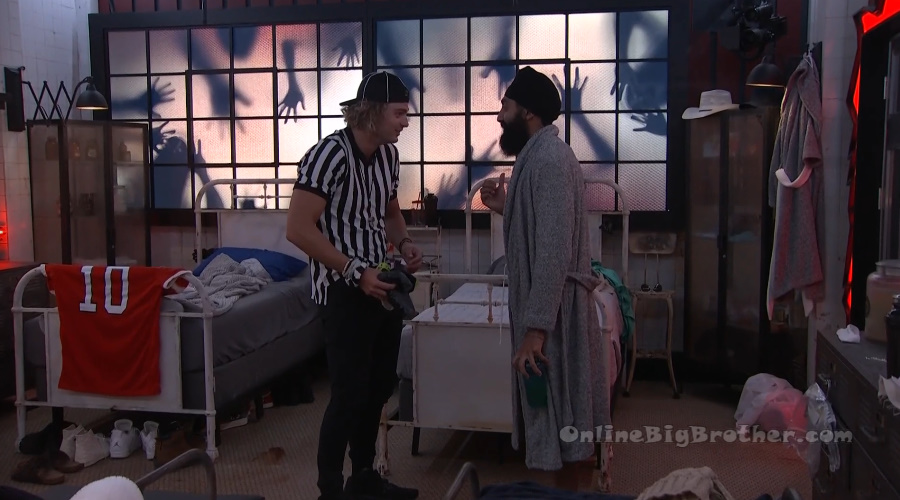 4:50pm – 5pm HOH room – Jag and Jared.
Jared – I know I always do this but its in your hands at this point. Jag – I was saying the same thing in punjabi right. I was praying. I was just praying. I was like look I don't mean to be selfish.. I started off like I am thankful to even be in this game and it is all because of you but its in your hands but.. Jared – if you could do me a solid! Jag – I was like if you my G like I think you're my G bro. I was like please let me have this one but if not its cool I still trust you. BB switches the feeds. Jag – There are not many things that are certain in this game. I can tell you one thing that is certain… that veto going to get used! That veto is going to get used, I don't care what he (Cam) tells me. I might even start the convo with that. There is one thing that is certain, that veto is going to get used and his a$$ is walking out that door. Jared – I am going to tell him too. Jag – he is literally the number 1 threat for everyone. He took shots at everyone. Guaranteed he is going to cook your A$$ next week. (If Cam stayed) Jared – I am just going to let him know straight up.. the fact that you were starting rumors about me when I was just chilling. Jag – he done started rumors about everyone. Jared – there is no way if f**king hell that I could keep him here. Jag – hopefully he is just Chill. Of course he is going to try and campaign and try to get motherf**Kers votes and stuff .. but at this point whos votes he going to get!?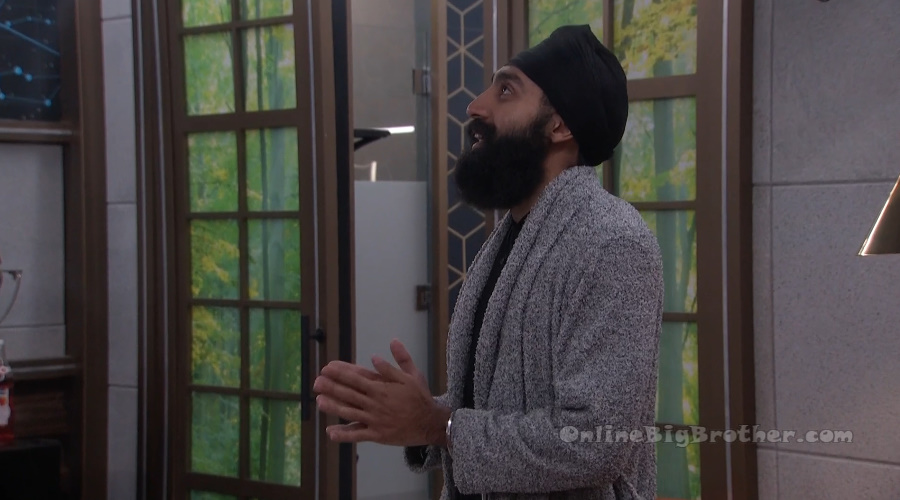 5:05pm – 5:22pm Games Room – America and Cory.
Cory – I don't want to get ahead of ourselves but the way I view it right now is one more week. America – don't even .. stop, stop, stop. Cory – Jag might speak to Jared and Jared might tell Jag who to use it on. America – I will talk to him tonight. Cory – I just want to make sure we're on the same page because the last thing I want is to be campaigning against you to Jag. Its like weird. America – of course. I spoke to him briefly and said I don't want to be there till Thursday but I'm sure Cory is fine to stay. Cory – the vote is straight forward. Jag joins them. Cory – we'll talk later and figure it out. Jag – I don't think it matters who I use it on. America – it doesn't but.. we'll just see if he (Cory) is a gentleman or not. Jag – Cam is leaving this week. I want to be very clear. Cam is fully leaving this week. Cory – I am just so bad at packing America. She pulled the I am not good at speeches, you would be.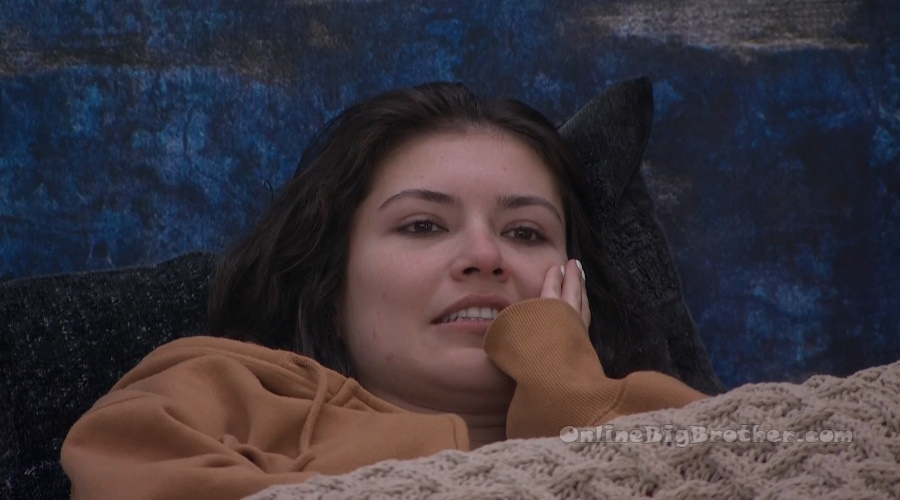 5:30pm – 5:45pm Bowie, Matt, Jared and Cirie
Bowie – he (Cam) knows hes going home. He tries to trick you into saying things. He is such a nightmare. Like he would leave and then say that I said he was leaving or something. Jared – I think he's thinking he wants to go out with some type of dignity. Bowie – We'll see… I hope so but.. I hope he behaves. Jared – that's the end of the Cameron Saga. Cirie – I won't celebrate till the doors open. Jared – I know one thing.. if there is a twist!! Matt – no no no!! Jared – I would just cry. Cirie – this was a scramble verse comp.. my gut ain't settled yet. I do think its a good chance it will be a double eviction .. like he goes out and then its another. Jared – yeah I could see that. There could be a battle back too … so regardless we got to expect something.
6pm Bedroom – Bowie, Matt and Jag.
Jag – At this point its a pretty straight forward week. I truly think it will be a more straight forward week out of any of them that we've had other than the very first week with Kirsten. Bowie – yeah that was straight forward. Even the Hisam thing. Jag – that was a backdoor .. yeah this is similar. I truly think that you're in a good position. I haven't heard your name. Bowie – I am not nervous about this vote but if things form. I am just nervous I'll be left out. Jag – I think we'll be good. This week is solid. I am 100% going to use the veto on one of them. I am pretty sure Jared is dead set on putting Cam up. Something so crazy would have to happen like a twist. I mean nothing is certain until he is out the door. Then we just have to think through next week.

HOH room – Cirie and Jared.
Cirie – we need to lock in something with Bowie Jane. Bowie Jane is going to be a number as soon as Cam goes. She's been waiting and wanting to lock something in with me. You see if Meme and them want to meet. I know they were talking about me because the did this .. the butt pucker. Jared – yeah we can just lock something in. I don't really care about it that much. Who cares about Meme and Felicia. They ain't going to be winning much that will be worrying me. Ciri – right but we need them for numbers. The only thing I was to fix is what Jag told her about the vote.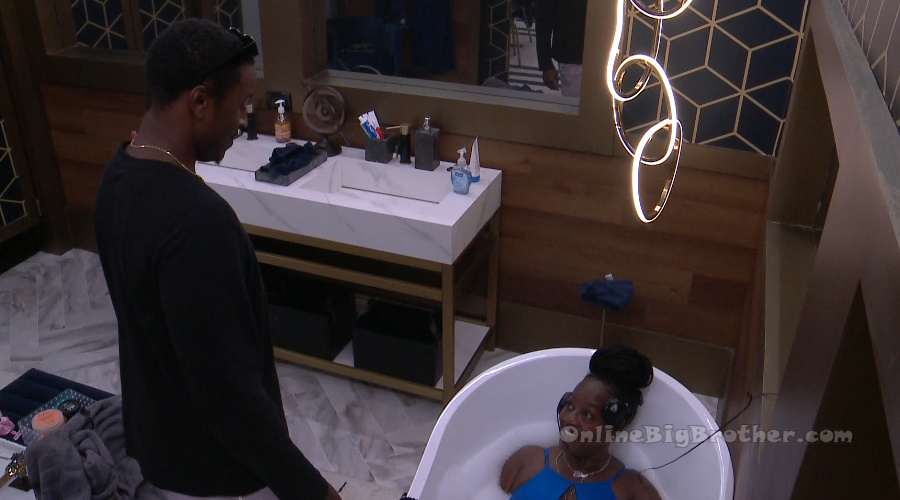 6:30pm – 6:50pm Jared – Mama Felicia brought up a good point .. anyone sit next to Matt at the end they lose. Cirie – oh yeah. I know that. Cirie – There is just so many of them. I think if we get Cameron, honestly America next. I know Jag is tough and if the opportunity presents itself to get Jag, we got to get Jag. Jared – I think we go Cameron, America, Cory. Cirie – Agreed. Jared – then we put up Jag and Matt. Cirie – agreed. Jared – he (Cam) knows he's going home. Cirie – him and America .. I can't stand America YO! Jared – told ya'll! Cirie – I said it from the beginning. Jared – after today I am really not worried about them beating me. Cirie – I am going to try my hardest (for HOH next week). I don't think Meme is trying. Meme don't really show her hand. Jared – I think at this point, a lot of people are trying .. they just suck. Jared – he (Cam) is going to come up here and preach the deal. You know as long as I don't nominate him. Cirie – Oh I forgot he still got to go up. Jared – he asked me if I told Bowie the deal and I said no I don't tell you business. He said I love Bowie. Cirie – he (Cam) keeps telling me I love you C. That must be his kiss of death.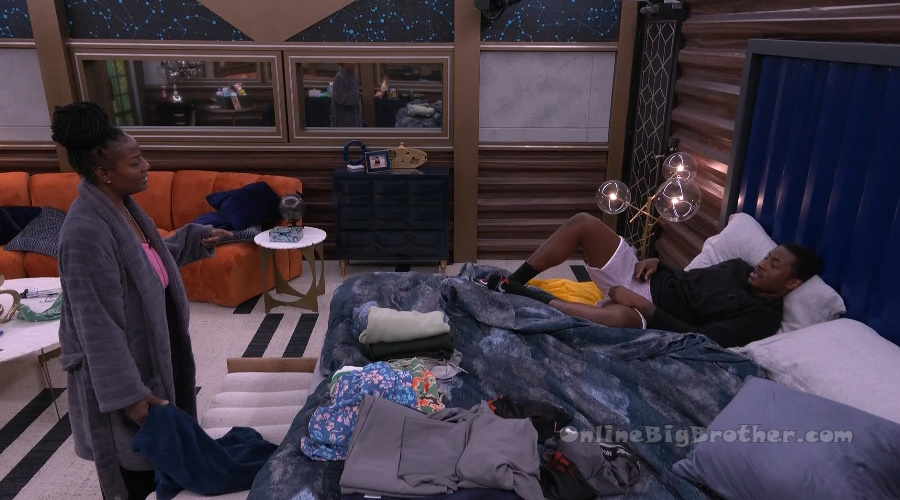 7pm HOH room – Felicia and Jared
Felicia – now the question is how are we going to keep Meme safe because I know next week somebody is going to put her a$$ up. Jared – They after Meme. They after Meme. Felicia – why!? Jared – they aren't after Meme.. they just.. Felicia – She's an easy target. Jared – they just figure she's an easy target. I told her that too. I said just be careful. The only good thing is that America and Cory are still here. But when you look at the Jags.. and when you look at the Blues.. Its really just Jag and Blue. If Bowie goes, then Meme in a bad spot. Jared – Obviously I am still watching Jag from a birds eye view. Felicia – because you know when we got to six they're coming after me and Cirie. Jared – they will probably come after me first but but… we are going to strike before them. We definitely going to strike before them. That is why we got our four and we keep Meme safe and then we need to get Matt in too. And we let Matt know if and when it gets to that point. Matt is understanding more and more .. Now that Cameron is about to be gone all this sh*t changes. The only people that have been winning comps consistently is me and Jag. And Matt is just guilty by default. The game is going now. All that buddy buddy is going out the window. Once Cam is going sh*t is going to get ugly. Felicia – the first double eviction is going to be crazy.
Show your support 🙂 Without your support this site and these spoilers wouldn't be possible.
Please consider a donation to keep the madness going.