POV Holder:
?
Next POV
?
POV Used
?
POV Ceremony
?
HOH Winner
Ashleigh
Next HOH
May 13th
Nominations:
Sarah & Godfrey
Have Nots
Canada gets to vote
POV Players
VETO PLAYERS PICKED: ASH, Sarah, Godfrey, Zach, Brittnee, BRUNO
HOST is PILI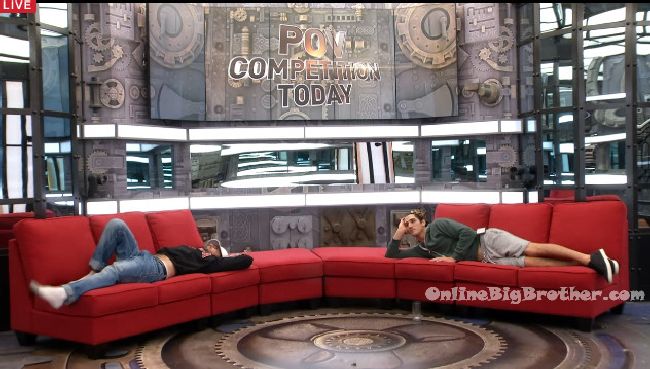 VETO PLAYERS PICKED: ASH, Sarah, Godfrey, Zach, Brittnee, BRUNO
HOST is: PILI
1:50pm When the live feeds return – Zach and Bruno are sitting in the living room chatting about the eviction speeches from Kevin, Willow and Pili during the Triple Eviction. Godfrey joins them. Bruno asks so there's 3 weeks left. Zach says explains how the it will get down to the final 3 and then that's when the 3 part HOH starts. Godfrey brings up how Arisa was very specific during the triple eviction.. "REMEMBER YOU'RE VOTING FOR WHO IS SAFE!" He says she said it a few times.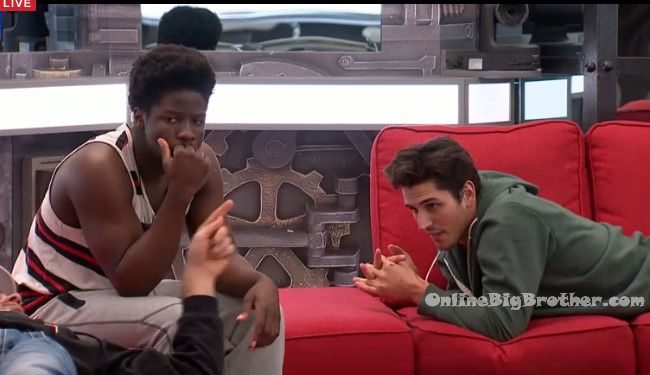 2:15pm In the bedroom – Sarah is crying by herself – "I want to see a picture of Scott before I go to jury! I know I'm not going to win" "How am I supposed to compete against these people!!" "Sorry for being a baby! It's only a game. I'm trying my best!"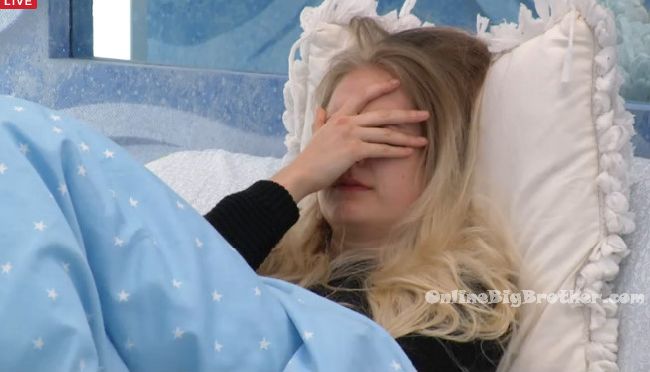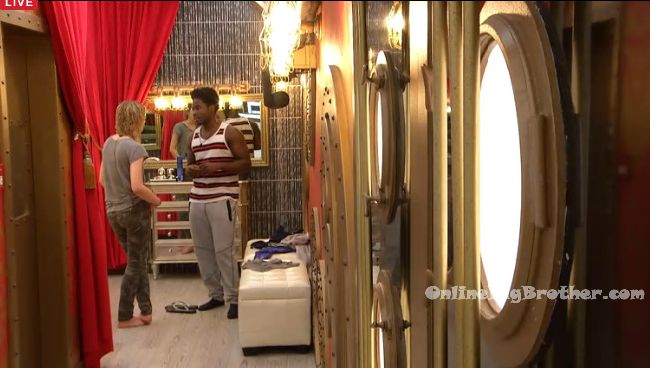 Godfrey comes into the HOH bathroom. Godfrey says I am thinking if anyone else wins they're not going to use it. Ash says if Brittnee wins then I will have to put up Bruno. Godfrey says and we're still good. Ash says yeah. Godfrey says hopefully she doesn't win it. Ash says that's best case scenario. Godfrey says if I win it I have to use it. But we're on the same page.

In the living room – Zach says that Pili will send out Sarah. She will do what ever Ash wants.
2:30pm – 3:10pm In the bedroom – Sarah says we need to win this. Brittnee says I need to win this so bad. If Ash was smart she would just wait until Zach and Godfrey were out and then give it to me. No matter what Ash is set up ..she could go to the final 2 with any of these people. Sarah says I guess that's the way to play this game. Sarah talking about Ash "I was picked to be in the big alliance and now all I have to do is ride this out." Britt says hopefully Willow is good. Sarah says she gave me her ring though. Britt says maybe it was a selfish move of mine to put up Willow. Sarah says but I voted her out. We never could have anticipated Bruno using the veto on Zach. Even if Willow did outlast us and sucked their d**ks … I would rather her win. Sarah says I regret it. I feel like it was my biggest mistake. Sarah says that now they're four (Ash, Zach, Pili, Bruno) like this (she gestures 4 fingers tight together). Willow wouldn't have been with them like that.

Brittnee says I'm sorry I'm a dream crusher. If she maybe showed a little more loyalty. Sarah says I didn't trust Willow. I wouldn't have ever dropped out and given her an HOH. So you're right it doesn't matter. It doesn't matter! I have to stop thinking about it.
Godfrey joins them. Sarah says B's going to win this and I'm going to win HOH next week. Godfrey says I straight up asked her if Britt were to win this what would you do.. and she said she is not putting up Ash and Zach. Britt asks you mean Pili and Zach. Godfrey says yeah. She is going to put up Bruno. If you two were off I she would have no choice but to put up Bruno.
3:25pm – 4:15pmAsh says I am worried that if B wins it she will take Sarah off and I'll have to put up Bruno. The she will vote out Bruno for sure. Meanwhile in the bedroom – Pili talks with Brittnee about going to Calgary during the summer to visit Kevin. Bruno joins them. They talk about this seasons twists and past seasons twists. They talk about what is up with the 10 person jury. Pili says it could be a 3 person finale. Godfrey says Arisa said that's all I can say for now (about the jury).

If you enjoyed this site's content please consider a donation or checking out our How to support OnlineBigBrother.com page. Any help is appreciated, this site is only here because of your support.
[polldaddy poll=8849979]
[polldaddy poll=8853897]