POV Holder:
?
Next POV
?
POV Used
?
POV Ceremony
?
HOH Winner
Ashleigh
Next HOH
May 13th
Nominations:
Sarah & Godfrey
Have Nots
Canada gets to vote
POV Players
VETO PLAYERS PICKED: ASH, Sarah, Godfrey, Zach, Brittnee, BRUNO
HOST is PILI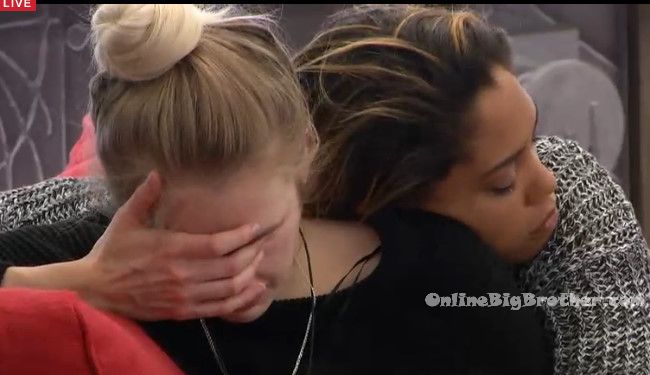 4:20pm – 4:30pm In the living room – Britt tells Sarah she told Pili that she would eat slop for the remainder of the time (just to see a family member). She says just from looking at her face she would be able to tell if she is doing good or not.
Sarah starts crying and says that she can't even picture his (Boyfriend Scott's face). Britt says it hasn't been that long. Just a few more weeks. We've done this long we can do anther 20 days. Sarah says I don't know if I can do it.. I can't pull myself out of it. I would do anything just see his face. I just hope he is proud. Brittnee says I'm sure he is. Sarah says having the backyard would make things so much easier. Brittnee says just some fresh air.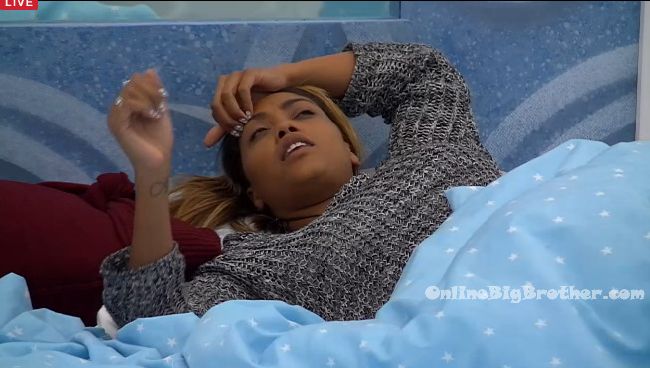 4:30pm – 4:50pm In the bedroom – Britt asks why didn't you use that veto on Kevin? Bruno says because Kevin wanted me out of the house… more than say Zach would. Well maybe the same. I didn't really bond with Kev. I hadn't talked to him in 40 something days at that point. You're still going on about that eh!? I am telling you it wasn't a planned thing or anything. Britt says I was just thinking about it. You could have used it on Kevin and he would have stayed. That would have been a guy I guess. Bruno says yeah but Kevin wasn't close to me… I'm not even going to say that Zach is but I literally hadn't had a conversation with Kevin for 40 whatever days. Like literally we never talked. Like at all! The only thing I would ever say to him was Hey Bud! And Hey! for 49 days. Isn't that crazy. The most he ever said to me is when he came into the pantry and said hey the girls are working together you should keep me. That's the most he ever said to me. Britt says yeah working together .. interesting. For me Kevin there was definitely no chance.

Up in the HOH room –
Pili and Zach talk game:
Godfrey drops his food "Five seconds!" Britt "EWW I wouldn't eat anything off these carpets!" @bigbspoilers #bbcan3 pic.twitter.com/eDG1oplZhw

— Dawg (@DawgsBigBrother) May 8, 2015

5:25pm Big Brother puts all the house guests on an HOH lockdown. The POV could be starting in the next little bit. Likely when the call Pili the POV host to the diary room.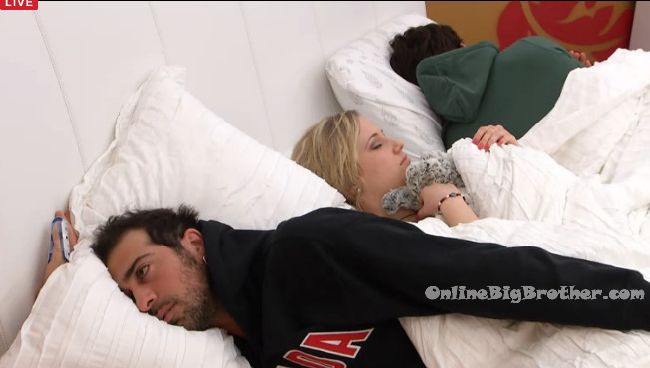 5:40pm Big Brother blocks the feeds… The Power of Veto competition is likely happening now … Who do you want to win the veto?
7pm The live feeds are still blocked.
8:30pm no feeds
9:25pm No feeds for you
11:30 no feeds never
12:22am No feeds
If you enjoyed this site's content please consider a donation or checking out our How to support OnlineBigBrother.com page. Any help is appreciated, this site is only here because of your support.
[polldaddy poll=8849979]
[polldaddy poll=8853897]