Head of Household Winner: Nicole
Nominations are: Jackson & Holly
Power of Veto holder: Jackson
Power of Veto Ceremony:
Grab your live feeds —-> BB21 Live Feeds Subscription Link
Rank your houseguests —-> Big Brother 21 Ranking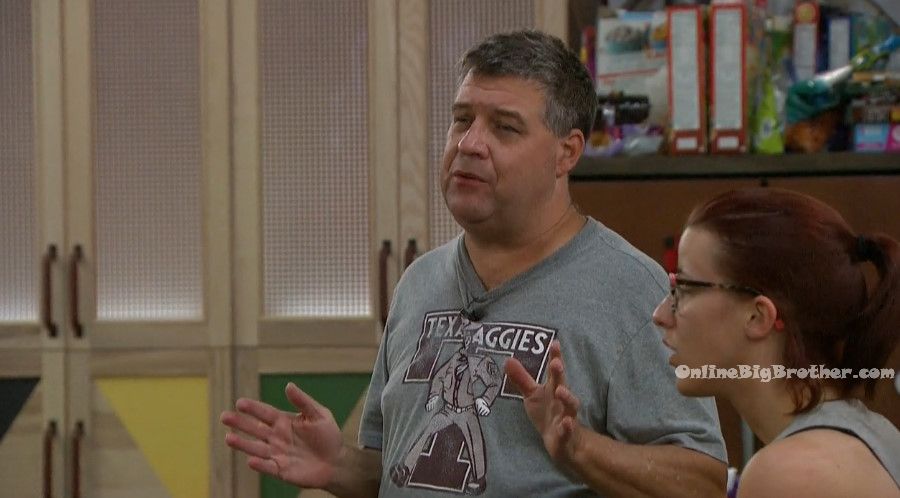 Power Of Veto Winner: Jackson
Nicole & Jackson are guaranteed final 3
Nicole that was hard. Jackson – thank you god! Jackson leaves the room and says sorry. I'm not trying to be rude. Cliff – no, go and celebrate. Jackson – its not even that, I just need some time. Cliff – embrace the moment, we are all proud of you. Holly and Nicole – well deserved! Holly talks about how she had to stop three times to use her inhaler

Jackson goes to the bedroom and starts crying. Jackson – I love you mom! I'm going to the final three with Holly! I'm going to the final 3 with HOLLY! We DID IT! WE DID IT! I love you mamma. We did it! He did it Holl's! We did! We're going to finale night! Thank you god! We had a job to do and we did it! Big Brother calls Jackson to the diary room.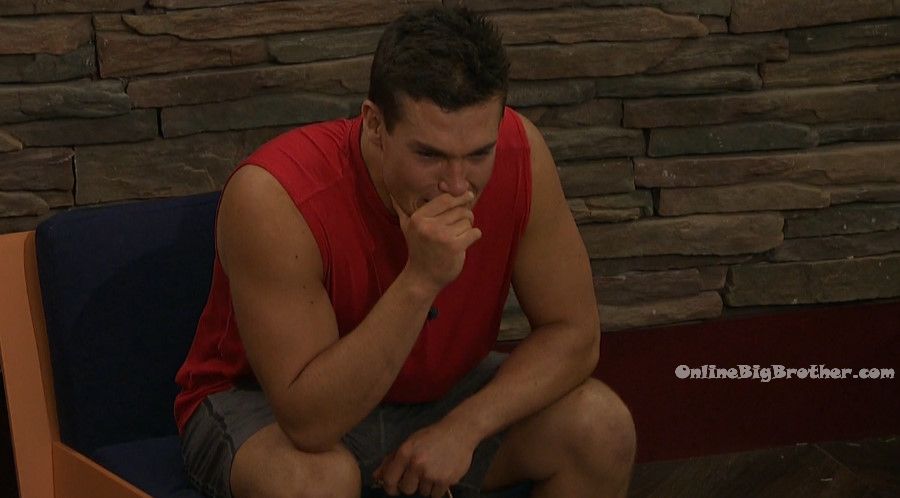 At the diary room door Holly tells Jackson to be happy. Jackson says this is me being happy. Are you serious! This is me being happy! Holly – okay! Jackson – sh*t! Holly – I didn't know! Jackson grabs the door and shakes it forcing it open. Holly – okay, I love you. Jackson heads into the diary room.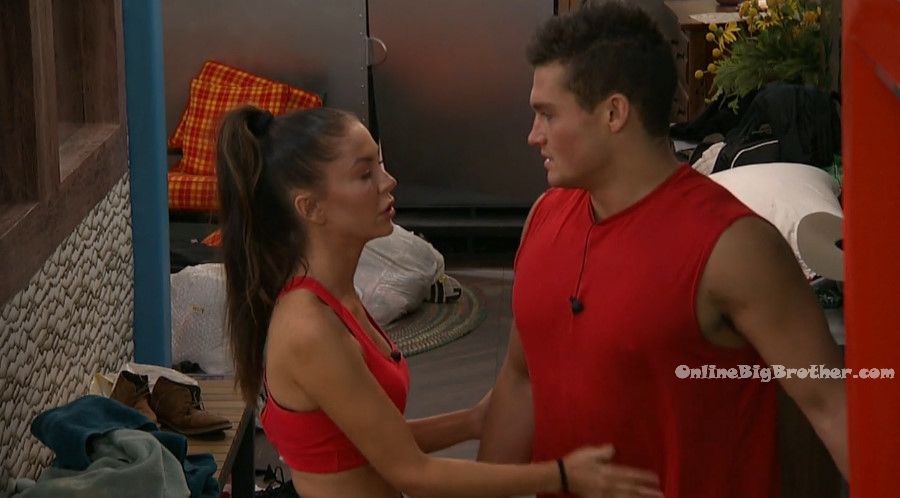 While alone Cliff tells Nicole – I trust him. Holly comes back and talks about how Jackson is mad. She says that she should be the one that is sad.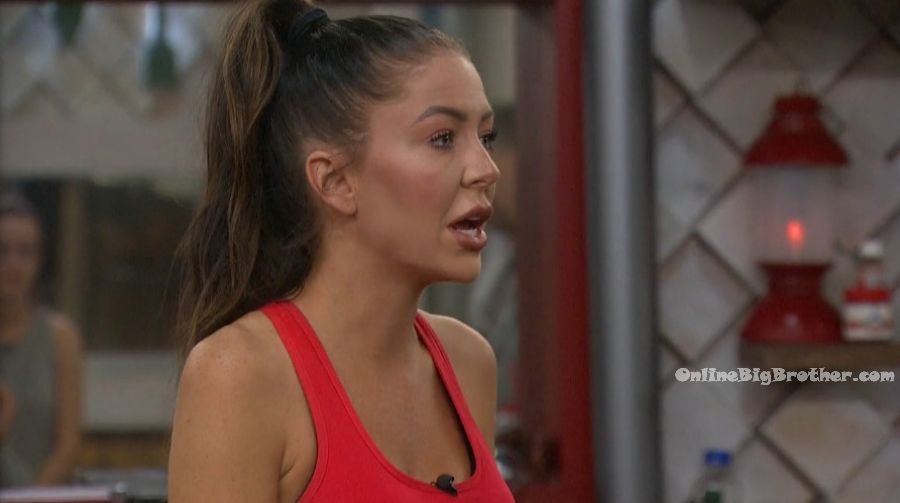 Nicole, Holly and Cliff talk about the competition and how they had to run back and forth. They realized that this was Michie's comp because of his stamina. Nicole – no offence against Michie. I am just frustrated in myself. Holly – me too because my life was on the line.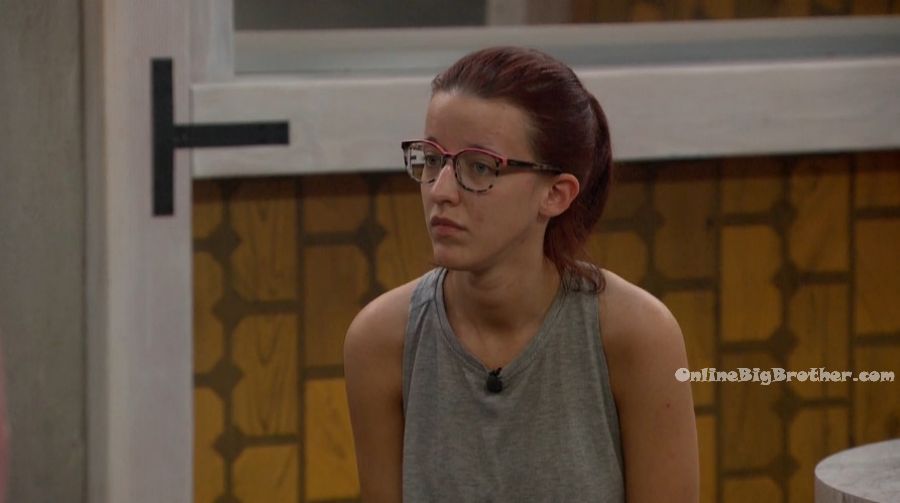 7:33pm Jackson comes out of the diary room and head to the bedroom to do a prayer by the bed. Holly comes in and Jackson asks her to give him a second.
7:35pm
Jackson comes out of the bedroom and opens his arms to Holly. She jumps on him to hug him. Jackson – I would never turn my back on you. You're coming with me. Holly – do you realize how much you deserve the half a million dollars!? Do you realize that. Its within reach. There is no way if you're up there the jury won't give it to you. Jackson – I want you up there with me. Holly – you deserve this. Jackson – we're going to finale night! Jackson – we did and no one in the jury wanted us to. We wouldn't be here in this position if they didn't try to F**k it. Holly – I handed her top three. Jackson – nothing in this game or in life is just served up on a platter. I'll be damned after working my a$$ off if I am going to give someone else a half a f**king million. I worked hard to get here and I am not giving it to anybody! Holly – you worked harder than anyone. Jackson – I give you permission to compete but you have to evict him?! It makes me want to f**king throw up. Holly – like I said in my eviction speech you have a heart of gold and backbone of steel. And that backbone does not allow bullsh*t like that. Jackson – if y'all want to be snakes in the grass I will slither right there with you. But there is bite behind this f**king bark and y'all are about to see it. Holly – you amaze me! Jackson – we did it!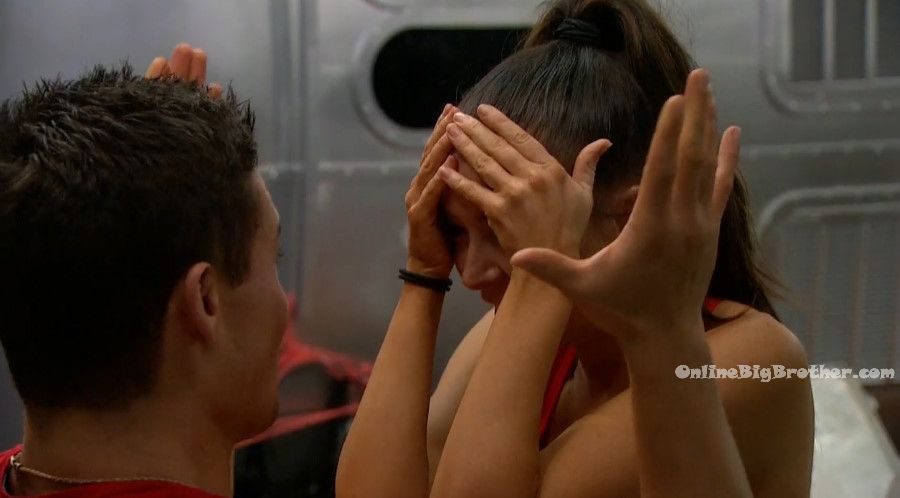 7:40pm – 8pm Kitchen. Jackson tells the others in the kitchen that he might sleep on the cot tonight. Jackson – I walked away from that and was about to have a panic attack. I was like can we please just go to the backyard. Cliff – I heard you and I saw you. Jackson – I was certain. I can live with loss when I did the best I could. I walked away knowing the mistakes I made and what I could have done to change them. Cliff – as long as you know you did the best you could. I came in at 38 minutes. I was exhausted out there. They all sit around the kitchen talking about how are the comp was and what their strategies were.
8:03pm Jackson – my blood pressure was scary high. I wasn't throwing a temper tantrum but I was so mad I thought I was going to tear up the DR. I thought.. I was so certain. Cliff – I think we all left it all out there in that last veto. Jackson – we did. And even though I know where I could have fixed it .. I truly gave it my all.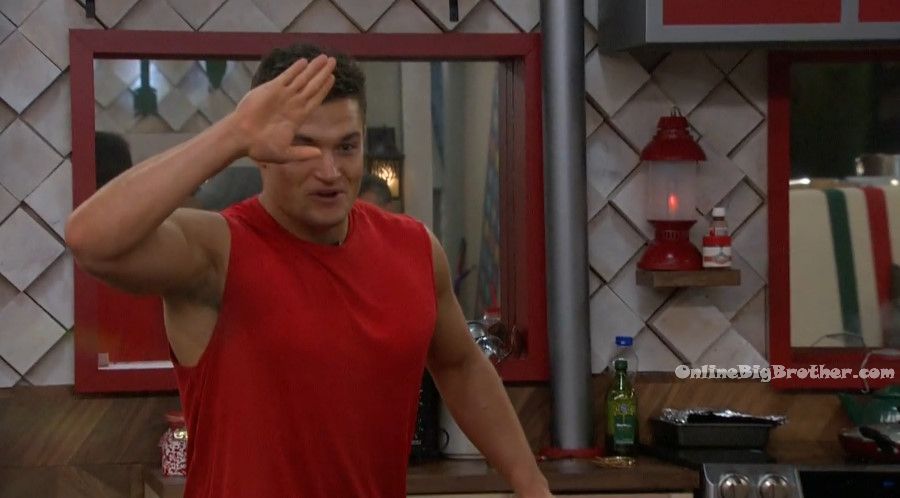 Kitchen. Jackson – Mom is going to be so happy. Nicole hugs Jackson. Cliff – you all did so good. Holly – we all worked so hard to get here. Jackson – I don't think anyone expected any of us to get this far. We all had the odds stacked against us. We're in the final four! Cliff – since day one we all had a connection. Holly – you three were who I was instantly drawn to you. Cliff – the three of you have a special spot in my heart. They reminisce about the personalities of the evicted house guests and why they got evicted.
8:24pm – 8:40pm Cliff – our first formal dinner at the small table. Jackson – what was that one called? Nicole – "Win & You're In!" The sit around the table eating and chatting.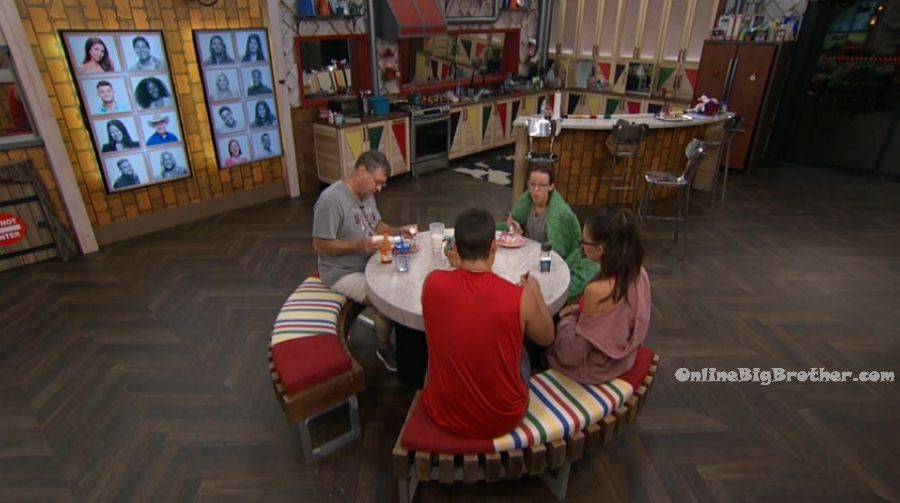 Kitchen. Cliff and Nicole. Nicole as a fan of the show I would be more than happy to see you and Michie. Cliff – well thank you. Nicole – and that's okay with me. The competitor and the perfectionist in my is very frustrated in myself. Cliff – its two versus one. There is still game to be played. Now if either one of us goes up against him in the final 2.. it is going to be hard. But if either one of us takes him out .. I think that helps our own case. You and I with voters… who knows which way that will go. Nicole – it could go either way.
8:53pm – 9:04pm Bedroom. Jackson holds the veto and tells Holly – this is our ticket to final 3! We're going to finale night! Give it a kiss. They both kiss it and then kiss each other. Jackson – I did it for you. I was fine ..both were going to take me. Holly – I don't think he was going to. Jackson – I wasn't going to risk it. Jackson – I am sorry to the Hogg family. (Cliff Hogg) This would not have come to this if they had kept their word. He should have stuck up for himself and not the he was sticking up for Nicole. Its going to cost him. She might have cost him half a million. Why would I bend over backwards for someone who broke their word. If you want something you f**King take it. You don't just wait for someone to hand it to you. I am not done fighting.. we have a job to do next week and I am going to bust my a$$.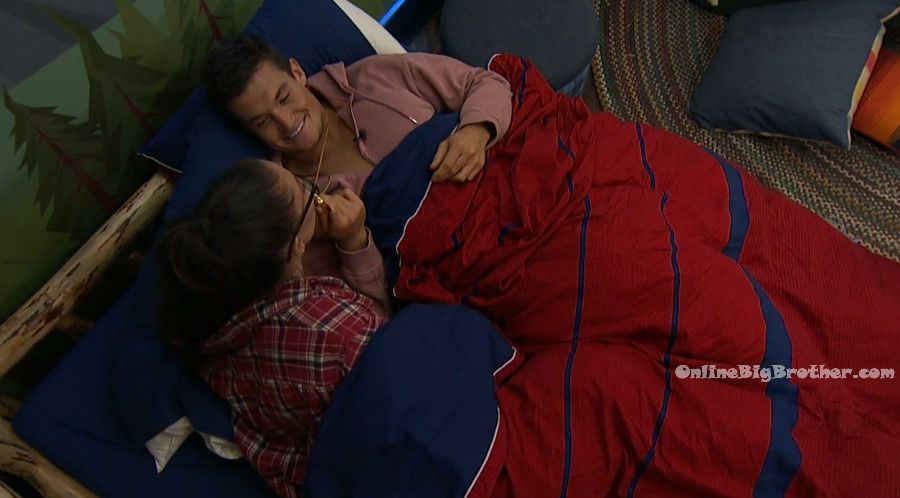 9:26pm Nicole – Love fest!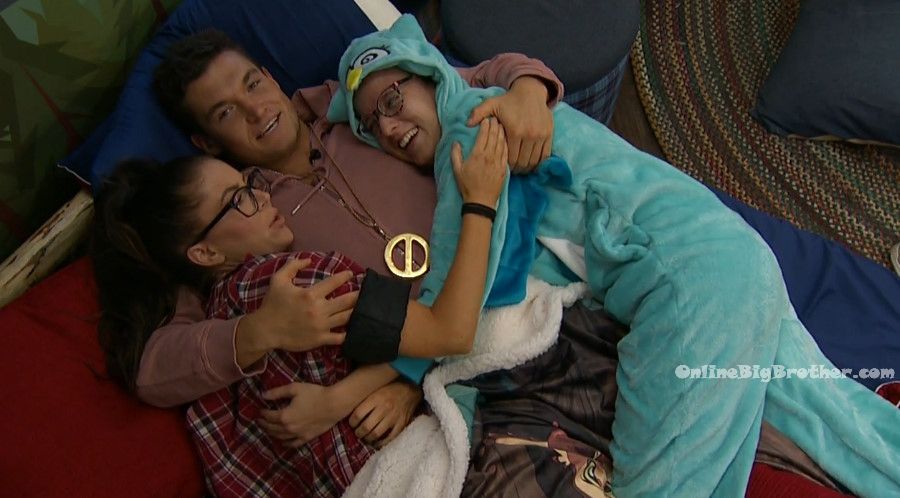 9:40pm – 9:52pm Tie die party .. POP TV gives the house guests t-shirts and ink to do their own t-shirts. They leave it to do later or tomorrow and head up to the HOH room. Nicole listens to her music and Holly / Jackson play chess.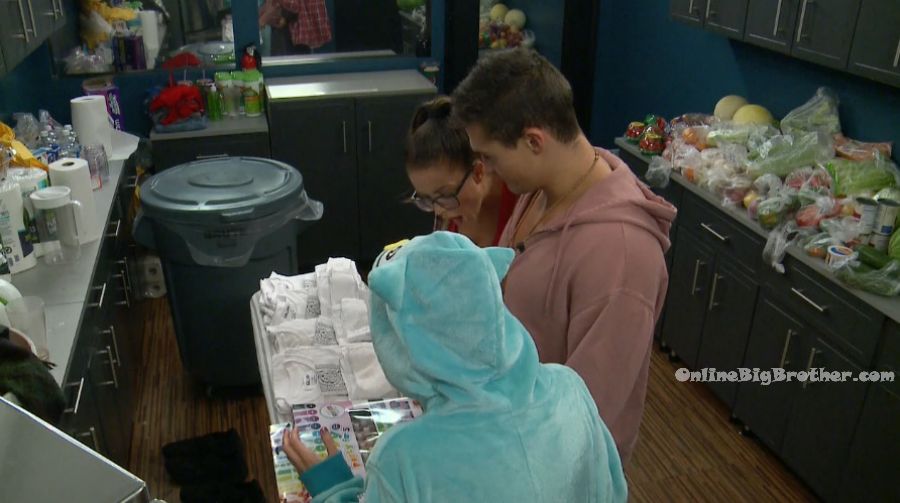 10:12pm The reality of everything is hitting Nicole. Jackson – your social game is impeccable. And you earned a spot in the final 3. You earned it. Your social game has carried you thus far. You won the veto to keep you and Cliff safe. Your physical game has brought you to final 3. Nicole – I know. Jackson – there is no reason why assumptions should be made or why you would feel like you haven't earned something. Nicole – even just in general.. and maybe I shouldn't be saying this until after the season but I've questioned everything so much that for you guys to go with your word that.. just I don't know! You're far better people than me .. I don't think I could have done that. Nicole starts crying. I just feel bad. Jackson hugs her. Jackson – don't feel bad for a second. We all have to turn on each other at some point in this game. We signed up to be 1 out of 16 winning. One person wins and 15 don't. The decisions we make are game but the connections are real.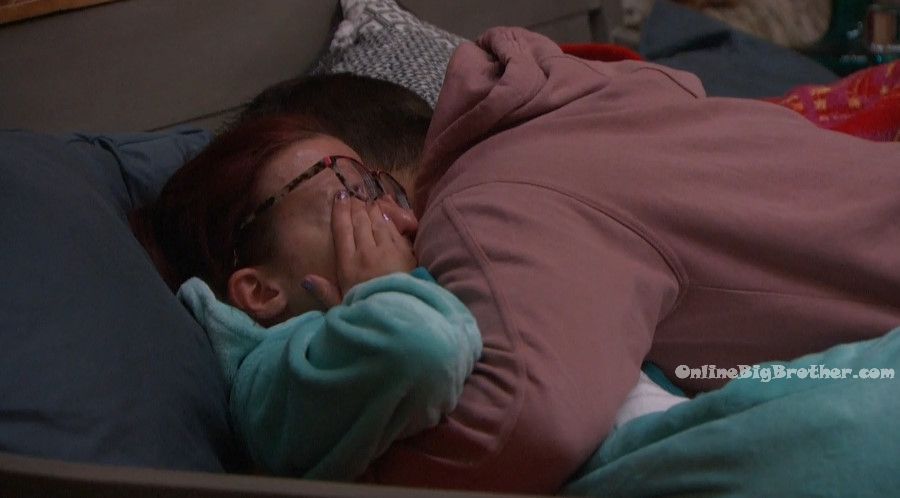 10:50pm HOH room. Holly talking to the cams. Meanwhile, Cliff and Nicole chat about the game. Cliff – this is the strangest experience I've ever been in. When I get out of here I'm not going to be able to trust anyone.
11:36pm – 12am Nicole and Cliff reminisce about past events of the season while looking at the memory wall. The conversation turns to talking about their outside lives and other random things.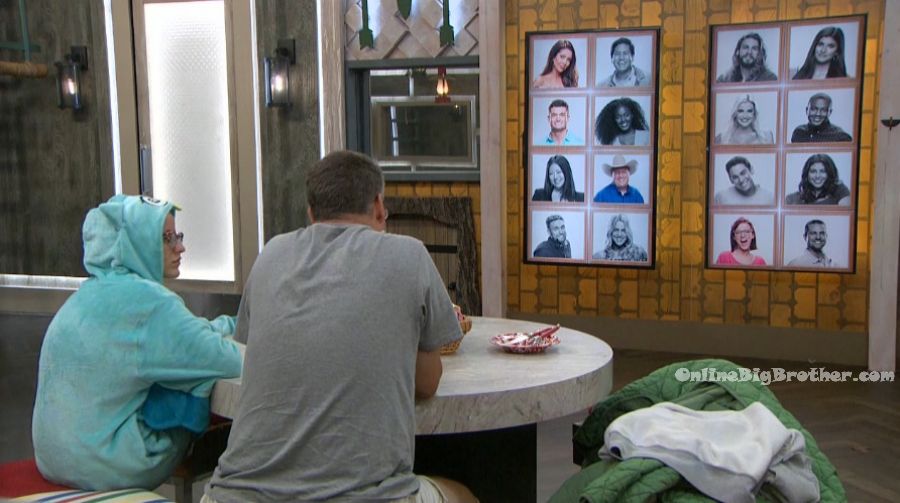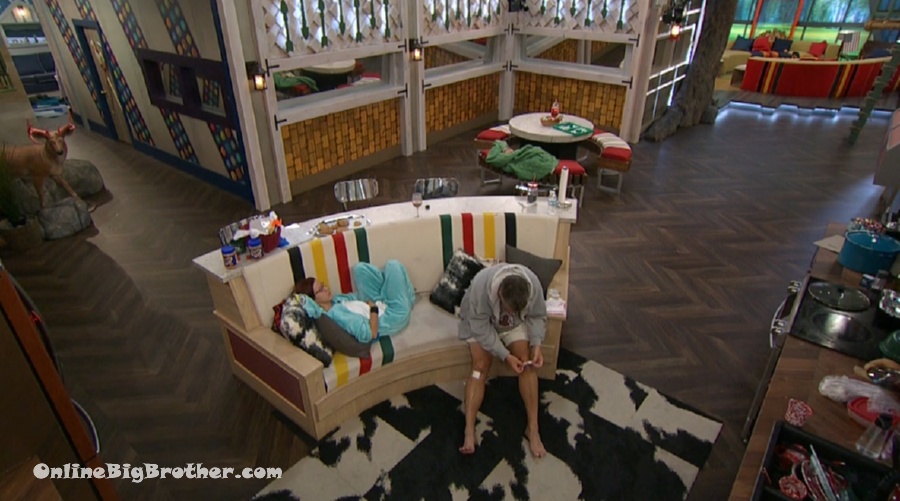 12:47 am Cliff and Nicole
N – I just hope it works out CLiff
C – I think it will
N – You spoke with Michie again?
They agree he shouldn't be the paranoid person that always brings up the matter.
C – he'd be hard-pressed to change it he's talked about it too much.
N – It still amazes me she threw that HOH. Am I a different type of person am I a horrible person?
C – she agreed to do it for a chance to be here another week
N – even then if people voted for me to stay I would have a hard time going through with it
They talk about hos much money Michie has won already
Cliff – you're going to make somewhere between 10 and 500 thousand
Cliff says the viewers are "watching us make deals and make things happen there's nothing wrong with that"
They go on about Holly taking that deal and throwing the HOH.
N – I feel guilty because I knew she was going to throw it I was like oh great Cliff and I will win I never discussed with you what we should do. I should have thrown it to you I don't know why I didn't consider that.
C – no we did it the right way. Why would you throw that one to me that wouldn't make any sense?
N – I have survivors guilt
N – I respect Michie's game so much and he deserves to be in the final 3
They agree they wish Michie was in Final 3 but he Deserves to be there
Nicole – so much
Cliff says Mcihei is a "Southern Gentalman" in the south "A handshake means something"
C – if you look a man in the eye and shake his hand and agree to something
N – that's crazy
C – all this swearing on the bible. it's just a handshake and a look in the eye. That's why I trust it'll go the way it did
C – that's why I felt a little trapped if I had won
Cliff is happy he made the deal with Jackson he thinks Jackson will take him over Holly.
Nicole tells him he's got her jury vote.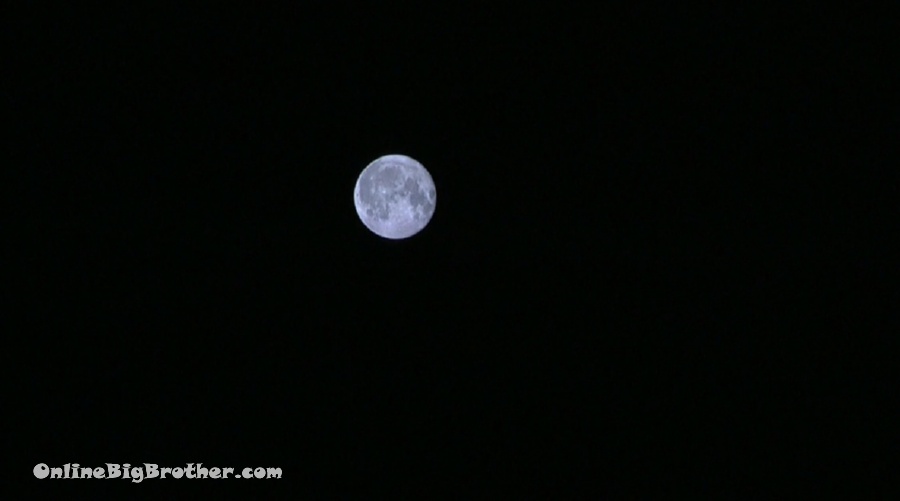 1:02 am The backyard is open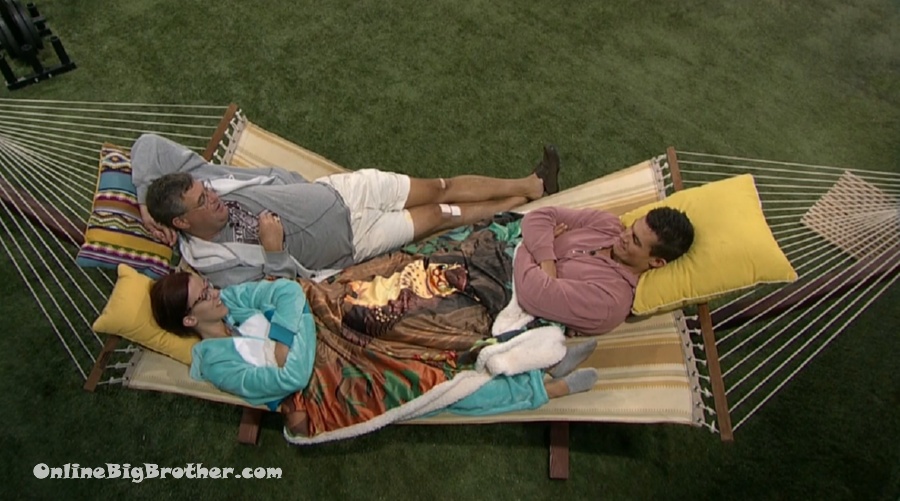 1:20 am Chit chat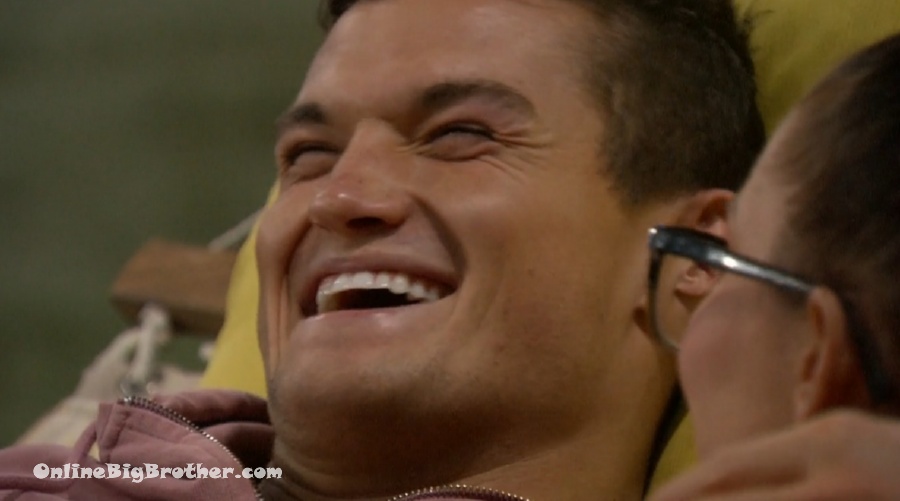 1:54 am Michie and Holly
Talking about using the veto on Holly. Jackson laughs that with his luck she would decide to keep Cliff over Jackson
H – WHAT! JACKSON! never in a million. I threw a fricken HOH to Nicole
J – how stupid would I look guaranteed ticket to final night give it to a girl I'm in a showmance with BURNED out you go
H – You know I would never in a million years do that but it's up to you
Holly says even if she knew she would lose to Jackson, in the end, she could never evict him, "I cold enver live with myself if I don't take you"
Jackson says if Holly wasn't here he would roll the dice with Cliff but if Holly is here he wasn't to go to the end with her.
Jackson – I really wonder if Cliff would have taken me.
H – he was making it seem like it wouldn't be you to me
J – that's fine if that's the case it makes this a whole lot easier
2:16 am
J – He got very out of his Character the past week
H – he's exhausted I feel bad
J – I do too
H – like you said he's getting sloppy
J – Sloppy
H – He's always been a deals man always but he's making sloppy reckless deals
J – reckless. He's not thinking them through. There are only 4 people in this house and you're thinking that talking to the only showmance in the four they are not going to compare notes and realize what you are doing.
J – You're telling me to my face if you pick me to go to final 3 I have to take you to final 2 but then you are not taking me to final 2 in return
J – You're telling Holly that she has no choice but to throw the HOh and the veto but if she wants to compete in the veto she has to take you (Cliff) to final 3.
J – I'm sorry it's almost comical. In what world would that ever fly. Especially knowing the individuals you and I are? Do you really think we'll bend over backwards here's your finale night ticket
J – I'll take fourth I'll do whatever I can to win this thing but I rather you have it.. You have it.take it.. no it's all yours
J – I love him as a man and I have so much respect for him on a personal level and that will never change. I had so much respect for him on a game level until this week
H – Same
J – that's the unfortunate thing.
Jackson explains had they not tried to flip on Holly she would have won HOH
J – it would be a tough decision for me to pick between Cliff and Nicole. Very very tough. But this picking between new cliff. Cliff 2.0. FDR Cliff and Holly it's a no brainer.
J – it gets me so worked up when he said in the kitchen it's all your last few days
J – No offense Cliff but he made these deals way too soon he should have seen the outcome of the veto. He was trying to set himself up for success this early. knowing we will gun for the veto!
H – there first mistake was breaking our deal. Our FInal 4
Jackson says all the Keeping Tommy Drama and Cliff/Nicole going back on their deal last week is what is costing Cliff his game.
J – That was a half-million-dollar mistake
H – it was, going back on their word, Forcing me into a corner
J – strong-arming you
H – and then I didn't go back on my deal and things turned out regardless
J – the thing that infuriates me the most is the superiority to you and him making you feel inferior like you need his permission to compete in a veto. The most important competition of the season. 13 weeks in the making. She is 31 years old grown women she doesn't need permission from anyone for anything in life.
Jackson about what Cliff said "You can compete but if you win you have to use it on me"
J – either you don't compete. You throw it to me OR you will be allowed to compete on the grounds that you evict him (Jackson)
Holly laughs
J – where's Ashton Kushner is he going to say we're on punkd
H – it's one of the more outlandish things I've ever heard.
Jackson – this past week he's been sloppy. He's playing checkers now. He's playing like Nick, Like Bella. Just slinging sh1t around seeing what sticks and getting messy doing it
J – He's not Cliff right now. He's off his game
H – I know and it makes me feel bad or at the same time is this more of his true character begin exposed now that he's so worn down.
J – I think he's exhausted and he's making decisions outta haste to be done with this. He's over it and doesn't have the energy to put the thought or effort into it
J – I think last week for them to have the power to control the fate of this house got to their heads a little bit
H – it did
J – There's a sense of confidence thay they didn't have all season
H – they haven't been in power for most of the season
J – they had FULL control
H – Cliff had one HOH early in the game since neither had any power until day 79. their whole attitude changed.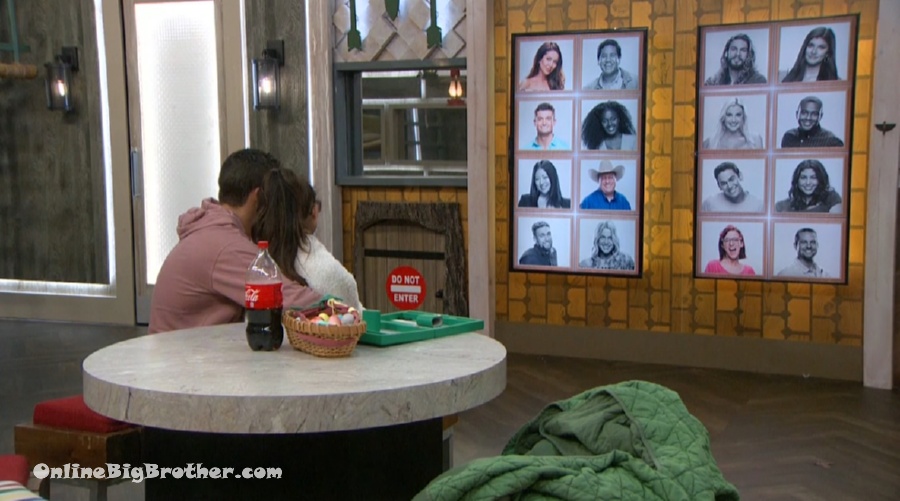 2:42 am Holly and Jackson
Michie – feels like yesterday I was trying to get votes for Camp director and making it seem like I don't want it.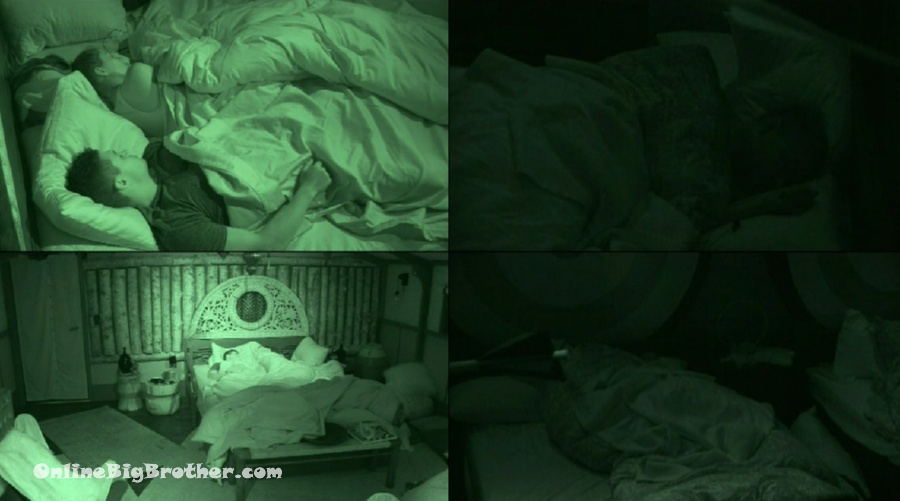 6:20 am Zzzzzzzz
10:26 am Nicole up talking to us about her casting experiance.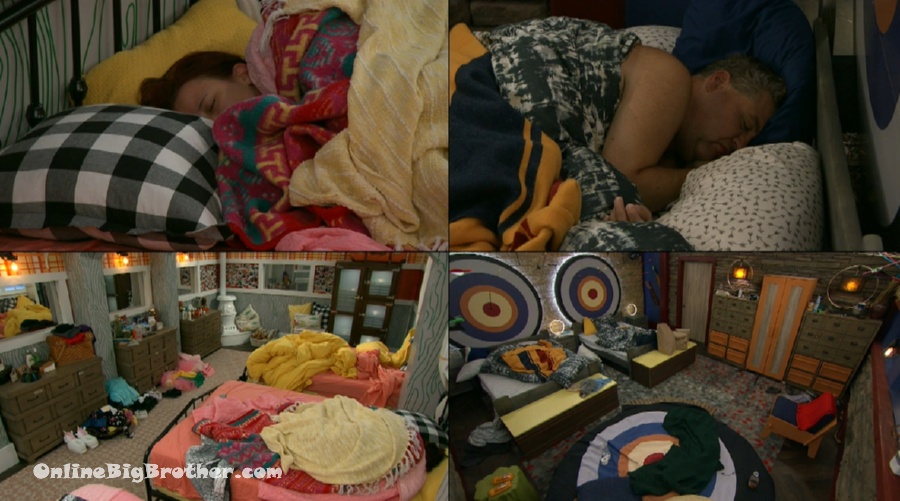 11:41 am Zzzzzzz
Show your Support for all the sleepless nights Simon and I have put in for the last 88 days straight. As an added bonus we also wanted to give a little more to those that donate: Click here for more information.
Any amount is appreciated! Thank you