Head of Household Winner: Nicole
Nominations are: Jackson & Holly
Power of Veto holder:
Power of Veto Ceremony:
Grab your live feeds —-> BB21 Live Feeds Subscription Link
Rank your houseguests —-> Big Brother 21 Ranking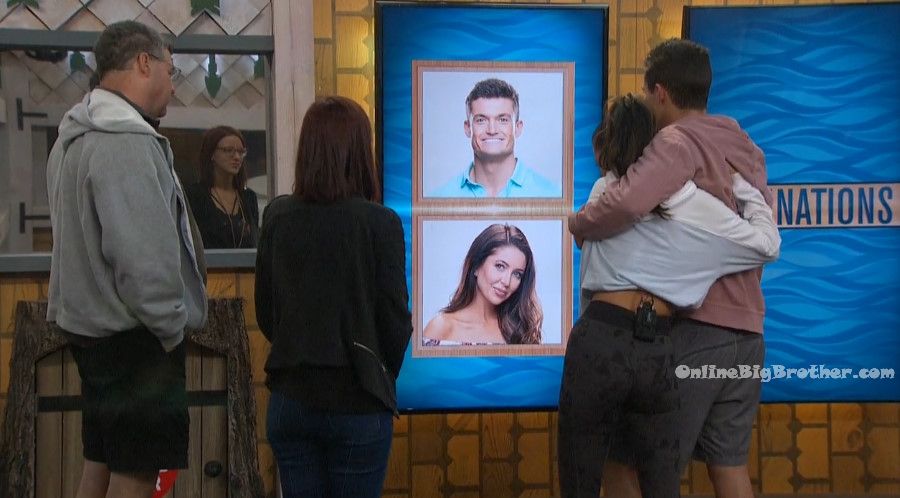 Nicole Nominated: Jackson & Holly
This week the nominations don't matter as it all comes down to the veto. If Jackson, Cliff or Holly win the veto they will decide who goes to jury. As HOH, if Nicole wins the veto she will decide who gets to cast the sole vote to evict.
5:45pm – 6pm The live feeds return. Jackson – what are we day 87? There we are (nominated). Cliff tells Nicole that was a good speech. Nicole – I stumbled a little bit. Jackson – we made it final four. Congratulations. Cliff – we deserve it! Love all y'all. Nicole – love you too. Nicole and Jackson talk about meeting each others family after the show is over. Jackson – their impression of me is going to be not the one of me that you know but what they've seen from the show. I can't wait to tell you things about my real life that I don't want the whole country to know. Nicole – we will be a lot more unfiltered. Jackson – we're going to be able to say whats on our minds. Nicole – I've become more my genuine self the more the seasons gone on.
6:08pm – 7pm Everyone gets horizontal in the living room. Nicole – this is nice! This is non-nap nap time. Jackson – so if the sink is full of dishes on finale night .. who washes them? Cliff – I'm not touching them. Nicole – I'll wash them. All the house guest nap on the living room couches.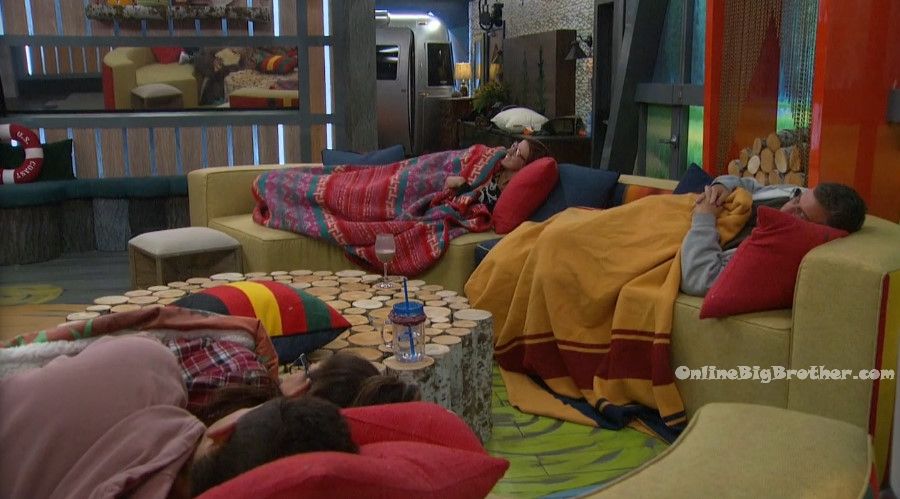 7pm – 7:40pm Cliff is up pacing in the kitchen. Nicole is staring off into the distance in silence. Jackson to Holly – no matter what happens, it doesn't change how I feel about you outside of this game. Holly – I know. Me too. Jackson – personal and game are different. Holly – I know. Jackson – either way no matter what happens this thing is over in 11 days. You will still be in my life outside of here… together or separate. Holly – forever. Jackson – MMmmhhhmm. Always be best friends. Holly agrees. We got lucky. Jackson – god blessed me with a good one.
Cliff sums up the last couple hours..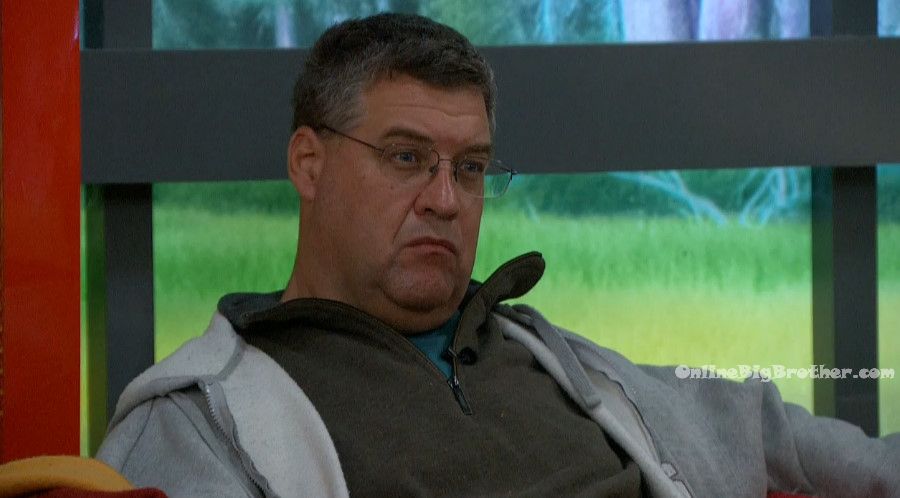 8:30pm Jackson asks Cliff if he is alright? Cliff – yeah, just tired. Just the typical worry .. you know. We've got veto tomorrow and my a$$ is on the line. Jackson – just checking in. Just the look of concern. Cliff – I'm good, if you're good. Just because its tomorrow. Faith extended.. we shook and all that. Jackson – I'm not wavering. Personal relationships and game relationships will always be different. I am very close with her and will continue to be outside of the house. And on a personal level she is my person in here. On a game level I have to do what is best for my game. Cliff – and I told you and I told Nicole as well .. I am just trying to not have anymore secrets. Jackson – yeah. I just can tell you have the gear turning. Cliff – just nervous just because. Jackson – everyone without a key is nervous. Nicole – I'm still nervous! Jackson – its four and everyone is nervous. Cliff – I made a promise to you, you made it back. Jackson – I just wanted to check in on you.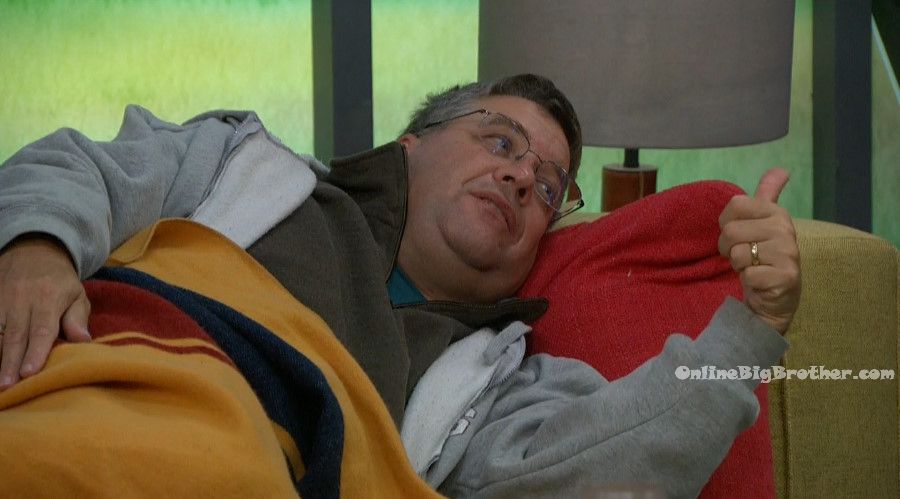 8:56pm The house guests continue to laze around waiting for 10pm when they're allowed to go to sleep.
9pm Cliff and Nicole study the house guests faces and point out features to look for if the veto is the face morph competition.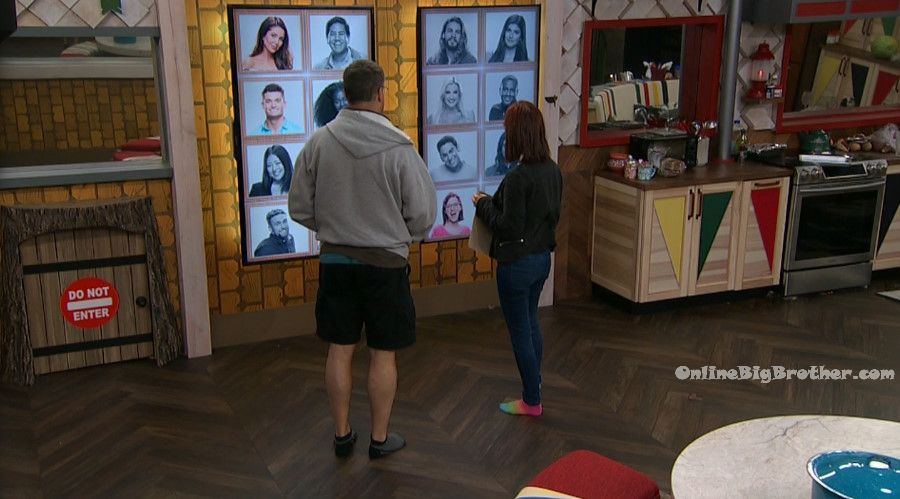 9:06pm Kitchen. Jackson and Cliff. Jackson – if you're thinking about not keeping me let me know. Cliff – no, I am telling you right now if I win veto I am taking you and if you win veto you take me. Jackson – I just wanted to make sure. I just have a little PTSD. I would shoot myself in the foot if I didn't ask. I not doubting, I'm just asking. Cliff – even Nicole, I told her what our agreement was. Theoretically taking you over Holly it makes it tougher but I'm up for it. Jackson – Holly and I are playing our own game. No matter what happens we are going to stay focused.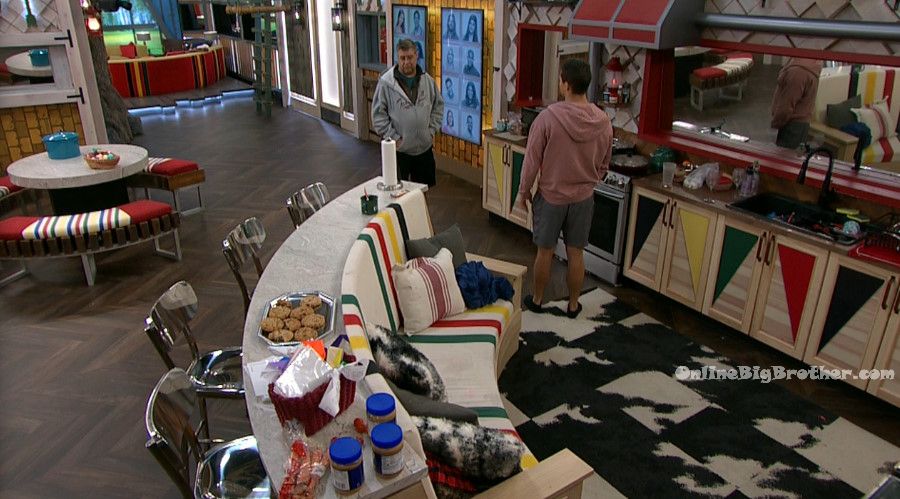 10pm – 10:50pm HOH room. Cliff tells Nicole about how Jackson was questioning if they were still good and that Cliff was going to follow through with their deal. Cliff – based on that I probably would take him and I don't think I would flip. Nicole – okay. He scares me Cliff. Cliff – I know he does. And we can talk about it .. but I would feel very bad. VERY BAD! And there is a part of me that wishes I hadn't even promised but I just feel like I had to. Nicole – maybe like… because I am such a firm believer that things happen for a reason and things work out the way they should so maybe we'll take it as a sign. If Michie wins, it is what it is. And hopefully he adheres to it and takes you and if you win it they maybe it is what it is. Nicole – no one has considered if I won it. If I did, you would still be the sole vote. Maybe things are meant to be. Cliff – I am sorry. Nicole – its okay. I am just worried if he does win it he might just take Holly. Its a game. Holly joins them. Nicole – I respect you so much and that you kept your word and threw it. That was just blasphemy to me. Holly – that was really hard for me to throw it. Cliff tells Holly how he's felt bad about the deal he made with Jackson. They talk about the veto happening tomorrow. Holly leaves.
Nicole and Cliff. Cliff – I would love to see her win. Nicole – so would I Cliff. Alright are we making an agreement that if Nicole wins the veto I get to decide what I want to do? (So she would tell Cliff who to vote out) They shake on it. Cliff – you are in control if you win the veto. Cliff heads downstairs.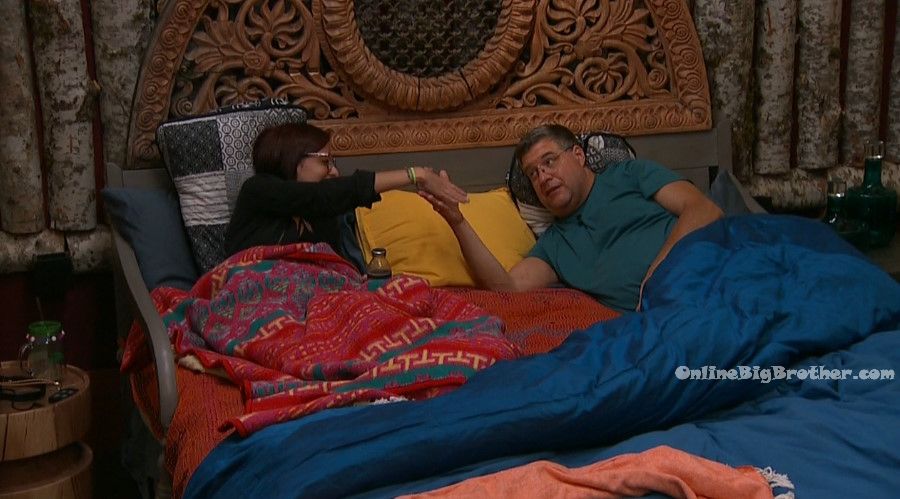 11:30pm Bedroom. Holly and Jackson.
Jackson – we have to win tomorrow! Like we HAVE to win tomorrow. Holly – I know. Jackson – like I am trying to make him calm and not stressed. Holly – I was up there talking to Nicole about throwing the comp. I said it was hard for me once I got up there. This is what secures your spot in the final 3. And I said I don't know if Tommy would have dropped. I said it was really hard for me but I gave you my word. And Nicole was like yeah I didn't expect you to. She was like yeah I really didn't think you were going to drop. And I was like What?! Then why the f**k did we make those deals!? If you thought I wasn't actually going to do it! She was like so thank you. She said I am not really used to people doing what they say they're going to do. She was like I didn't actually think you were going to throw it. I am like what is going on here!? Then I shouldn't have! I could be safe now! I feel so stupid! Like so stupid. Jackson – what's done is done. We have to focus on tomorrow. Holly – it didn't feel right. We were up there for such a short amount of time. Like it was a joke! Jackson – I know Holly! Please stop beating a dead horse because I don't feel good about it either.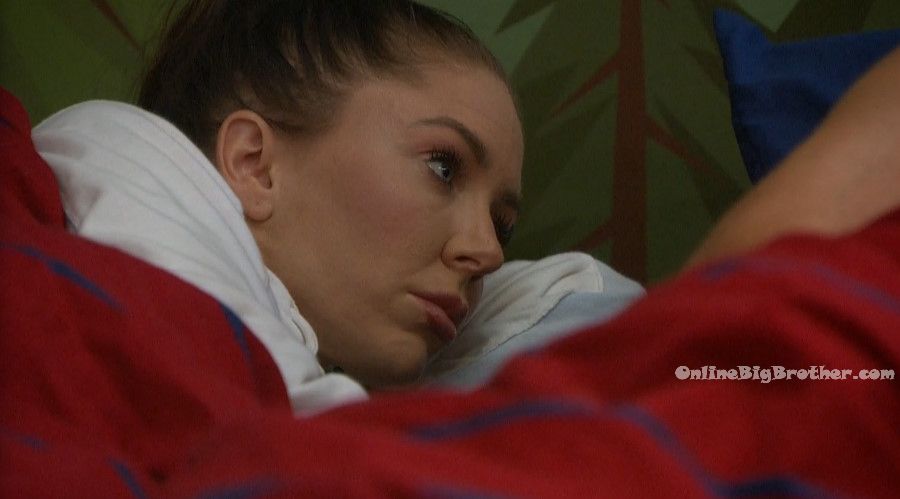 11:40pm Jackson and Holly head to the memory wall to study the house guest faces..
11:57pm All the house guests are sleeping..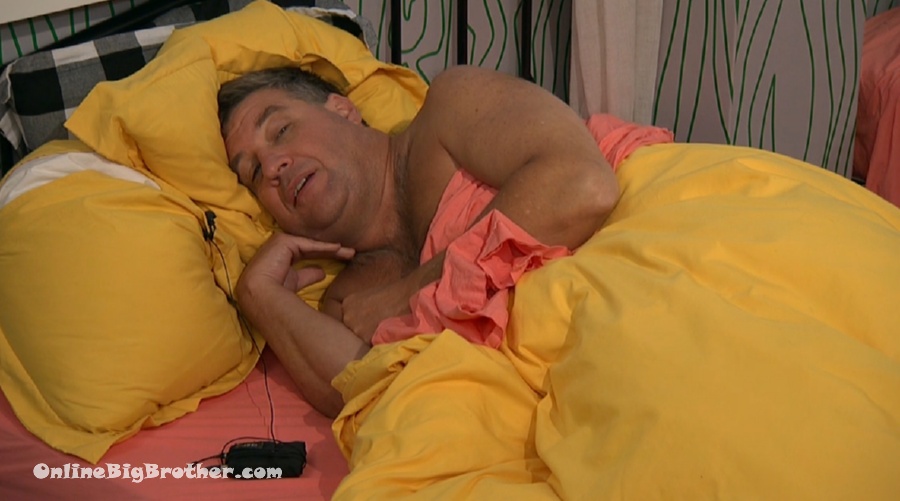 12:41 am Cliff rolls into the bed
"another day Big brother today is day 87, 12 days left."
"Sharon I"m counting down the days, I'm so ready to see you "
"Another stressful day not as bad as yesterday, trying to work out agreements doing what I can to advance"
"I do think I have it set in play that I will make finale, unless Holly or Michie break their word and I don't think they will" (LOL)
"If they don't then I'm in the final 3 and a good chance I'm in final 2 where I can talk to the jury"
"I may have to face Michie in ta Jury vote which will be difficult. He deserves to be there"
"If I win Veto I don't thin kI can go against my word and not take him with me. I think I'll have to. I think I may have the votes in a jury but it will be close"
"I'm a good speaker a logical speaker. It might not be Michie it could be Nicole, it could be Holly. Holly will be gunning for this veto also. Michie is OKay with that"
"we're all good so… you know… I keep making deals there good in that they get me where I need to go but I still have to be careful. I'm doing the best I can"
"I'm trying to do what's best for my game without destroy whatever integrity I have. It's funny becuase I remember once upon a time how crazy Cody was for taking Derrick with him and that I would never do that. when it came tiem to pick a final 2 partner I still don't think I would but a few steps removed from that. In order to protect myself and to make sure I get where I need to go I've promised to take a strong player to the final 3. That may come back to haunt me"
"I am so stressed out I just want to sleep all the time which for you live feeders is hell I know I'm sorry " (Frankly CLiff just sleep WE've all had enough watching you play your game)
"I don't quit I fight and I survive. I do what it takes"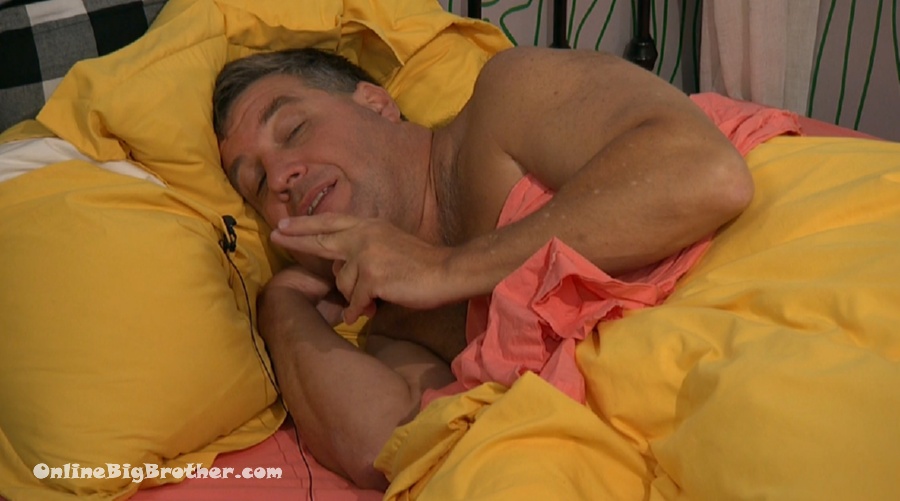 "If I win or Nicole wins my name doesn't come up on the block"
"If Michie or Holly wins they take themselves off the block I go on and then I just have to wait till Friday……. er Thursday and hope to god they follow through on their word and they evict the other person and send me to the final 3
Cliff crosses his fingers – I think they will I sure as hope they will (ZOIMG)
"what a game, what a freaking game, It's tough"
2:06 amNicole singing some sort of tea song "it's tea time we put it in a cup and drink it up "
If Veto is a dance off .. #BB21 pic.twitter.com/OiM0gIGJ8o

— OnlineBigBrother.com (@bigbspoilers) September 14, 2019
2:16 am Nicole studying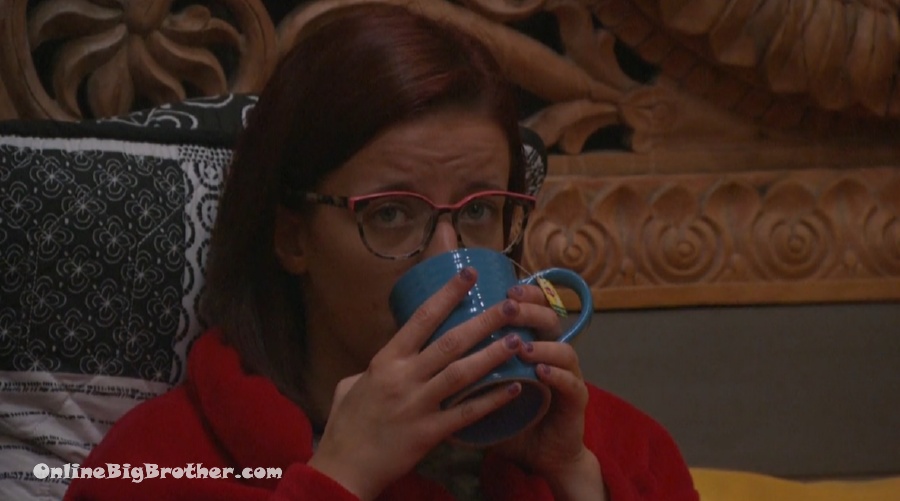 2:30 am talking to the camera "I love Michie on a personal level more than anything He is the brother I never had he is someone I expect to have in my life forever I absolutely love and adore him"
"He will and understand this whether he's in the final 3 or not he scares the living daylights out of me on a competitive level he is a beast I am very fearful going up against him in the final 3"
Nicole says she wants to move forward with Clif and Holly "Absolutely nothing against Michie. he's a beast"
"Feet are weird and toes are weirder these are the things I think about"
Nicole mentions seeing OVI today during the luxury competition "WOW"
N – Michie could win on a competitive standpoint however I've been pulling out some wins and perhaps if people are upset with Michie's gameplay and some of the choices he made so that's kinda a toss-up
N – Me next to Cliff umm.. although I would pick Cliff in a heartbeat umm I kinda fear that he would win over me but that's ok
N – It could either way if people are upset with Cliff's deal-making that could come back and bite him or people might view him as the amazing compe back kid I can see why that would be a toss-up
N – With Holly umm.. I know Holly is a fierce competitor. In my book. I know she's sometimes overshadowed by Michie. She's won competitions she's always been a woman of her word so that could work in her favour OR you know I've been winning a lot. My Social game has been good I could win
N – I should be down and out in all three regards there is the potential there
N – It's scary if Cliff goes Holly will take Michie cause they already went against their word with Cliff rightfully so it's a game. Michie would take Holly. So my only odds would be if I won. (Final 3 HOH)
N – In that case, I would bring Holly
Nicole adds if the final 3 is Cliff, Michie and her Cliff and her will pick each other and Michie will pick Cliff. IN the scenario that it's Holly, Cliff and Her she thinks Holly will pick her "Possibly I don't know"
Nicole goes to bed.
2:42 am Nicole says the HOH pillow smells like Michie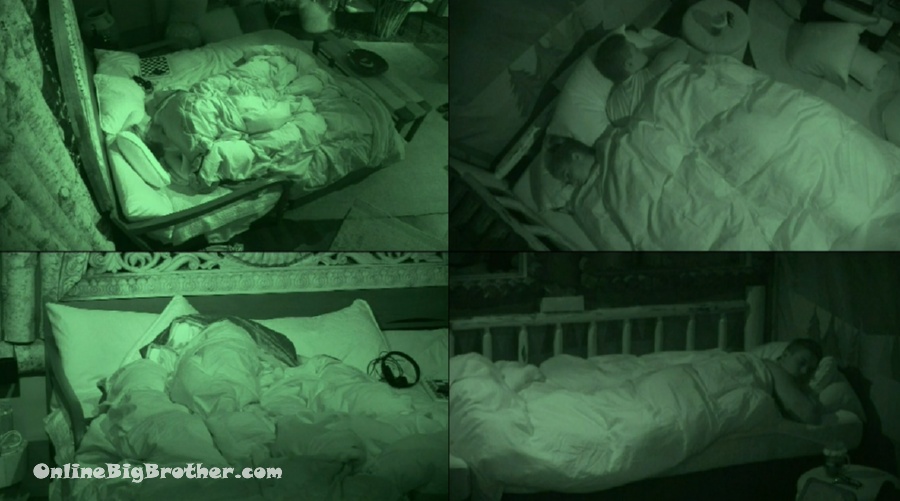 6:10 am everyone sleeping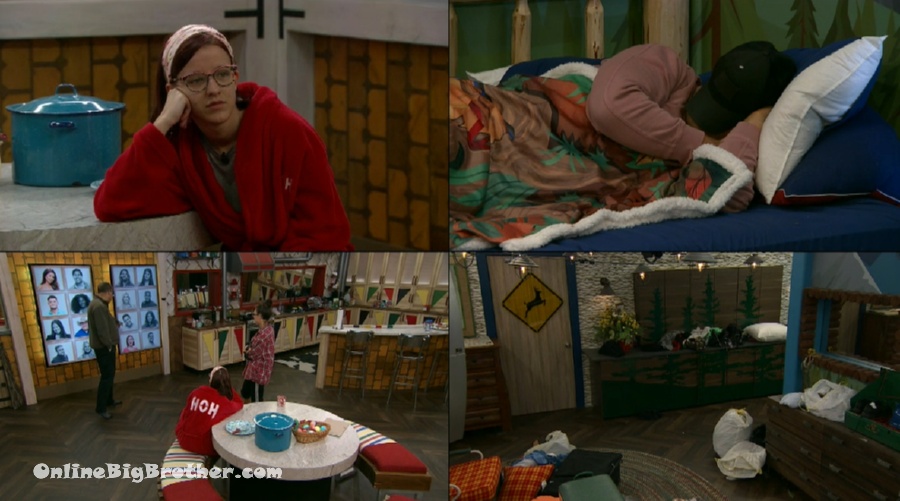 11:04 am Houseguests are up..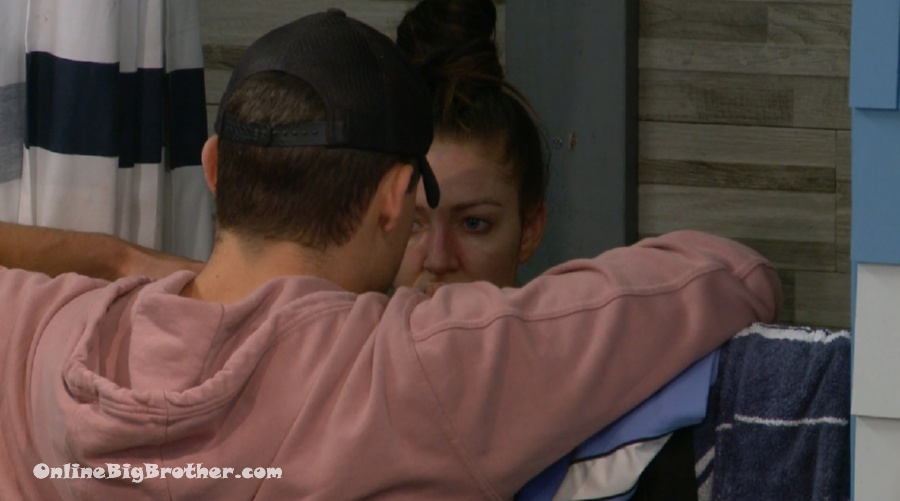 11:46 am The showmance
Holly says Nicole told her she operates well under pressure.
Jackson reminding Holly that Nicole has only won 2 competitions
Holly goes on about Nicole being safe and has nothing on the line, "She's calm"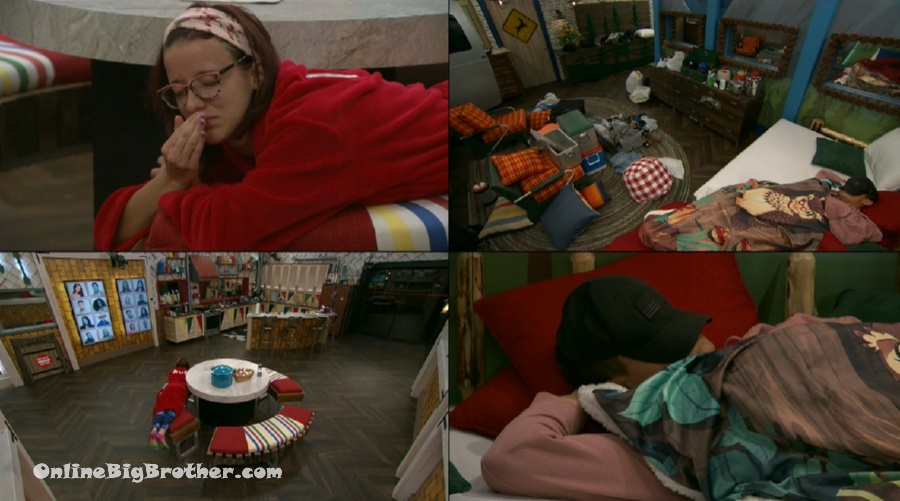 1:13 PM waiting for veto.. yo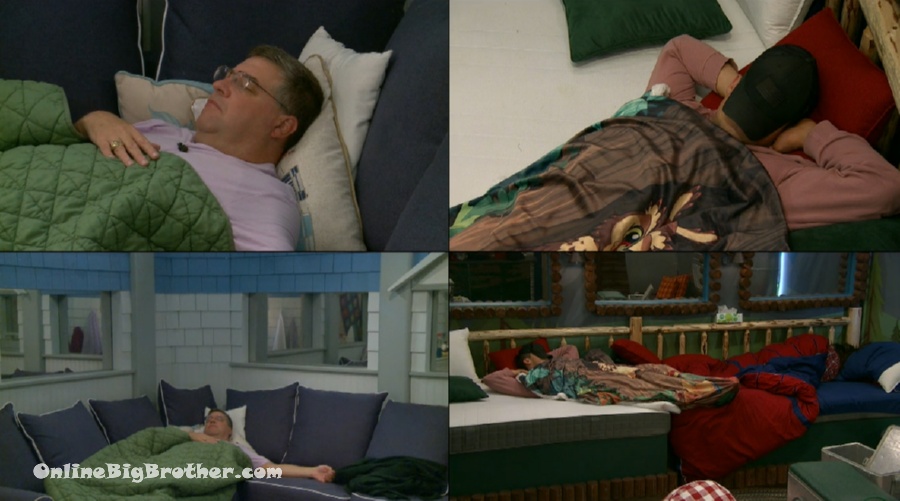 2pm – 2:20pm Nicole talking to herself in the HOH room. Nicole – you guys! I did it! Oh my god! I am going to be at finale night! YES! YES! OH MY GOD! I did it! This is insane! I said I would and I did! OH MY GOD! I know that you guys are watching! YES! YES! OH MY I am just going through all the phases right now! WOW! WOW! WOW! Incredible! WOW! I am going to see my family at finale night! You're going to be there and that's so exciting! I said I was going to do it and I f**king did it! YES! WOW WOW WOW! I just have to win this thing and then its a wrap! WOW! One step at a time. What's the next step, Nicole wins this veto. But Nicole you have safety. Yes I know but A I want to build a resume, B I want to ensure that Cliff is safe and C I want to have a say in who comes with us to final 3. That's what's happening right now. That's what's up! I already won it! Yup! Mark my words its going to be Cliff and I sitting in those final 2 chairs. Its going to happen! I am hell bent!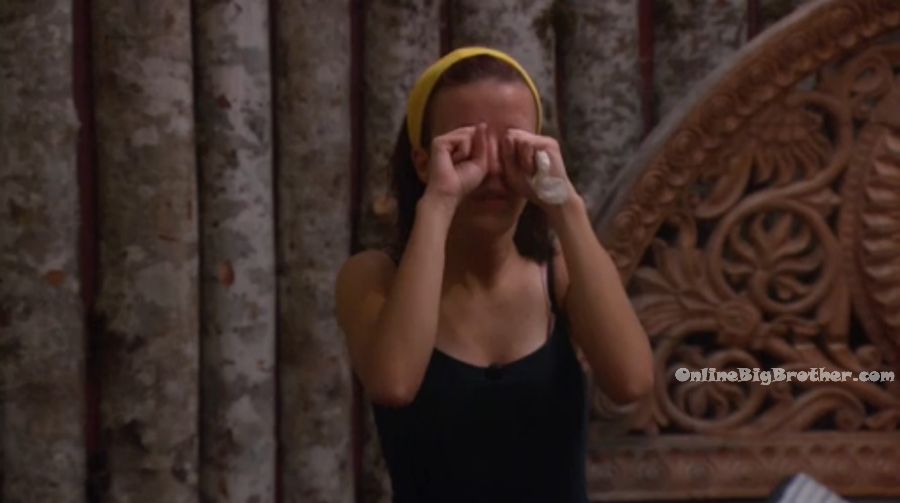 2:26pm Veto has started….
4:05pm Still blocked..
4:50pm Still not back yet…
5:43pm Nothing yet..
6:35pm The feeds are still blocked..
Show your Support for all the sleepless nights Simon and I have put in for the last 87 days straight. As an added bonus we also wanted to give a little more to those that donate: Click here for more information.
Any amount is appreciated! Thank you so much in advance!