Head of Household Winner: Nicole
Nominations are: Jackson & Holly
Power of Veto holder: Jackson
Power of Veto Ceremony:
Grab your live feeds —-> BB21 Live Feeds Subscription Link
Rank your houseguests —-> Big Brother 21 Ranking
12pm – 1pm
The house guests are sleeping / lazing around the house. Holly, Nicole and Jackson head to the kitchen to make lunch. They all head out into the backyard to eat.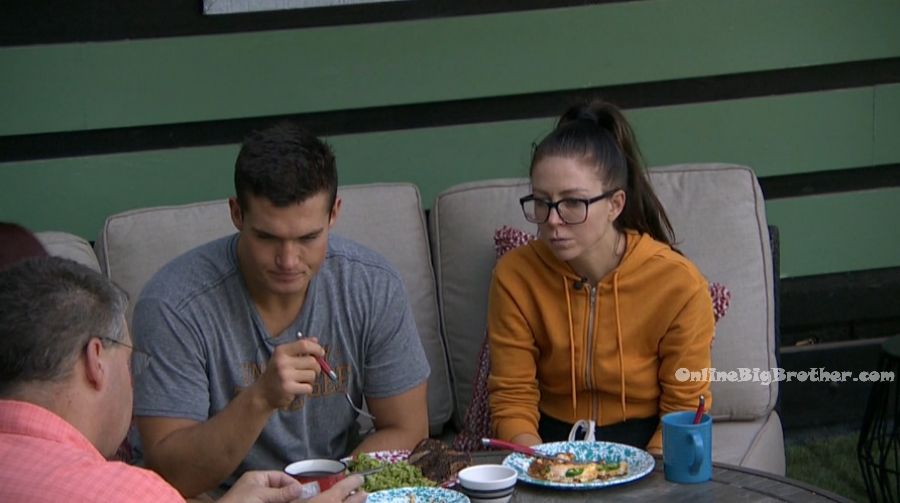 1:35pm Backyard. Nicole, Holly and Jackson.
Nicole – I appreciate you guys. Jackson – I appreciate you. I do. Holly – I appreciate you too. Jackson – what made you say that? Nicole – I was just thinking. Its very refreshing when people say things and mean them. And I don't know if I am used to that in my life and I know I'm not used to that in this game. Or rather I don't expect it. Its refreshing and inspirational. Holly – I am definitely not used to it in my life. Jackson – same. Nicole – Cliff was talking to me a lot about that and being a southern gentleman. The meaning of a handshake and eye contact. Jackson – its something that means a lot to me. And I am unwaveringly loyal to those that are loyal to me but I won't bed over backwards or go against myself for those that have been loyal for those that haven't. I will take a bullet for those that have been loyal to me. Why should I!? When you watch this thing back you will see me fully committed to the 8 until Nick and Bella started being sketchy and I started hearing things about them coming after me. That's when I started going after them. Same thing with our 6.. unwaveringly loyal, until I started hearing things about Christie. And then it was only against Christie and not the six. So then when Christie flipped on me and everyone else flipped on me, I have no loyalty to anybody except for Holly. Nicole – no, I hear you. Jackson – I am a man of my word to those that are loyal to me and when its not reciprocated everything else goes out the window. I am not going to make sacrifices or put in effort or do things for people that would not do it for me. And I love you to death .. more than anything. But I do .. and I hope I can trust you with this and I hope it stays here.. Nicole – oh no, should I be afraid. Jackson – no, but I do want you to know.. Nicole – maybe you shouldn't drop any bombs that I won't be able to.. Jackson – okay. Nicole – what say it. Jackson – I was going to say everything in my veto speech tomorrow that I needed to say. I was just going to give you a little heads up. I respect you and love you to much to not let you know. And this is nothing personal. And this stays here because I don't want it to upset Cliff and I don't want it to stress him out on top of the current health things that he has going on. The thing is, Holly and I were unwaveringly loyal to y'all and we had a deal to get to the final four. And we knew what we were getting ourselves into going against y'all and y'all knew what you were getting yourself into going against us. Cliff joins them and the conversation ends.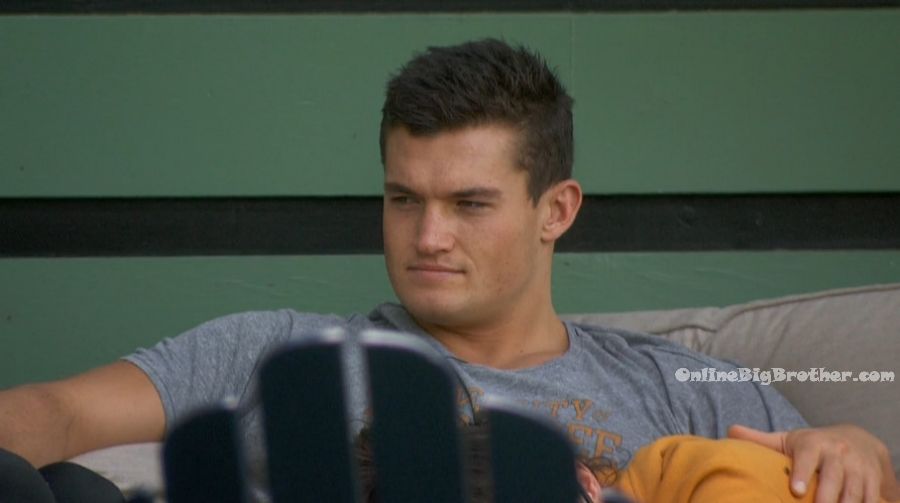 1:47pm HOH room. Jackson and Nicole.
Jackson – this isn't the big brother that I wanted to play. I came here to be open and honest and loyal to people. And my handshake and my word is rock solid until its not reciprocated and when y'all were going to keep Tommy and then forced us to.. Nicole – I know but I guess I am just frustrated on a game level ..just don't blow smoke up my a$$, don't use that as an excuse. Jackson – its not Nicole. Nicole – its more so ..like I know this game too well, I know the logistics of it. Jackson – Nicole, I am going to tell you right now.. Nicole – obviously, its obvious. Jackson – its not! Nicole – don't use last week as the excuse for this week. And that's what bothers me because.. Jackson – I am not. Holly kept her word and threw the HOH that she probably could have won. Cliff made me take a deal that said I would .. if I won the veto take him to final three and then he told me down in the kitchen that he loves you but that he would take me to final two but then he changed it the next morning .. I want you to know its not reciprocated. There are a lot of reasons why this is going to happen. Nicole – I am not upset with you and I'm not upset with Holly. This is the nature of the game. I respect the game too but but I think what I am upset about is that I saw it coming and because I saw it coming.. Jackson – but here is the.. Nicole – Cliff is not the one that was questioning voting out Holly. I was! I was the one that said I don't know about this and Cliff was like no they're people of their word. I honestly think Holly is the better choice. I said I don't know Cliff, where I come from people shake your hand while stabbing you. I knew it was going to go this trajectory and if that's the case I should have given that HOH to Cliff and that's what I am upset about. Jackson – I do understand. But I do want to voice exactly where I am coming from because this is not a matter of me stabbing people in the back. Nicole – I know, I'm not saying it is. I know this game to well and you don't need to use that as.. Jackson – its not. I will tell you exactly why. I love you and I've always said you're not a fourth wheel to a tricycle. Nicole – so I am just a third wheel to a bicycle?! This is going to be a great finale night!!! Jackson – no, Nicole. That's not what I am saying. Nicole – I am such a f**king dumba$$. Jackson – you're not. Holly and I were not at any point considering going against y'all. And we were told after the veto.. no funny business. Don't pack your bags, we're all good and then it turned into y'all were going to take Tommy to final four. And that is for me.. Nicole – because I knew this was going to happen.

Jackson – but it wasn't going to happen this way. We knew what we were getting into when we agreed to a final 4. Us two, y'all two … we all fight fair and square and whatever happens .. let the best man win. But that all went out the window when deals were retracted and words were broken. We got strong armed into taking a deal that forced me into evicting Holly if I won the HOH and take Cliff to final 3 and then take him to two even though he won't take me to two. And then you're going to make Holly throw the veto and then say to her we will give you permission to play but you have to take Cliff to then evict me! And then he will then take you to final 2.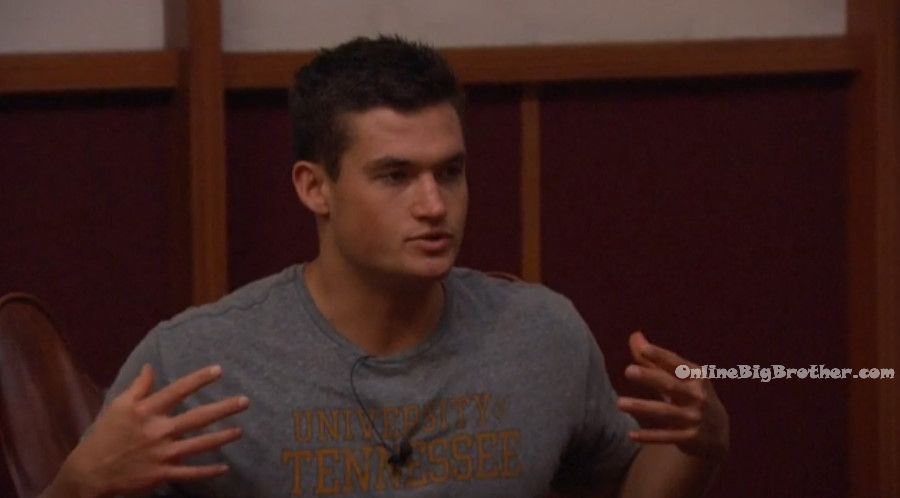 Nicole – I feel bad, I didn't initiate these deals. Jackson – its not the big brother that I expected Cliff to play and its not the big brother I came here to play but for me the moment I realized that Holly was going to get evicted no holds bard. We will play dirty big brother if we have to. That's what it came down to and its nothing personal. My word with y'all was unbreakable, Holly's word was unbreakable and we knew going into the final 4 that y'all two would pick each other and Holly and I would pick each other but it came down to competitions .. whoever won, that's how it will be and we knew that going into it. Nicole – I guess that's why I am upset.. Jackson – when we realized that y'all were going to go back on the final 4 deal we've had for five weeks.. okay if we have to lie and go back on our word too .. then we will do it. Its not the game that we wanted to play but is the game that we have been forced to play. Do you realize that Cliff is now openly making deals that say I go against Holly, Holly will go against me, he is guaranteeing himself a spot in final 2 and he is expecting it to be handed to him on a platter. Our final four deal that was supposed to be fair and square that y'all went back on that we had to agree to new more extreme and ridiculous deals just to survive and then expect to just hand him a final two with you. Do you get what I am saying!?!? Nicole – Well.. Jackson – its not right! Nicole – I hear what you're saying. Jackson – and its nothing personal against you but the way this past week has gone on is extremely dirty! Its extremely dirty! And I know for a fact that Cliff is also saying to Holly that he would love to see her in the final three. He is telling me the same things. He is setting himself up for a guaranteed final two on a platter .. and I think he deserves to be in the final three .. but not the Cliff that I've seen the past week. Its not the same Cliff. He's gotten .. he is so well thought out. He does everything with precision and he executes everything flawlessly this whole game. I don't know if its his exhaustion with the game and he is just fed up and fatigued but the deals that he is making are not Cliff. They are sloppy, they're messy and they're dirty. Nicole – I know. Jackson – and that is not the Cliff that I've known for the past 80 days. This Cliff is different and that is what makes this so much easier. I love you to much and respect you too much to not give you a heads up as to what is going to happen. And I wanted to explain the reasons why. Its not to go against my word. Its because we were shown that our word was not reciprocated so for that reason mine doesn't mean anything either. I will say what I have to to survive like y'all did when you were considering taking Tommy. And for me the moment that deal was even considered to be broken that bridge is burned. Does that make sense?! Its a principle thing. Nicole – I respect this game too much. Jackson – this is not a conniving plan that Holly and I have had. You will see this ..Holly and I have committed to y'all two. Cliff would beat us. Nicole – so when you said it was Tommy's plan to take out Cliff and go with me to final 3 because I am easy to beat that was more so your mentality and Holly think was going to happen. Jackson – no, not at all. Stop making assumptions! You're doing this again and I don't want you to say that .. and its not the case at all. You beat Cliff on the ropes. I respect you too much to not let you know. I hope you can appreciate that. I don't want you to be blindsided. I am going to have this conversation with Cliff but I don't think today is the right day with his health. Nicole – as a fan of this game .. I see the trajectory and that you and Holly have nicely set up and prepared and its well done. Its very well done. Jackson – this isn't a master plan. Nicole – its very well done and if and when you two are sitting side by side I can take it on the chin and I will not be bitter. I will look back and be like damn that is really impressive. Jackson – you have a three round HOH that you very well could win. And from that point I don't know who you would take to final two but this is anyone's HOH. You are capable of so much more than you give yourself credit for. You smoked us in Comics, you smoked us in the comp the other day, almost smoked us in the comp yesterday. Beat Tommy, Christy and Cliff in the double. I am not blowing smoke. You are a more well rounded player than I am. Nicole – I am the dodo bird that is going to final three with a romantic duo. Jackson – you and Cliff are a duo.. its the same thing.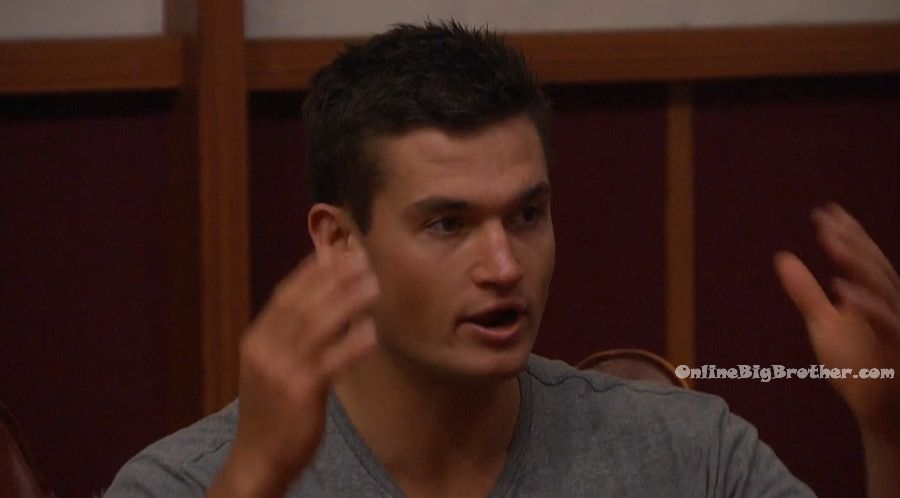 2:05pm HOH room. Holly joins Jackson and Nicole.
They continue to reiterate the same broken deals over and over again. Nicole – I did not shake your hand when Cliff fell off that rope. I didn't even look over. Holly – that was my only way of staying in the house because that is what Tommy was offering and that was .. I was about to go out the door. Nicole – my nature is just play the game. Nicole – If you won it, you deserved safety. Holly – if I hadn't agreed to that you guys would have sent me out though. Jackson – that deal shouldn't have even happened. We shouldn't have had to even make new ridiculous deals. Nicole – we thought you guys were going to go back on our deal before it even happened. It was shoot or be shot. Jackson – we weren't. Tommy is good at what he does. We never wavered on that final four. I just hope we can keep this between us today for his health reasons. Nicole – oh I wish you didn't tell me. Ignorance is bliss. Holly – lets just have a good day. Jackson – I am going to explain all this to Cliff. Its not an excuse to keep Holly. Nicole – an excuse to keep Holly but.. Holly – I could have saved myself. But it didn't feel right for me to go back on my word. Nicole – when you said you would throw it .. I didn't shake your hand. Holly – even after that you still said you were going to keep Tommy. I have no bird, I have not bush. Nicole – we don't need all these reason and excuses. It makes sense. You're not really breaking your word because you guys have been working together so much longer. Jackson – I am not about to hand someone the number two spot. Nicole – I guess why I am upset is because the only person I have had is Cliff and he should be there instead of me. I love this game too much. As a person I know that Cliff deserves to be in the final 3 more than me. He was more gungho to get rid of you. It didn't even cross my mind to throw that HOH to Cliff because I was being selfish. I feel so bad that Cliff was not the one .. I was the one that was saying Tommy said this and that. Where I am from people don't keep their word. Cliff should have benefited and not me. That's what is bothering me. Jackson – I understand. Nicole gets called to the diary room.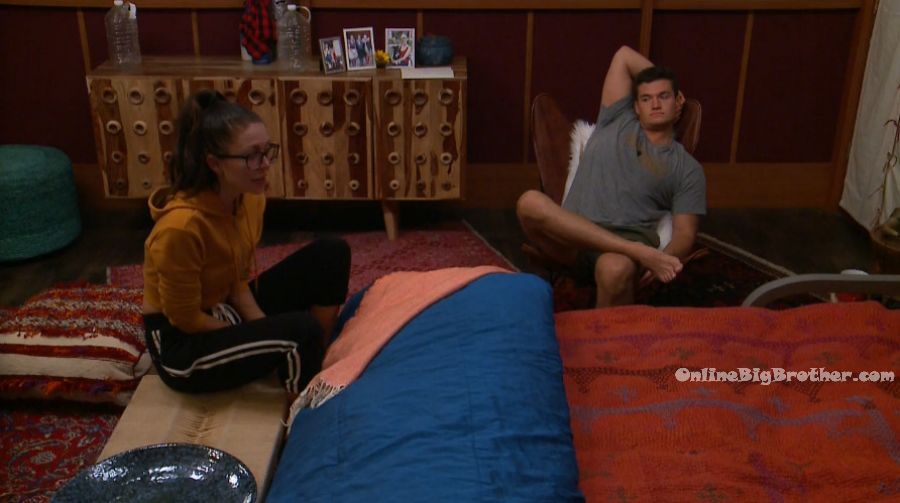 HOH room. Holly and Jackson.
Holly – Cliff was hesitant too. Jackson – but he was hesitant because of her. Holly – I know. Jackson – and unfortunately she has the key and he doesn't. I am not sending you home. I would never turn my back on you. Holly – if I had not agreed to those terms and we had fought fair .. I would have the key and you would have won the veto. Jackson – and I would pick between them two. Holly – yup. Jackson – I just couldn't sit there and listen to her say those things in the backyard and not say something. Holly – I know. Cliff was doing the same thing.. which makes me think they are doing that to make sure we stick to it. Jackson – he is going to unfortunately taking a bullet for Nicole.

3:50pm Hammock. Nicole talking to the cameras – The only person I gave my word to was me. And beside that the only person I meant my word to was Cliff. Aside from that we had an opportunity to take a shot prior to four and I'll admit I wanted to f**king take it. Who gives a crap! You know what America if you think my word is sh*t and my handshake is sh*t then so be it. You can boo me all you want and throw tomatoes at me all you want but the neck of the woods that I come from which is not the south with southern gentlemen and handshakes and eye contact. I come from the northeast, I come from New York .. and you know what that is kill or be killed. Take a shot before you're shot. Protect your own before they're even put at risk.. and that is that. And I would never expect either of them to pick me or Cliff over each other. This would have happened had we kept our word. I don't need a big speech. If I brought everyone that I said was good, I would have 15 people here in the final two. Do I worry about how that looks to my character.. no! Its a game!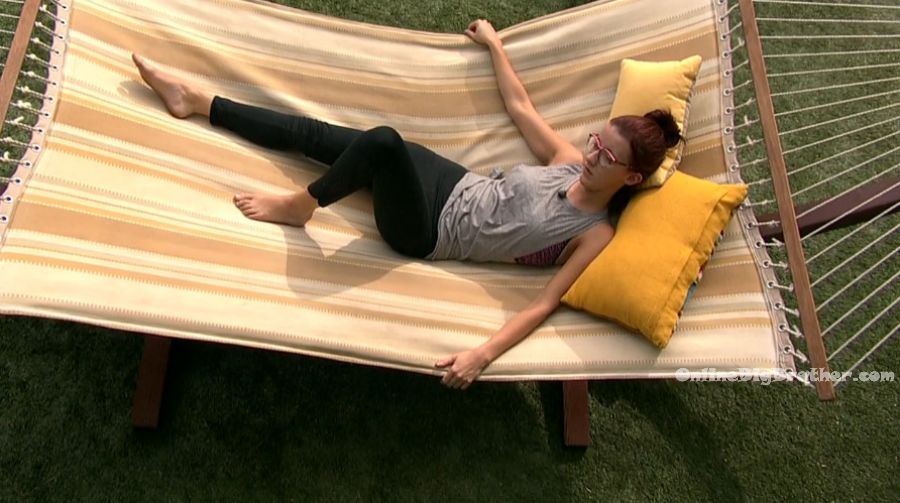 4:02pm HOH room. Cliff and Nicole.
Cliff – how are you doing? Nicole – not good. I have to talk to you. Its really bad. Cliff – they're thinking about flipping. Nicole nods yeah. Cliff – okay. Nicole – and they don't want me to tell you. Michie is giving a speech tomorrow at veto about his word means something and his handshake means something and we didn't reciprocate that. Cliff – its okay. Nicole, its okay. Nicole – you walked inside and Michie was like this will be the final 3. And I am not mad at him .. he won the veto do what you want. I don't expect him not to take Holly and I don't expect Holly not to take him. What I am more infuriated about is that someone is saying hey guys this is what is happening. And I don't respect the fact that he sat here because I was upset and said I am a man of my word, I am a man of my handshake, that means something to me. And you guys went against that. None of this would have happened if you hadn't done that. And we not gone against that this still would have been the final four. I am upset. I am done. Cliff – Its okay. I've said that if I was to advance I needed to win competitions. I get what he is saying, I disagree a little bit in that we made further agreements after that. Cliff – we didn't do it. Nicole – but we considered it. Cliff – because we were getting information that suggested that words had already been broken. You know that I made that promise to Michie that I would take him even though that would jeopardize both of our games. I said that I was going to do it because I felt like I had to honor my word. If he is not going to honor his side of it there is nothing I can do about it .. and its okay. Nicole – I don't need excuses and justifications .. just say what you're going to do. Cliff – are you okay if I go down and say look you put Nicole in a bad position I don't know what is going on can we just talk about it reasonably? Nicole – I don't know, Michie said he wanted to keep this between us because you're not feeling well. Nicole – its a frickin game .. I applaud they way they played. He said this is all happening because of what you did. No its not, its because we're four and have to go to three. Cliff – I get what they're saying it should have just been four without extra agreements. Its okay, its alright. If I go out fourth, its okay. You're going to be final 3. You have a vote from me. Nicole – this week is going to be awkward. Cliff – our whole deal was to go to final 3 and we almost did. If he wants to break it, that's on him. Nicole – I think if the roles were reversed they would have taken the shot at us.. I don't care what the f**k they say. Cliff – I will make sure the jury knows that an agreement was made and then ignored as soon as he got power. Its okay I am going to go talk to him. Nicole – If he is going to stand up and say my word means something and your word means dirt. I'm a trust worthy person and you're not. Great job martyrs!!! Cliff – maybe we made the wrong decision and should have kept Tommy.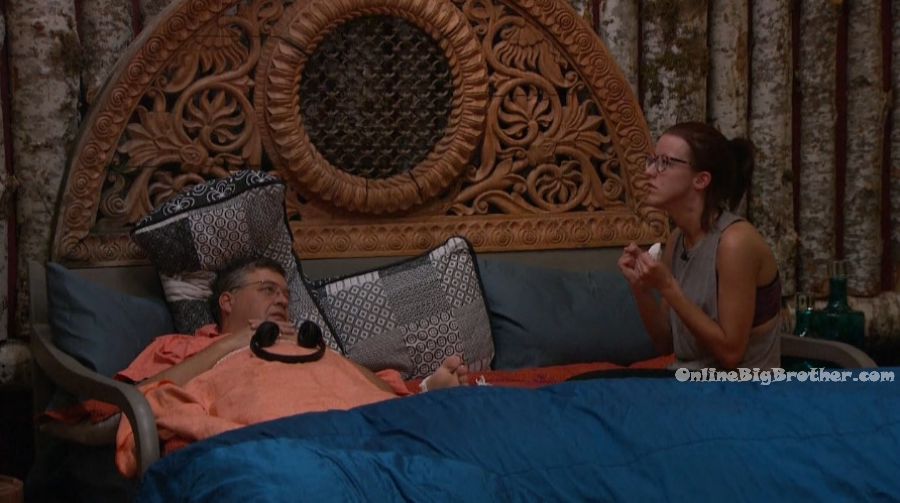 4:30pm Living room. Cliff and Jackson.
Cliff asks Jackson to talk. Cliff – she told me and I'm okay about it. Jackson – I know she feels upset because you're almost taking a bullet for her. Cliff – well I am but.. Jackson goes into all the reasons why he and Holly are going back on their word due to the things Nicole and Cliff did. Jackson – one comment that rubbed me the wrong way was that this will be y'all's last days. Cliff – oh I'm sorry. Jackson – and then you gave Holly permission to compete. She is a grown woman and doesn't need anyone's permission to compete. Jackson continues to explain the deals that were made and why they're broken. Cliff – however this goes, we're cool. We're playing a game. You're playing for your game and I'm playing for mine. Part of me wishes it wasn't me and that it was Nicole but that's how the game goes. Cliff – let me throw out my side. Yeah we talked about final four. I fully intended on a final four with us. I started hearing that Holly was maybe plotting against me. I am not thinking that is the case now but that's what I was hearing. Tommy was spilling a lot of info that made me think you were playing games with him as well. And then I have Nicole next to me who was very scared that if it came down to me and Holly and the two of us that anything other than Nicole winning would lead to her going out the door. And I already promised to her that whatever she wanted me to vote I would do it. We vote in unity because I promised her that. And because she won the veto I felt a little bit trapped. Jackson – you and I came in here alone and I don't want you to sink your ship for someone else. Jackson – I love you man and respect you on a personal level. Cliff – don't get mad at her because I found out. Jackson – no, I wanted to tell you but I didn't want to add stress to your health. Cliff – I appreciate that but I'm cool. We all know what the plan is, I don't want people walking on egg shells. I understand but I still don't like it. I still consider you one of the most honorable people in this game. Jackson – unfortunately its you versus Holly. Cliff – we're playing a game and if I come up short.. I just don't want the rest of this week to be weird.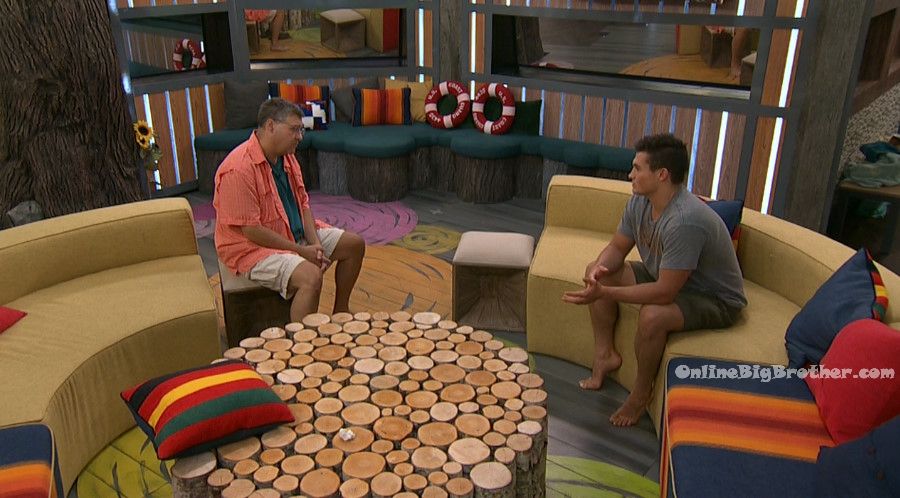 5:15pm – 6:10pm Nicole, Cliff and Jackson talk more and more about everything that happened and didn't happen to get them to the point in the game where they are right now. Cliff heads inside. Cliff wanders the house and then sits in silence in the bathroom and then moves to the living room. Holly and Jackson talk about life outside the house and then lay in silence on the hammock together.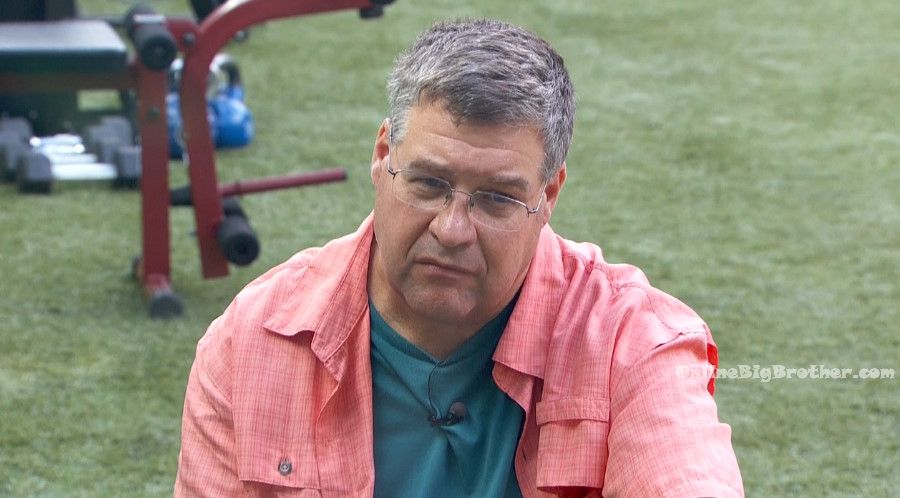 6:10pm – 7:15pm All the house guests are napping / lazing around in silence.
7:18pm Living room. Nicole and Cliff.
Cliff – I've been here for 89 days. I'm okay with going. I'm not going because I did something horrible, its because they're going to do something that .. it will be their own decision. Nicole – maybe we were thinking of going against the agreement first but for two people that ranted and raved and cried and yelled about your word means something .. then proceeded to give their word and then proceeded to take it back. You're being a hypocrite to so I don't want to hear it. I know it sounds mean but we're all guilty of it. I would respect it more if it was just this is the nature of the game, I am taking Holly. Cliff – but he is so worried about how he is portrayed .. he isn't giving the explanation to us .. its to them (America). Cliff – depending on what is said I might bring up how this was only brought up after he won the veto. And he will probably get upset and have a melt down about it.
8pm Holly and Jackson making dinner.
8:20pm Bedroom. Cliff talking to the camera. Cliff – he wanted a reason to break the agreement ..and he came up with one. We all live with the decisions we make. I didn't expect it to end like this. I thought it would be more of a win or if you don't you go home. You have to live with your own decisions and I am okay with the decisions I've made in this game. Day 89, Cliff discovers he is going to the jury house. Try and sell Nicole as much as I can. Although it will probably be Michie and Holly. Then I would have to decide who to vote for .. maybe Holly.. we honored her agreement.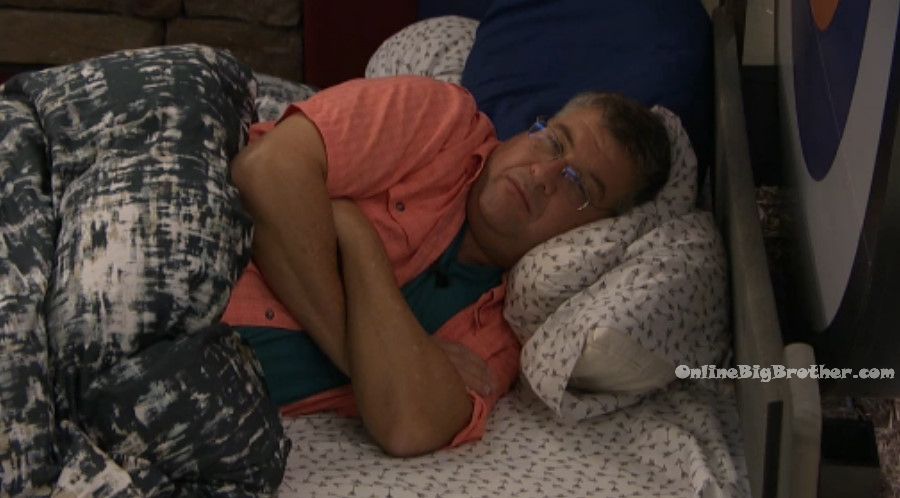 Jackson – I can't believe I won the last veto. Holly – I am. Jackson – I'm not proud of that win. That was a dog sh*t win. Holly – you beat me by 6 minutes. Jackson – if I had just stopped and thought about it .. I could have done it in 4 minutes. Holly – the thing that f**ked with my head is that both of them took an hour. I thought that was at least 45 minutes of time. That's what messed with me. Jackson – I don't feel right winning something that I didn't earn. I don't like things getting handed to me and don't like handing things.
9:20pm Nicole gets her HOH snap chat glasses.

9:30pm
POP tv gives them Jenga to play with.
9:56pm The jenga tower climbs towards the ceiling.

Nicole runs for cover.. #BB21 Jenga @bigbspoilers pic.twitter.com/uhHgPuMidI

— Dawg (@DawgsBigBrother) September 16, 2019
10:20pm Backyard. Cliff talking to his wife Sharon – I don't know if you've gotten word yet or not through a website or through earlier live feeds. Even though I had made the decision to honor my handshake agreement with Michie and take him to final 3 if I had won the veto. He has decided the opposite. He has decided he is not going to honor our sworn agreement and take me to the final 3 in case he won veto instead he is reneging on the deal and taking Holly.. which means I am going home on Thursday. He gave me a lot or reasons and excuses for why he is reneging on the deal but the reality is he didn't tell me about it until after he won the veto. If he really thought the deal was made under bad situations ..well first of all he shouldn't have done it but even if he did and he wanted to renege on it he should have done it before whoever won the veto. If it had been the faces comp or something I would have been better at and I won it he would be wanting me to honor it. We know he would. I was willing to stand up to that agreement .. the man to man handshake agreement .. he isn't. Nicole joins Cliff.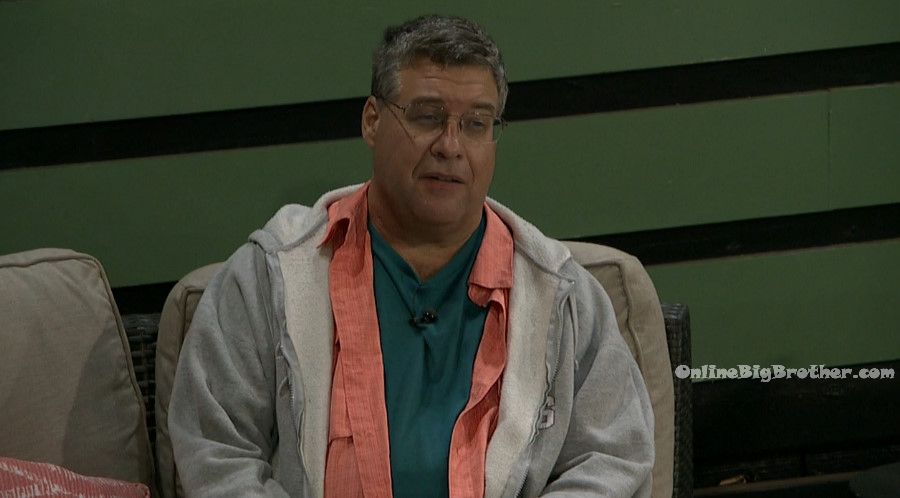 10:43pm – 11pm Backyard. Nicole and Cliff.
Cliff talks about how he will tell Michie later that we he gets out he will see video of him telling Nicole that he (Cliff) has to honor his deal with him (Michie). Holly was honorable and he wasn't. She kept her word and he didn't. Wouldn't that suggest that I might vote for Holly over Michie? Nicole – maybe articulate that to him as well. She gave her word and stuck to it and threw the HOH. Cliff – if its Holly & Michie that means you're also in jury and you may feel the same way in terms of voting. Suddenly that's two votes for Holly. Tommy will not vote for Michie. That's three. Nicole – Christie won't. Cliff – Christie won't .. that's four. Will Sissy vote for Michie? There's your five. Will Jess.. I don't know. Will Kat? Nicole – no, no way. Cliff – I've always been opposed to a bitter jury.. I'm not sure its a bitter jury if there was one person that honored an agreement with you and another one that turned around a day later didn't honor it.
Nicole tells Cliff that she was the second in her class in high school and college. Cliff tells Nicole – all these jokes about Mensa .. I've qualified for Mensa. I took a test with 50 questions or so and finished so fast I had time to go back and review answers for 4 questions or so. I'm not in it because it never meant anything to me. I've got a 145 IQ. Nicole – wow! You should try for it. Cliff – oh and live feeders .. I've been told I qualify for Mensa based on my score. If I don't, don't rake me over the coals.

11:54pm Backyard. Nicole, Cliff and Holly talk about the jury house and how each jury member is dealing with it.
12:10am Nicole sitting alone talking to the cameras.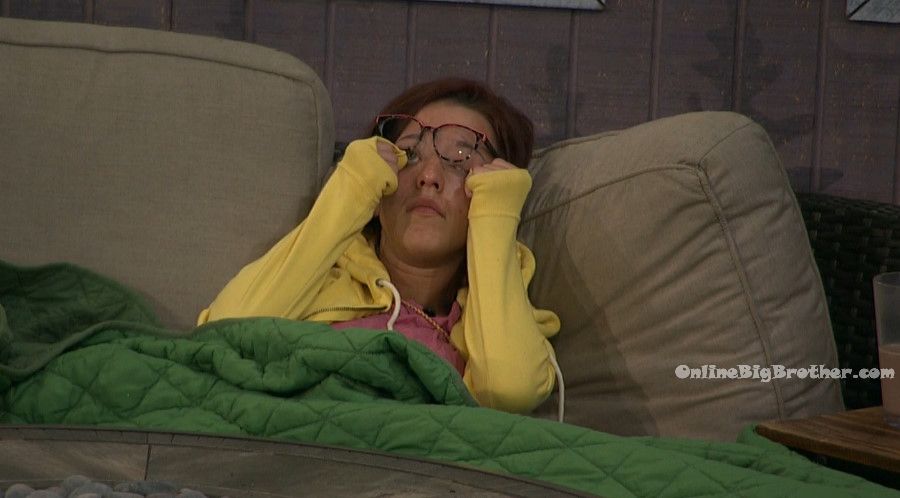 Show your Support for all the sleepless nights Simon and I have put in for the last 90 days straight. As an added bonus we also wanted to give a little more to those that donate: Click here for more information.
Any amount is appreciated! Thank you