| | | | |
| --- | --- | --- | --- |
| POV: | Kaycee | Next POV: | Sept 15th |
| POV Used | ? | POV Ceremony | Sept 17th |
| HOH: | Angela | Next HOH: | Sept 20th |
| Noms: | Sam & JC | Have Nots | Havenots are done! |
Without your support this website wouldn't be possible.
Please consider making a donation. Any amount is greatly appreciated. All donations go directly to paying the considerable costs associated with running this site.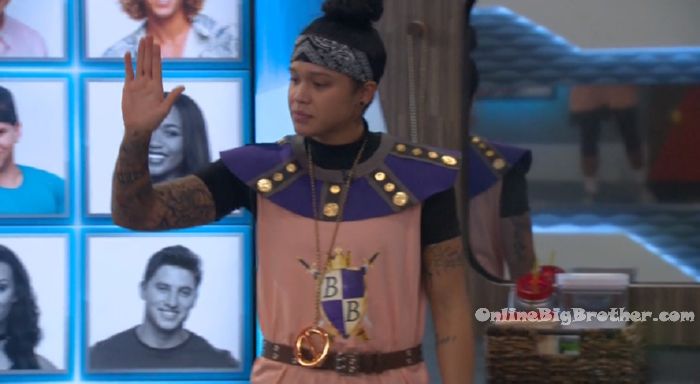 2:40pm – 6:38pm Big Brother blocks the live feeds for the power of veto competition.
POV Winner: KAYCEE
They all have medieval costumes on. It was a maze competition. JC – four vetos in a f**king row! Tyler – four vetos! You're the f**king champ! Kaycee – how the heck did this happen, I suck at mazes! Kaycee tells Tyler that he was so close. Sam – I ran through it like a f**king psycho. It wasn't even that hard of a maze either. Angela – it wasn't hard but once you start running you forget where the last one was. Tyler – not easy! Sam – congratulations, that was hard. I have no idea how you did that so fast. Sam – JC you did good too. I was the only person that didn't complete it.
6:45pm HOH room. Angela and Kaycee. They talk about how they both thought they were going to time out. Angela – that was hard. That was a ten minute sprint. They cheers. Angela – Sam is going home. Four in a row! Kaycee – well you had yours during the double. Its 6, 6 and 6!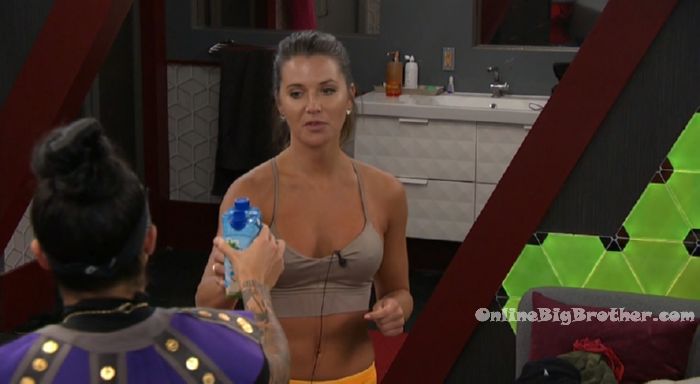 7pm – 7:35pm Kitchen. Sam, Tyler and Kyacee making dinner. Tyler – I am kind of pissed that they had the drone because its going to show us right next to the f**king thing. So many times I would stop right at where I need to be and turn around. Sam – oh yeah I was like Jesus take the wheel!
7:38pm Bedroom. JC and Kaycee. Kaycee – Sam is pissed. JC – hopefully this week is short. Kaycee – hopefully. JC – yeah because I don't want to be here with this. I don't know how she is going to react sitting up on the block with me. I don't know if she is going to campaign. I am just going to be quiet. It really f**king sucks. Congratulations. Kaycee – thank you. JC – I am glad you got it to keep things smooth because I am already on the block.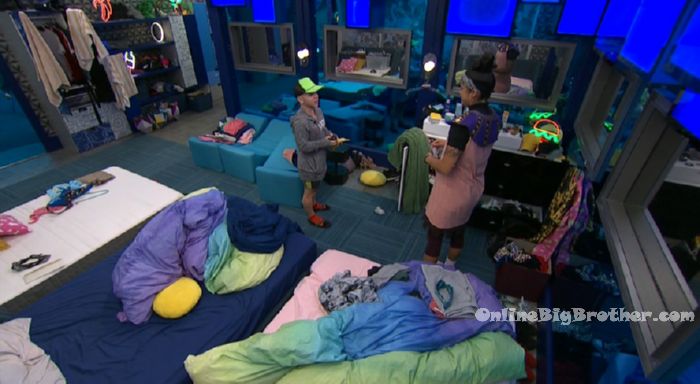 8pm Sam sleeping…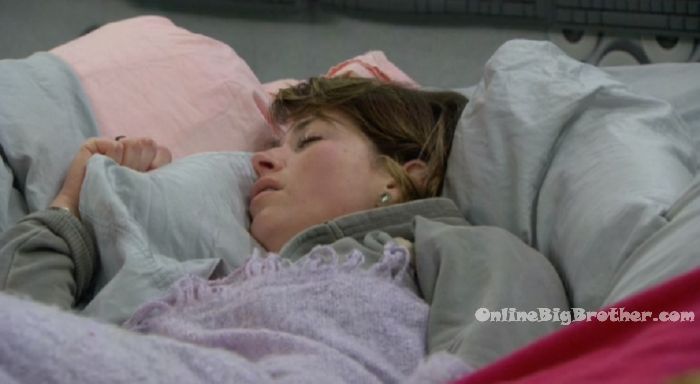 8:25pm Family dinner minus Sam.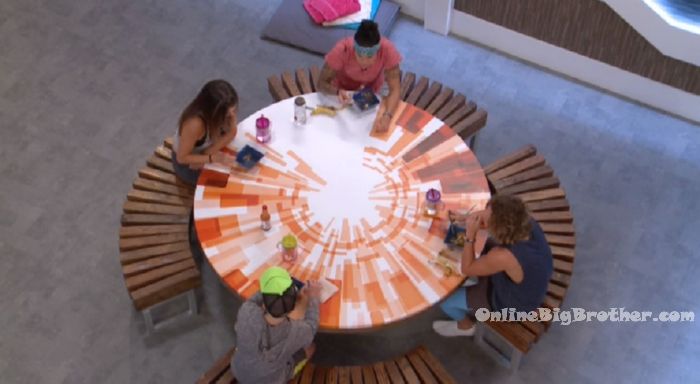 9pm Kitchen. Kaycee and JC. JC – Sam made it really far being crazy, napping and being crazy as F**k. She made it far. Kaycee – I know. Its crazy. I am just so ready to get out of here. JC – we all are. I've been ready since the second week. Kaycee – I feel both ways .. I want to get out of here but I'm also going to miss it.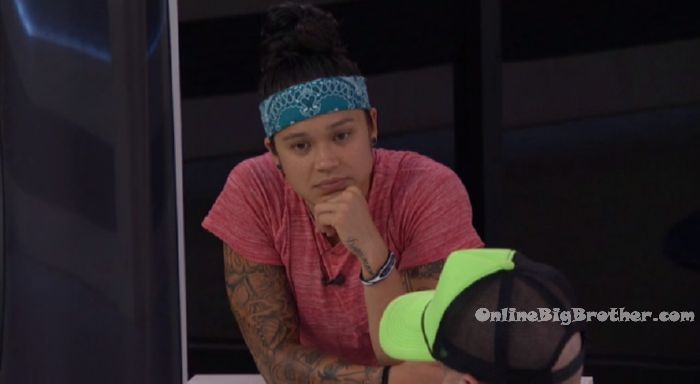 9:09pm – 9:40pm HOH room. Angela and Tyler. Angela – six, six, six. We're all tied up. (Angela, Kaycee and Tyler all have 6 comp wins each) Tyler – its a lucky number. Angela – I wonder what is going on in the jury house. I wish we had cameras in the jury house like we have up here. The conversation turns to talking about random things. Kaycee – we probably won't let us out any more. JC – you don't think they will let us out for two weeks? We are going to go crazy here. If they don't let us out and the eviction is on Thursday, Sam is going to go crazy. Like she would legit go crazy. She was already weird today. Kaycee – I'm going to go lay down. JC – I'm going to shower and then go to bed.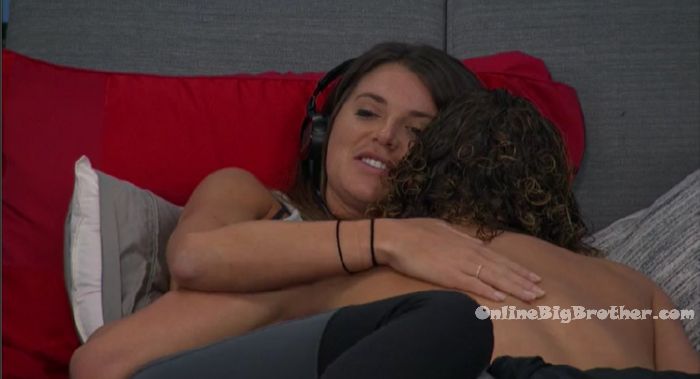 10:30pm Sam eating on the stairs..she starts to tear up. Sam – I miss my mom. I miss my mom's cooking. I miss my mom's voice. Sometimes I pretend I can see her now screaming at the tv like a banshee watching me run through that maze. Balling her eyes out. That was just pitiful. I looked like a panicked baby deer. I don't know how y'all are going to make that look funny because it wasn't funny. Me falling and saying f**k all the time while I was falling.
10:57pm – 12am HOH room. Tyler and Angela. Tyler – I couldn't not say goodnight. Sam was on the stairs. Angela – whatever she's gone. Tyler – she's like a gargoyle just standing over watching over everything. Angela – right?! Like its so inconsiderate. Tyler – its intimidating. Angela – like people are walking… why do you sit on a stair case? Its meant for like transporting people up to another level. Tyler – she just hides there because the camera's can't see her. Angela – I am going to pour chicken fish juice all over the stair case so that it smells like a$$ and she won't sit there. I am going to rub salmon on it. Tyler – good call. Angela – maybe I will rub salmon under the bottom of one of the stair so that she will smell it and not know where its coming from. Tyler – she will still sit there. Angela – or maybe I'll tape a dead fish there. I am going to trip one day and eat sh*t and its going to be all her fault. Tyler – MMmhhh then you can yell at her. Tyler – I can tell the things that get to you. Angela – what else? Tyler – mainly just Sam. Sam talking. Sam sitting. JC's little comments. Oh and Brett with all his jokes. Angela – all his s*xual humor that's not funny.
Angela – how amazing would it be if we were top three. Its going to happen. Can you imagine the only competition he (JC) does win .. its not going to happen. I'm not even going to think that. Tyler – you're going to win the veto. Angela – or Kaycee will win another one.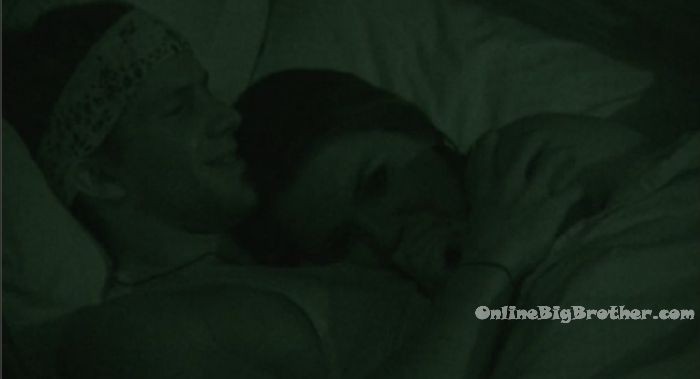 Tyler – JC was always under the impression that him and I were working both sides. Like he was supposed to work the Fes side and I was supposed to work you guys. So like he knew I was working with you but he didn't actually think I was with you guys. Angela – I had no idea. Tyler – I never told you guys that? That's why he is always so pissed at me. I definitely told you guys that. I definitely told Brett that. Angela – thanks! I didn't know that was JC's plan. Tyler – his plan was to even out both sides. But then I kept having to shift it so that he wouldn't take shots at our side. Angela – was he ever trying to? Tyler – yeah that's why hes always so mad at me. Angela – I never knew this.. it all makes sense now. Tyler – that's who I always got info from the other side, through him. Angela – you never told me this. Tyler – yes I did. That's why I keep saying why JC is so pissed at me. Angela – I knew he was pissed at you but I thought it was because he was in love with you. Tyler – its because of that and because I was supposed to be evening out the sides with him and I was actually more loyal to you guys.
Angela – we haven't been away from each other for 88 days.. what's going to happen if we have to be away from each other for like a day after this? Its going to be really weird. Tyler says that he will face-time her.
10:03am Houseguests are getting woken up.
10:27am we got movement
Sam downing today's cocktail of pills..
Sam's morning routine #BB20 @DawgsBigBrother pic.twitter.com/qy6BpKJhOr

— OnlineBigBrother.com (@bigbspoilers) September 16, 2018
Sam is so flipping unique.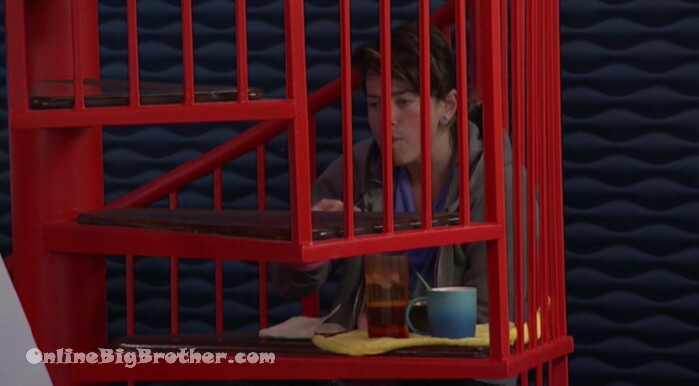 Sam – so I had this dream and it was probably it wold have to have been 10 years ago when my grandma was taking walks with me and my mom
sam – my grandmi had the most beautiful graceful walk.. Our neighbors would watch her get the mail .. She just had a signature stroke just classy.. anyways.. and then their property..
Angela comes out..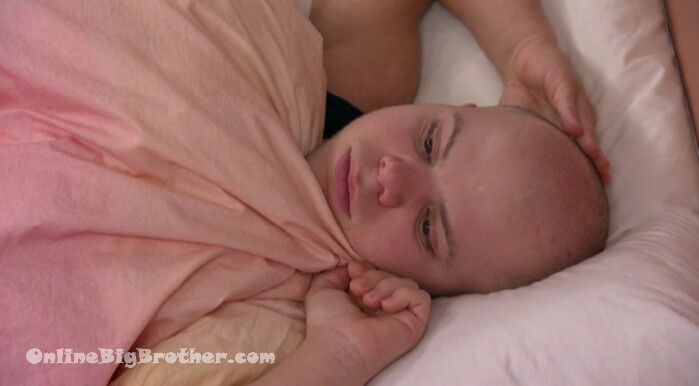 11:00am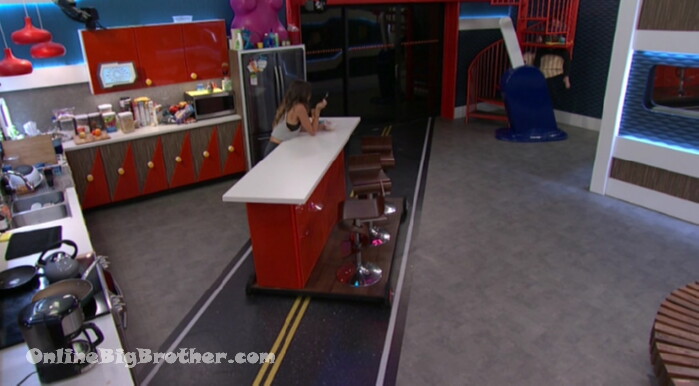 11:40am Sam and Angela
Sam is telling her about a dream that includes humming birds and rufus..
" All of a sudden there's a wiener dog attacking my bunny"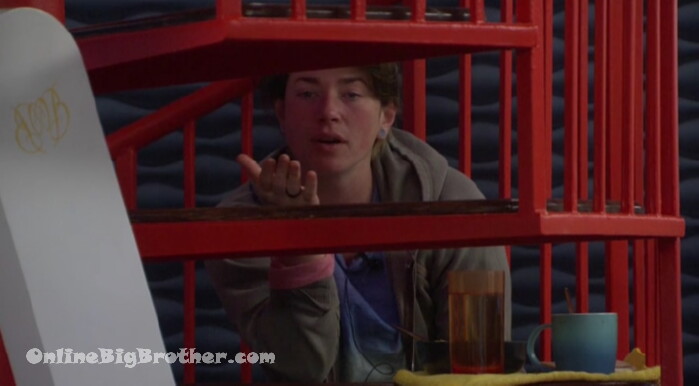 11:53 am Dream stories..
An easy way to support the site if you are an amazon shopper is to make your purchases through our link. You pay the exact same thing but we get a small % commission. It doesn't cost you anything and helps us out.
Amazon Canada
Amazon USA
Rank the houseguests!
Easiest way to Rank the house guests use link below