| | | | |
| --- | --- | --- | --- |
| POV: | Kaycee | Next POV: | Sept 15th |
| POV Used | ? | POV Ceremony | Sept 17th |
| HOH: | Angela | Next HOH: | Sept 20th |
| Noms: | Sam & JC | Have Nots | Havenots are done! |
Without your support this website wouldn't be possible.
Please consider making a donation. Any amount is greatly appreciated. All donations go directly to paying the considerable costs associated with running this site.
12pm Kitchen. Sam, JC, Kaycee and Angela are all hanging out in the kitchen. JC talks about Tyler is shaving in the bathroom.
12:36pm All the camera's are on the kitchen. Kaycee, JC and Tyler. Not sure where Sam is but you can here her saying. Sam – Motherf**ker! He follows me around…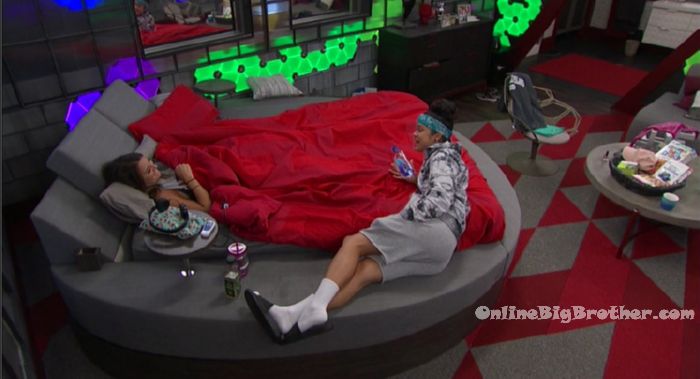 1:20pm HOH room. Kaycee joins Angela. Angela – Sam was in a lot better mood today. I talked to her for like 2 hours this morning and it actually wasn't painful. It was a good conversation where I was like listening and not being like .. okay.. It was a good conversation. Kaycee – that's awesome. Last night Sam asked me would it be stupid for me to ask you to use the veto on me? I was half asleep and I was like I have no idea it just happened. I am not in the mood. I am already irritated. And now I have to go into the diary room. Angela – wrong timing. Kaycee – I was like I don't know Sammy. We can talk tomorrow. I just got it. I was literally half asleep. Angela – has she said anything today? Kaycee – no. Angela – when I got HOH as soon as I got back in the house she was like what are you going to do?! Kaycee – are you serious!? Angela – I was like I don't know. It was like 10 minutes after. The thing is she belittled us so much for playing this game and not wanting to play the game and for her to .. its just so contradictory. Kaycee – well yeah and for her to coming up and .. she didn't like when she was asked oh so what are you going to do. And so with the whole vote thing I am going to be like I love you and JC. I am not going to tell anyone which way I am voting. Because she kept it to her self and had attitude about it. Angela – exactly. Kaycee – She would get mad at us. That irritates the f**k out of me. Angela – its so hypocritical. Kaycee – that time she gave you attitude when you were HOH, that sh*t pisses me off… when you were asking to find out how she was voting. Angela – we can't ask you about how you're voting but you can come up to me after I win HOH and ask me what I'm about to do. Kaycee – yeah. That's crazy! I will probably just tell her I haven't used it the past three times and it would be dumb for me to get blood on my hands and to shake up the house so I am leaning towards not using it. At the end of the day JC has been more loyal to us than she has. Sam was always in between. Angela – and she always voted against me.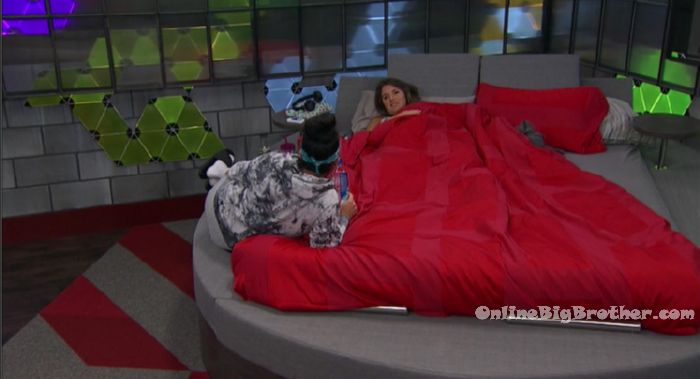 1:40pm Storage room. Tyler and JC. JC – you know I might be the fourth one going home. Tyler – why the f**k do you say that. You act like I'm not a vote or an HOH possibility. JC – yeah I mean have you run the scenarios here and the way you f**ked me up? We had literally a 100% chance because if you had stick to the plan and got one of the girls out from the thingy and then Brett was out this week. Then we were good because Sam for sure wasn't going to win anything. Tyler – okay, if I had gotten one of the girls out and the other girl wins HOH.. who is going home because I did that? Me! JC – no because Brett is here and you have my vote and I had Sam doing whatever I wanted. Its not about winning HOH, its about who votes. And the girls weren't going to get HOH. If you get HOH and either of the girls get the veto.. they have each other. Do you have top two with them? Tyler – no dude. Why don't you just win? You always just sell yourself short like you're not going to win anything. JC – if that HOH would have been without Angela, I would have got it. Tyler – she's not going to be in the next one. JC – if you make to through with them and the competitions are mental do you really really think Angela is going to take you to top 2? Tyler – I don't know dude. I don't know. JC the only thing we can do right now is literally separate them. I only want you to listen to me. The whole season you have been safe and haven't been on the block. And I have been on the block because you wouldn't listen to me. I didn't do you wrong. The first time I was on the block was when you put me. Tyler – Yeah and I knew you weren't going anywhere no matter what. JC – are you listening to what I am saying?! Do you have problems listening!?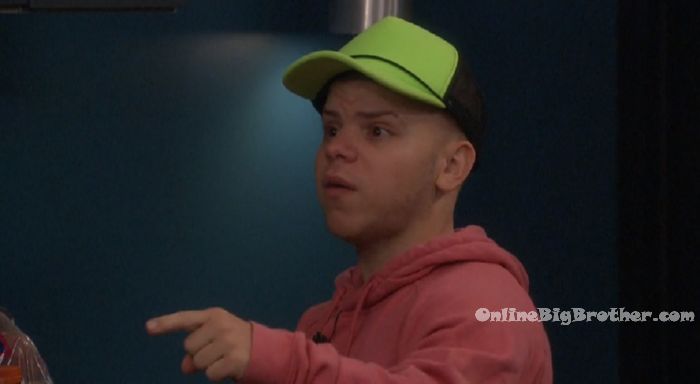 I told you the whole season that I would send you my plans and I kept myself off the block and I kept you off the block too! Tyler – that's what I did that for you! .. up until this point. JC – don't be so f**king naive because you're pissing me off! Because you know when Fes won he wanted your a$$ on the block. And if I hadn't kept you off that block you wouldn't have won the veto and you wouldn't be here right now! So at least be a little freaking grateful. Tyler – I am! JC – I was always caring for you. Right now I already told you I don't have anyone here. The only thing I can do is just keep working with you. And I don't even think you are a vote for that. I think you are completely thrown over there on that side. And its going to backfire on you because if I don't do something about it they're not going to have your back. Do you understand what I am telling you? Tyler – yes. JC – so I am going to talk to Kaycee and Angela to make sure I don't go home. Tyler – you're not going anywhere. JC – then the next one I am going to try and separate them. (Kaycee & Angela) When we get down to top three Kaycee isn't going to win anything. Tyler – she isn't good at mental competitions. JC – exactly. If we had stuck to the plan then we wouldn't have needed any backup plans.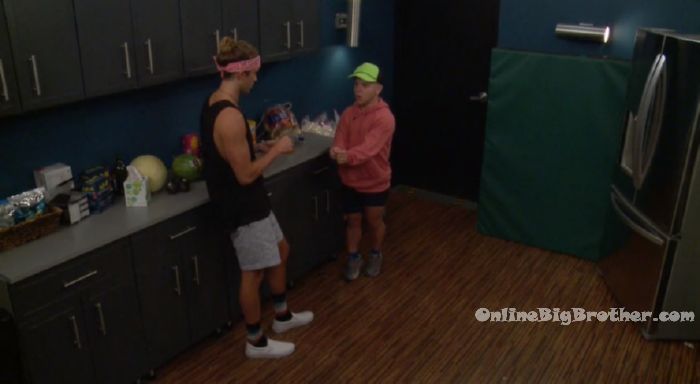 JC – so if you win HOH who are you going to nominate? Tyler- it doesn't matter. It only matters who wins the veto. JC – yes it matters. Tyler – it doesn't matter. JC – Yes it matters and I really hope you don't nominate me if you're HOH because if I am not nominated I can work with whoever wins the veto to make that person pick me if I don't win it or if you don't win it. If I am there on the block already, then I am f**ked! I am literally f**ked I can't do an moves from there! Tyler – I don't understand. JC – If I am on the block and the person not on the block wins the veto I can't convince them. Tyler – there's no convincing. If one of the three win the veto, they're not going on the block. The other two are. There is no convincing. JC – do you understand that it is me alone and it is two girls working together. They can't use the veto because then they go automatically on the block. (Wrong – the person that wins the veto is the sole vote for who is evicted.) JC – I had this in my head and now its completely gone… so you're going to throw me on the block!? Tyler – no. It doesn't matter who goes on the block, it matters who wins the veto.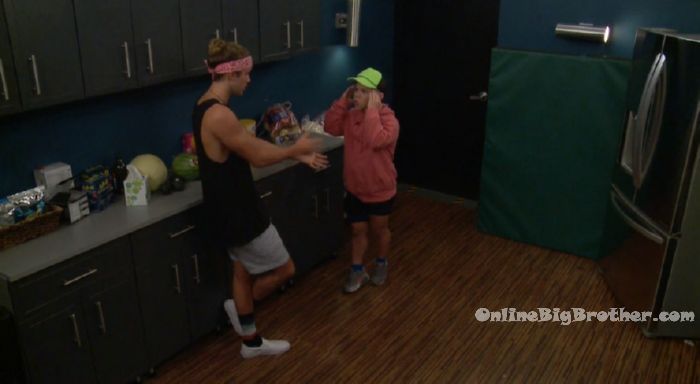 JC – if you trust me and do what I say we will make it to top 3. IF you win HOH and I have to go on the block that's fine I will go on the block. If you listen to me, then we will have a chance. JC leaves the storage room. Tyler throws his head back showing how annoyed he was with that conversation.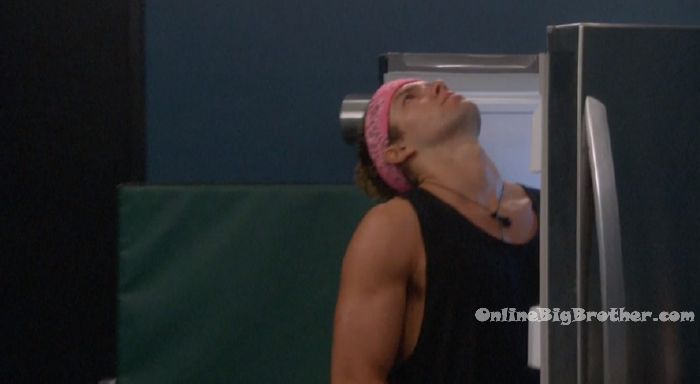 2:50pm – 3:22pm HOH room. JC, Kaycee, Tyler and Angela are hanging out and chatting in the HOH room. They head down to the kitchen to eat. Meanwhile Sam is in the havenot room making her bed and other crafts..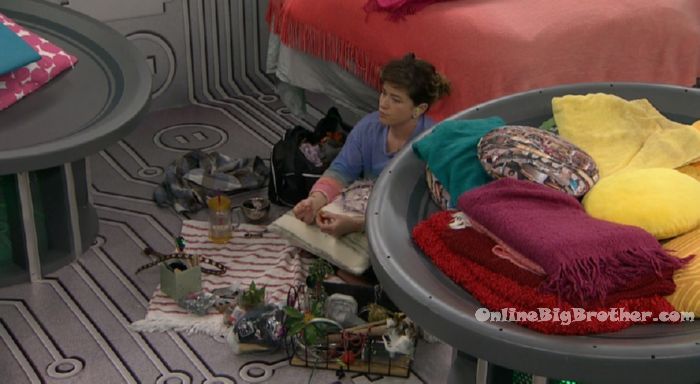 3:30pm – 3:47pm Kitchen. JC is talking in Spanish asking them questions. Like who their favorite production employee is? Everyone answers Bob. They then ask what percentage are you gay? Kaycee – 100%. JC – 100%. Angela – 5%. JC jokes that Tyler is 65% gay. Tyler – if you can be 100% why can't I? They all laugh that he meant he is 100% gay when he actually meant he is 100% straight. Tyler – no dammit! Angela – you admitted it! Tyler – I meant the other way. I'm going to do some pull-ups!
4pm – 4:26pm HOH bathroom. Kaycee, Angela and Tyler take a bath together. They start quizzing each other on the days / events of the season.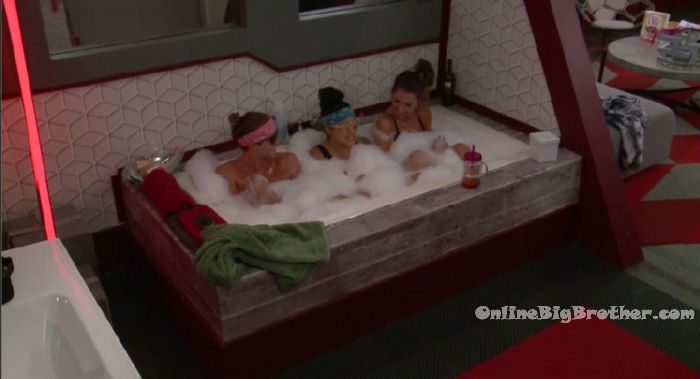 4:37pm Sam being Sam

4:45pm Havenot room. Kaycee & Sam. Sam asks if Kaycee talked to Angela? Kaycee – a little bit. It only makes sense for me to keep it the same. It would be pretty much stupid to use it because then it puts a target on me. It wouldn't make sense for my game. That's why I didn't use it any of the other times. Sam – is its because Tyler is the only other option? Kaycee – yes and why would I go against the HOH. I love you and JC. Sam – I'm not going to climb up your a$$ or act crazy. I will respect it. Kaycee – there are 5 of us and this is where it gets uncomfortable. Sam – okay so you're not going to use it. Who are you going to vote to keep? Kaycee – I haven't gotten that far. this is uncomfortable. I love both of you. I am up in the air. I am going to keep it to myself. Sam – I respect that and I won't pester you. Typically I wouldn't do this but there are only 5 of us. Kaycee – this sh*t is sh*tty. I wish I could keep everyone. Sam – I can't think of an argument for you to keep me over him. If I went I'm sure I know some stuff but I'm sure JC knows way more. I have made it painfully obvious that I am not a physical competitor. I think I am seen as the weakest person and it sucks. Kaycee – this game is way more than just competitions. You made top 5. Sam – I think the only reason why I am here is because of y'all. I would like to stay so that at least one time win something and pay a due back. Kyacee and Sam hug. Kaycee leaves the room. Sam says to the camera – I tried. That's all I can do!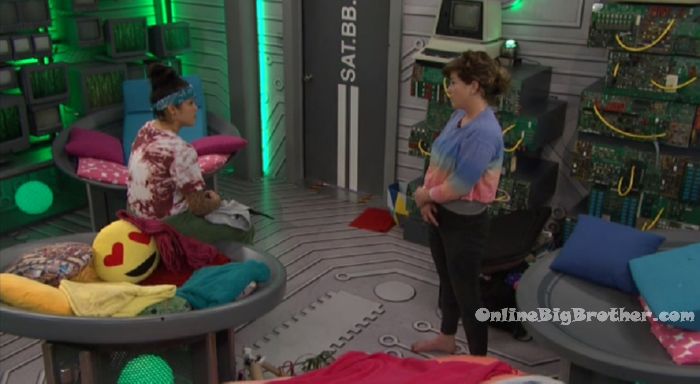 5:10pm – 5:20pm
Kaycee reading her HOH letter. Kaycee tells JC what she told Sam about how she's not going to use the veto. She then tells JC that he has her vote. JC tells Kaycee that she has his support. If we can make it to top 3.. Kaycee – that's huge! Let alone the message to the LGBT community. Meanwhile up in the HoH room Tyler and Angela are laying in the bed.
5:40pm
Sam is sleeping. Meanwhile in the kitchen – Tyler, JC and Kaycee are chatting and cooking. Angela is running laps outside the HOH room.
6:50pm Kitchen. JC, Tyler and JC looking at the memory wall..
7:40pm – 8:31pm Bedroom. JC, Angela and Kaycee chatting about what their profiles say as their profession. Angela gets her snap chat sunglasses. They start recording videos. Kaycee, Tyler and JC talk about how they hope they get to go on the Ellen Degeneres. JC and Kaycee think they have a chance since they represent the LGBT community. Tyler says he's gay too. JC – on now you are?
9:50pm – 10:15pm Sam is in the kitchen cooking. When she's finished she eats her dinner on the stairs up to the HOH room. (Angela will be thrilled)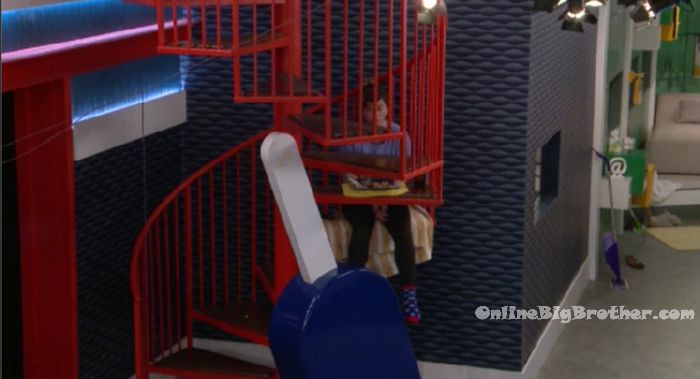 10:35pm – 10:40pmPOP tv gives them an ice cream maker. The house guests make chocolate ice cream.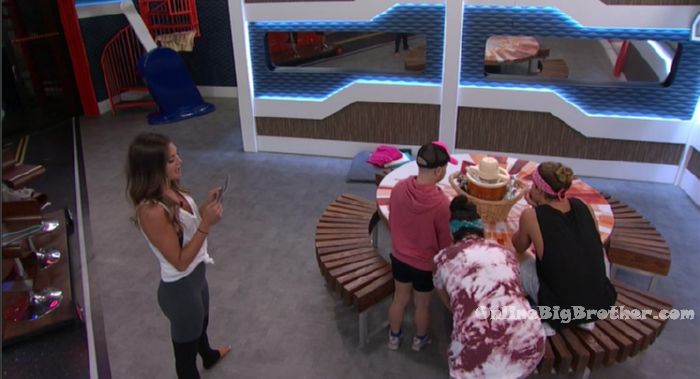 An easy way to support the site if you are an amazon shopper is to make your purchases through our link. You pay the exact same thing but we get a small % commission. It doesn't cost you anything and helps us out.
Amazon Canada
Amazon USA
Rank the houseguests!
Easiest way to Rank the house guests use link below