| | | | |
| --- | --- | --- | --- |
| POV: | ? | Next POV: | Sept 15th |
| POV Used | ? | POV Ceremony | Sept 17th |
| HOH: | Angela | Next HOH: | Sept 20th |
| Noms: | Sam & JC | Have Nots | Havenots are done! |
Without your support this website wouldn't be possible.
Please consider making a donation. Any amount is greatly appreciated. All donations go directly to paying the considerable costs associated with running this site.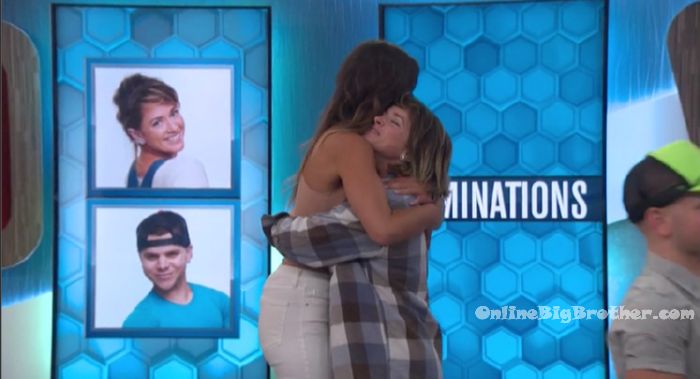 2:32pm – 8:39pm Big Brother blocked the feeds.
The had a private concert from BEBE Rexha
Angela Nominated: Sam & JC
The feeds return to Angela hugging the house guests in the kitchen. Sam – you did great! You did great! We thought today was going to be so long and boring. Angela-la you only geek'd out once. Angela – I looked up. I wasn't going to look at you guys especially JC. Sam – I think the only reason why we made it through that is because we're all in a good mood and JC doesn't feel good.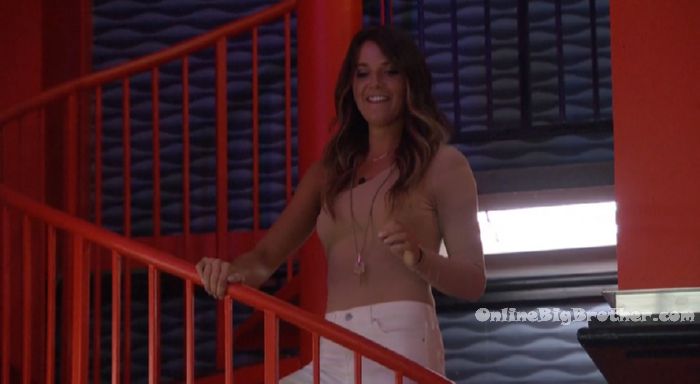 Tyler – do you hate me? JC – well I definitely don't love you now. Tyler – are you ready for the veto? JC – That was the most bullsh*t crap like excuse. Tyler – her speech? JC – yeah. Because you know that I probably have more blood on my hands than you or any of them. Tyler – you do?! JC – Don't give me that! Tyler – you have blood on your hands, I know. JC – and you don't think that Brett going there (Jury) telling everyone I was behind every single one of their evictions. Tyler – Fessie was already telling them that. JC – the only thing with my relationship with you is that you think that you don't have a chance with me. ..top 2 because of that .. and its bullsh*t. Tyler – that's not me, that's her. JC – yeah I know but she didn't come up with that. Tyler – it didn't come from me. JC – you have less chance against Kaycee. Rockstar and Bayleigh… all those people will pick Kaycee over you. Tyler – you dont think I know that. Just don't freak out. Veto! JC – if I win the veto, she is going to put you up. Tyler – that's fine. JC – what do you mean, I know. That's fine? Tyler – I have your vote. JC – Okay and then we're moving forward with Kaycee and Angela. Tyler – I will win the veto. JC – you win the veto, take me off. You me and Kaycee. We take out Sam. I am not going to top 3 with Angela. It can't happen. Tyler – we have to go to top 4. JC – if Sam wins the veto we are pretty much f**ked. Tyler – we're not. I can convince her not to put me up.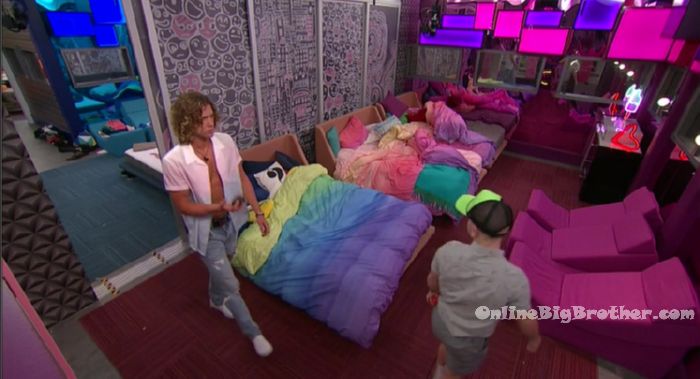 8:50pm – 9pm HOH room. Angela is eating sushi and watching the spy tv. Angela – will one of you guys come up here!? I need emotional support. Kaycee comes up to the HOH room. Kaycee – you did great. Your speech was on point. Angela – was it I blackout.. Kaycee – it was amazing. It just makes so much sense you saying they have no blood on their hands. You did really good. Very clear. So what do they know? What does Sam know? What does JC know? Angela – I haven't told them anything. Kaycee – does JC think he is the pawn? Angela – yeah, that's what Tyler said. Kaycee – ok. So have you told him that yet? Angela – I haven't had a chance to talk to him yet. Kaycee – you should talk to him. Angela – but I told him last night that what would make top 4 is loyalty. And he knows who's been loyal and who hasn't. Kaycee – yeah, you should tell it to him. Angela – does he look nervous. Kaycee – yeah. Its his first time on the block. Does Sam know anything? Angela – no, she doesn't even come up to talk to me. Kaycee – so pretty much she (Sam) goes home unless she wins the veto. We just need to win the veto and keep it the same.
They wonder what is going on in the jury house. Angela – hopefully Haleigh doesn't believe him about the GBM's (goodbye messages).
9:40pm Bedroom. Kaycee and JC. Kaycee – you're good. If we win the veto we'll keep it the same and she will go home. JC – thank you. Kaycee – she cannot win it. JC – I know if she wins the veto, I am f**ked! Kaycee – we've got this. She is going home this week. JC – yeah. Jury sucks! I just don't know why she hasn't come talk to me. Kaycee – she said that she wants to talk to you. She feels bad. Did Tyler tell you, you're the pawn? JC – no, I don't know why everyone thinks I'm working with people. People always want to know what is going on in my head. Kaycee – you're good. JC – thank you for telling me. It makes me feel better.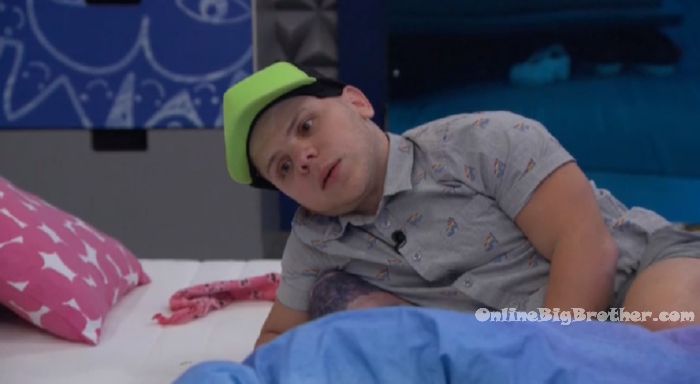 9:43pm – 10:15pm HOH room. Angela and Tyler. Angela – so what is going on downstairs? Tyler – JC and Kaycee just got into a fight. Angela – wait?! What?! Really!? Tyler – no. Angela – oh. Tyler – telling JC he's the pawn. Angela – did he believe you? Tyler – well Kaycee told him. I haven't told him. Angela – I feel like I told him pretty much last night. Kind of indirectly. Tyler – yeah, he's fine. We'll win the veto. Angela – promise? Tyler – promise.
Kaycee joins them. Kaycee – he (JC) jsut feels out of the loop. Which makes sense. He won't understand until the end. Tyler – he is just using it as a reason ..so that if he wins he can us it to justify putting you up.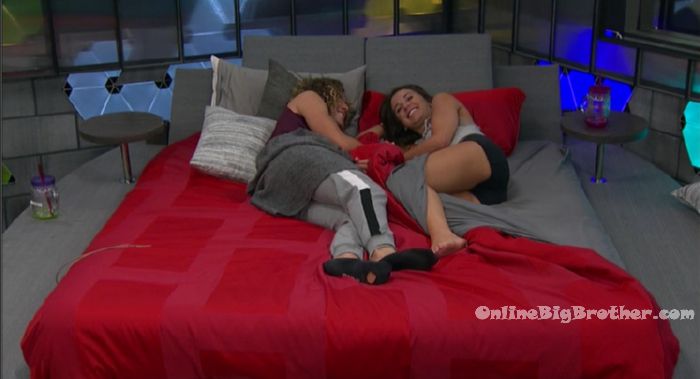 10:20pm HOH room. Angela, Kaycee, Tyler and JC. Angela tells JC – I am sorry that I didn't tell you before that you are absolutely not the target this week. I thought that you would have known that immediately when you saw Sam up there first. But I definitely should have gotten us all together and told you that you're going to be the pawn this week. I just wanted you to know that you are not the target. I just had to put two people up. JC – well thank you.
11:15pm Kitchen. Sam – what if tomorrow is a battle back? Tyler – what if tomorrow.. I just leave! Sam – what if its a battle back and Scottie comes back in. You'll just leave. Tyler – yeah. Sam – what if its a veto and then another double eviction. Tyler – f**k that! Sam – what if the twinstons come in? That would be awesome! That would be so epic!
11:40pm Tyler heads up to the HOH room. They get under the covers with the lights off. Angela – 11 days left. Tyler – 11 days. Angela – 11 days sneaking around the house hiding our feelings. They kiss. She pulls the covers over them.
11:49pm Tyler comes up for air… Tyler – nothing to see here.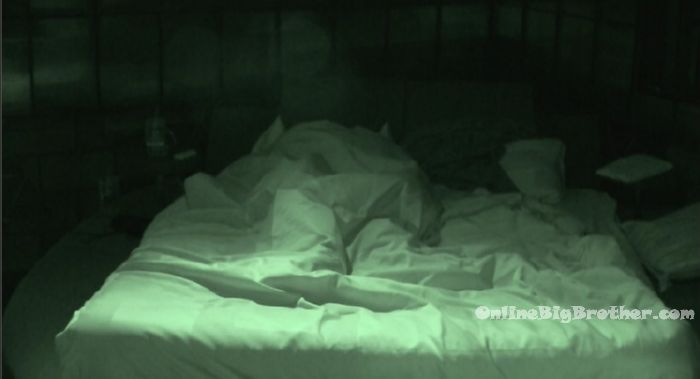 11:53pm – 12am Havenot room. Sam talking to the cameras – BEBE Rexha was in my bed. BEBE Rexha was in my saucer! I saw her today. Ohh my gosh!
Sam – you might be more patient than me. Sometimes I pretend its just me and you. When I saw my home video I wasn't worried if he was waiting .. or if at that point I really didn't care. It sort of has all come together .. and I am right where I am supposed to be. Everything happens for a reason. Thank you for everything.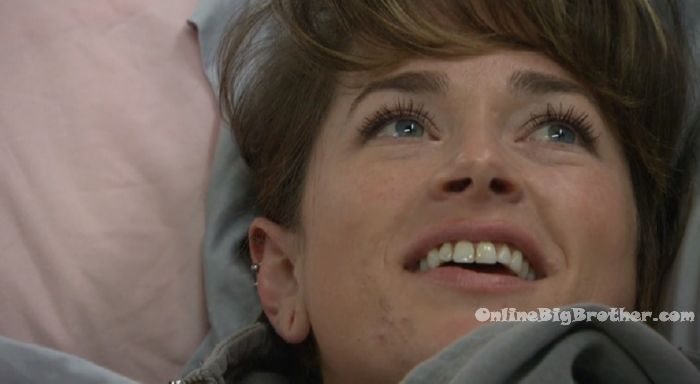 12:30am ZZzzzz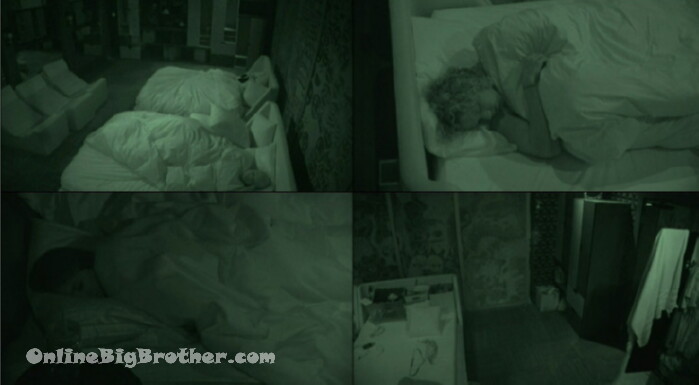 7:40am zzzzzz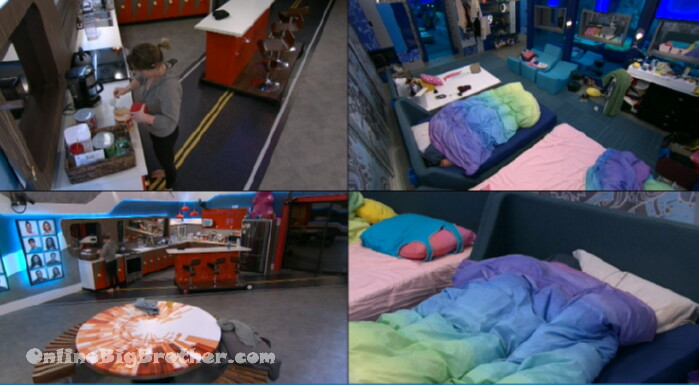 10:00am Wakeup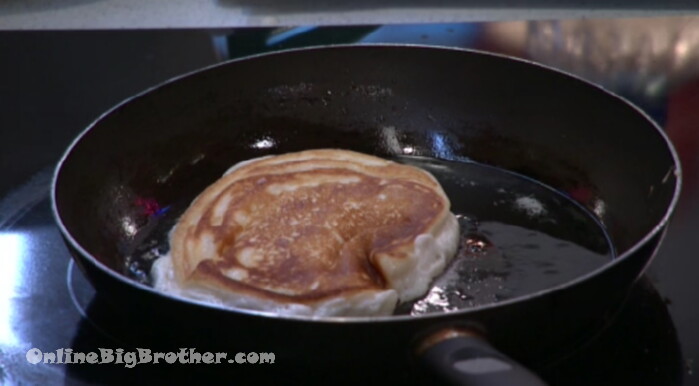 10:40am FEEDS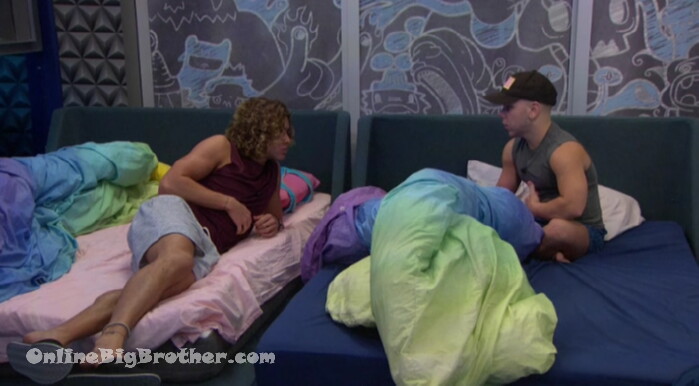 11:19am JC and Tyler (JC is rambling.. )
Jc says Sam has a chance to win Veto if it's the face morph. Says he doesn't want to see Tyler on the block as a replacement he wants to see Kaycee or Sam
JC – believe it or not I never doubted yo in this house..
JC – you're my Friend.. I enjoy your presence.. and all this what do you want me to think?
JC says he doesn't see Tyler voting out Angela unless he's some amazing actor.
JC – she's smart.. she's smart don't even doubt her for a little bit.. (Angela)
JC – if she makes top 3 and you really expect.. first off she's winning competitions.. even if it's you me and Angela and She wins… that's not my goal my goal is top 2 here
JC says if Sam goes home and it's Kaycee who wins HOH it's the two of them on the block.
JC pushing for them to try and get Kaycee out this week, "I love Kaycee.. Kaycee and Sam "
Tyler says he had to do what he did on Thursday, he knew if he told him about it JC wouldn't be for it.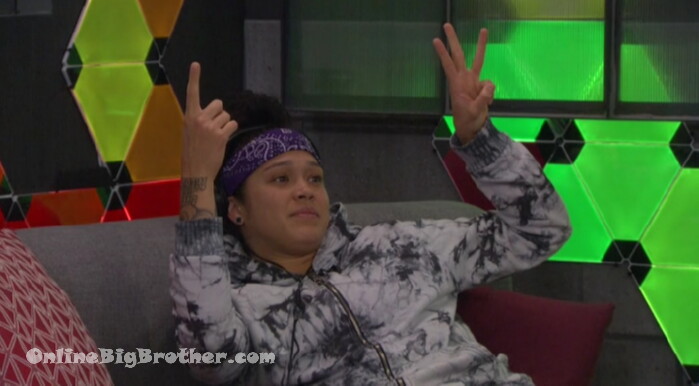 11:33am trying to figure out final 4 mechanics.
12:50pm Tyler and Kaycee
Tyler telling her about the conversation he had with JC, "he was liek you think for a second in final 2 they would pick you"
Kaycee – Dude.. he has no idea..
T – no idea
Kaycee – no idea
T – she has no idea (angela)
kaycee – she has no idea
K – She'll totally understand..
T – yeah
K – I'm sure she's thinking that me or you would take her because it would be easier
K – because they hate her
Kaycee – not happening, 100% you without a doubt.. I don't want yo to ever doubt that I swear to you it's me and you to the end DUDE.. I envision it every night. You are my best friend
K – since day 2 .. eveyr one is going to get blown away
K – JC will understand, Angela will understand how do you break something so solid we've been loyal since day 2 .. they'll totally understand
T – I think JC is going to be bitter towards me for sure..
K – you can't.. you have to respect the game ,.
T – He never had any clue between you and I
Kaycee – even thought we work together she has no idea about me and you..
T – none
K – she probably thinks you would take her and I would probably take her
T – yeah she does
K – I feel like if she will win.. which she's not going to she'll take you
T – No.. it's not going to happen..
K – we're good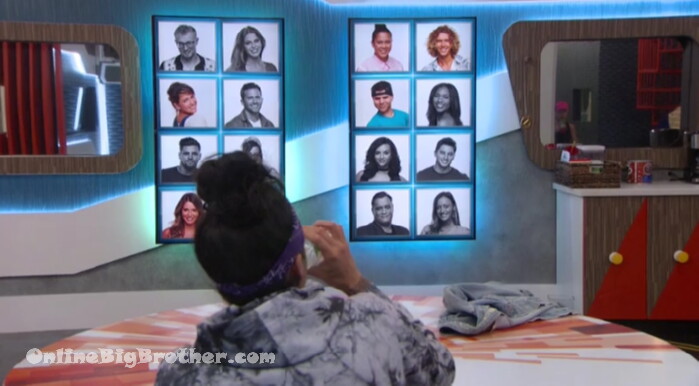 1:30pm Studying.. .

2:40pm
The veto competition starts..
4:26pm
Still blocked…
5:30pm No feeds for you.. still BB re-runs..
An easy way to support the site if you are an amazon shopper is to make your purchases through our link. You pay the exact same thing but we get a small % commission. It doesn't cost you anything and helps us out.
Amazon Canada
Amazon USA
Rank the houseguests!
Easiest way to Rank the house guests use link below