| | | | |
| --- | --- | --- | --- |
| POV: | Kaycee | Next POV: | Sept 15th |
| POV Used | NO | POV Ceremony | Sept 17th |
| HOH: | Angela | Next HOH: | Sept 20th |
| Noms: | Sam & JC | Have Nots | Havenots are done! |
9:57am wake up…
11:33am Veto was not used Nominations stay with JC and Sam. The feeds were down for awhile today. The construction of the REal Tyler song is taking up all the time.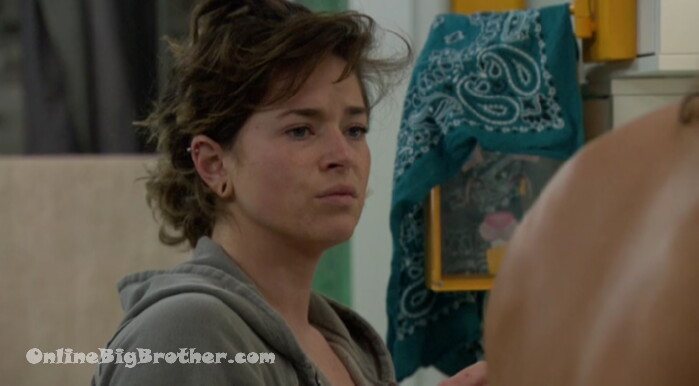 12:40pm Sam and Tyler
Sam – I want to leave on a positive note if I leave..
Sam – I have to believe that Gods plan for me is bigger and everything happens for a reason so If I'm meant to leave right now I'm meant top leave here right now
S – there's no sense in pestering the hell outta anybody .. you know me as a person you all outta know i'm not bouncing off the walls and being hysterical but.. i'm not sitting in a corner crying either
T – I know
S – I'm doing the same thing I've done everyday.. I'm not gonna hang around y'all acting crazy laughing at everything
S – I'm not going to beg and plead and try to convince you because I have nothing to offer expect what I have already been doing which is be honest and by myself and doing the best I can
S – like I've said a million times I still feel the same with all y'all. No mater what
T – we'll talk more in a couple days I guess.
S – I have nothing bad to say about JC I don't want either one of us to waste any time or feel any bad stuff
T – I don't think JC would do that to you either..
S – it's somethign to feel happy about the people I said in the beginning I felt closest to and I would have chosen are all here right now
S – could you have imagine if we got wrapped up with a different group
t – we would not have been here
S – we're all very lucky
S – like I said in my Veto thing I just kinda pissed I didn't do better for myself by myself..
Sam makes clear that she was in a group of athletic smart people.
S – In the next 9 days am I going to turn into an Athletic life guard ball catching whatever.. NO I'm not..
S – it's no like why bother at the same time it's kinda like why bother.. I'm not going to start running back and forth across the breeze way all of a sudden
Tyler – you do know you wont he hardest physical competition this season
S – Haleigh was hanging in there liek a hair in a biscuit.. she was right there with you
T – I'm talking the tree
S – I'm saying the rope thing was harder
T – no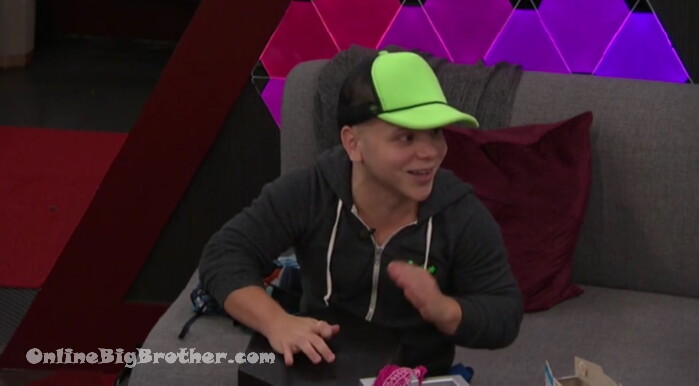 4:17pm Jc and Kaycee are working on a song. Something they've been working on it all day.
Kaycee – the song we just made is called "The Real Tyler"
JC – by Jc and Kaycee
She, she's just so beautiful, she fills up all my soul.
Tyler you know that I love you so much
She.. She walks into a room, sometimes I just can't breathe .. maybe it's her perfume
She.. she loves to fliping her weave when guys look at her they call her Ai Mammi
ai Mammi
MMMMMMM.. chex mix is all she eats while standing on her feet
She.. she loves … flipping her weave when guys just look at her they call her ai mammi
Ai mammi
mmmmm.. chex mix is all she eats while standing on her feet.. wearing her dirty "shot glass" ? dirty chanclas (flip flops) (thanks Granny!)
Maybe she's just in heat
We.. we know she's a lifeguard she makes my heart so hard .. but damn she's so crispy..
Crispy..
(it's a work in progress)
Jc – I literally just came up with that rhythm in my head
Tyler – you're an artist..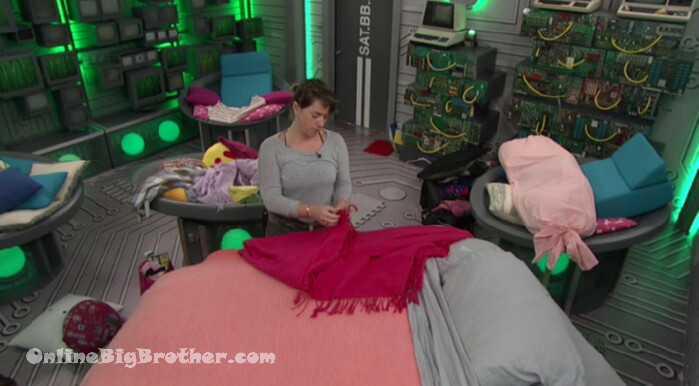 4:30pm Sam making the beds in the have nots room
5:57pm talking about how they had a cake on Day 50
Angela talks about one season her parents were watching one night. She was "really little" she couldn't wrap her mind at the time what it would be like to be in the BB house.
Angela – one of the first seasons.. it looked like their was an exit to the outside.. it looked like a home more than a studio.
They start talking about the book "the alchemist"
7:23pm zzz. .. .
8pm Kitchen. JC singing and drumming on Kaycee's peanut costume weight.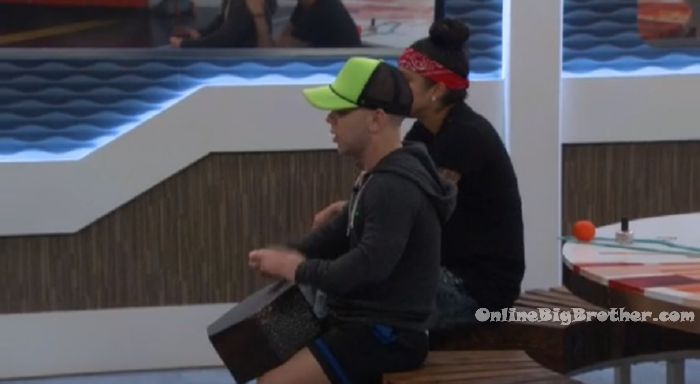 8:40pm Bedroom. Kaycee and Tyler. Kaycee – I really think that she (Angela) feels comfortable that we will take her. Tyler – I know. I think she doesn't want to talk about it until she knows which one of us wins. Kaycee – I think she thinks if she says something what happened to Brett will happen if she says something too soon. I am surprised she didn't say anything to you. Tyler – I am too. I am not trying to get her to. Kaycee – either way she thinks that we will take her. She is really confident. Tyler agrees. Kaycee – we have 3 of us so if she wins she is good and if one of us wins she is good. That's why she's not saying anything. F**king win this sh*t! Tyler – what is he (JC) saying? Kaycee – nothing. He's not really saying anything to me at all. They both agree they don't want to bring it up to Angela. Kaycee – she only ever says 3, nothing after that. I can't wait to talk to Derrick after. Tyler agrees.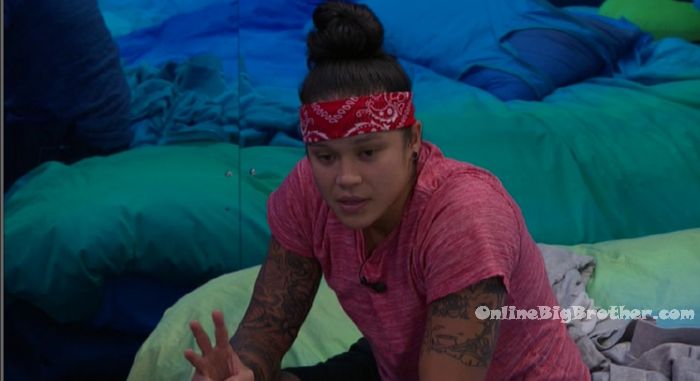 9:21pm – 10:04pm Lounge room. JC – and I can't even win the f**king HOH and now I am on the block! Kaycee – win this next HOH. JC – you know how I am. I work for one group and stuff… even if we're top four I would never be coming here and telling sh*t about anyone. Or going to them and telling them sh*t about anyone. I would rather get out 4th and keep my .. like game how I was playing it. Like being loyal to one group and stuff. So you don't have to worry about anything sketching or anything like that. I promise you I am not going to do anything sketching or anything like that. I am 100$ not top tow or anything else with anyone in the house. Kaycee – I agree. I think that is where everyone is at. JC – we don't know if they're going to reverse this week and who knows maybe Sam wins HOH. Just be cool and treat Sam like nothing is wrong. We will talk more about this when this week is over .. hopefully Tyler gives me his vote. If I get HOH, I am going to be so happy. If I get HOH, you are going to be totally fine. And you don't have to promise it back. I already know what I am going to do. The strongest players don't take out the weakest players. Don't say anything about this. Kaycee – I won't. JC – You know I don't have private conversations with Tyler. Tyler joins them.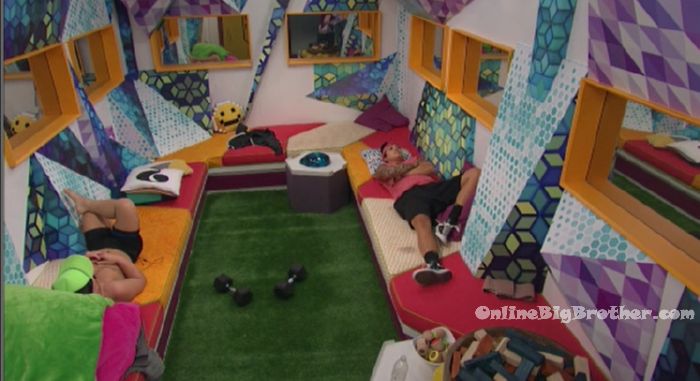 10:12pm – 11:14pm Lounge room. Kaycee, Tyler and JC chatting about random things. They talk about going out drinking when they get out. Meanwhile in the kitchen Sam cooks her dinner. When she's finished she sits on the stairs to eat. Up in the HOH room – Angela goes to sleep.
11:27pm – 12:05am Bathroom. JC and Kaycee. JC and Kaycee talk about having tea. JC – Sam is such a bitch to me. She is talking to me like this (see photo below). I was like okay! Kaycee – yeah, lets have tea time. They head to the kitchen and have tea together.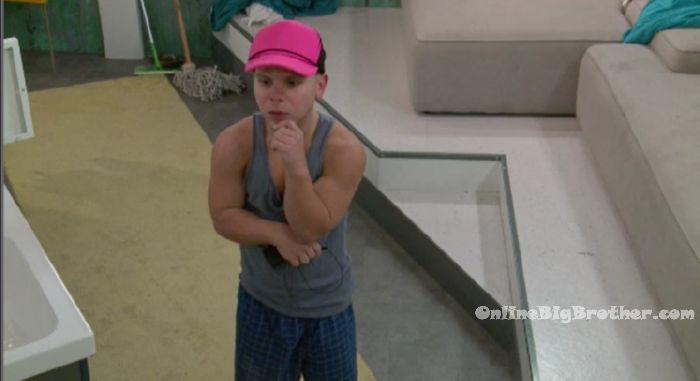 11:40pm – 12:05amHOH room under the covers.. Tyler and Angela making out. After they lay in bed and chat about random things.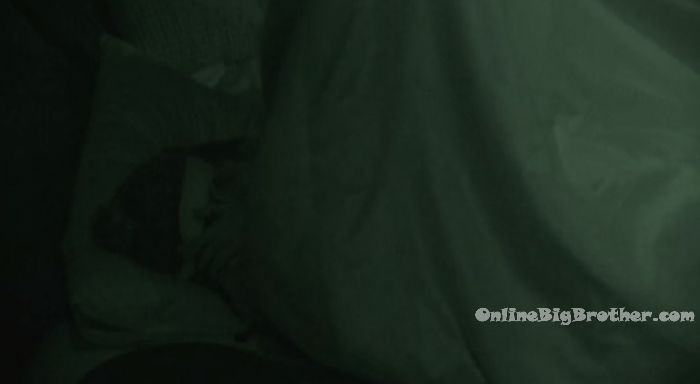 Feeds will be down until Tomorrow evening..
*** Twitter Spoilers ***
Evicted House Guest: Sam
HOH Competition: What the Bleep
HOH Winner: JC
Nominations happening tonight…
JC Nominated: Tyler & Angela (big surprise)
Source: @REALvegasbackup
[democracy id="4″]
An easy way to support the site if you are an amazon shopper is to make your purchases through our link. You pay the exact same thing but we get a small % commission. It doesn't cost you anything and helps us out.
Amazon Canada
Amazon USA
Rank the houseguests!
Easiest way to Rank the house guests use link below