| | | | |
| --- | --- | --- | --- |
| POV: | Kaycee | HOH | KAycee |
| POV Used | No | Noms: | Sam & Haleigh |
Veto wasn't used. Thursday is a double eviction. Haleigh is the first target. If Level 6 wins HOH the Second target is Sam or JC. If JC wins he'll take a shot at level six.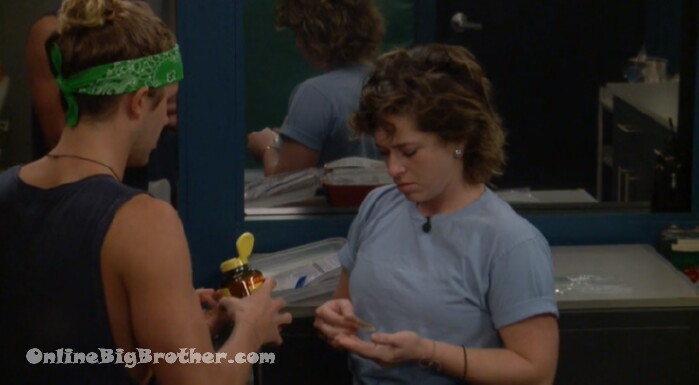 12:01pm Sam and Tyler
Tyler – Are you okay
Sam – will I be OKay
Tyler- mmmmhhmmmm you have my vote. nothing should chance that as far as I know
Sam – should I talk to Angela
Tyler- you have her vote.. it'll be unanimous.. just don't freak out.. don't worry.. don't do anything crazy..
T – it will all be good I promise you
Sam – I have a headache.. T – so do I
Tyler- I'm glad you are alright Sammie.. I'll check in on you throughout the week
Sam – OK.. well the week is almost.. 2 days that's it..
Tyler – love you
Sam – love you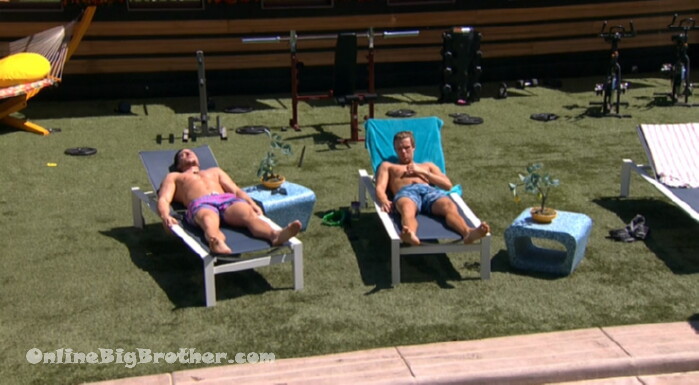 12:26pm Backyard Brett and Tyler
T – what is Haleigh's campaign going to be that is they question
Brett mentions that the way Haleigh laughed during the nomination speech makes him think she won't campaign.
T – I already told Sam she's as fine
They agree they want to get haleigh out more now.
T – does Haleigh thinks she's teh target
B – no
T – I haven't told her sh1t..
Brett – she hasn't pitched to me
T – she's banking on the fact that everyone talked sh1t about Sam
BRett – yeah ..
Tyler- she'll probably go to Kaycee and figure out if she's a pawn or try to.
Tyler – that is what she did with me all last week..
Tyler- she told Halegih if there's a tie you have my vote.. There just won't be a tie..
Tyler says this will mean halegih leaves Kaycee alone but it will mean she bugs them even more.
Brett says both Haleigh and Sam think they are the pawns this week.
Tyler agrees adds it's the same thing as last week.
Agreeing that it's a double this week or next. Tyler thinks if it's next week it would be "F*ing weird.. on day 93 a double eviction"
Brett – expect the unexpected..
T – I think we're in a good spot dude
T – The girls 100% without a doubt want us in the final 4
B – yeah
T – that's when It's gets tricky.. that's why we have each other
T – JC wants me and you and one of the girls in final 4 for sure.. not both of them
Brett – not both of them
T – I don't know about Sam though
B – Sam had mentioned Angela a long time ago
T – she probably has that in her mind
B – it's still in her mind.. and now that Kaycee put her up as a pawn..
Angela joins them..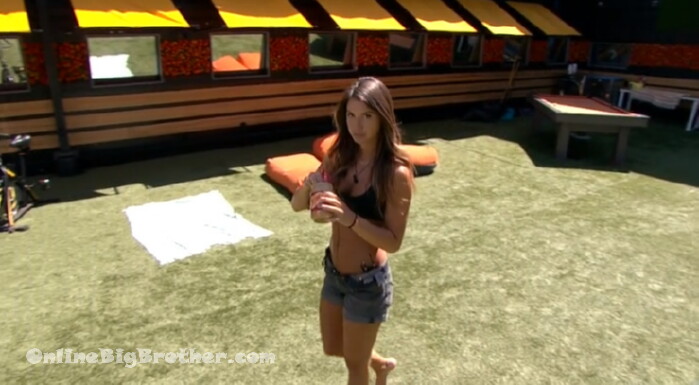 Suntanning.. Peanut butter eating, Hand eating ..etc etc..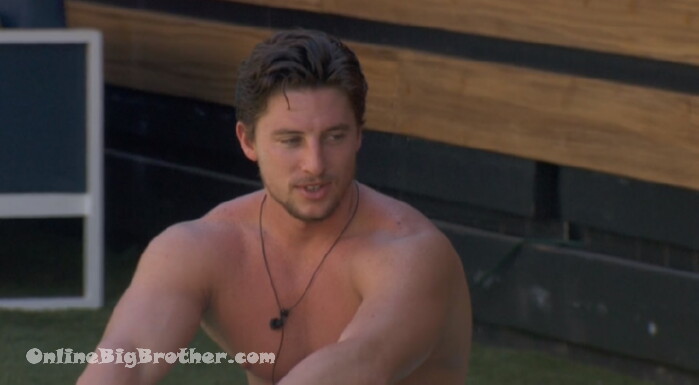 2:15pm Brett and Tyler
Brett – dude, noms are locked
T – deuces
Brett – JC wants one of the girls out
Brett – JC wants us Final 3 final 4…
they laugh taht JC just wants the girls out
T – he just doesn't like females"
B – he hates females..
T – I think even if Sam put one of us up next to Angela the target is Angela
T – yeah that is what I am thinking
T – Angela and Kaycee 100% want us in final 4
B – I don't know dude I just had a moment today where I got really f*ing nervous.. Halegih started laughing and Kaycee got really nervous
T – yeah skaycee got nervous
Brett – I was like is she about to make a move.. My hands were sweating
Tyler – me too
Brett – Haleigh was way too chill.. giggling.. it's locked.. we're Gucci
Brett – they are smart enough to know they would never win up against JC or Sam..
T – for sure
Brett says in the beginning him and Winston thought Haleigh was a huge mastermind..
Brett – I spotted the fakeness.. but she was doing well she was on the top of everyone's list..
Brett – she was the Raven of last season
They agree "She's done nothing"
T – She was the hacker..
Brett – the one thing she's done is if you tell her something she opens her mouth up to everyone ..
Tyler- she tells everybody everything
Brett – you comic was your crap app.. that's how little of a influence you've been
Tyler- I knew she was getting the crap app the third time..
Brett goes on about how he's got to win a HOH, He doesn't want to be in the same category as ROCKSTAR and RAchel
Tyle r- I just feel so distant from Sam nowadays..
Brett feels the same says at the end of the day Sam was hurt that Kaycee put her up as the pawn.
Brett – Sam's target is Angela.. in Sam's mind Anegla has manipulated all the guys in the house
T – she says that about every girl that gets close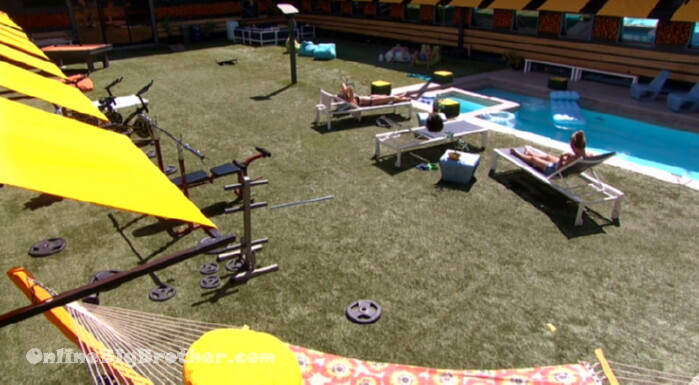 2:28pm Backyard.
Tyler – I can't believe she didn't get that puzzle
brett – she gave up.. I don't think she wanted to come back in
Tyler- I think she did
Brett – you thinks he wanted to come back in?
T – For sure dude..
Brett points out that Kaitlyn straight up quit twice..
Tyler thinks Kaitlyn thought the time was up when she stopped working on the puzzle..
Halegih in the backyard now "I don't think she wanted to come back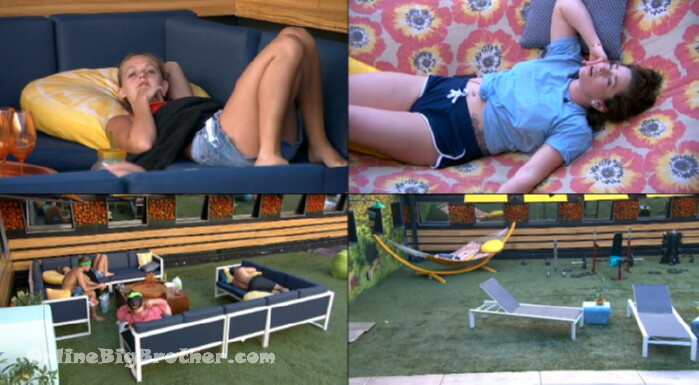 5:22pm chit chat..
7:00pm Angela and Brett
Angela saying she's trying to eat healthy for the last days they are in the house
Brett – 16
Angela – we think ..
Angela complains about Rachel driving her crazy. Every time Angela would make something Rachel would ask her what she is making and then go make the same thing .
Angela- I would be like Really… she would be like what's in this.. this this this this.. then should we ask.. OK what do I do
Brett – it's a f*ing salad lady
Angela – Drove me nuts.. do you want me to make jit for you is that what you are asking really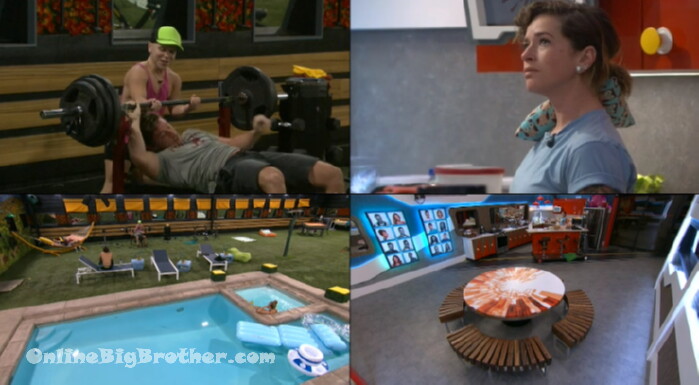 The last hour..

One easy way to support the site if you are an amazon shopper is to make your purchases through our link. You pay the exact same thing but we get a small % commission. It doesn't cost you anything and helps us out.
Amazon Canada
Amazon USA