| | | | |
| --- | --- | --- | --- |
| POV: | Kaycee | Next POV: | Sept 8 |
| POV Used | No | POV Ceremony | Sept 10 |
| HOH: | Kaycee | Next HOH: | Sept 13 |
| Noms: | Sam & Haleigh | Have Nots | Havenots are done! |
Without your support this website wouldn't be possible.
Please consider making a donation. Any amount is greatly appreciated. All donations go directly to paying the considerable costs associated with running this site.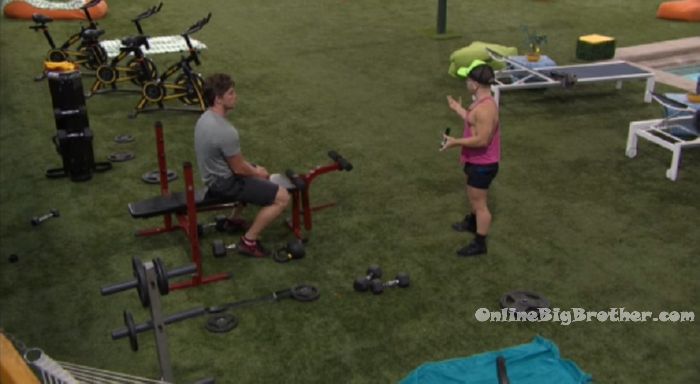 8pm Brett, Kaycee and Haleigh are over by the hammock chatting about working out / gyms. They talk about gyms that give away free pizza and pancakes & bagels. (WTF?!) Kaycee and Haleigh head inside. Brett – Haliegh has to go. You and I both know why Haleigh has to go .. because if we get down to the nitty gritty and lets just say hypothetically we were sitting next to Haliegh… we would lose. JC – yeah. Brett – that's a fact! We would lose to Haleigh .. she has four people guaranteed votes. Guaranteed 4 votes. And all it would take is one other person that was bitter about you sending them out. Its a "W" for her. She tells everyone everything and she is trying to get in tight with the girls. You know that's where her loyalty would be. I am not really positive what Sam would do.. I know Sam's target .. I think she would go after Angela. I think she would put Kaycee up next to Angela. But with Sam its not logic. JC – that's my thing with Sam. Brett – I have no idea what she would do .. she could put me up for that one day up in the HOH room. JC – agrees. JC – the thing with Haleigh we can't count on her for anything. The one thing with her is she will always be a target. Brett about Tyler & Angela – even though they're in separate beds the still sleep as close as they can together. Brett comments on how today during the veto ceremony he had a moment of paranoia where he thought he was going to go up as the replacement. Heleigh started giggling, Kaycee was getting nervous.. I thought she was about to make a big move. JC – I am going crazy in here. That would have been a great move for her. Brett – I would have been f**ked. Think of it.. Haleigh is a follower, she is just going to do what someone tells her to do. All Kaycee needs is two votes and then it comes down to her decision (to break the tie). So if Kaycee goes I'll use this veto on you if you vote however I want you to. Duh she (Haleigh) is going to take that deal. That's one vote and Angela's vote. I thought it was going to be for sure dude. I thought I was f**ked and there was nothing I could do. I would have been like f**k you but there's nothing I could do.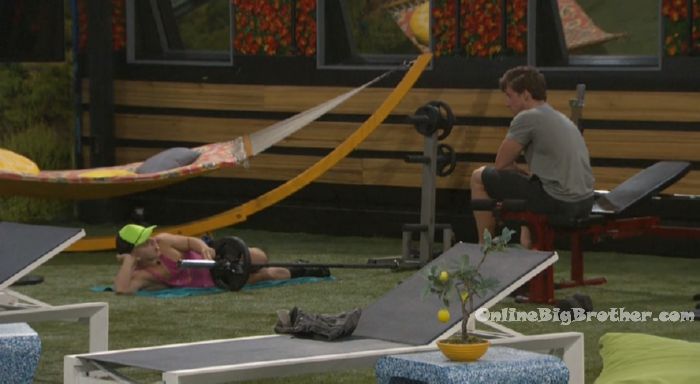 8:14pm Tyler looks like a lobster..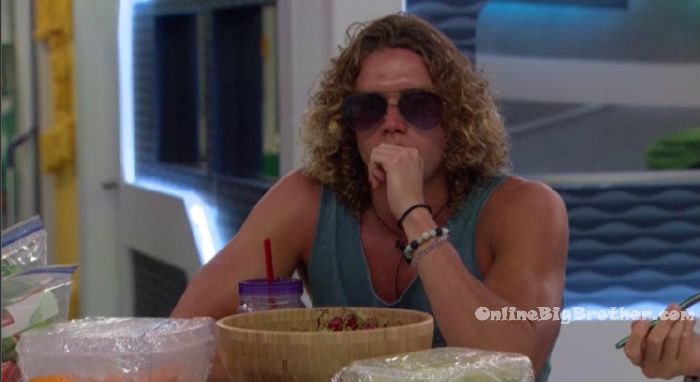 8:22pm HOH room. Lobster, Angela and Kaycee.
Kaycee – we're about to be top six! Tyler – has anyone pitched you guys? What is Haleigh saying? Angela – I think she feels safe. Tyler – does she? Angela – she is talking about things in the future past Thursday. Angela – I imagine it will start Tuesday or Wednesday. Tyler – what do we tell her? Kaycee – I wonder what her pitch is going to be to you guys. Angela – I am not coming after you, even though you put me up. You sent my boyfriend home. Kaycee – I just can't get over that one of us was so close to leaving because of her. So f**king close. Tyler – multiple times. Angela – she (Haleigh) was like Rockstar told me to do it. Tyler – she has got to go. Do you think it will be unanimous? Angela – yes. Kaycee – are you serious? Tyler – what I didn't talk to JC. He would vote her out right. Kaycee – yes. I can't wait when we can tell JC (About level 6) .. when its like 5 of us and he has to go. Tyler – he is going to be so pissed at me. I've lied to him so many time about us. Kaycee – he is going to be so pissed if he does not win a single competition.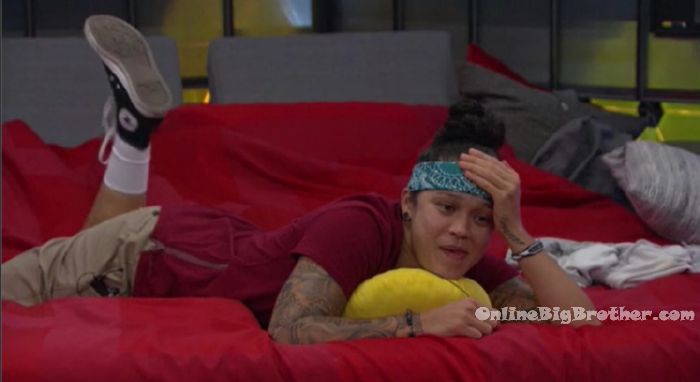 9:50pm HOH room. Tyler and Kaycee. Tyler – it frustrates me when he (JC) says things about you guys and he always does. He told me that he would put up Angela and Sam if he won. Kaycee – really? Tyler – yeah, not you and Angela .. which is good. Kaycee – yeah. He would always say things like LGBT. He said I wouldn't vote you out. That would make me looks so stupid. Tyler – yeah. Kaycee – which is cool that I have that with him. Either way I am not even worried. They're out of here. S (Sam) and J (JC).
10:30pm – 10:50pm Hot tub. Brett and Haleigh chatting about past events of the season. Haleigh – how do you feel about this week. Brett – I don't know. I think you best bet is Sam. But I don't know… I can't read if she is really doing nothing or nothing with me. Haleigh – I know. Brett – that's the read I got with Bayleigh. She was really doing a lot .. she was just doing nothing with me. Brett – I just think its weird that she came close to winning the tree endurance comp. …to not winning anything. Brett – guaranteed she has everyone's vote in the jury house. haleigh – I think I am stuck .. the only thing I cam hope for is her (Sam) freak out.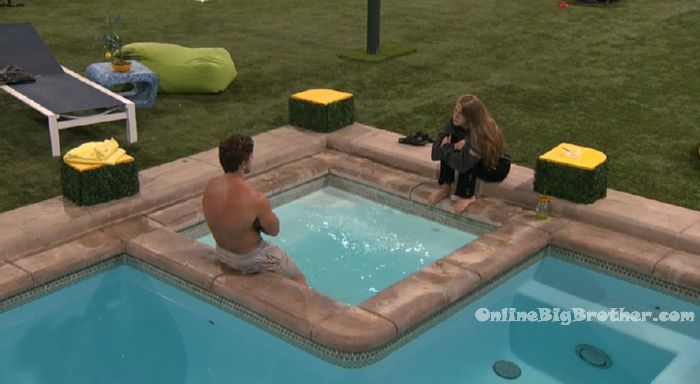 11pm Haleigh to Brett – are you not working with them? Brett – no. Haleigh – are you serious. I walk in an y'all are celebrating together right after Angela won. You, Tyler, Kaycee and Angela. I thought… I was under the impression that you were working with them. Brett – have I voted with them sometimes in this game. Haleigh – you didn't celebrate with me. Brett – yes I did. Haliegh – when? Brett – I absolutely did. Bett – its no different than Scottie celebrating with Fes. Fes put Scottie up. Haleigh – that's true. Brett – I've voted with them but I am not working with them. Haleigh – I think my best bet is if I could get Angela. Brett – you think you could get her vote? I think you would be more likely to get Tyler's vote. Haleigh – the way that Sam was cheering on Tyler to win. You don't think that is something. Brett – I think it was more against you.
11:50pm – 12:19am They house guests are saying goodnight…

Tyler & Angela's kiss goodnight.. @bigbspoilers #BB20 pic.twitter.com/BcbtdcwTz4

— Dawg (@DawgsBigBrother) September 11, 2018
1:30am Brett and Haleigh in the backyard chatting. Haleigh – I don't want this to end the way I think it's going to end. You or JC need to win. This is how I see it happening. You have these three that are obviously going to have each others back. JC I think is going to have your back. And that's how I see this playing out if I leave. You will have JC's back and I don't know where Sam fits in. Brett – dude it just makes me nervous that she (Angela) has two good competitors (Kaycee & Tyler) that have her back no matter what. Like if that's my ride or die I would be worried. They're (Angela and Tyler) separate beds right beside eachother. She doesn't like me being alone with either one of them. Everything they've done has just gone smooth. I saw the whole thing happening. I saw the three. I had to try and break them up. Brett – I saw your logic when you did it. I just don't think you're ever going to convince Kaycee. I don't think anyone has ever brought it to her attention. Haleigh – do it and risk.. Brett – risk what at this point. Haleigh – and what if she knows Tyler and Angela are a thing. Brett – maybe she thinks she's playing him. Haleigh – maybe she is. Maybe that is the plan. Then Tyler paints a picture that he doesn't feel comfortable. I don't know what the f**k to do. I can only hope that they want Sam gone. The only thing I feel comfortable with is that Angela doesn't feel comfortable with Sam. The only person she is in good with is Tyler. Brett – I think she made her relationships with the people that hung out with her when she was a robot. Heleigh I think my best bet is Kaycee. Brett – that's your only bet.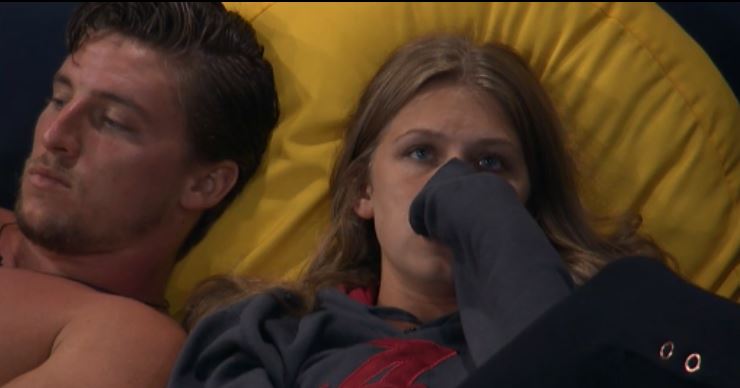 2am – 2:30am Brett – I just wonder how much will power he (Tyler) has. Haleigh – you think he has any? Brett – I just wonder if he would let it go as far as to control his game. Has he just been getting down with everyone? And I am just a loser here? I think Fes got with Kaitlyn. Haleigh – maybe. Brett – no I think he did based on what he asked me. He asked me did she grab your d**k? And I was like no. Haliegh – I could definitely see that. Brett – that definitley happened to you (Fes). Haleigh – yeah you don't ask that question unless it happened to you. Brett – and then she tried to make him grab her.. big brother blocks the feeds. Haleigh – and that begs the question what happened between her and Tyler. Brett – he didn't want to talk about it because he said this could f**k her life up if her boyfriend was real. Haleigh – I think if I leave your best bet is with Tyler.
Brett – Angela doing what she is doing with Tyler has pushed JC into my arms. Haleigh – yeah for sure. Brett – When everyone pushes us away we get close. I feel like I am walking around on glass in this house.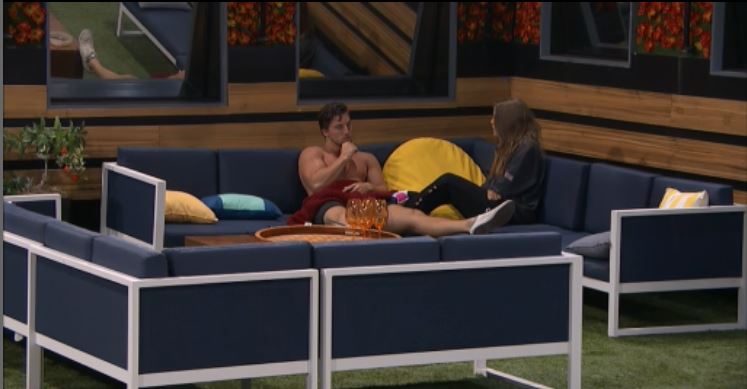 3:15am Brett and Haleigh continue talking about past events of the season…
An easy way to support the site if you are an amazon shopper is to make your purchases through our link. You pay the exact same thing but we get a small % commission. It doesn't cost you anything and helps us out.
4am They head to bed…
Amazon Canada
Amazon USA
Rank the houseguests!
Easiest way to Rank the house guests use link below