| | | | |
| --- | --- | --- | --- |
| POV: | Kaycee | Next POV: | Sept 8 |
| POV Used | No | POV Ceremony | Sept 10 |
| HOH: | Kaycee | Next HOH: | Sept 13 |
| Noms: | Sam & Haleigh | Have Nots | Havenots are done! |
Without your support this website wouldn't be possible.
Please consider making a donation. Any amount is greatly appreciated. All donations go directly to paying the considerable costs associated with running this site.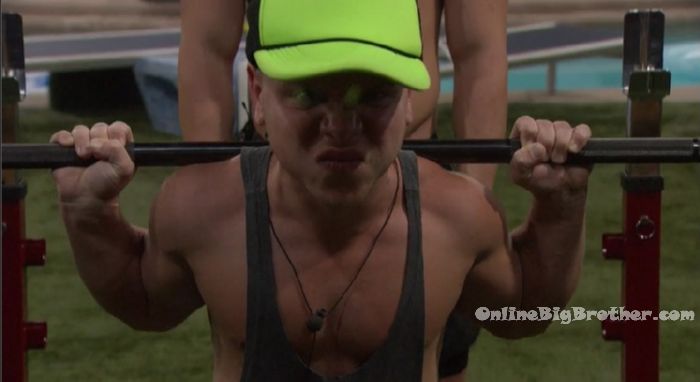 9:19pm Backyard. JC and Brett. JC – Haleigh is asking me about this week. Brett – she hasn't said anything to me. JC – I think she is waiting till tomorrow. Brett – Kaycee's going to keep noms the same right? JC – she's not that stupid. She doesn't want to do anything to piss off Angela or stuff like that. But she is about to explode. She is the new Rockstar. Brett – I keep thinking about hypotheticals and like f**k dude, I hope they don't do something crazy. JC – we're fine. We make it through nominations and then we do damage control. Worst case scenario is Angela wants to make a move to take you out. We could work out the votes. You can get two votes. Brett – and then it goes to Kaycee. JC – that's why we need to make the move now! She (Angela) is just pissing me off. And then she is just a B***h. She is one ungrateful b***h is what she is. To give me looks!! Seriously!!! And I mean we're friends and to make it top three of course I would come for you in the game. I would never give you a look or treat you different. IF you win, you're the man. If I win, I won bro! That's what we're here for right!? Brett – yeah. JC – but I would never give you looks. I think that is very out of place and a very b***hy thing to do. I am pissed about that! Brett – what if Kaycee used the veto on Haleigh? JC – we're fine. Kaycee knows better. The only way that Kaycee would use the veto on Haleigh is if Angela asked her.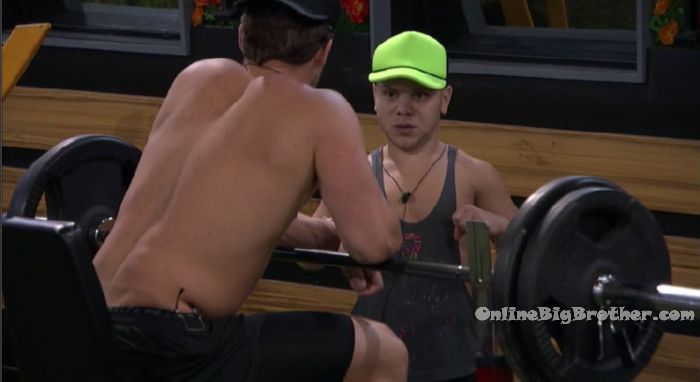 9:25pm Kitchen. Angela tells Haleigh about her gymnastics past. Haleigh – are you serious!!! You're so annoyingly talented!! NO f**king way!! Are you f**king serious!! Haleigh – why are you telling me? Angela – because I just don't care any more. Haleigh – that's f**king awesome! You must feel so accomplished.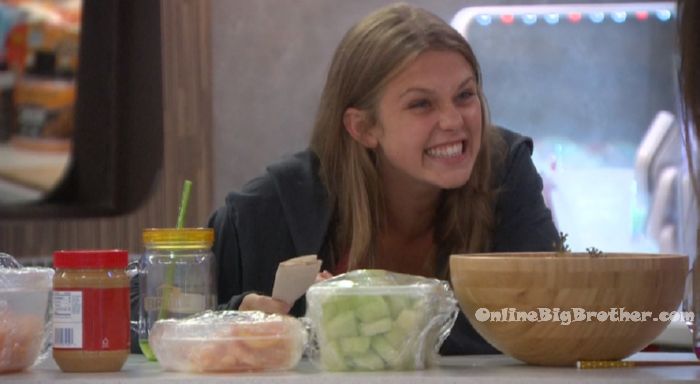 10:08pm – 10:35pm The house guests get Chinese food from POP TV in the storage room. The bring it out to the kitchen table and dig in.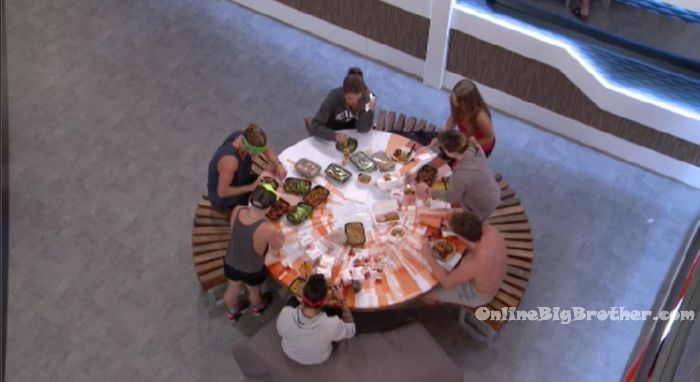 10:43pm HOH room. Kaycee and Angela. Kaycee – anything new? Angela – no, I was talking to Haleigh and she was like I don't even think I should talk to Kaycee about using the veto on me. I was like yeah, that wouldn't be very smart for her to change her own noms. She was like I know, unless she wanted to backdoor someone. I was like yeah I don't see that happening. She was like you're right. I just won't even. Kaycee – that's funny. In my speech I am pretty much going to say .. I'm just keeping it the same. Angela – out of respect for myself. Kaycee – yeah I want to respect the HOH's noms this week and keep it the same. No backdoor plans this week.. so one of you are going home.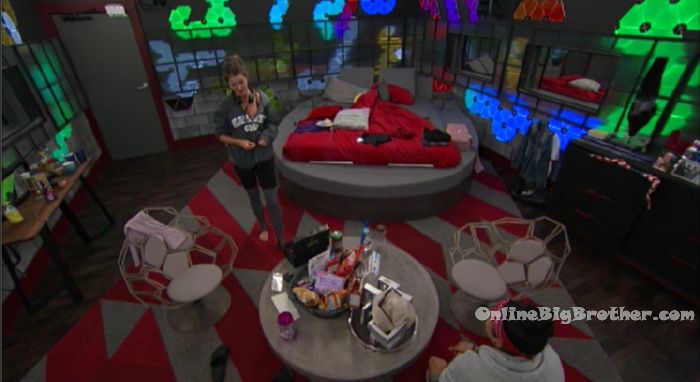 11:05pm Backyard. Tyler is playing pool by himself. Meanwhile up in the HOH room. Angela and Haleigh are sitting in silence on the couch.
11:18pm – 11:40pm Big Brother gives them a bottle of wine and a few beer. They comment on how JC is in the diary room. They cheers to top 7 and their families. JC joins them. He comments on how when he was in there he heard them screaming and production told him to focus. JC is annoyed that they drank all the beer and left him a glass of wine.
Sam is drinking her wine out on the hammock to watch the stars. Sam – my heart is content. I am happy.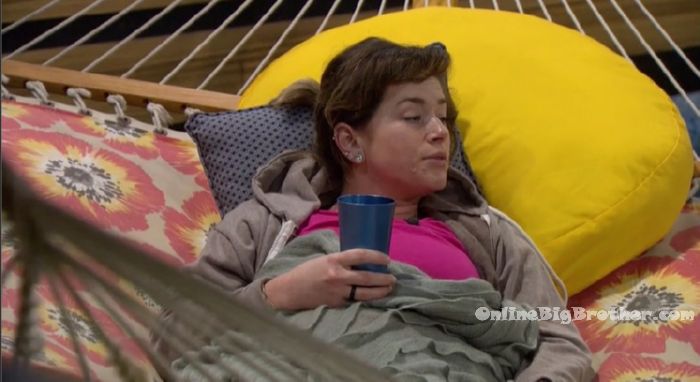 11:45pm – 11:50pmJC tells Tyler – She needs to get her sh*t together. I am ready to blow. Tyler – don't blow up. That's the worst thing you could do. JC – so what are we doing on Thursday. I feel like it will be a knock out one. Tyler – is a double? JC – it has to be. If I win HOH… I could put Angela and Sam up. Brett said that if he wins HOH he is going for blood. Tyler – did you say he is going to? JC – yeah, 100%! Ty;ler – he told you. JC – I already had this conversation with him in front of the mirror. Tyler – Know but did he already say that or are you just confident about it? JC – if he is not confident about that.. then right before Thursday I am going to get his head. Tyler – are you just being confident or did he say? JC – he did. I know you don't like to give me all you details. JC – you know you tell me 70% of stuff. Tyler – you give me 20%. JC – you think you're so smart Tyler. Tyler – you give me 15%! Tyler leaves for the bathroom.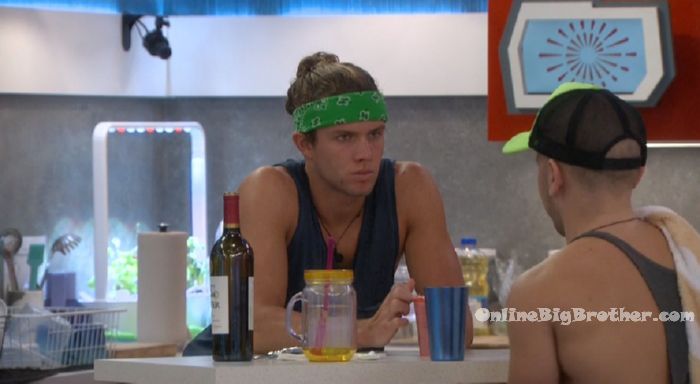 3:40am All the house guests are sleeping..
8:20am Zzzzzzzz
(FYI .. THe next update won't be until after 5pm PST. The veto will not be used today)
One easy way to support the site if you are an amazon shopper is to make your purchases through our link. You pay the exact same thing but we get a small % commission. It doesn't cost you anything and helps us out.
Amazon Canada
Amazon USA
Rank the houseguests!
Easiest way to Rank the house guests use link below