Head of Household Winner – Nicole
Nominations – Christmas and Memphis
Power of Veto holder – Nicole
Power of Veto Ceremony – Nicole did not use the power of veto.
Live feeds —-> Grab your Live feeds here. Try it free.
Rank the houseguests —-> Big Brother 22 Ranking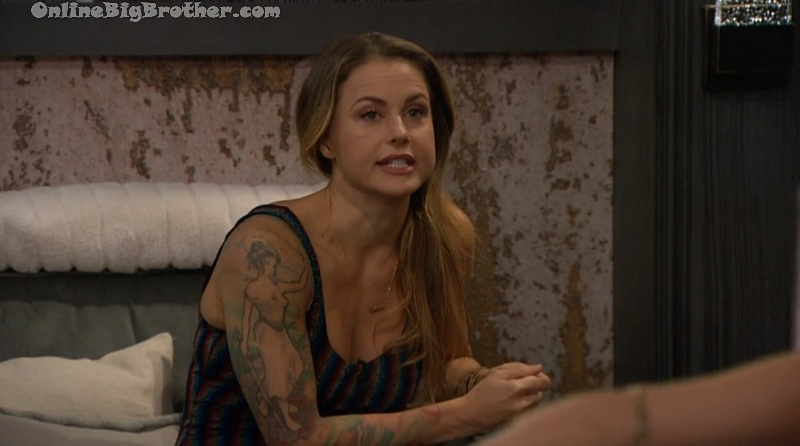 11:36 am Christmas and Nicole
Nicole – I'm freaking out I don't know what to do I'm literally still trying to talk things out. I do know that Enzo said he will keep you no matter what. Do you feel comfortable with that or no? Do you trust him?
Christmas – There's parts of me really trust him but I've seen him say whatever he needs to say to the person and the only thing is. Depending on the level of you wanting to keep me.. I feel like that's a really big risk.
Nicole – UGH I do believe him that's the crazy thing. You should talk to him .
Christmas – he's downstairs
Nicole – go talk to him
Christmas leaves..
Nicole – SOS Big brother.. What are you doing to me I'm losing my mind jeeze Luise
Nicole- I do feel like a mastermind a little bit
12:12 pm Feeds on pound puppies.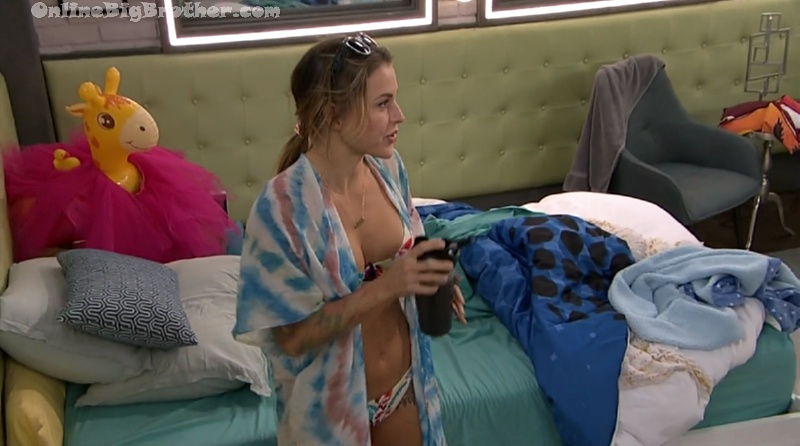 1:00 pm Feeds return
Christmas – I'm going to enjoy some sunshine..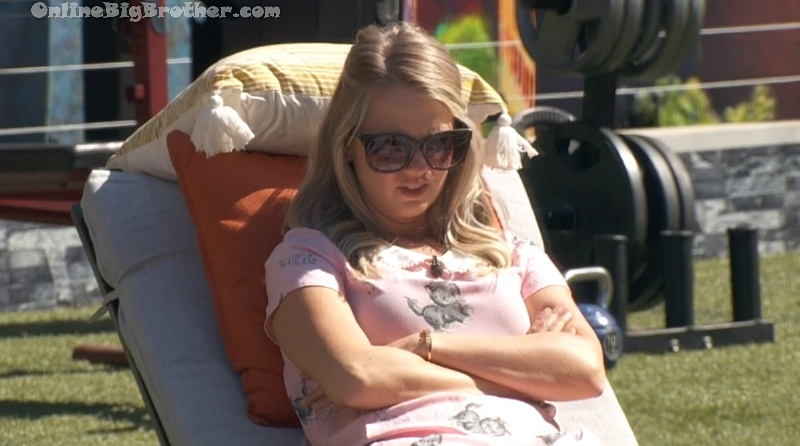 1:00 pm Nicole and Cody
Nicole – she's insulting me while she's trying to manipulate me..
Cody – brilliant play
Nicole – she said sorry a couple of times.. she's so pushy..
Cody says now the dialog will change it's going to be Christmas telling Enzo they need to split up Cody and Nicole
Cody goes on about Christmas saying Nicole and Cody are a duo.
Cody says he doesn't trust Memphis at all "HE's a snake"
Cody says Christmas is not a threat to him.
Cody says the competition wins for Christmas this season was because of people throwing it to her. Except for that one VETO win
Cody – go be sitting here making yourself out to be this like incredible competition player like you're not. Memphis does well in comps
Nicole brings up Memphis thinking he's going to stay.
Cody says he has no clue what is going on. "go to jury get that party started"
Cody says Memphis arrogance is irritating
Nicole – he's gotta go but both drive me nuts.
Nicole says they tried to get Cody backdoored but thankfully she won the HOH and it fell on deaf ears.
Nicole – imagine getting out up twice on a triple and having two people turn on you
Nicole asks him if he was HOH who would he want out?
Cody – Memphis
Nicole says Memphis whole pitch to her was that he wants to take her to the final 3 because he thinks he can beat her.
Nicole adds about Christmas saying to her if she keeps Memphis over Cody she id guaranteed final three because she is the worst.
Cody – what a slap ion the face
Nicole says she hasn't done much. "I have but I haven't"
Nicole goes on about playing some deadly game this season and how she didn't win comps but played other aspects. Points out that they set her up to survive the triple and she did. "That's impressive"
Nicole – the odds were not in our favour not one time in this house.. (ZOMG)
1:00 pm
Christmas jokes that she will steal the veto..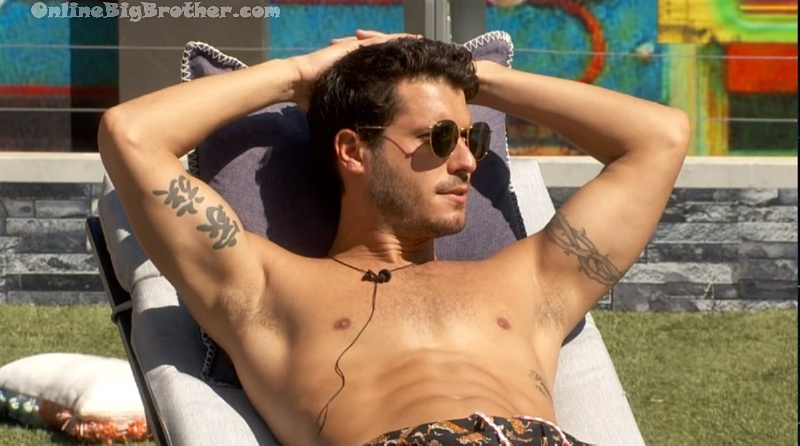 1:16 pm Nicole and Cody
Agreeing they're taking each other final 2.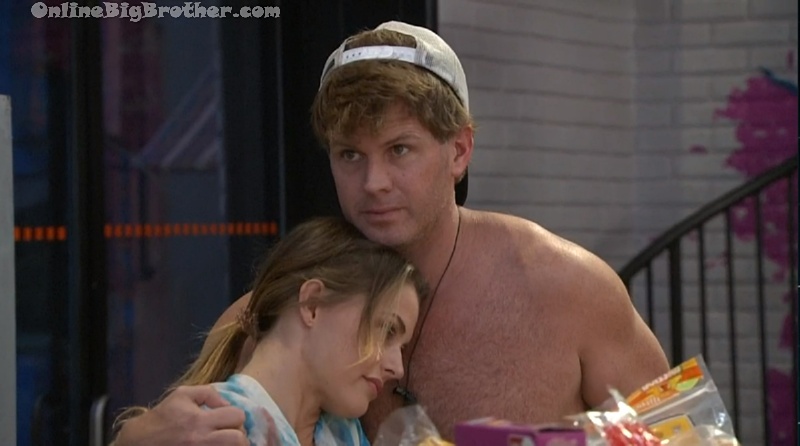 1:18 pm Jerry was right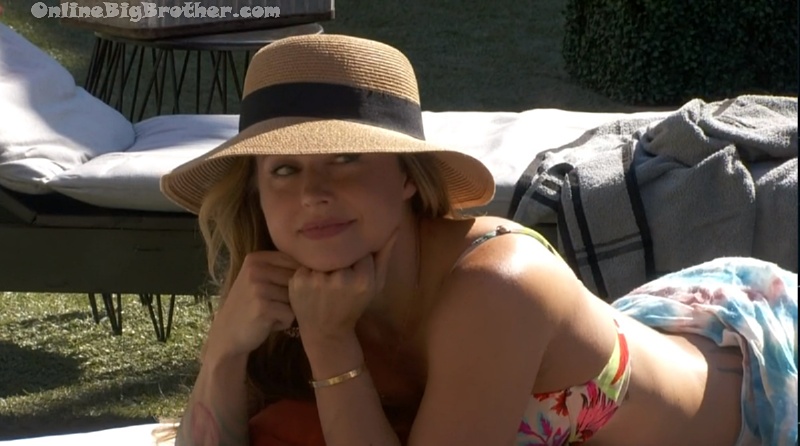 2:33 pm Christmas and Memphis
Memphis – are you going to start campaigning tomorrow?
Christmas – nope
Memphis – what do you mean no. You better.
Christmas – whatever they have in their heads is already on their heads.
Memphis- you got to at least talk to them
Christmas – there's no campaign to have
Christmas says they had all the conversations to have before the veto meeting.
Memphis – we missed the mark with us both being in jury
They laugh
Christmas – not smart..
Memphis – to raise hell. Hey mother f***ers
Christmas – neither one of us will be any fun for them.
Memphis – ohh f** no
Christmas says the people she likes the most this season are still in the game.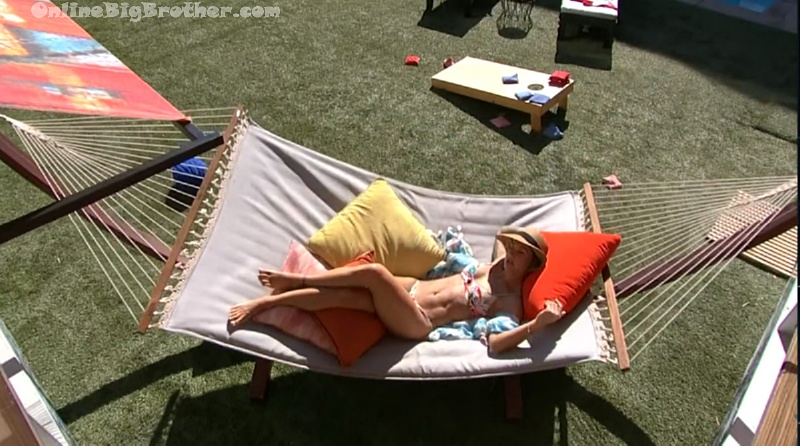 3:00 pm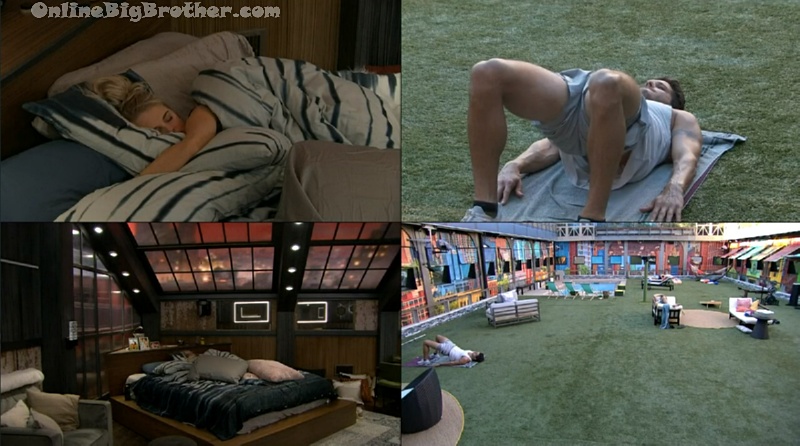 4:30 pm
5:51 pm feeds are on pound puppies.
6:34pm Pounds kittens
7:00pm pound kittens
8:15pm Nothing but kitties..
9:10pm Feeds return for just enough time for Nicole to say – I love you Victor. I love you Mom. I love you Dad. I love Jessie. Then Big Brother blocks the feeds again.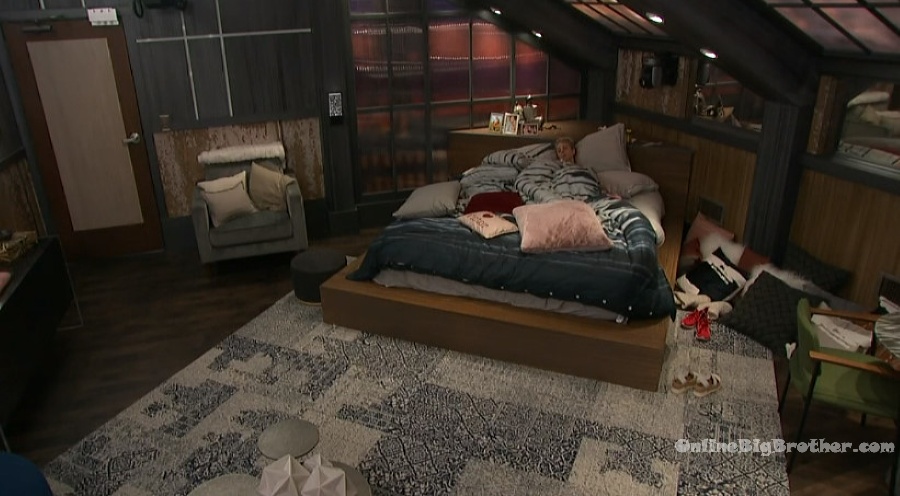 9:17pm HOH room. Nicole talking to the feeders. All four cams. Nicole – They needed their space. Cody has been real quiet. I am just letting him have his time. He's been real quiet and I think he has been studying maybe. He studies in his head which is why I think he has been by himself because we think the next veto will be days. So he's been studying. Then Memphis has been really pleasant even though I put him on the block. Christmas has been really pleasant even though I put her on the block. Honestly, yes.. everyone has been really pleasant lately. Do I get annoyed sometimes .. absolutely. Am I annoying .. absolutely. Am I going to be upset if people say I am annoying and I am this and I am this .. no because I am and I can be. Its fine. I guarantee everyone in this house was annoyed by me at some time. She then talks about the evicted house guests. David one of my favorite people. Ian was exactly how I thought he would be and I loved spending time with him. Day, I loved Day. She has the best personality hands down. Bay is so so so so sweet. She is very sweet. NicoleA was very sweet. Dani I love Dani. Love, love, love Dani. Kaysar was really nice. He had kind eyes. Enzo and Cody are great. Tyler and I didn't vibe much. I thought we would but we didn't. I just didn't trust him. Keesha was super super sweet. That's about it right!? Big Brother blocks the feeds.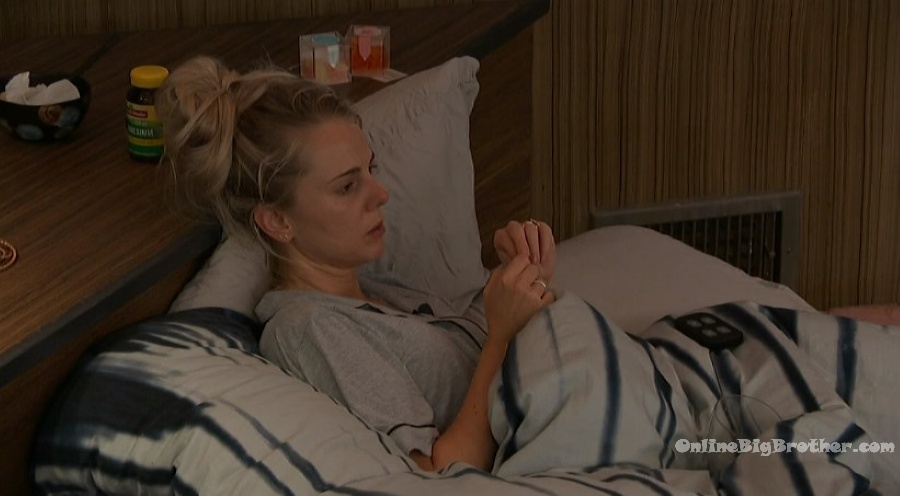 10:51pm Kitchen. Enzo and Nicole.
They're talking about how hard it is to get onto big brother. Enzo – you just have to keep trying and trying. Nicole – its not that they don't like you, its that you don't.. Enzo – you don't gel with this years cast. Nicole heads up to the HOH room.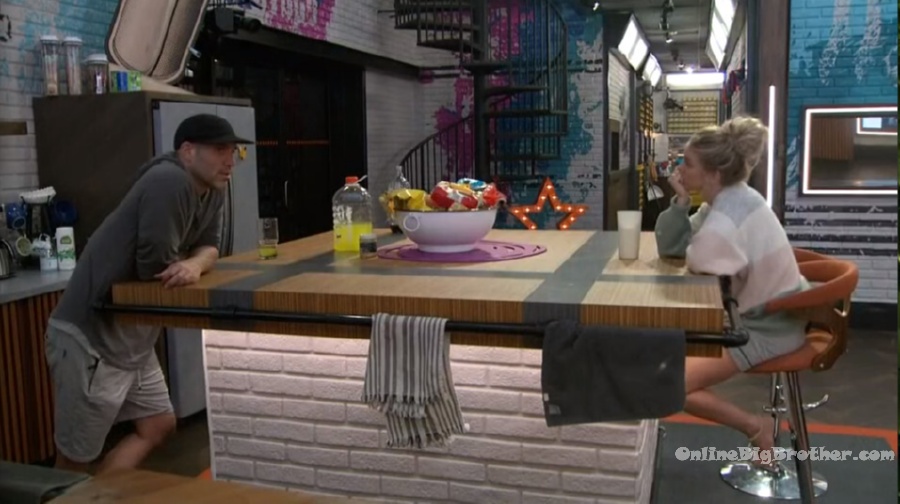 11:08pm Big Brother blocks the feeds again..