POV Holder:
?
Next POV
May 15th
POV Used
?
POV Ceremony
May 17th
HOH Winner
Sarah
Next HOH
May 20th
Nominations:
Zach and Ashleigh
Have Nots
Brittnee and Zach
POV Players
?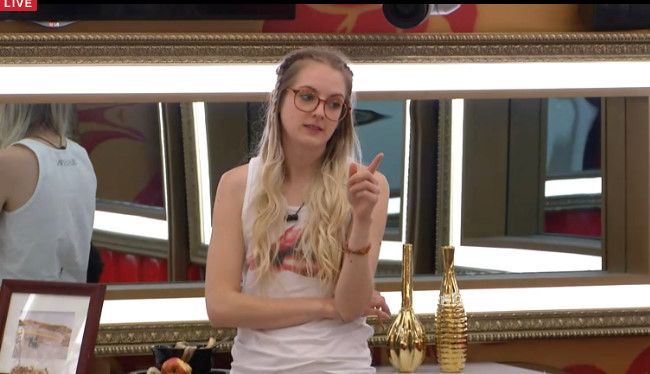 1:30pm Up in the HOH room – Sarah tells Godfrey the odds are in our favor. Just be confident and calm. Godfrey says yeah I will. Sarah "I said I would put you (Godfrey) up if they won but there's no way I would do that!" Godfrey says if its physical then hopefully Zach can win it and pull himself off. Brittnee and Sarah say that's not ideal … what the f**K god!?! If its physical you're going to try and pull it off. Gdofrey says I'm just saying I would rather him than her win it. Sarah says even you want to keep this dude around!! Godfrey says no. Britt says you obviously do. Sarah tells Godfrey I better not see you drop out. Like if Ash drops and Pili drops .. you better not be like he's not coming after you so I'm just going to let him take it. Godfrey says my main goal is to get Zach out. I know if Pil's wins Ash is going to come off and they're going to keep him. Sarah says obviously! But that doesn't mean you should let him win!
In the bathroom – Pili tells Zach about the conversation she had with Sarah about Zach being the target and how Godfrey should go up. Zach tells Pili tell them you want me out because I'm close to Ash. We could even make up a fight to sell this. I will walk around this house like a big baby. You have to sell that you don't want me in this game. To her you will vote Just say anything.. anything you have to. Zach leaves and Pili / Ash talk. Pili is worried if it comes down to final 3 with her, Ash and Zach .. she would need to win to make it to final 2. She tells Ash that she's going if Pili wins or Zach wins.

1:45pm All the house guests are in the kitchen making lunch / chatting.
2:15pm Sarah heads up to the HOH and reads her letter: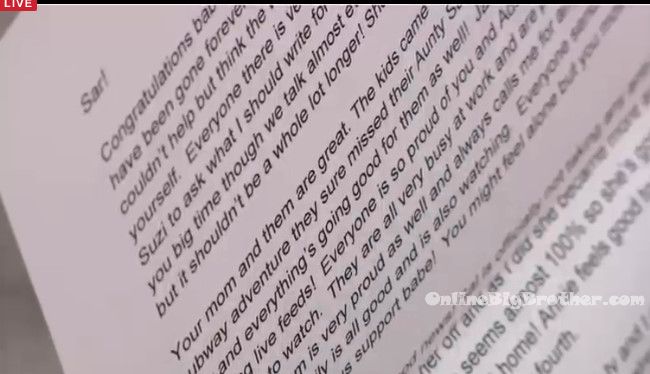 2:20pm – 2:50pm Ashleigh comes up and tells Sarah that she has come to terms with needing to vote out Zach. Ash says it sucks but I know it has to happen. Sarah says sorry for putting you up but hopefully things go perfect and you don't have to vote him out. Ashleigh leaves the HOH room and Sarah says "LIAR!" Godfrey joins Sarah. She tells him not to worry. People think Zach is going to win every competition but he's not going to. Pili joins them and they sit in silence.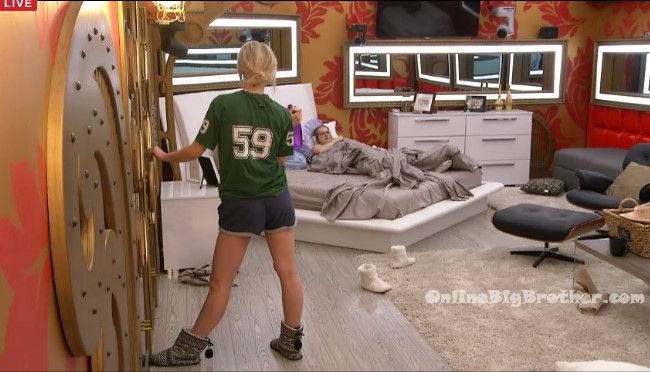 3:15pm – 4:10pm HOH room – Sarah, Brittnee, Sarah and Godfrey lazing around sleeping / chatting about random things. Zach's in the living room sleeping on the couch. They head up to the HOH room and Pili, Sarah, Brittnee talk about the season and other random things. Godfrey is sleeping and Zach is taking a bath.
Godfrey "NAP TIME IS OVER!!" @bigbspoilers #bbcan3 pic.twitter.com/aEmAvXzl0h

— Dawg (@DawgsBigBrother) May 15, 2015
4:40pm – 5:10pm Bedroom – Zach and Godfrey are talking. Zach says that next week only Brittnee is in the HOH competition against you, me, Pili and Ash. Godfrey says there is no way in hell I am taking Ash or Pils to the end. I want to go with people that I am confident would take me. I am leaning more towards you. I am not using it (veto) on Ash. I would rather sit next to someone that I respect. Zach says yeah thats what Bruno would say too. Godfrey says those two are solid. Zach says those 4 are solid. I would be so scared if Ash pulled herself off …I don't know who she would nominate, you or Pil's. Zach says if you made a huge move on Sunday that would be a good campaigning point. And then win HOH next week. We could ride this thing out. Godfrey tells Zach you and me were the only ones who have sweated.. well, you were on the block for 5 minutes. I just hope this week goes smoothly. Zach says it starts with the veto. We just have to win it and stick it to them. Godfrey tells Zach If I win the veto I will pull you off. Zach says thanks. They decide to keep it on the DL.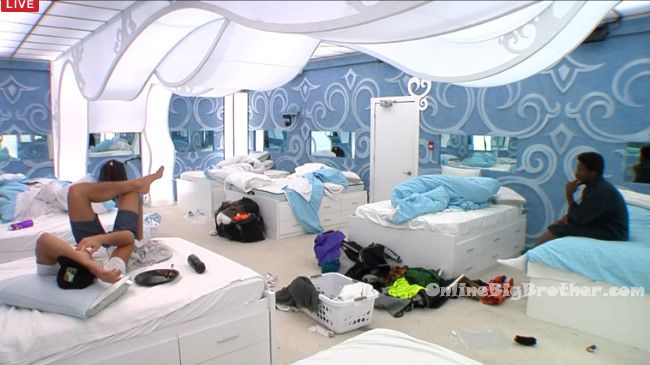 5:20pm – 5:35pmBrittee asks Sarah what do you think about this? Sarah says lets just wait and see what happens. If anything happens we can talk our a$$es off to get out of anything. If Zach stayed and wins (HOH) this week it would be better for him to win so that he would maybe put one of us up with Godfrey and we could get the girls to vote out Godfrey. Sarah says that she thinks God will do whatever is best for him. It wouldn't be a bad situation if Ash won and took herself down. We would just put up Pili. Sarah says a lot of weight is off our shoulders knowing that Bruno is out of here. If I was to go home next week I feel okay that he went before I did. It wasn't okay what he did. Sarah says the one thing you have to work with God is that you've saved his life multiple times. Britt says that doesn't mean anything to him. Sarah says I would vote for him in a heart beat. They don't realize what he's done. Pili is going to be heart broken if Kevin voted for someone over her. He'll vote for someone who had the best game.

5:45pm – 6:25pm Bedroom – Ash and Pili are talking. Ash says I still think there are secrets about Godfrey that we don't know. He's just so mysterious. Pili tells Ash how she told Sarah if Ash comes off the block she should put up she should put up Godfrey because either way we are getting rid of a guy. Godfrey joins them. Pili says we've got to win this. Even if Sarah or Britt win it they will keep it the same. Godfrey tells Ash if he wins it he wouldn't use it. Don't stress out. Ash asks Godfrey what he thinks their reward is for winning the competition. Godfrey says he isn't sure. Ash says maybe we'll be in a Pizza Pizza commercial. Ash "I feel like a useless sack of POOP!" God "A sack of poop is useful though. You can use it an manure. Don't insult the sack of poop"
In the HOH room. Brittnee says what if they don't win the veto on themselves. Sarah says well f**k that's the worst case. Either way we are putting Pili up and we are taking out one of their numbers. Sarah says 3 people that tight this close to the end is terrifying. Brittnee agrees. Sarah keeps falling asleep and big brother keeps waking her up. She says I'm awake, don't you see my legs moving?
Pili "Ash did you put underwear on?" Ash "Yes" Godfrey "You didn't have underwear on? DAMN!" @bigbspoilers #bbcan3 pic.twitter.com/uw0XCvJoom

— Dawg (@DawgsBigBrother) May 15, 2015
6:30pm – 6:55pm Big Brother calls all the house guests to the HOH room and then blocks the feeds … The feeds return a few minutes later with the house guests still lazing around.
7pm Big Brother blocks the feeds.
7:10pm Feed back with more silence..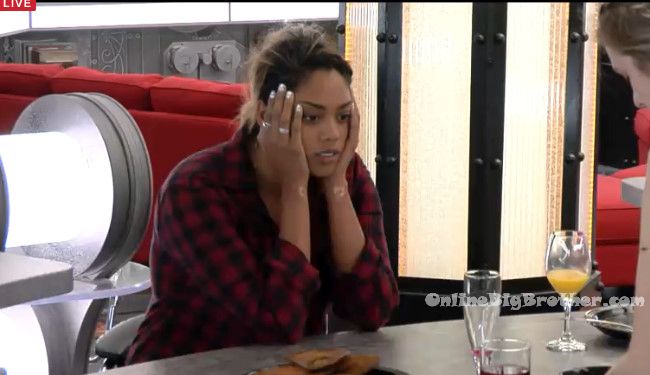 7:15pm Sarah, Brittnee and Godfrey talking about getting to final 3. Sarah says as long as they get one of "Them" (diapers) out this week and Godfrey/Brittnee win the next HOH they're good. Sarah starts playing up how many jury votes the other side has.
Godfrey says he told the golblins that next week he's with them. "from how it seems Zach doesn't have much faith in pili using it"
Godfrey adds that he knows the goblins will vote him out in a heart beat.
Brittnee – one of us are going to win there's no option.
8:24pm Feeds block..
10:01pm no feeds
11:03pm No feeds for you
11:44pm never no feeds
12:50am No feed for U
2:02am orange screen no feeds
4:25am orange screen no feeds
5:00am no feeds
8:30am The live feeds return with the house guests sleeping. Zach is the only one laying with his eyes open.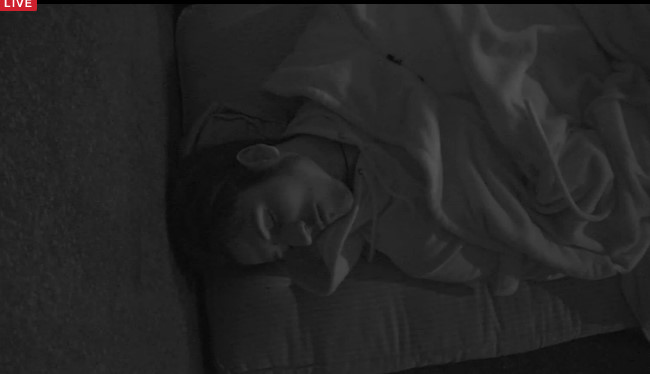 10:15am They're still sleeping
11:30am Big Brother wakes up the house guests.. and blocks the feeds.
Please consider making a donation. This site is ONLY possible because of your support.
For other ways you can help – check out our How to support OnlineBigBrother.com page.
[polldaddy poll=8865390]