Head of Household Winner: Jackson
Nominations are: Tommy, Cliff Holly
Power of Veto Players are:
Power of Veto holder: Nicole
Power of Veto Ceremony: Nicole uses the veto on Cliff. Holly is the replacement.
Grab your live feeds —-> BB21 Live Feeds Subscription Link
Rank your houseguests —-> Big Brother 21 Ranking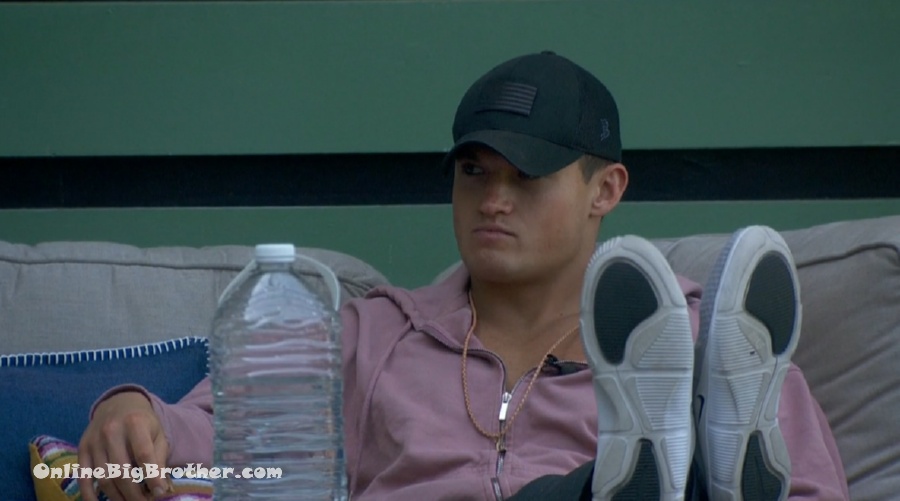 11:40 am Feeds come back Nicole use the power of Veto on Cliff. Holly is the only eligible houseguest to be nominated in his place.
Cliff commenting how they are only getting the backyard today.
Cliff asks if he stayed up late last night.
Jackson – She ended up getting pissed. Sat in the Diary room until 5 in the morning
Cliff – really, ABout the challenge and general stuff?
Jackson – wine, Sorta a repeat of the couch last week
Nicole – is everything ok?
Jackson – it'll be fine
Jackson – 16 days, on Wednesday it'll be 2 weeks.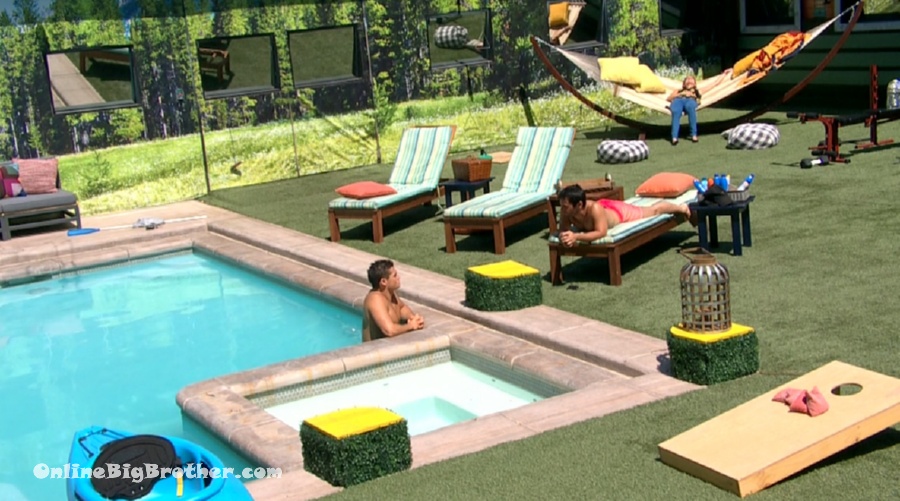 12:27 pm Tommy and Jackson (airplanes outside make
T – these mics are sick.. they're so cool
Tommy goes on about high end the microphones are, "SICK. they're good they pick everything up. Think about how clear the audio is when you watch the shows"
Tommy explains how the ceiling mics are backup.
T – do you feel like you are going to win?
J – If I can get to three then yeah
Jackson says going out next week is his biggest fear "Everyone else gets two chances but me. I get one" (HOH then POV)
T – the four of you it was smart it was great.
T – from the gameplay I f*ing love it. I can't wait to go back and see everything that happens it will be cool
Jackson says him and Christie are very similar
T – being good with everyone you mean
Jackson says he always thought what would Christie do "If I was Christie what would I be doing going into this week"
T – wow it was all about her. Crazy I had no idea
Jackson thinks this is why they could never work together because they always knew what was going on inside each other's heads.
Tommy says he feels like he was going to get pretty far in this game.
J – I never believed it fully I was going to make it
Jackson goes on about saying he never gets overconfident or entitled to something it'll affect his performance.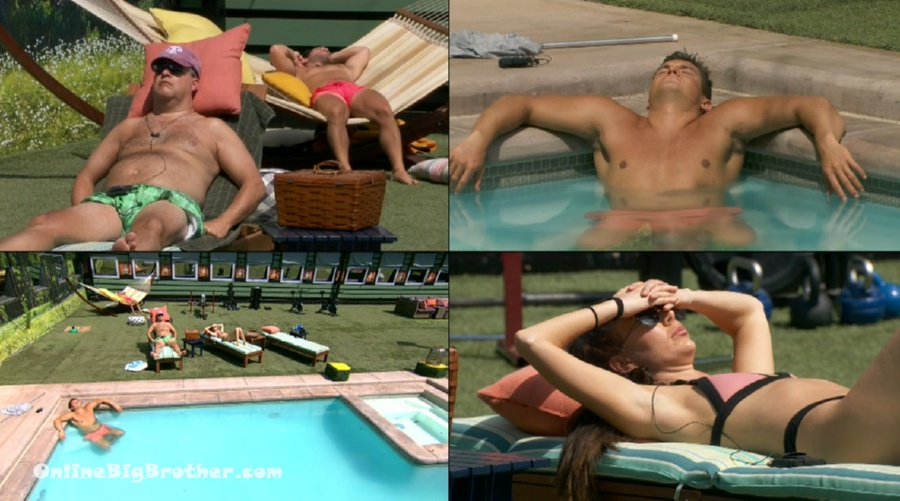 1:45 pm (I'm sure this image will get us demonetized.. Humans in bathing suits.. OH NO!! my pearls)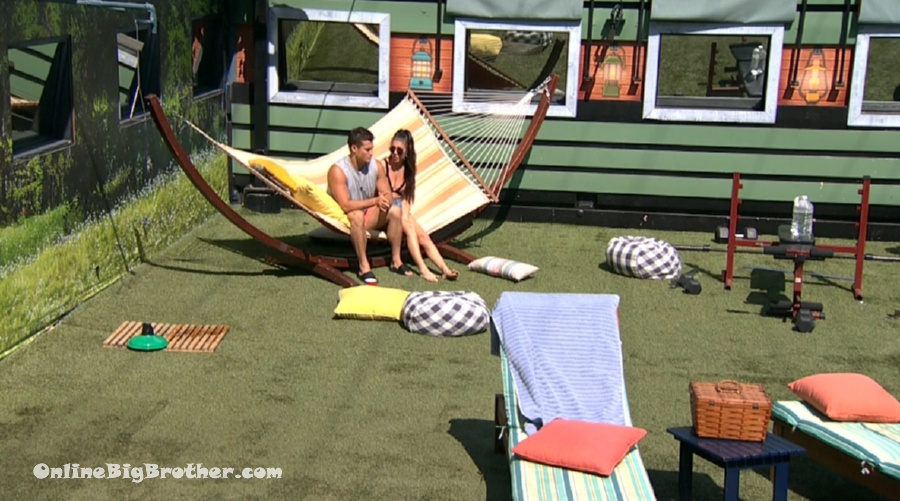 2:44 pm Bickering …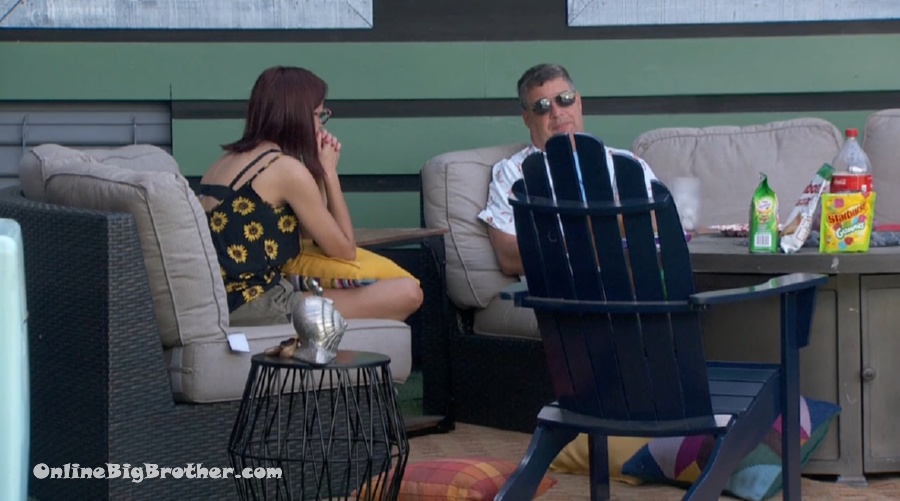 2:56 pm Cliff and Nicole
Nicole – Tommy, and Michie were studying the days by the pool before. Bouncing them back and forth back and forth
N – I heard Tommy go, You've asked me the same questions 3 times
Nicole goes on about the two of them arguing over whether Jackson knows the days or is just bullshitting people.
Nicole wonders if it's a strategy of Michie's to show the house how good Tommy knows the days.
C – he knows them well..
N – if that's next weeks veto. Yes he'll give us a run for our money he'll also give Michie and run for his money
Nicole – maybe with Holly all three of us would beat but so would Michie
Cliff – I know, But that's the thing on the other side if you've kept Holly and that Veto comes up and it's days are we better off I just don't know
N – depends on how strong Michie is (with days)
They assume Tommy would go after Jackson.
C – that's a commitment we have to get and assume it's a…. real promise (like handshake real)
C – if I was him I would prefer to take you and me over, Michie
N – yeah
C – He's gotta think he has a better chance against you and I than Michie
N – If holly were to win Veto one of us will go then it will be one of us against Her and Michie in a physical comp.. if it's both of us against Tommy in a physical comp he might be more able but at least it would be fair
C – Seems to me Keeping Tommy gives us a better chance at potentially having 2 of us in final 3. It maybe makes it a little tougher to get to the final 2.
Nicole says with Tommy out they have a harder path to get to final 3
C – one of us at least will be in the final 3 it has to be. Cause we're final 4
N – oh my god. oh my god cliff.
C – in a minimum you or I are never going to the jury house at a minimum. At least one of us will be there on Finale night.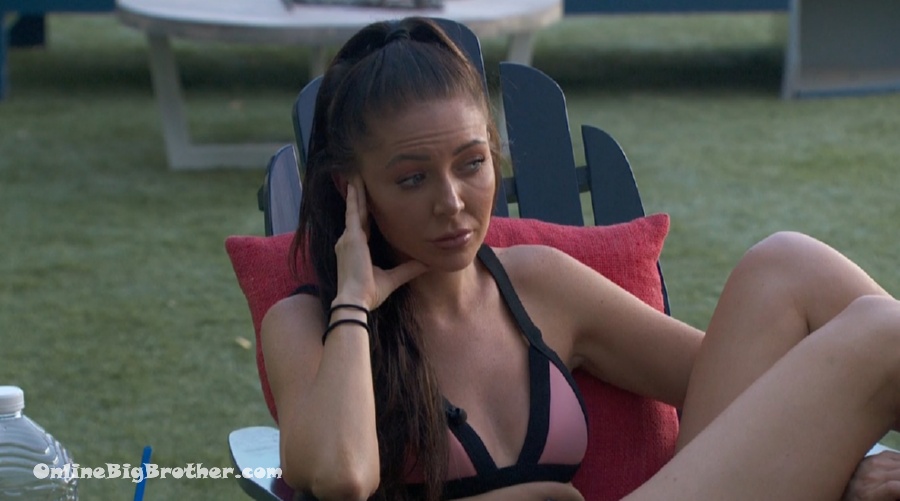 3:46 pm Chit chat

5:21 pmJackson and Nicole
Jackson – I don't want to say anything and make it seem like I'm campaigning against Holly, you know what I mean? But at the same times, I came here as an individual to win. While I don't want to sit there and say why I would be better to be in the final 2 or final 3 than her it's like at the end of the day the reason why I came here was for my family and for my self. You know
N – ohh yes
J – I'm sure you feel the same way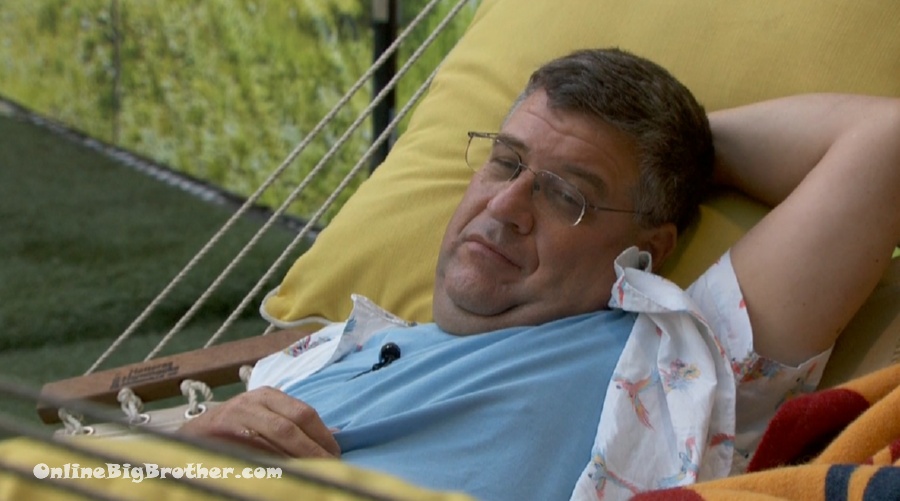 6:07 pm Nicole and Cliff
Nicole chats about her conversation with Jackson where he asked her if she told Tommy about their final 4. Jackson mentioned to her that Tommy told him "you guys are brilliant making a final 4"
N – I go, I think he deduced it he assumes a deal was made that is why Christie went when I won.
Nicole mentions how Jackson thought Cliff, Nicole and Himself fought to be in the game "but that's not the case with everybody"
Nicole retelling what Jackson said – I just want to make sure I move forward with people that also fought. I'm not going to make personal decisions in the next week blah blah. I'm going to make game decisions.
N – I hear his argument but I have a very hard time accepting that. People could argue Holly didn't have to scrap her way here didn't have to fight her way here is he really going to save both of us over her
C – I don't know
N – If it's me, her and Him final 3 is he really going to take me over her
C – no
N – He said that's all I'm going to say I'm not saying anything else or using names.
C – if that's the case he shouldn't be so upset
N – he's (Jackson) is upset because he only has one chance to get to the final 3. I get that I would feel that way
C – I would too. But he won that HOH
C – I still don't know. I gotta say there's a part of me that's leaning towards keeping Tommy
N – That's how I feel, Tommy said to me. You know Nicole this veto could very well be face-off and I'm telling you I have a very good chance to win that. I was like I'll be honest Tommy whos to say you're not going to send someone else out. (her) He said 'you have my word I would not'
N – I'm hoping that's the truth
N – If I was him and I won the veto as scary as Michie is I'm not going to final 3 with a duo. That's what scares me
N – but is it any better with Holly?
C – this is what I'm thinking from Tommy's standpoint if he makes a promise to both of us and he wins Veto at that point if he breaks a promise that means he's gotta compete against Michie in the final 3 which is tough and he knows that will be tough.
N – and the remaining of us
C – whoever is left of us and he's going to potentially lose 2 jury votes if he thinks we are bitter about him breaking a promise at the very end
N – that's why I'm worried about us if Michie and Holly get sent out. I don't think they will be. Holly might but I thin Michie will respect it
N – A part of it makes me feels like Michie was alluding to it. Cut her off. a little part of him
C – I know
They agree that Jackson might feel a little "Upset" for having to bring Holly with him to final 2 so he might be relieved that they send her out.
C – is this his way of getting rid of her without having anyone to blame? because I've picked that up as well.
Cliff says they really need to pin Tommy down "say look you gotta do this"
Nicole wonders if Jackson is trying reverse psychology on them. Making them think he doesn't want Holly around and getting super close to Tommy.
N – He's smart. He's super smart
C – I know
N – I'm leaning towards keeping Tommy. Odds are just so much better
C – I'm leaning that way too
C – whichever way we go I want it to be both of us on the same page a team to the very end.
N – no tiebreaker just us two voting, Yup.
6:49 pm
7:22 pm Tommy and Nicole
Tommy says he's going to offer to throw the HOH to stay.
Tommy – I'll offer that to you and Cliff. we'll talk Wednesday
Nicole says that's the way they are both leaning right now to keep him
T – WOW I love you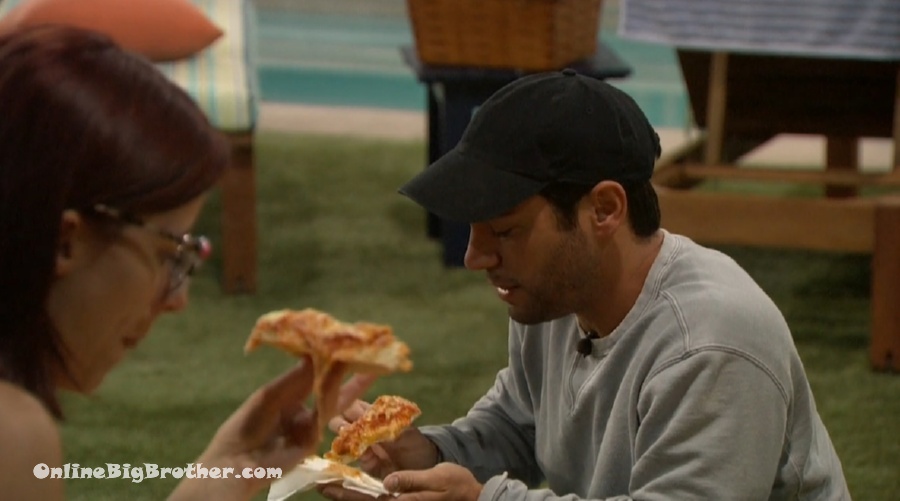 7:43 pm Cliff, Tommy, Nicole
Tommy – I'm letting you know if you guys decide to keep me I will be gunning for the veto I will be a number for you guys I would be honoured to be moving forward. I am willing to throw the HOH compeitions
C – would you
T – if would go to one of you two. One of you two are guaranteed to final 3
Cliff all excited "we want you on our side"
OnlineBigBrother Donations
If you enjoy this site and the type of content we produce Please consider a donation.