Head of Household Winner: JACKSON
Havenots are:
Nominations are: Tommy & Cliff
Power of Veto Players are:
Power of Veto holder: Nicole
Power of Veto Ceremony:
Grab your live feeds —-> BB21 Live Feeds Subscription Link
Rank your houseguests —-> Big Brother 21 Ranking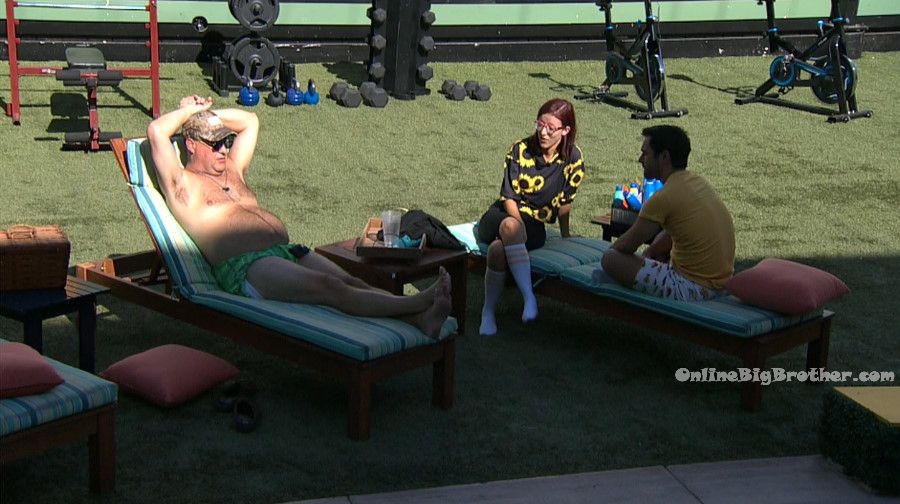 4pm Nicole, Cliff and Tommy are talking about books and movies.
Cliff says he doesn't like the slasher, torture p*rn movies. Cliff tells Tommy that he is glad he is here. Tommy heads inside. Nicole – I am stressed Cliff. Cliff – I am too. I've been going back and forth. There is a part of me that is playing with it but part of me says we have a few days. Nicole – I know I couldn't sleep last night. Cliff – This morning I was thinking why wouldn't we go with Tommy? That gives us better odds of making it to final 3. But even though there is less odds of us making it to the final 3 with Holly .. I feel like our chances are better beating them in the final 3. I just don't know. Nicole – my argument is if its the four of us regardless it will be 2 v 2 next week. If Tommy is with us and legit with us it will be 3 v 1. Cliff – which is good it just means we got to final 3 with Tommy as opposed to potentially going to final 3 with Holly. Which I would rather go to final 3 with Holly because I think she is easier to beat but taking that chance also means you could go to final 3 with Michie which is the worst case. Nicole – or get bumped out and only be one of us. Cliff – we also have to look at who does Tommy get votes from in the jury because he has always been on the other side as opposed to Michie and Holly. I just can't wrap my head around it at this point. I think in a final four situation we're better off keeping Tommy. But once you get to three .. it almost goes the other way. I would be worried about competing against Tommy in the final competition. In the best case scenario it would probably be better to keep Holly. But maybe only one of us gets to the final 3. We may have a better chance of both of us going final 3 with Tommy here. Nicole – yes we have a better chance of beating Holly but Tommy has a better chance at beating Michie. Cliff – I love Michie & Holly. I made an agreement with them. I hate breaking it BUT we're talking 500k! Nicole – and that's what I've come to the realization this whole time … my whole thing is the title. I love the show and want the title winner of Big Brother. And now as we get closer .. you start thinking about the money and helping family. Its bigger than just me. Nicole at home is screaming you idiot this is your chance to break up the showmance. Cliff – they will be pissed but hopefully they get over it like a lot of other people. And I'm not saying we do it .. there is a lot of time to think about it. And as much as I've talked about honoring your word ..I don't want you to think that I am not strongly considering it because at the end of this.. Nicole – what is sticking in my head is that Michie put up you and Tommy .. and I wonder did they secretly want you gone?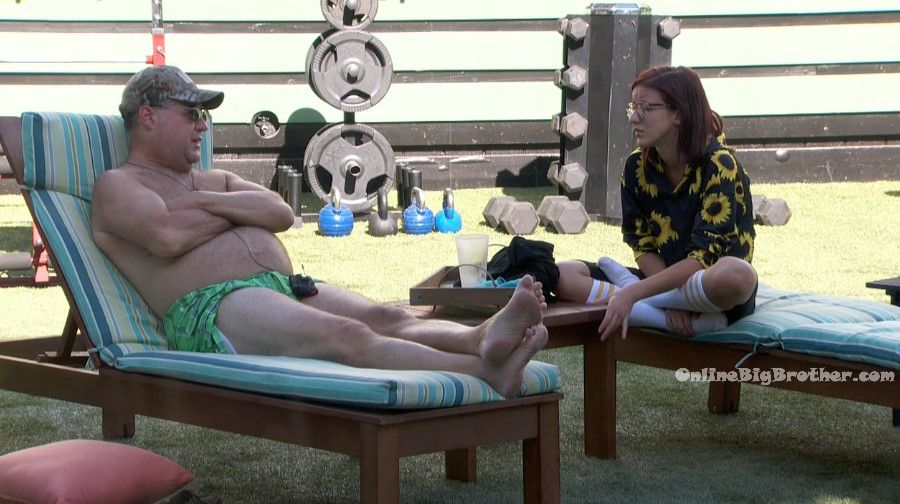 4:20pm – 5:30pm All the house guests are chatting in the backyard and playing pool.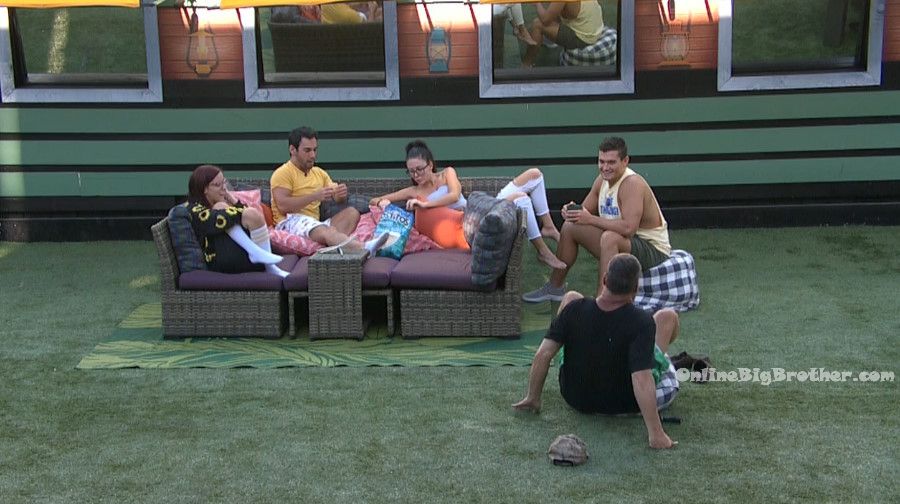 5:30pm – 6pm Backyard. Tommy, Jackson and Cliff.
Tommy to Jackson – how do you feel about her (Holly) moving forward outside of this house? Jackson – we were just talking about that .. honestly I don't know. She is always going to be a part of my life whether I'm dating someone else or she is dating someone else. Like I am not going to lose that friendship and relationship with her. But not so much on a maturity level but where we are in life level 24 to 31 there are a lot of things that change over those subsequent years and where I am in life and over the next few years may not be the same place that she is in life and I am not saying she isn't but.. I just know that it is going to .. by the time she is 32, 33, 34 she is going to be wanting to settle down probably I am assuming .. who knows and I don't know if I am at that point in my life right now. I have spent the last 6 or 7 years doing things for other people and I need to force myself to be selfish and where I want to take it. If someone is going to be in my life they need to fit into my equation rather than writing an equation. If I am not doing something to make me happy .. I will be unhappy down the road. Tommy – yeah. Jackson – I would be happier if she was with someone that makes her happier. If she is with someone that has the same goals as her, I would rather her do that. Its not that I don't want to be with her, I just want her to be happy. I am not putting pressure on it. If it works out .. then great. If it doesn't she live 20- 30 minutes away and we will still get together whether she or I am dating someone else. It doesn't bother me if she was with someone else.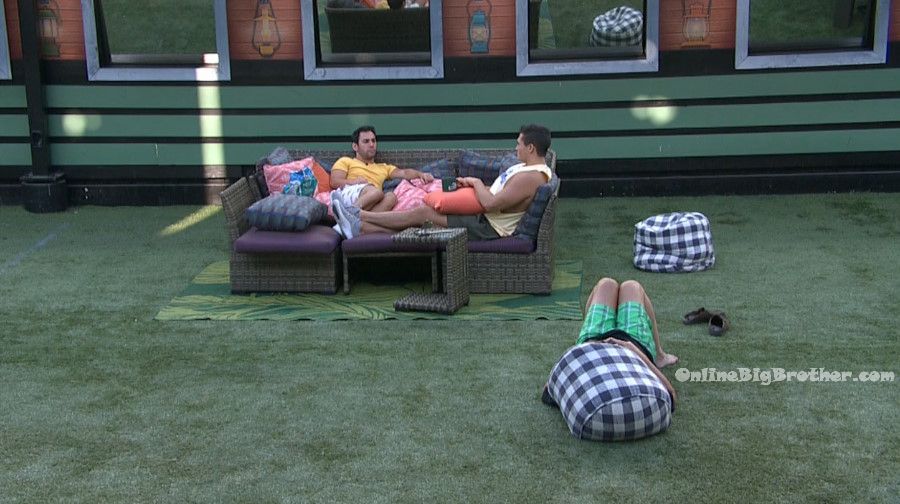 6:35pm Bedroom. Holly – lets try to set up a vacation. Jackson – lets do it after the new year. Holly – for my birthday. Jackson – done. Holly – we will reach out to places. I just want to travel. Jackson – me too. Holly – I want to start up my youtube wine channel. Jackson – I'll support that. I just want you to be happy and follow your passion. I want to see you succeed. You deserve it. Holly – I've never had anyone say that to me. All of that! Jackson – you deserve to be happy. Be with someone that fuels your flames not smother them.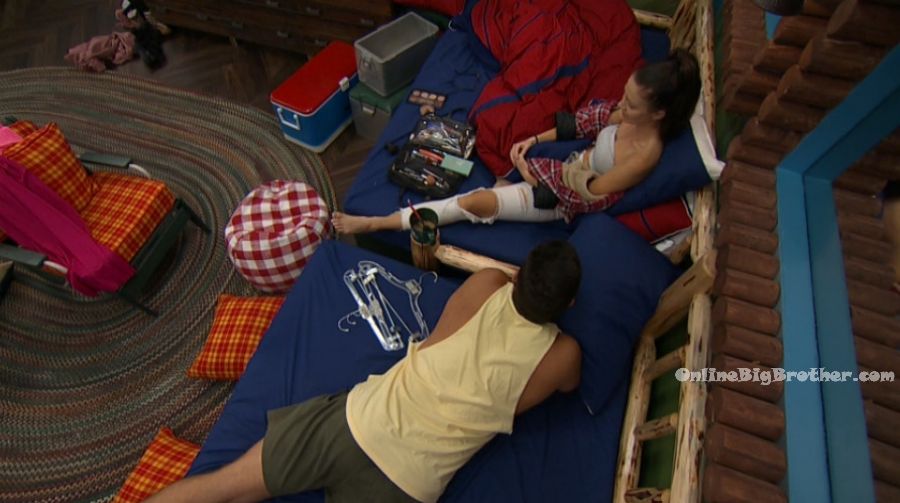 Nicole and Tommy in the hammock.
Tommy – I want to play a clean game and let this week ride out. Should anyone say anything I will figure it out. I am not a messy player. I am not. Nicole – I just want to do what I've been doing which is going with my gut. Nicole – this whole process I've always said one step at a time, one day at a time, one week at a time. And I know who I selfishly would like to see in final 3. You know what I mean? Tommy – yeah, but its got to match up. Nicole – so I don't know. Tommy – its really tough because you don't know who has deals with who. That's what I'm thinking about. I just have to offer the best deal that I can and not worry about that. Nicole – maybe I am to honest in telling you this but at this point there is only 5 of us so no offense its not like you can tell anyone else to come after us … but a deal was made between the four of us. Tommy – right, I knew that because the same deal was made between us. I know it. I know what it is. Nicole – we all made the same deal and I guess I was the one that broke it but I had to look at it like we're all individuals. Tommy – I appreciate you even entertaining this. Nicole – the second Cliff tells me he is on board it is DONE! I don't know if we would talk to them beforehand or just let it happen on Thursday. I think Michie and Holly are smart and know that the smart thing to do would be for Holly to go. So they try to guilt trip us.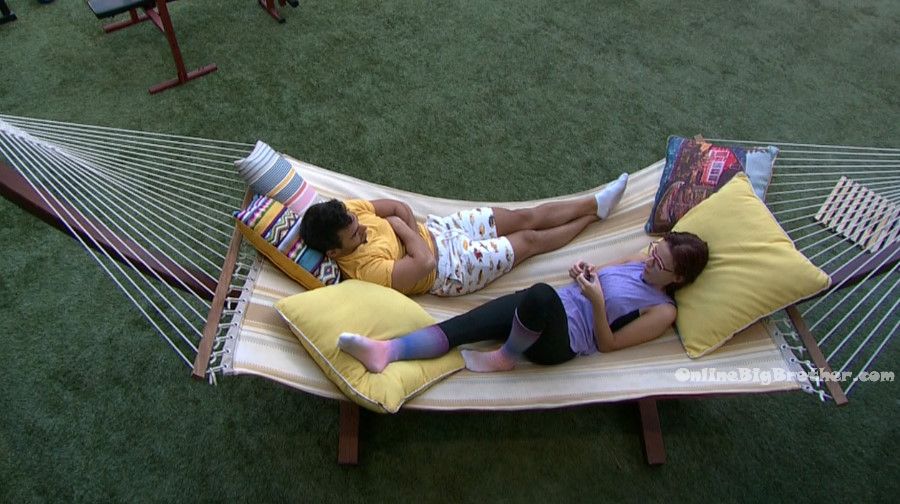 7:50pm Hammock. Tommy, Nicole, Holly, Cliff and Jackson.
Holly is telling them about the adventures and travels shes been on..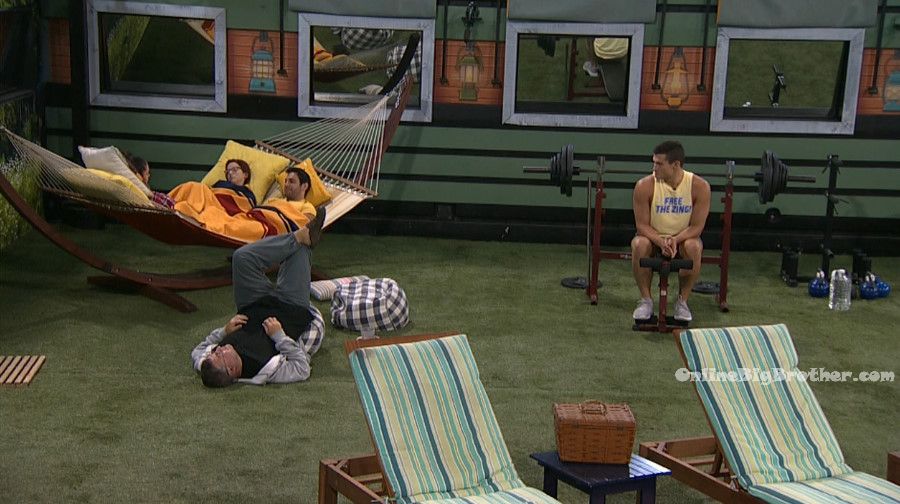 8:30pm Kitchen. Tommy and Holly are cooking. Michie working out. Nicole laying out on the hammock.
9pm -9:40pm Holly puts out an assortment of finger food and wine out on the pool table. They all hang out on the backyard couches. Holly tells them all the different wines and how they're made.
They set up the beer pong game that BB gave them.
10:23pm Cliff, Nicole, Jackson and Holly are sitting around talking about TV shows and drinking the wine. Tommy is in the diary room.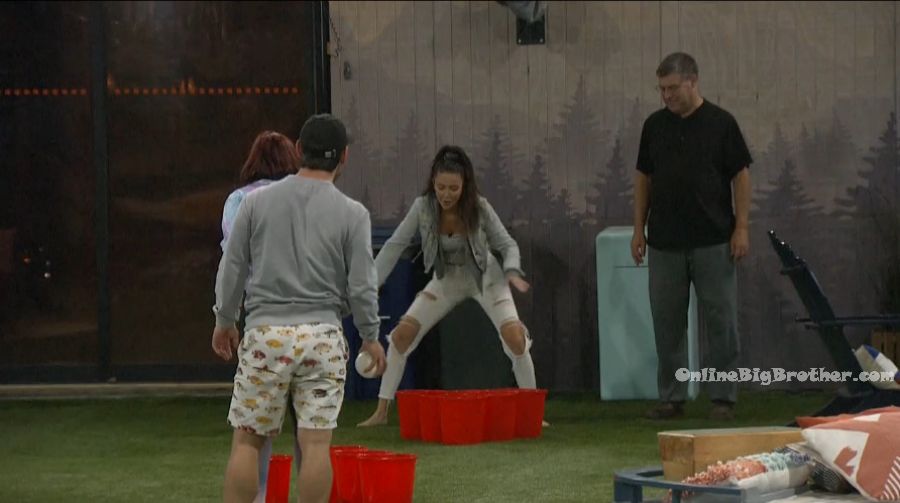 10:40pm Wine drinking continues…

10:43pm – 11:05pm HOH room. Holly, Jackson, Nicole and Cliff.
They talk about when Nicole's game was exposed and Jackson wouldn't let her into the HOH room. Cliff – y'all are going to see her (Nicole) walking down those stairs and go Whoa ..that's the Nicole we learned about later in the season. That's where you flashed.. you do not talk to me like I'm a child! Nicole – I was pissed! Jackson – And that's where I know I come across wrong ..it wasn't like I was trying to say we don't want you here. It was that I was hearing in one side of the room.. Holly – it was vicious in there. Nicole – its funny because had I been a 6 foot something man with muscles you would have let me in that room. But because I'm little old Nicole and rainbow. She is not allowed in. Cliff – well they didn't let me in either. Jackson – well no, honestly if you look at it from my point of view you were very shy and looked like you didn't fit in and I didn't want to let you into a room where 8 people were chomping at the bit. Holly – 8 people were going crazy. Jackson – about you. I was like I can't let her in. Nicole – well I hope you guys realize, I would have buried you. Holly laughs. Jackson – I didn't realize that. Some of the things that we said were true. We were talking about Nick and Bella. I called them the two headed snake.. but I denied it and denied it. I was acting mad ..and in the middle I was like we almost got caught. Tommy comes back. Cliff gets called to the diary room.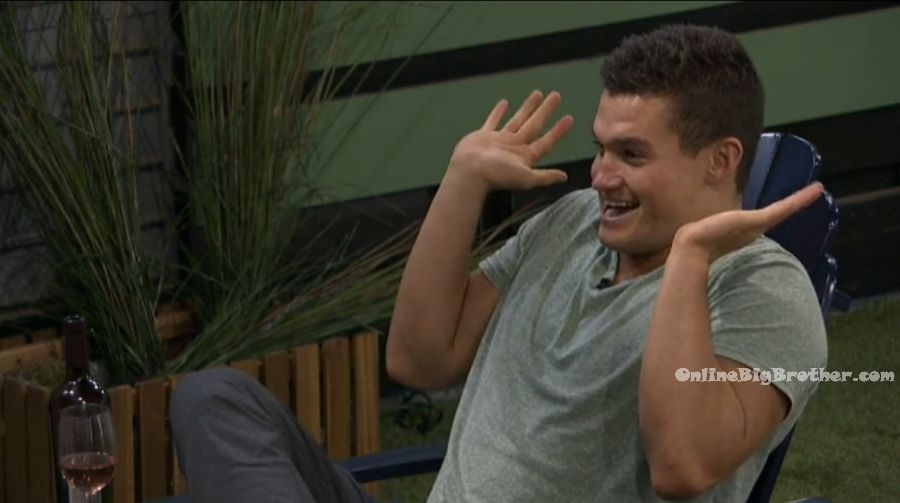 11:27pm – 1:45am They continue to talk about past events of the season.

1:50am Holly and Tommy get ready for bed.. Jackson – for a sommelier that wine seemed to hit you pretty hard.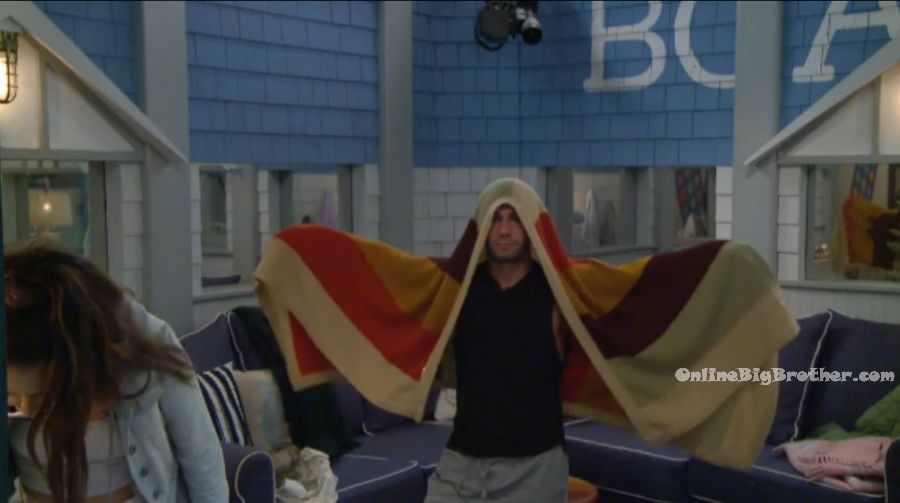 2am Holly, Cliff, Tommy and Jackson have gone to sleep.
2:04am – 2:17am HOH room. Nicole alone in the HOH room. Nicole – my message to Tommy's family is that by golly I am trying to keep him safe this week. I really am. Tomorrow I host a veto meeting which is incredible to me. To Holly's family I am sorry but to Tommy's family, you're welcome. I am trying so hard and I think it might happen to get Cliff on board to keep Tommy. And to be honest this could all go to sh*t and next week Tommy could be the one that potentially votes me out. Who knows. But at least I can go out of this game with my head held high. That I won the double and got rid of Christie. Won the BB comics got Michie to put up Holly and got rid of Holly and therefore broke up the two duos with the exception of me and Cliff. I know its the best move to make. To be honest Michie isn't going to bring me if Holly is still in the picture. Tommy isn't going to bring me if he isn't here. Nicole runs over the possible scenarios. If Cliff wins HOH and Michie wins Veto.. I am in trouble. I don't think Michie would keep a duo over Tommy. I have to win something next week. One day at a time, one step at a time.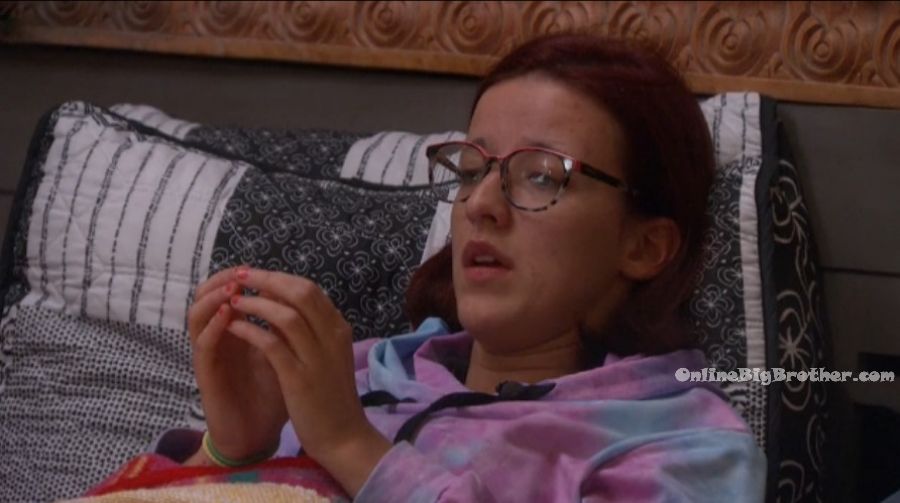 Show your Support for all the sleepless nights Simon and I have put in for the last 82 days straight. Help keep the lights on, this site costs us a considerable amount to maintain. As an added bonus we also wanted to give a little more to those that donate: Click here for more information.
Any amount is greatly appreciated! Thank you so much in advance!