Follow: @BigBspoilers and @Dawgsbigbrother on Twitter for recent crazed out spoilers. Theres also our Facebook page.
11:15AM Houseguests are up Adam smoking outside Porsche and Rachel in the bathroom washing up.. Porsche tells rachel about a crazy dream she had where her friend was taking roofies..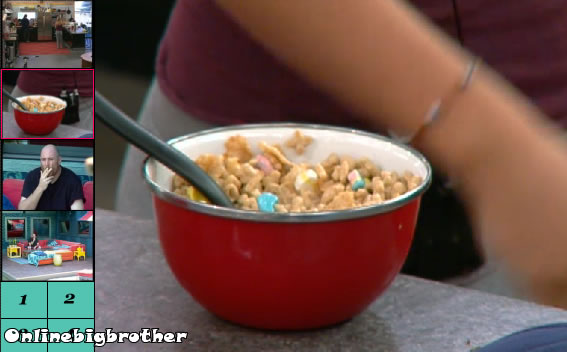 11:17AM Porsche and rachel are doing the dishes. They're talking about how BLANK the razors are in the Big Brother 13 House. Porsche wonders if maybe she should request a shaver with more than 2 blades.. she already requested it a couple time now. Porsche asks Rachel if they hear the houseguests requests. Rachel says yes they hear all the things we say in this house they just don't care.
Porsche: "They can throw us a couple venuses that would be awesome I want to shave my lady bits" Rachel agrees says a couple of those little disposable venus shavers would be perfect, she thinks they'll have to make do until tomorrow night. Porsche: "Umm hello in case someone shows up I want the lady bits Shaved"
Rachel: "ahh"
Rachel had a dream about her ex boy friend meeting Brendon.. Prosche thinks its always unconmfortable when your boy friend meets your ex. Rachel
Rachel: "Does Adam seem he's in and mood this morning"
Porsche doesn't know she hasn't talked to him this week. She points out that Adam was saying he doesn't want to come back for All Stars. Rachel brings up that Brendon swore he would never come back and so did Jordan and look what happened.
Rachel says she thinks the only way she wouldn't come back is if she won..
Porsche says she would come back even if she won .. "Look at Jordan she came back and made it far"
Rachel starts talking about her dream where her ex boyfriend was hooking up with all these girls and she got really drunk and this guy she use to know from college drove her home.. (as exciting as this dream is i'll leave the rest)
WATCH all DRAMA unfold LIVE on SuperPass! FREE 3 Day TRIAL
11:40pm HOH LOCKDOWN They are listening to the Big Brother theme music. Adam shares with them his crazy dream. Rachel says they all had crazy dreams last night must of been the garlic.
11:50pm Feeds on Trivia.
12:20pm HOH lockdown and Trivia
1:06pm feeds show fish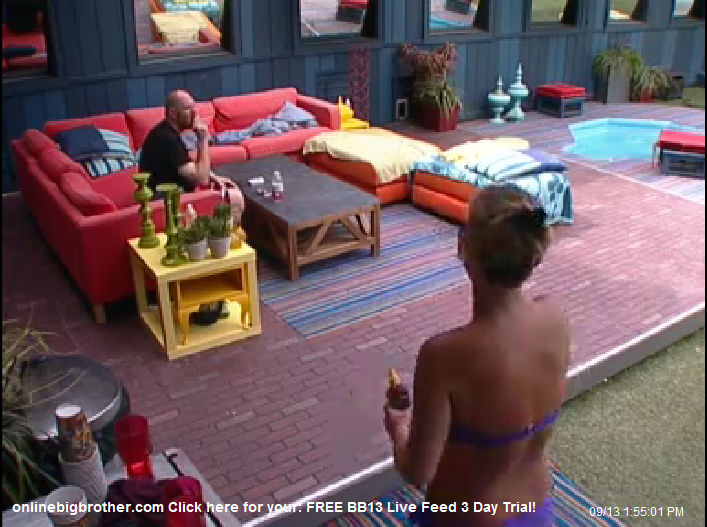 1:50pm – 1:55pm Big Brother puts an end to the HOH lock down. The houseguests leave the HOH room and head downstairs. Rachel says that they were locked down for almost two and a half hours. Adam goes into the backyard for a smoke. Porsche joins Adam out in the backyard. Porsche says quick what was she saying? Was she campaigning while I was asleep? Adam says na.. I was campaigning in my sleep to myself ..I am so BLANK over her …I don't want to see her earn a BLANK penny…I am so done with her ..I know you are going to do what you are going to do and I respect you for it .. but I do not want to see her win. Adam says if you want to take me ..I will help you win that half million dollars. I will respect your decision. And if I am not sitting next to you I will give you my vote. Porsche says cool, thanks …I was going to make it worth your while anyways. Porsche says that she still needs to think about it …and the votes. Porsche says that she has thought about her speech for three days now. Adam says that he lost all respect for her and that some of the things she was saying last night to you and I and before that …I am done ..done…I am over it with her. Porsche says that Rachel doesn't deserve it. Rachel comes out to the backyard to suntan. Adam sits on the backyard couch to have a smoke and then gets into the pool.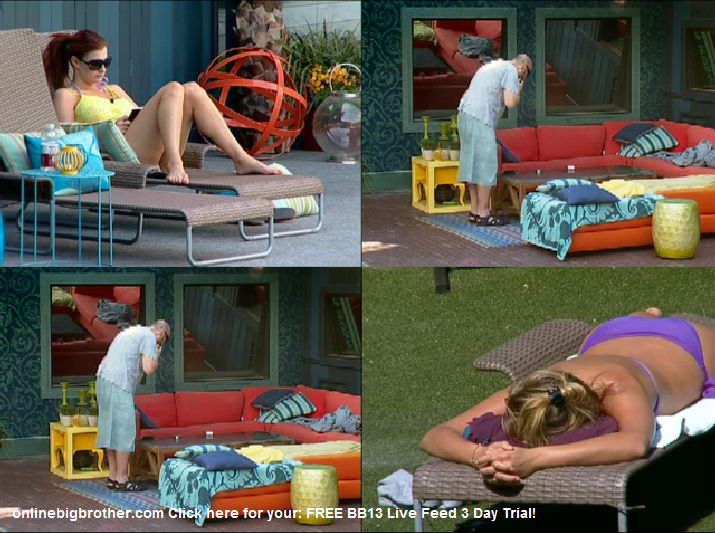 2pm – 3:05pm Rachel and Porsche relax and suntan in silence. Adam relaxes on the backyard couch smoking and staring off into the distance. Adam goes over and gets into the pool for a bit and then gets out and lays out in a lounger by Rachel. Quite afternoon in the BB house. Adam starts talking about how he used to be a Dj. Adam says that he hopes he still has a job when he gets out. Rachel says that she's sure he will. Adam says that he doesn't know ..if they got along fine without me ..maybe they won't need me.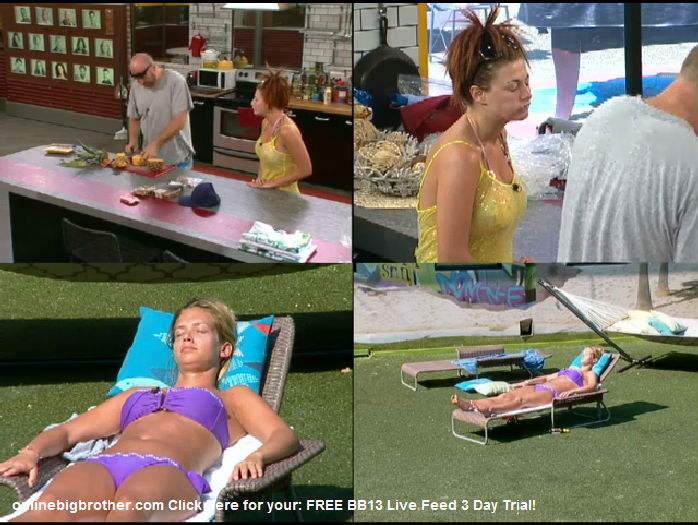 3:05pm – 3:35pm Adam, Rachel and Porsche talk about random stuff like health insurance and schooling. Porsche goes to get into the pool and Rachel says oh my god …I thought that was a fish! Rachel and Adam head inside to get food ready. Rachel says hey Adam the other day when I told you how Porsche got picked …I didn't know that wasn't true and I am sorry. Adam says that's okay …so what will it take to get you to take me? Rachel says she doesn't know …and that she still needs to win tomorrow. Rachel says that she needs to think about the jury votes. Rachel says that she is being honest with him and for him to please not share it with Porsche. Adam says na, na… I asked Porsche the same thing. Rachel says that she had to fight really hard and stuff this summer. Adam asks so what do you think makes you think you don't have the votes. Rachel says maybe her attitude and stuff. Adam says yeah …some of your goodbye messages might be the thing that hurts you and you may not win because of that. Adam says that one of your arguments to the jury could be that you stuck with the people you were aligned with the whole season. Adam says that if I am in the final two ..I know I did not earn my spot and if you are a fan of the game would respect the people that earned it and not vote for me. Rachel says that if she did win the veto and it was you, me and Jordan …then there would be no question what would happen. Porsche come into the kitchen and asks what they are talking about. Rachel says that they were just talking about how different things would be if she had won the POV. Porsche says yeah I may not be here. Rachel says yeah any ripple would have changed things from how they are now. Rachel goes to the storage room and Porsche asks Adam if he was trying to ask Rachel how she would take him to the final two. Adam says yeah ..can you blame me? Rachel comes back and they continue to make something to eat.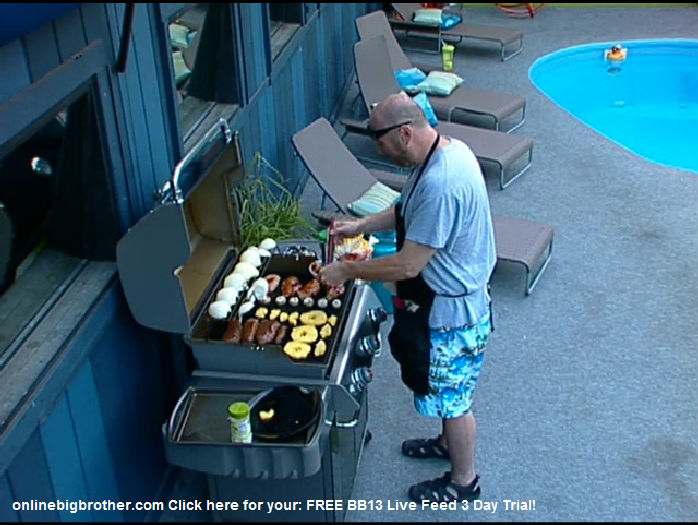 3:45pm – 4:15pm Adam and Porsche are talking while Adam BBQ's. Porsche tells Adam that she Adam tells Porsche if she wins, she has to thank him in every interview she gives. Porsche says that the people in the jury house can't be swayed … the vets can't be swayed.. Porsche says that Shelly is the only possibility of being swayed …and that Brendon will be campaigning for Rachel. Adam says that she is a piece of work … Porsche says she knows …and even if she wins second place she will only get $50,000 which is barely enough to pay off Brendon's schooling. Adam says this year…and not even enough. Porsche gets called to the diary room. Rachel comes out and joins Adam in the backyard. Rachel starts asking Adam what she thinks about what Shelly will do with her vote. Adam questions whether or not Shelly will respect competitors or not. Adam says that Kalia does respect competitors. Rachel says that she knows she was mouthy …but that she was just being honest and didn't want to be fake with people.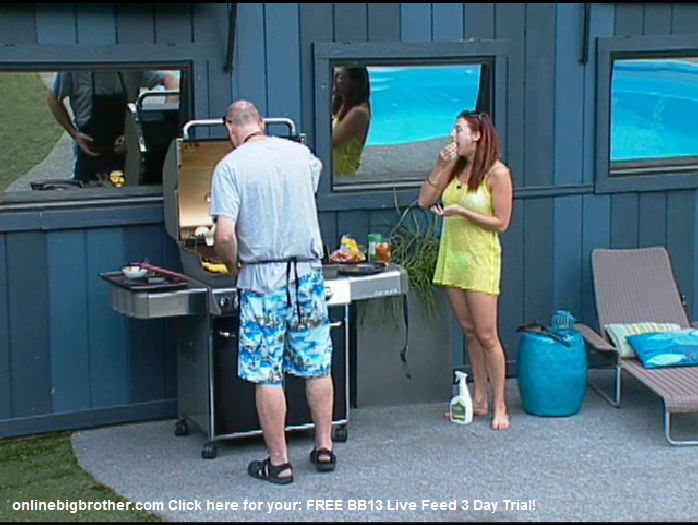 4:25pm – 4:40pm Adam and Rachel talk about Fara while Adam BBQ's. The conversation then changes to talking about Big Brother competitions and other past events. Adam asks Rachel what is the one thing she won't miss about Big Brother. Rachel says lock down. Porsche gets out of the diary room and explains what the doctor said about her wounds. All three are hanging out in the backyard waiting for the BBQ food to be done.
4:50pm – 5:10pm The BBQ food is ready, they bring it inside and make up their plates. Adam offers Rachel some garlic paste. Rachel says no thank you ..that seems to make my butt smell funny. Porsche agrees and says I followed you to the bathroom that time and it was quite atrocious. Rachel and Porsche are talking in British accents. They all head out to the backyard to eat on the couch. As they eat they discuss the past events of the house.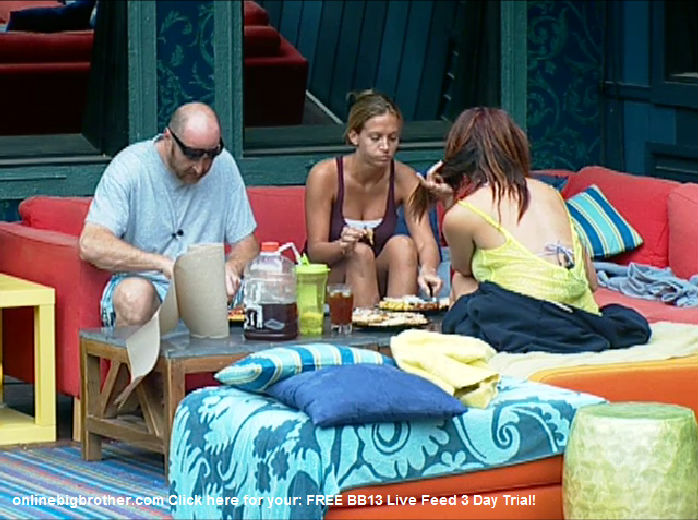 5:10pm – 5:20pm The final three talk about how Kalia said if she goes out all she got was a vacation and that Porsche got $5000. Porsche says we all know that's not true. (Kalia got $5,000 when Porsche opened Pandora's box because they were duos.) Adam says that if I go out tomorrow ..at least give me something …like america's juror or something ..everyone else got something.. except Shelly. Rachel asks what did Dani get? Adam says Dani is best friends at CBS and they allowed her to come back. Big Brother cuts the feeds. When they feeds come back, they are dealing out the cards to play a card game.
5:50pm Card game continues…
6:20pm The final three are still playing cards … not much talking going on.. Adam goes to the bathroom. Porsche says do you realize that tomorrow we're going to have money. Rachel says Oh my god I know but we won't get the checks tomorrow. Porsche says that he is trying… Rachel says she knows.. Porsche and Rachel have a short conversation about Adam campaigning to the both of them. Rachel says that Adam hasn't really said anything to her that would be compelling for her to keep him …she says all he really told her was that he would tell the jury members not to vote for him. Rachel says but that doesn't mean anything because he could easily just not do it and the jury wouldn't listen to him anyways. Porsche agrees. Adam comes back outside. They talk about random stuff like Brendon's messed up toe. Rachel defends him and says that its not his fault and its the only thing wrong with him.. Card game continues…
7:20pm Final 3 backyard playing cards.
7:38pm Feeds have been on fish for the past 20 minutes.. I wonder what is up?
7:55pm Feeds on FISH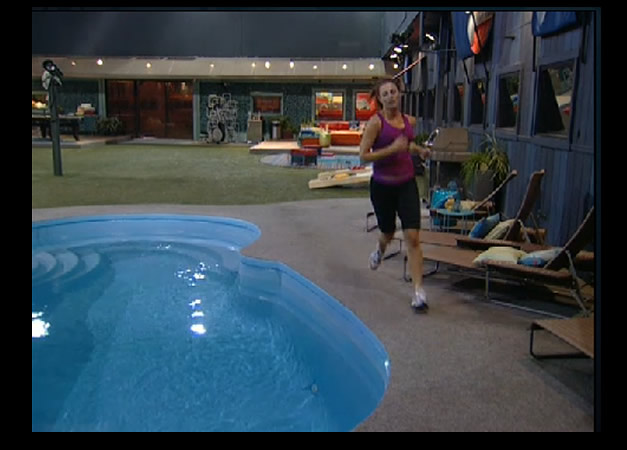 8:18pm Rachel running laps, Adam in the shower and Prosche shaving her legs.
Big Brother 13 Spoilers POLL CAST your VOTE!