Follow: @BigBspoilers and @Dawgsbigbrother on Twitter for recent crazed out spoilers. Theres also our Facebook page.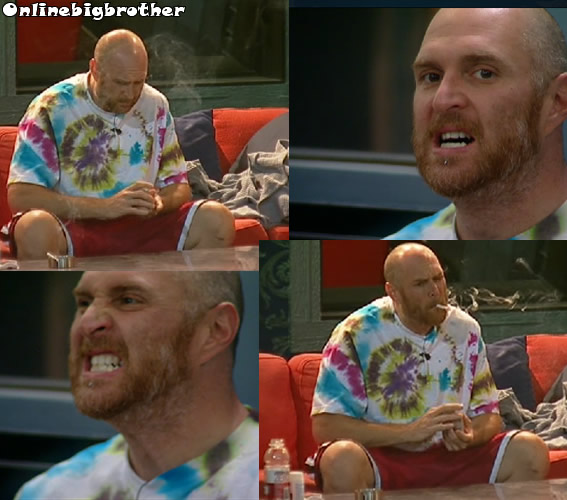 9:09pm Adam playing cards by himself. Adam starts singing to the camera
"Last night on showtime
"last night on showtime we got zinged by the zingbot"
"Last night on showtime we fed a sweet tooth shark on OTEV"
"Last night on show time you're probably watching the girls in the bathroom"
"Last night on show time I'm probably not winning America's Juror"
Adam says tot he camera that the girls are scared he has too many vote in the jury that is why they won't take him to final 2. Adam has a plan though "I got a couple tricks up my sleeve and I'll let them be known tomorrow"
9:18pm Adam walks into the Bathrooms sings "It's the last night on showtime put on your crest white strips".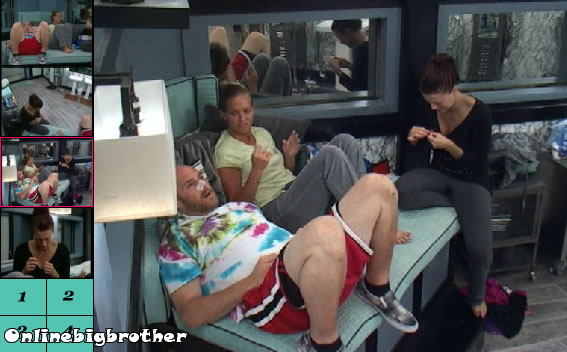 9:25pm Final 3 in the bathroom Adam and Porsche are wearing teeth whitening strips and Rachel Reilly is applying the thousands of skin products she has.
9:31pm Adam is filing his nails with the other 2 girls. he says all his masculinity has now left him, he asks if it true.
Production says YES!
Adam: "do all the girls think i'm cool "
Production says YES!
Did you see what she was wearing tonight OH MY GOD
Rachel "that's what i'm saying.. who would do that and after labour day"
Adam "I mean where would you even get clothes like that at the second hand shop"
Rachel: "when did Adam become a mean girl"
Adam: "I've always had a inner mean girl inside me"
(Adam you're gaining fans.. you have less than 14 hours )
WATCH the Backyard interviews after the live show FREE 3 Day TRIAL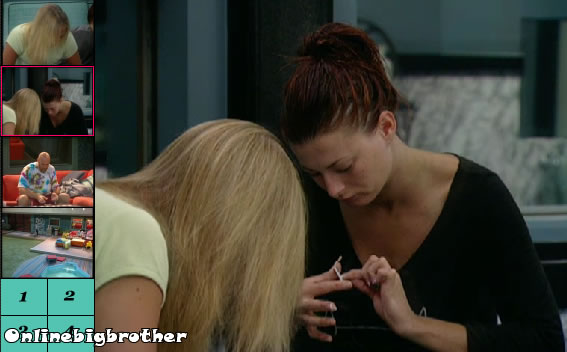 9:53pm Bathroom Rachel and Prosche
Rachel and Porsche are talking about how less stressful it is now that they don't need to worry about competing against Adam in the questions final HOH.
Porsche says if Jordan was still left in the house then Adam would of taken Jordan not Porsche so if Porsche wins HOH she's not going to feel bad about it. Rachel agrees says if it was JAR in the final 3 Rachel would of won endurance, Adam would of won the second comp and Adam would of won the questions an taken Jordan.
Porsche doesn't think Anyone would of had a chance if Jordan was still in the house. Rachel counts the votes for Jrodan to win Big Brother 13; Jeff, adam, Shelly, Kalia. Porsche mentions that Dani will vote for Jordan over Rachel. Rachel says she would only have Brendon and Porsche. Rachel says that Jeff made a huge mistake throwing the POV and not saving Brendon. She thinks if Jeff had saved Brendon then Jeff would be in the final 3 right now, rachel is also certain that Brendon would of gone home furing the double eviction. Porsche doesn't think they can speculate on what could of happened on big brother, the game changes so much day to day.
Rachel: "would Kalia of nominated Brendon and Jeff?"
Porsche: "yes "
Rachel asks her who would have voted for Brendon to stay. Porsche in a ascent: "Good point m'lady"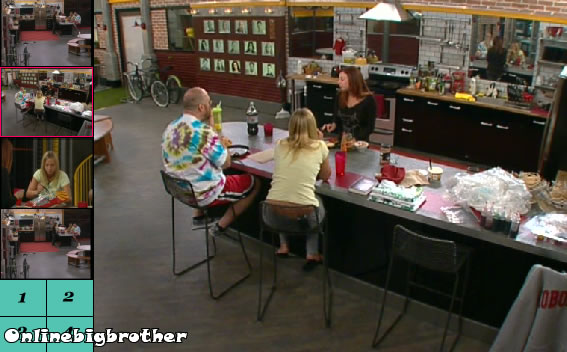 10:40pm Final 3 kitchen Adam saying how close he is with Farrah, she knows who he is and she knows he loves her very much. Rachel mentions that Farrah is probably flying into LA for tomorrow.
There all hammering the food into them. Porsche and Rachel going to town. They decide to play cards, Adam wants to do it outside so they can take advantage of not being in Lock down. First he wants to do the dishes.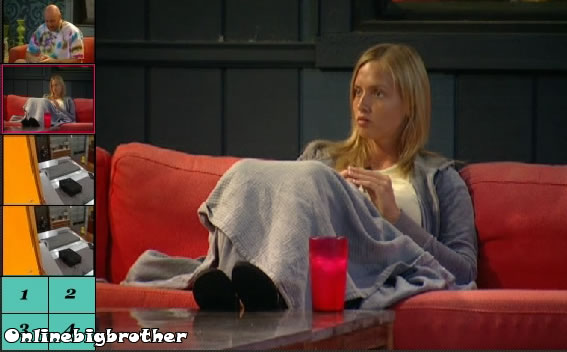 11:00pm Backyard Porsche and Adam Adam says it's hard to believe this is their last night, the next time he's out int he backyard it'll be full of people all wanting a piece of them asking how does it feel to win 500K. Porsche sighs, she wonders if Shelly will vote for Rachel. Adam doesn't know for sure, Adam brings up that he can help Porsche win the money. Porsche: "ya ya ya" Adam pushes says he really can convince the Jury. Porsche says Adam offered the same deal with Rachel. Adam swears he didn't says she can bring rachel out right now and ask her in front of him. Adam asks if Rachel told her or if Rachel was answering a question. Posche thinks it was from Porsche asking questions. Adam tells her he's just pleading his case to rachel.
11:30pm cards yo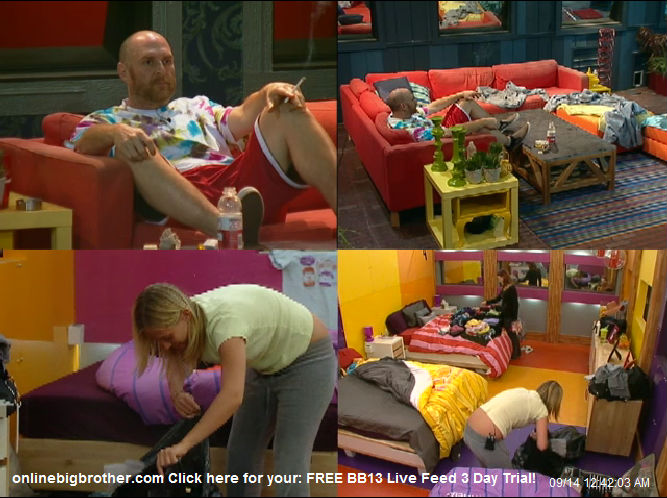 12am Adam, Porsche and Rachel are doing their laundry in the backyard. Adam comments on how they just ended the last Showtime (Big Brother After Dark). They all decide that they will pack their suit cases. As they head inside Rachel says goodbye Big Brother backyard! They talk about ending a chapter and beginning a new chapter in their lives. Rachel and Porsche go to the bathroom to get ready for bed. Adam goes to the bedroom and starts packing. Rachel joins Adam in the bedroom and he shows her the dress he go for Fara during the shopping spree. Adam jokes that he is going to wear it tomorrow. Porsche joins Rachel in the candy room. They are all packing. Rachel and Adam talk about their first impressions of Porsche. Rachel says that she thought Porsche was sweet and innocent and that Big Brother was going to eat her alive. They talk about the finale and Adam says that he thinks there will be 10 to 20 million people watching. Rachel disagrees and thinks that's a little high. Porsche says she is going to wear her purple dress and her wedges for the finale. Adam says he is wearing the same thing out of the house that he wore into the house….to show he is the same person just with more memories. Adam tries to wrap up the inflatable duck by putting a white trash bag over the duck's head to protect the lipstick mark made by Tori Spelling. Porsche shows him how to deflate the duck. Rachel says that it's been one hell of a season. Porsche agrees. Adam says that there may not have been as many fights in the house this season but there was still a lot of drama. Porsche talks about how Keith came up to her and told her he wanted to work with her before the duo twist was even revealed. The final three recount the events of the season. Adam says that the competitions are a lot harder than it looks on tv. Porsche says she had nightmares after she brought the wrong pie up during the OTEV competition. Rachel heads to the bathroom. Adam and Rachel are in the living room talking about the final HOH questions. Porsche then joins Rachel in the bathroom.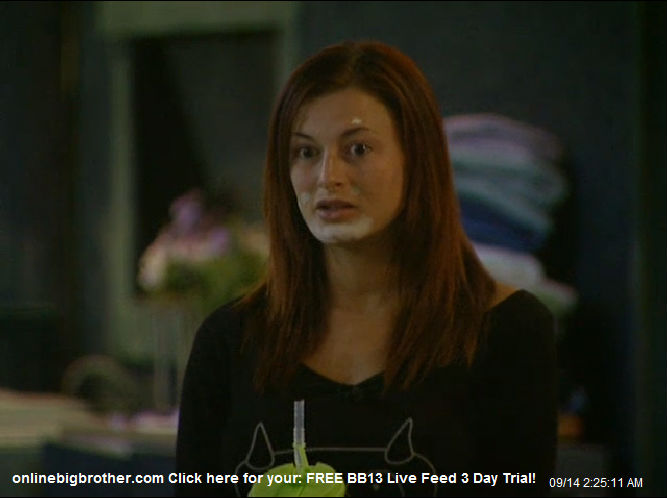 2:25am – 4am After they finish up in the bathroom the head out to the backyard. Rachel tells them tomorrow is going to be a big day and they should get to bed. Adam says that the finale is only 90 minutes this year. Rachel talks about how the backyard interviews after is an over whelming experience. Rachel says that she thinks if the newbies had won the first HOH then she would have been their target. Adam says Brendon was a bigger target. Adam mentions that Dominic thought Jeff and Jordan were the biggest targets. They talk about the beginning of the season. Porsche comments on how she tried to stay out of all the drama. Rachel agrees. Porsche says that she is going to miss the house talking to her. They all go to bed. Adam then gets up and goes out to the backyard for another smoke. Adam finishes his smoke and then heads to bed. All the houseguests are now asleep in their beds.
SuperPass: Flashback and rewatch BB13 and BB12
Click here for your FREE 3 Day TRIAL: Big Brother Live Feeds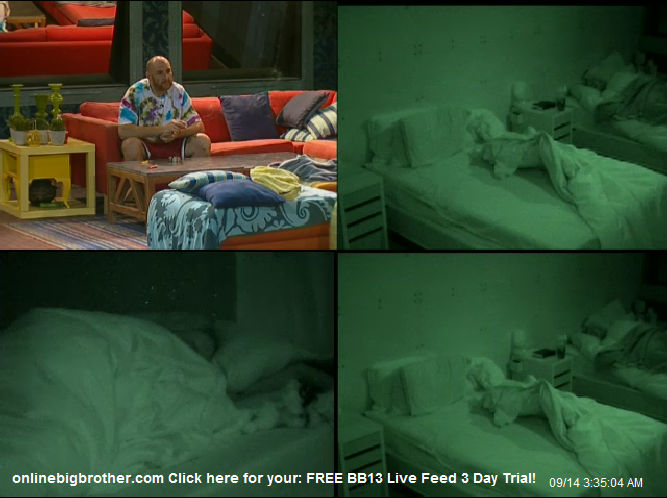 5:25am All the houseguests are still sleeping..
9:30am Houseguests are still sleeping .. Big Brother then switches the live feeds to the following screen …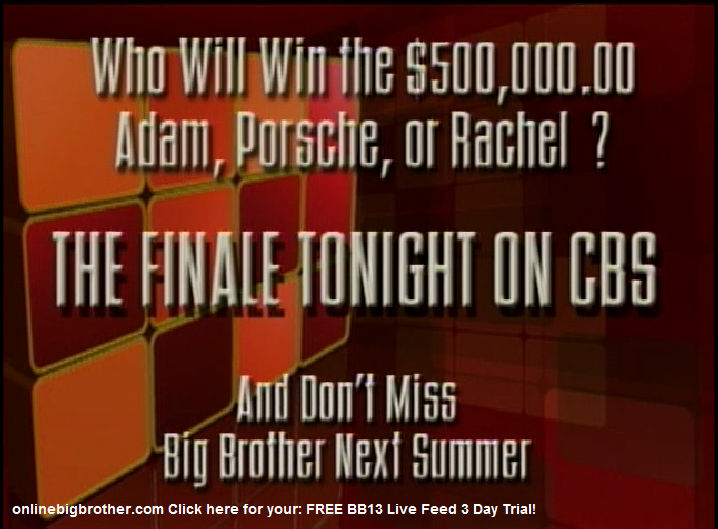 Big Brother 13 Spoilers POLL CAST your VOTE!