Quick Big Brother Spoilers
Head of Household: Cameron
Nominees: Mecole and MOMMA FE
POV Players:Mecole, MOMMA FE, Cameron, America, Blue, Matt (Jag is hosting)
POV Winner: Cameron
Veto Ceremony: Cameron did not use the veto.
Havenots: ?
Lock your ranks in before midnight
The situation Sounds like they are evicting MEME. (losing another great bikini houseguest)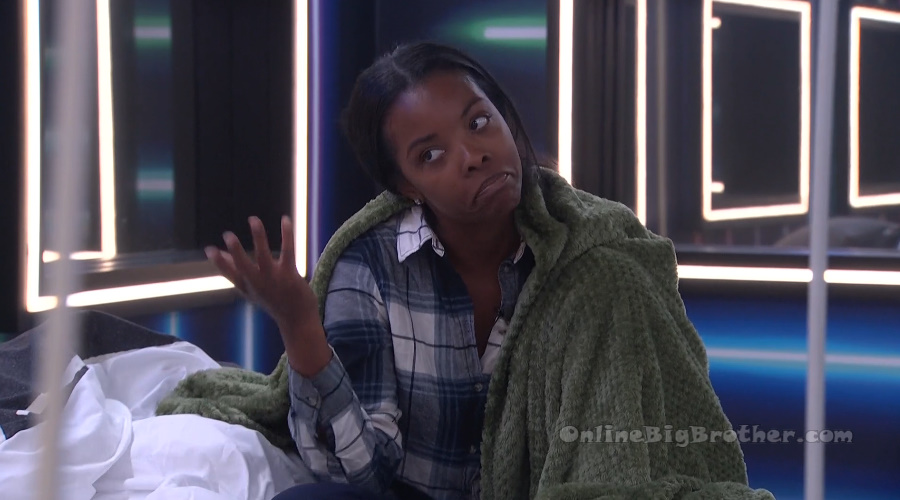 7:15pm Havenot Room – Meme and Jag.
Meme – I just wanted to check and see what's up. Jag – not much. What's up with you? Meme – same as everyday. I don't want to be that person but I just wanted to see what the vibe is. Jag – I mean I don't know. I feel like things are up in the air. Meme – oh sh*t. Jag – yeah, that's not great. Yeah I mean those talks are happening. Obviously I am a part of those, nothing is set so things are more up in the air than before. Meme – why? Jag – I think people have just been weighing the pros and cons. Meme – what are the cons? Jag – What are the cons of you staying versus going? Meme – yeah. Jag – I think it is just uncertainty of where you stand probably I think is the biggest thing. Meme – in terms of what? Jag – in terms of the game? Meme – what the f**k do you think I mean BRO? Jag – I think that is the biggest thing of weighing the pros versus cons of two people on the block of where do they stand in the game and how does that impact each person. I just feel like those are the conversations that are happening. Meme – so I am just thinking about who I targeting, who I feel comfortable with. Like where do I stand, that could mean so many things. I asking for you? Jag – Probably all of those. Blue – since we're on the topic and its a concern of yours .. obviously I wouldn't be targeting you, I told you that. I would be targeting Cam this week. That's just where I am. Putting two people up on the block, I would put Cam and Bowie Jane. If I had to do a backdoor option I would do Bowie Jane / Cirie and backdoor Cam. That is just plain and simple for me. I think that should be pretty obvious. And to be completely honest I think that is where everyone should be. I don't think I have that much of a shot at anything if Cam is still here.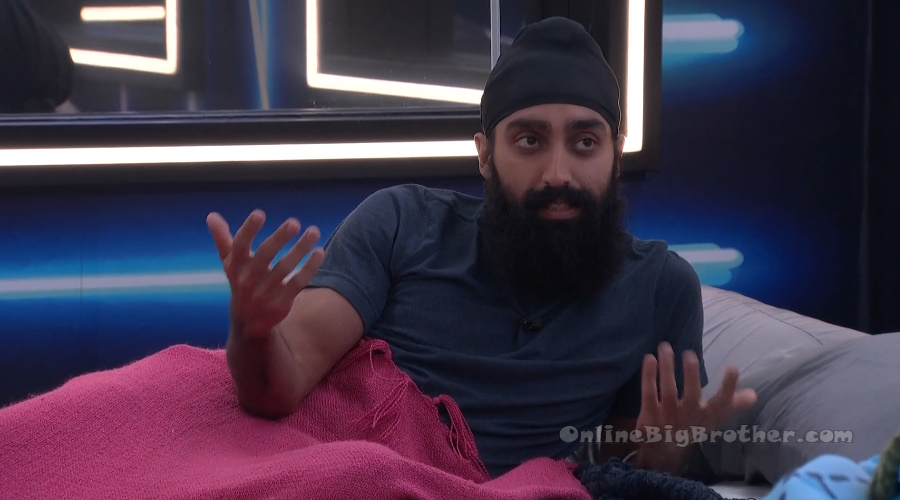 7:20pm Games Room –
Cory, America, Bowie, Cameron and Matt are studying the videos.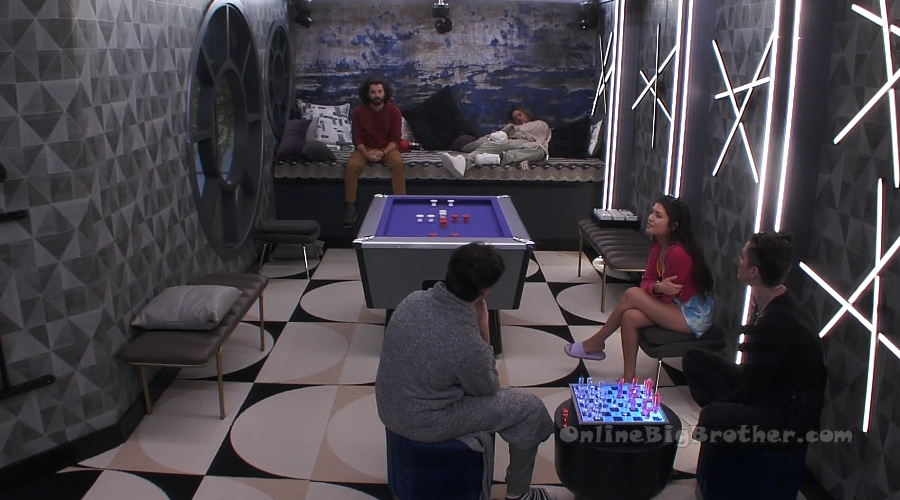 7:30pm Bathroom – Matt and Blue.
Blue – I think its a little suspicious that all of a sudden Cory wants to keep Meme. Matt – what's to keep Meme? Blue – or ah.. wants to keep Felicia. I think its a little suspicious especially the fact that just two days ago she called him out. I understand that Meme is a stronger competitor but we've known this for a week now so why is it that the thing that she's a stronger competitor now compared to two days ago .. three days ago.. four days ago. I think Cory is nervous that me and Meme are going to be close or that Meme is going to run to me which is why he want's Meme out now instead of Felicia. Because two days ago, yesterday .. whenever …yesterday he was like I trust Meme 100%. And then today he is saying he doesn't?! I think that's weird. Matt – yeah I know. Blue – I don't know why but I have a feeling if we keep Felicia we are just going to be playing Cory's game again. Matt – yeah, I know. He is scheming and I think Cam sees it too. Blue – yeah and I know you and Cam are nervous about Meme too but.. Matt – in some way yeah. Blue – but I think Cory is more nervous and that's why he is doing this. Matt – yeah for me I am nervous to the same level because I see them both one to one. If someone is to win HOH, I definitely have a better chance against Felicia. Blue – and that is why I think Cory is nervous because Meme has a better chance to take him out. I think Cory is nervous for Cory and America that they're going to be Meme's next target and not Cameron. I think that.. like Meme and I don't really have a good connection but I think if she stays I can get close to her over anyone in the house .. maybe not Cirie.. but I think out of everyone in this house I think I could get closer to her than Cory is or than America is. But essentially if you and Jag are nervous that she is going to come after you I don't think that's a worry. Matt – okay. Blue – I just don't want to play Cory's game anymore and I see this being one of them to be honest. Matt – this is one of his moves, yeah. Blue – Him and America were so gung-ho to get Felicia out but now suddenly she is a stronger competitor .. like that doesn't make sense to me. Matt – and obviously America is going to do what Cory does. Blue – getting Felicia out is the right move this week. Matt – yeah, if Jag's on board. Blue – you know I promised Jared I would protect Cirie and Felicia being in this house is dangerous for Cirie. Matt – yeah I don't know, I feel like Felicia is going to target Cam. Cirie joins them. Meme explains that Cory wants to keep Felicia now. Blue – basically they had a meeting upstairs on whether or not to keep Felicia or Meme. And so what I think is that, I personally think that Cory now wants Felicia to stay because he sees her less of a threat. Cirie – I am just going to say this to you.. and please god don't let it get out.. because if she stays I am dead! She said that maybe one of them could work together. And let bygones be bygones and that it won't be held against her.. So maybe it is why he is changing? I don't know if it is true or not. I just don't care, I just don't want to be wrong. They start studying the video info for the HOH comp.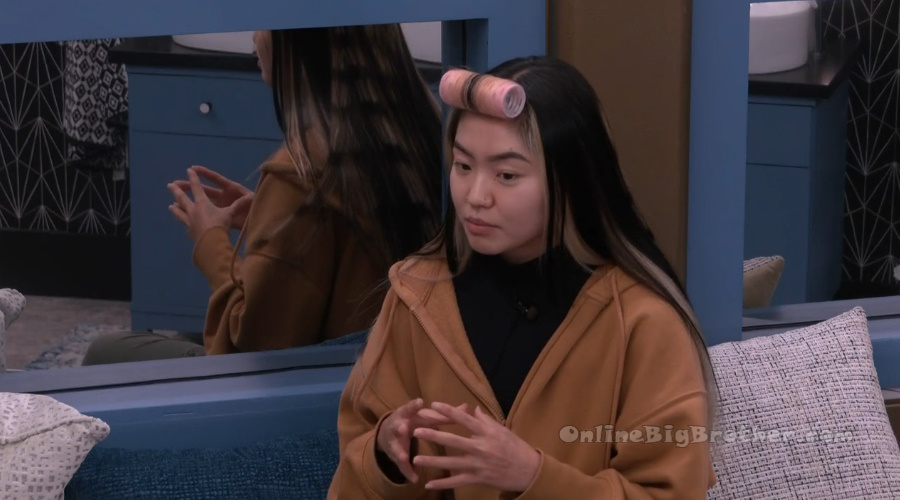 8:15pm HOH room – Cameron, America and Matt.
Cam – I am curious what Blue does. I didn't really know what to tell her. The only advice I gave her was when we were talking I said tell me this.. How does Meme staying benefit you? And she said well Felicia would be this.. I said no, no.. tell me why Meme staying benefits you? And she danced around it. And then she said some bullsh*t stuff and I said okay fine. So here is my thing, if you feel like Cory is leading this. Matt – she mentioned that a little bit yeah. America – MMmmhhmmm. Cam – she mentioned that Cory is leading this so I said okay.. now you're Cory what do you think he is thinking. If you were going to go talk to people about this not happening or whatever you think you're going to do lead with that. Keeping her doesn't benefit you and if we keep Meme in maybe we could do some stuff together to get out a self interest. That was the only advice I gave her and now I am curious what she is going to do with it because my only thing was she is already saying Cory, Cory, Cory. Now I am curious how she approaches for Meme to stay without blowing everything up.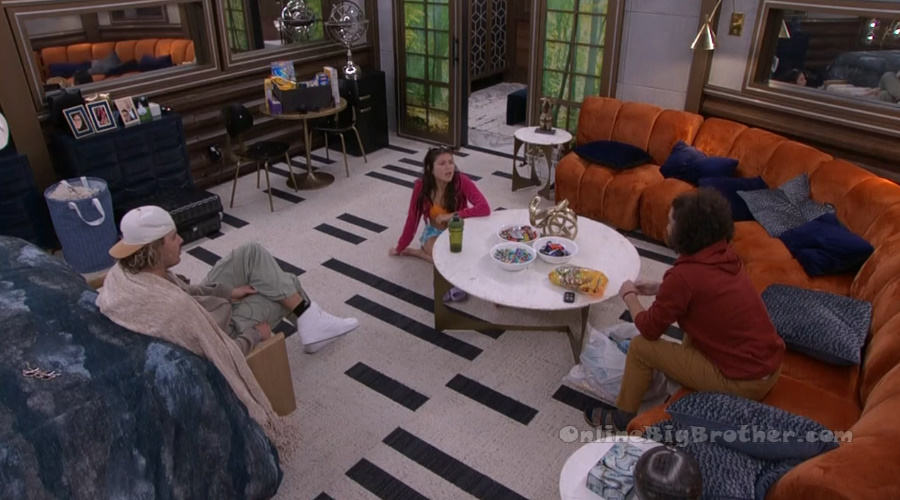 8:40pm – 9pm Bowie's Breakfast Birthday Dinner is ready..
Felicia – I learned how to live in a house with 16 people that I don't know for 64 days and if tonight is my last night its been my pleasure. Blue – love you Mama Fe!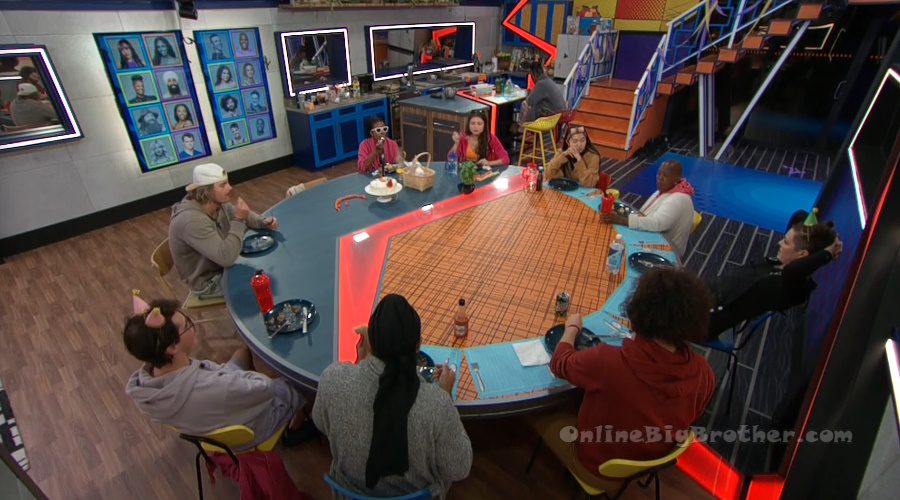 9:07pm – 9:20pm Havenot Room – Cory and Meme.
Meme – what the hell is happening in this mad house? Cory – f**k knows.. the sequence of events I got was we talk in here, Felicia talks to me after and she tells me what you would kind of expect. I know you said you wouldn't give me your vote. Then I walk into the HOH, you weren't there, Felicia wasn't there and Cirie wasn't there. Its basically everyone is going Pros and Cons. What are the Pros to keep Meme? What are the Pros to keep Felicia. The obvious ones are you're a better competitor. Even though.. Meme – even though I haven't won sh*t? Cory – people are like oh she did great in the veto. And obviously a lot of that comes down to underestimating Felicia which I think is a whole other part of it. I think most people believe next week would be a Cam and Bowie situation probably from both of you but I think everyone thinks after that Felicia will go after me and they're f**king down for that obviously. Whereas I think people don't know what you would do. And I am going to be totally transparent I don't think I am in any position to die on any hill. One thing that I can guarantee is that I am not leading the charge. I really am a go with the flow person right now. If I know anything definitive I will tell you. Meme – I knew there was an energy change that was happening. Cory – I think everybody's noticed it.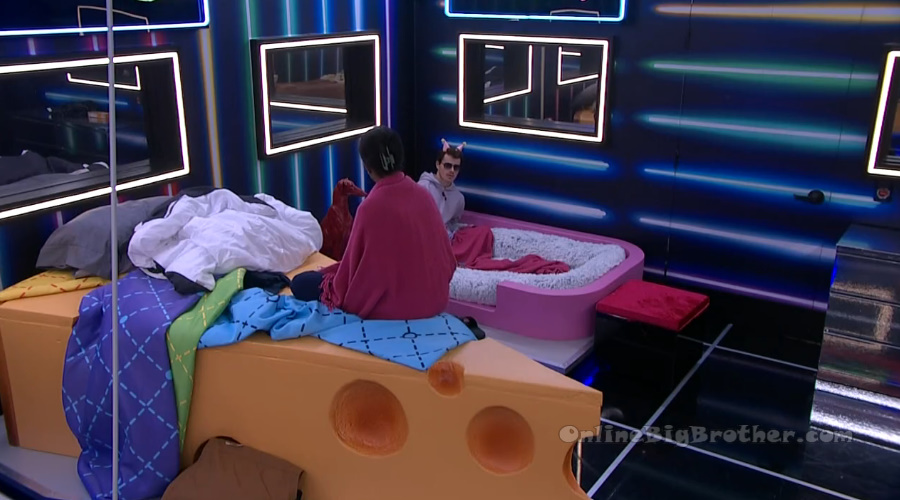 9:55pm HOH room – Cory, Cam, Matt, Bowie and Jag.
Cam – Blue felt like you (Cory) were leading what was going on. She told me that. Cory – well yeah because we were in the room and like.. Cam – she felt like you were leading something and I was like.. Okay lets map it out then. Cory – I hate being the face of it and I know why I am but ya'll need to be like .. like when she asks you need to say no I think this is the right decision. Bowie – yeah. Cory – for all of us. Cam – even I told her that. Matt – I told her my vote is coming from who has a chance of winning HOH and its not Felicia so.. Cory – the only thing I don't want, which I know you guys don't want is… hey we've got Cory and America and if we don't have them, we don't have the vote. You know what I mean? Jag – but we couldn't even say that if we wanted. Because she could say well me and Cirie are down so all we need is you and Matt. Cory – right. And that's why I am not concerned to be honest. Cam – even I said the pros out weigh on this one. I thought I thought something about Felicia but after hearing all this.. it just makes sense. Cory – and lets be real Blue is targeting me anyways. Matt – its just getting so hard because anything I say she counteracts. She just keeps saying Meme isnt going to go for you so why? Bowie – just say decision made. Matt – I say Meme's a threat to win HOH and so that's why.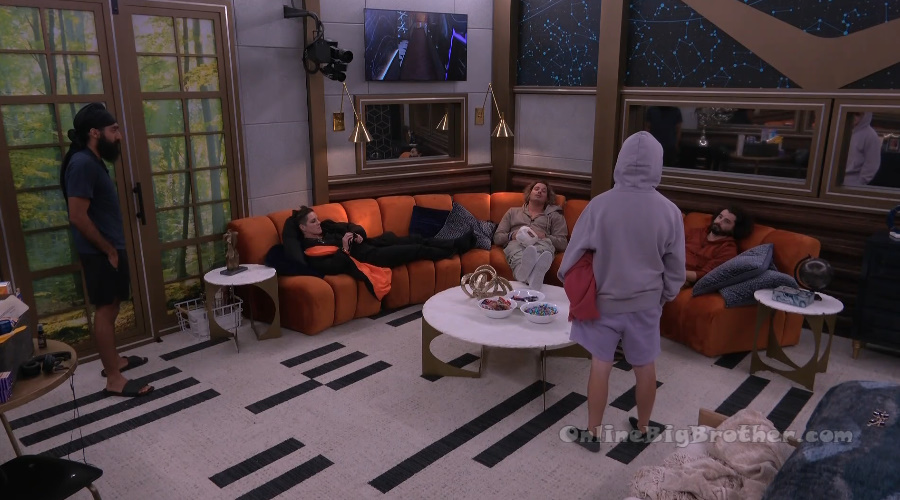 10:30pm – 11:40pm HOH room – Cam, Blue and Matt studying the video info for the HOH. Matt – I am done trying to study. Jag – the good thing is it helps to sleep when trying to study. As we're up still and everyone else sleeps.. Jag, Cory And America join them and they continue studying. Matt – i remember all the details really well, I have a photographic memory.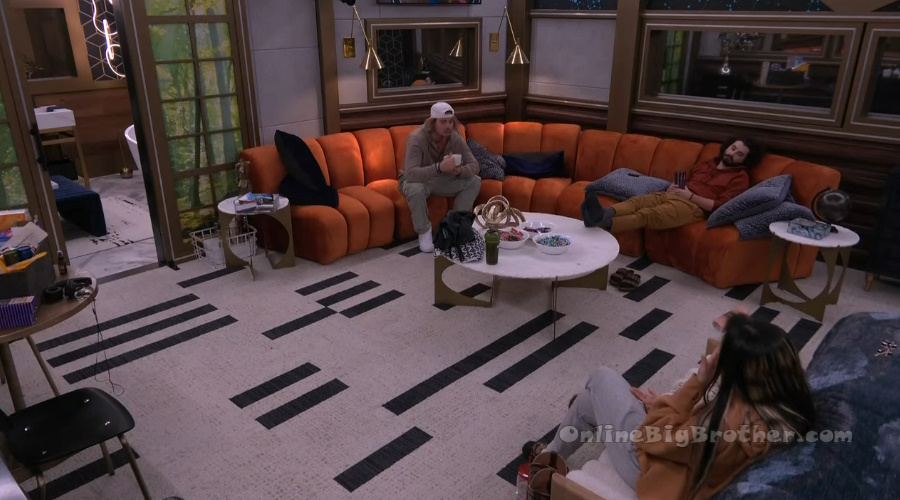 11:45pm Bedroom – Cory and America studying alone in the bedroom.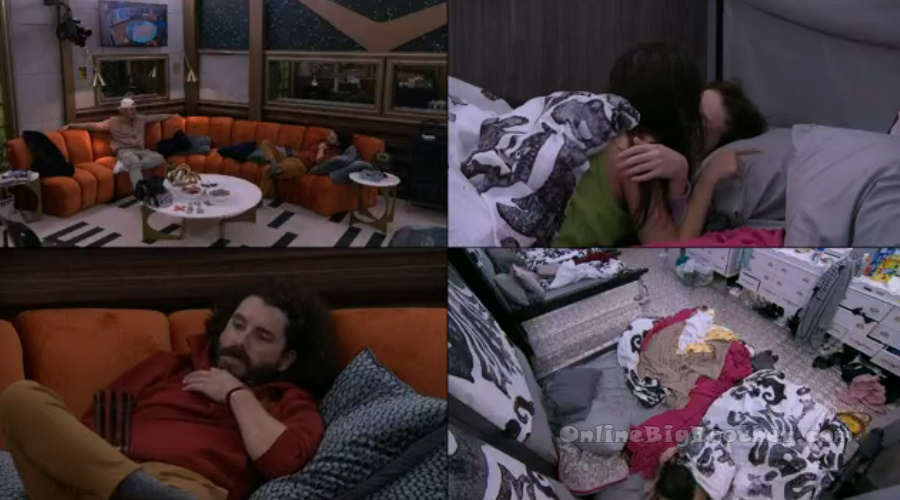 11:51pm HOH room – Matt and Cameron.
Cameron – we didn't backdoor that (Cory), I just want you to know that. Matt – who wants us to know that? Cam – we decided to not backdoor that guy. Matt – yeah. Cam – okay? Just remember that. Matt – because we can handle it next time. Cam – how about you just win HOH and we kick his a$$ out this week? Matt – okay. Okay, yeah. I am not too worried but if we win, nice! If Cory wins, Cory gets Blue out. If Blue wins, Blue gets Cory out.. and we're sitting pretty. Cam – I feel okay. I may hit the block at some point this week but I trust ya'll. Matt – NA. Cam – if its Blue, maybe. If its Cory, NA. Matt – if you do we can definitely save you because if you get put up next.. Cam – if its Cory, I feel like I am good. If its Blue, she might try to play it off as a pawn. Matt – yeah. I feel good. I don't think there is anything to worry about yet. Cam – cool.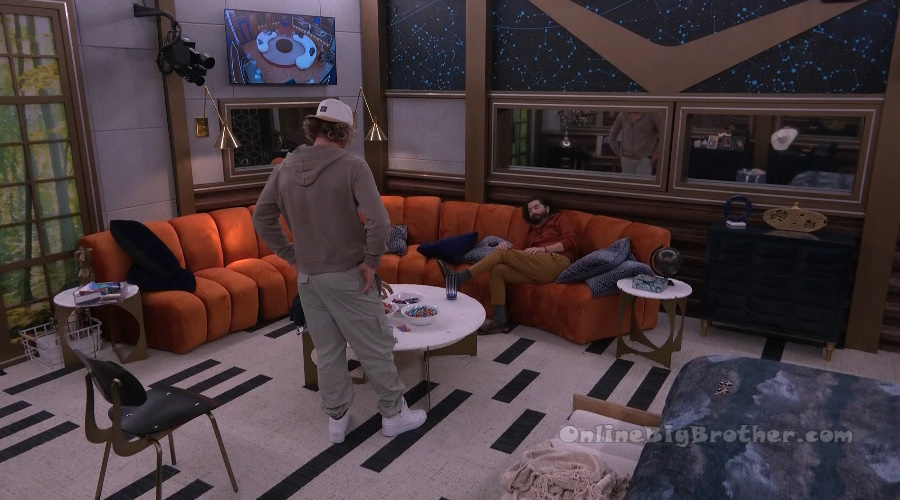 12:15am All cams on Meme doing her hair in the bathroom.
12:45am HOH room – Matt, Cam, Jag.
Cam – alright so we're game on for this thing. Matt – lets go win a comp. Cam – we're game on, Meme's going home and we have to deal with Felicia a little longer. Jag – yup that's what its got to be. Matt – I am sorry you guys have to take the blow and not me dashing all them. Cam – I think we're going to be okay. Jag – I think we're going to have to be okay. Cam – to be honest it was starting to easy and I am not used to relationships like that. We need to make it start harder .. Jag – this is the perfect way.. Cam – yeah this is better for us honestly. Matt – you have to play hard to get. You're not afraid to cut it. We're not playing around. Set the tone. Cam – do we give Bowie a name? Jag – I don't know. If she brings it up but she is kind of rocking with no name.
If you like these spoilers and read this blog regularly please consider a donation to keep the madness going. We accept donations via paypal How to support OBB