| | | | |
| --- | --- | --- | --- |
| HOH Part 1 | ? | HOH Part 2 | ? |
| HOH Part 3 | ? | Final HOH Winner: | ? |
You can now get 1-month FREE with promo code: FALLACCESS – expires 9/16/16!
1-month FREE with promo code: FALLACCESS
Watch the next month of the feeds for FREE – 1 month free!!!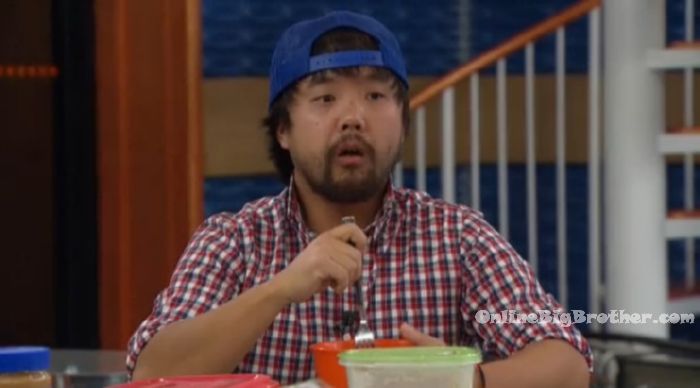 6:05pm The live feeds return to the final 3 in the kitchen – James – congratulations y'all! Final 3! Nicole – I can't believe it. James – we all had our strategies on how we got here. I want one of those jury members to say floating as a negative because in case you didn't know floating is a strategy now. Paul – the longest season and we made it. James – Rich Meehan said this was a tough season and they knew it. They put this cast together. Paul – Don't hold back I told myself. I did not change one thing about myself. I put a filter in my mouth. I didn't change my personality, I just didn't call people c**ts day one. Paul – we all need about a year of sleep, rest, detox. Nicole heads to the bedroom to rest.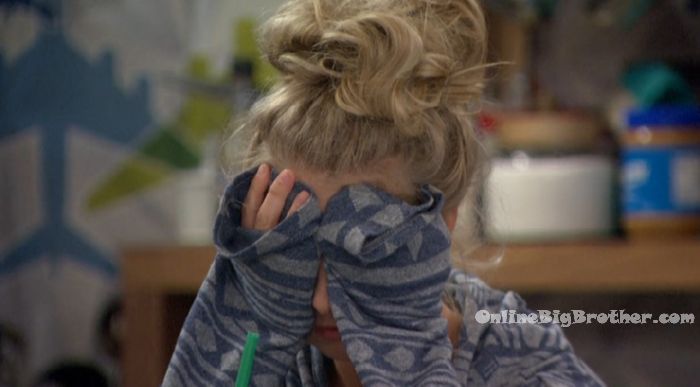 6:20pm Paul and James are talking in the kitchen. James tells Paul – I got you man. They shake hands. James – we just have to finish it up. Paul asks the final 2 get to be on the view? James says no. Paul – oh really just 1. No, like Cody and Derrick were on last year. James – I don't know. CBS can do whatever they want. Paul – do you think you and me will be on the Bold and The Beautiful? James – I hope so. Paul – Vic is going to be so happy to see Corey walk into the jury. James – Natalie is going to be pumped that we're not walking into the jury.
6:25pm In the bedroom – Paul and Nicole alone. Paul tells Nicole – James told me he would rather have me and you up at the end because I can beat Nicole. So if you win this comp (HOH part 1), we've won because he'll throw that next comp to me. Nicole – okay. Paul – win! Nicole – I'll try! I'm going to try!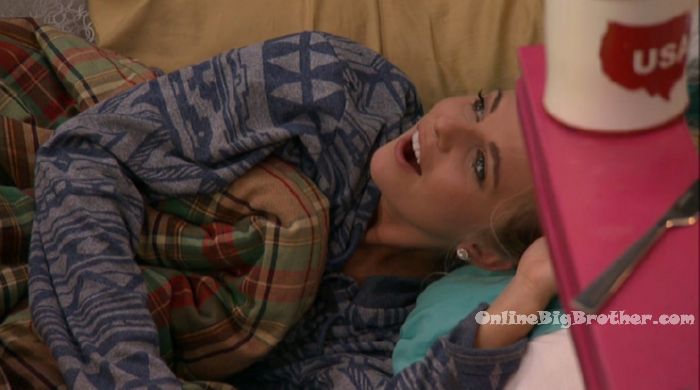 6:35pm – 7pm The final 3 are in the bedroom talking about last season, making it to final 3 and their families. James – well we all lost our partners. Nicole – will you and Vic be BFF's outside of here. Paul – we'll be friends. I don't know about BFF's. We both live very different lives. What about you and Corey? Nicole – yeah, I hope so. Paul asks James what about him and Natalie. James – I'll be faithful and loyal if we start dating and she gives me a shot. I'm not going to lie if she tells me she wants to be just friends it will hurt. But I have good vibes. Nicole – some times you have to spend time away from someone before you know how you really feel. James – exactly. I told Vic to get that message to her, so I'm sure she's excited about that. I'm definitely going to go visit her regardless of if we're together or not. At least then I'll try. Paul – you never know till you try right?!
Paul and James in the London bedroom. James – lets finish it up! Paul – you don't think she will do good in this comp do you? James – probably not. She's going up against two ___ horses. Paul – I'm ready to tear sh*t up. Do you think we should strategize? Or one of us just win? James – just one of us win. Paul – she is going to try to scheme. James – I'm locked up tight. James – you saved my a$$ .. plus I think you deserve it. James – I'm really hoping I can win this endurance. I think you'll be way better at the mental than me. Paul – I think we're both good. Lets go balls to the wall. James – we need to treat her with the mentality that Corey's still here. We have good odds.

7:10pm
Big Brother blocks the feeds.
7:40pm – 8pm The feeds return – Nicole tells James – I'm bored without Corey. James – I know how that feels. You know he's in your corner. He's got your back 100%. Nicole – yours is good too. Nicole says We've kissed a jillion times in this house obviously… secretly. We got really close the last few days.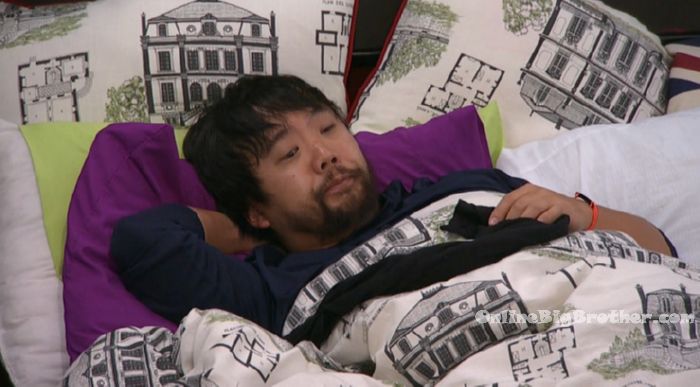 Show your appreciation by making a donation.
Without your support this site wouldn't be possible. Donations support this site more than anything. If you dig our spoilers please find a way to support us. ANY Amount is greatly appreciated :)