Meet Shelly, Adam, Lawon and Cassi
Last Years Big Brother 13 Heavy weights, Lawon Exum, Cassi Colvin, Adam Poch and The Straight Shooter (Aka Shelly Moore) will make an appearance as parade Grand Marshals at the New Orleans' King Arthur Parade Sunday February 12th. They will be riding on float #2 of the Parade. After the parade there will be a party where the Cassi, Adam and Shelly will be to sign autographs and be available for photos. This is a great opportunity for Big Brother 14 hopefuls to get some information about the Big Brother audition process.
Whats the parade all about
From their website
The King Arthur's parade includes 450+ members who parade on the first Sunday of Mardi Gras. The Krewe of King Arthur parades down beautiful St. Charles Avenue on the historic Uptown New Orleans route before turning onto Canal Street in front of tens of thousands of spectators of all ages. Dozens of marching units (floats, bands, etc.) make up the King Arthur procession.

How to get into the party
If you want to get in on the fun and try and get Cassi's beads, See What Lawon is wearing or See if Straight Shooter still Shoots Straight get you tickets before FEBRUARY 10th Parade party tickets can be purchased by contacting Vera Vedros: 504-450.7471 (cell) 504-347-7010 (house), webmaster@kreweofkingarthur.com. The cost is 17 buck.
Here is the parade map..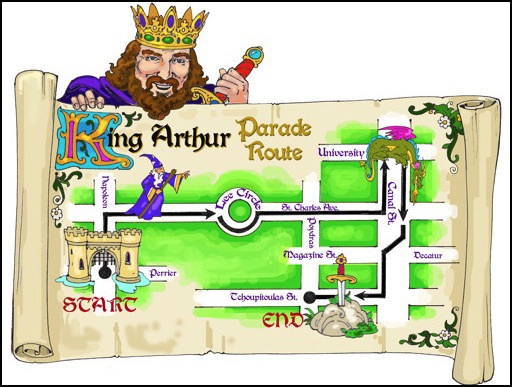 Lawon Tweeted this the day of the event.